Justus Weizen Hell
| Pfungstädter Brauerei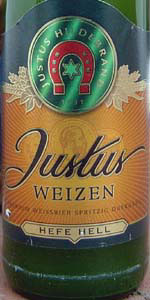 BEER INFO
Brewed by:
Pfungstädter Brauerei
Germany
pfungstaedter.de
Style:
Hefeweizen
Alcohol by volume (ABV):
not listed
Availability:
Year-round
Notes / Commercial Description:
No notes at this time.
Added by Jason on 03-01-2005
Ratings: 14 | Reviews: 7
Reviews by BucBasil:
3.35
/5
rDev
-2%
look: 3.5 | smell: 3.5 | taste: 3.25 | feel: 3 | overall: 3.5
Picked up at a gourmet food store in Shanghai China.
A: The beer is a pretty solid gold color, hazy to cloudy with lots of head that is off white and lasts a pretty good time.
S: The beer smells lightly of banana bread with some spices.
T: Spicy and malty with some fruit character in the middle. Overall classic taste of banana bread but not as up front as some other beers are. Lots of sweetness balanced by more spice.
F: Medium bodied with plenty of carbonation.
Overall: An ok version of this style. Nice to have in Shanghai, but a bit unbalanced or cloying. Not bad, but probably won't seek this out again.
619 characters
More User Reviews:
3.5
/5
rDev
+2.3%
look: 3.5 | smell: 3.5 | taste: 3.5 | feel: 3.5 | overall: 3.5
3.54
/5
rDev
+3.5%
look: 3.75 | smell: 3.5 | taste: 3.5 | feel: 3.75 | overall: 3.5
500ml can, and just called Weizen Hefe Hell now - from the brewer's website, it looks like they've consolidated their brands.
This beer pours a cloudy, medium golden yellow colour, with a teeming tower of puffy, loosely foamy, and rather bubbly ecru head, which leaves some exploding marshmallow lace around the glass as it gently recedes.
It smells of grainy, cereal-like wheat malt, sodden banana chips, laid-back yeast, black pepper and clove spice, and a weak earthy noble hoppiness. The taste is bready, doughy pale and wheat malt, bruised bananas, disinterested yeast, muddled savoury spice, a tinge of sugared lemon rind, and more tame, but somehow supportive hop bitters.
The bubbles are quite soft and lilting in their plainly subservient frothiness, the body a solid middleweight, and mostly smooth, with a general airy creaminess arising as things warm up a bit. It finishes on the sweet side, a watery raw banana bread character now come to dominate the end of the proceedings.
Overall, nothing too complex about this one, just the normal flavours you'd expect for the style, all spread out for us to smell, taste, and feel. Easy to drink, but perhaps a wee bit too sweet as this half-litre comes to a close, precluding me from considering the idea of another.
1,279 characters
3.84
/5
rDev
+12.3%
look: 3.75 | smell: 4 | taste: 3.75 | feel: 3.5 | overall: 4
Dropped the "Justus" from the name, now it's just "Weizen Hefe Hell".
Pours from the can cloudy yellow/orange. Fairly light head for the style, but with decent lacing. Smell is lots of clove/bubblegum, a bit of butter, citrus, dough and yeast. Taste follows a similar model, fairly bright and clean (almost pilsner or pale-lager-like in its crispness/cleanness), slight dough/yeast, clove, orange zest, white pepper. Carbonation is a bit aggressive, body is middle-of-the-road.
I'll agree with the reviews below which characterize this as pretty middle-of-the-road for the style, but that's also its strength--refreshing, pretty crisp, very drinkable, affordable. Not too shabby.
681 characters
3.77
/5
rDev
+10.2%
look: 4 | smell: 3.75 | taste: 3.75 | feel: 3.75 | overall: 3.75

3.47
/5
rDev
+1.5%
look: 3 | smell: 3.5 | taste: 3.5 | feel: 3.5 | overall: 3.5
500ml can poured into tulip 2/9/15
A murky and milky pale yellow, just a short lived finger of foam that leaves no lace, pretty average looking hefe
S beat up and bruised banana, faint clove, soggy wheaty cereal, some bread, basic but on par
T some spice, banana, much like the nose really, decent but not memorable
M medium bodied, a little flat for the style, slick on the palate, banana and faint citrus linger
O average hefe, the malt base seems a little off but but the yeast is there, basic but drinkable
Not a bad beer but about as basic as the style gets, a lawnmower beer for a hot day and the big can would work well for that purpose
658 characters

3.64
/5
rDev
+6.4%
look: 3.25 | smell: 3.5 | taste: 3.75 | feel: 3.5 | overall: 3.75
Sampled this at the 2015 Medicine Hat Beer Fest a couple of weeks ago and now have the opportunity to try 500 ml.
Lighter in color than some of it's German contemporary's . Nice banana aroma. Taste is pleasing, in the same vein as classic Erdinger. Feel is again much like Erdinger. Heck, it's Erdinger with slightly more Weizen flavour and aroma which isn't a bad thing. On a hot day I'd say 'keep them coming' bartender.
424 characters

3.43
/5
rDev
+0.3%
look: 3.75 | smell: 3.25 | taste: 3.5 | feel: 3.25 | overall: 3.5

3.25
/5
rDev
-5%
look: 3.5 | smell: 3.5 | taste: 3 | feel: 3 | overall: 3.5
Beer bottle (50 cl.), tasted in 2005.
Appearance : golden yellow color, with white foamy head.
Smell : clove and wheat malt aromas.
Taste and mouthfeel : wheat malt flavor with spicy notes.
Drinkability : an average beer in the style German Hefeweizen.
253 characters
2.81
/5
rDev
-17.8%
look: 4.5 | smell: 3.5 | taste: 2.5 | feel: 3 | overall: 2
Shared with my house mate and poured into two pint glasses. Pours a cloudy golden straw with about two fingers of thick white head. Pretty good retention.
Sweet on the aroma with a bit of bananna and cloves with a little bit of lemon in the finishing background. Toasty malts. The taste is likened to the aroma. Sweet bananas and light toast with a little bit of a lemon finish. There is no trace of hops in the aroma or on the pallet which kind of makes it bleh.
The body is light and the carbonation is actually a little lower than I would like. Overall I just say these German beers my landlord brought me have been nothing but dissapointing.
647 characters

3.53
/5
rDev
+3.2%
look: 3.5 | smell: 3.5 | taste: 3.5 | feel: 3.75 | overall: 3.5

4.25
/5
rDev
+24.3%
look: 4.25 | smell: 4.25 | taste: 4.25 | feel: 4.25 | overall: 4.25


Justus Weizen Hell from Pfungstädter Brauerei
3.42
out of
5
based on
14
ratings.