Pfungstädter Edel Pils Premium
| Pfungstädter Brauerei
BA SCORE
82
good
12
Reviews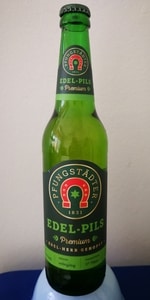 BEER INFO
Brewed by:
Pfungstädter Brauerei
Germany
pfungstaedter.de
Style:
German Pilsener
Alcohol by volume (ABV):
4.90%
Availability:
Year-round
Notes / Commercial Description:
No notes at this time.
Added by Jason on 03-01-2005
Reviews: 12 | Ratings: 23

3.84
/5
rDev
+9.4%
look: 3.5 | smell: 3.75 | taste: 4 | feel: 3.75 | overall: 3.75
Pours a straw yellow, clear body with lots of soapy white head that laces somewhat as it dissipates. The scent has lots of earthy and spicy hoppiness, and a big malt/alcohol backbone. The taste is very hoppy, while still maintaining lightness with a decent carbonation. Overall a good pils.
★
294 characters
3.94
/5
rDev
+12.3%
look: 4 | smell: 3.75 | taste: 4 | feel: 4 | overall: 4
Beautiful golden colour appropriate to the style (nary a chill-haze in sight), capped by two fingers of foam that recedes slowly to a half-finger or so but leaves some lacing. Visible carbonation.
Smells like a solid pils. Vegetal, bitter greens. Spicy saaz, pepper, cracker, pilsner malt, bready. Slightly earthy, slightly musty (but not in a bad way). Grainy.
Taste is appropriately clean and crisp. Light and pretty refreshing. Slight bitter greens, vegetal hops, faint pepper spice, bread/cracker. Light but not watery body, unobtrusive carbonation.
Hell, I actually really like this. Super solid rendition of a style that's easy to overlook, but this one nails both the crisp/clean and the flavour dimensions of the style. Might have to go into summer rotation along with some of the other great European pilsners.
★
822 characters

3.76
/5
rDev
+7.1%
look: 3.5 | smell: 3.75 | taste: 3.75 | feel: 4 | overall: 3.75
500ml can poured into tulip 25/8/15
A clear straw yellow with a couple streams of bubbles feeding a short lived finger of foam that leaves a couple polka dots of lace
S grass, hay, faint spicy hops, noble notes if you will, a hint of apple, dry cracker, and cardboard
T mimics the smell, about on par for the style
M light bodied, crisp and fairly clean finish with just a little grass, soft carbonation
O basic brew but fits the style fairly well, very drinkable and well priced I could see myself grabbing another in rush to get to the lawnmower
it is what it claims, for under 3 bucks you have little to lose
★
626 characters
3.74
/5
rDev
+6.6%
look: 3.75 | smell: 3.5 | taste: 3.75 | feel: 3.75 | overall: 4
500ml can, nice to see another addition to the German beer offerings on local bottleshop shelves. The 'Cool Star' tells me that this one is good to go, so giddee-up!
This beer pours (after one of the quietest cracks that I have ever heard) a clear, bright pale golden yellow colour, with three fingers of puffy, densely foamy, and somewhat creamy bone-white head, which leaves some decent mountain tributary lace around the glass as it gently subsides.
It smells of semi-sweet, grainy crackery pale malt, a bit of apple and pear syrup fruitiness, a twinge of gasohol, and sharp leafy, weedy, and grassy hops. The taste is bready, lightly doughy pale malt, white crackers, ethereal pome fruit notes, fading estery petrol, and more sassy leafy, herbal, floral, and grassy noble hops.
The carbonation is fairly laid-back in its plainly and stately rendered frothiness, the body an adequate medium weight, and mostly smooth, those heady old-school hops taking a sniff around, but not much more. It finishes trending dry, the malt trailing off a bit, while the hops and gas-pump essences keep 'er tight.
A pleasant enough version of the style, the general metrics mostly well hit upon, which leads to a tasty, big-boy lager-drinking affair. Nothing thin or insipid here, f(v)olks, and it inspires in me the notion to drink this outside in the actual summertime sunshine, before the Oktoberfest brews and Indian Summer come too soon to bloom.
★
1,444 characters
3.37
/5
rDev
-4%
look: 3.75 | smell: 3 | taste: 3.5 | feel: 3.25 | overall: 3.5
Beer number six during my 17th Jan 2014 visit to Berlin's Green Week, this beer was on-tap in the Hessen area: so I had a draught 0.3 litre glass poured for me.
Liked it, crisp and sharp taste.
Looked very good in it's lovely glass, golden, bright, clear and clean. A good white crown on top.
Hop front with a mild malt content to prevent the beer becoming too dry or bitter, although the finish is quite dry. Very refreshing and although not blessed with any great aroma or flavours it is a well made and good Pilsner.
★
522 characters
2.5
/5
rDev
-28.8%
look: 3 | smell: 2.25 | taste: 2.5 | feel: 2.75 | overall: 2.5
Aroma seems off, wet newspaper smell. Appearance is decent, thick airy head, but taste leaves a lot to be desired. Not much character except for a small hoppy bitterness on the palate.
★
184 characters
2.98
/5
rDev
-15.1%
look: 3 | smell: 2.5 | taste: 3 | feel: 3 | overall: 3.5
Golden blond color, intense. Beautiful foam on the sides, a bit less beautiful on top.
Quite fresh smell, with a decent hop, with light citrus notes.
At the taste a lightly honeyed malt, and hop, light and fresh.
Balanced and drinkable, with malt and hop in good balance in the aftertaste too.
Quite pleasant.
★
309 characters
2.85
/5
rDev
-18.8%
look: 3.5 | smell: 3.5 | taste: 2.5 | feel: 3 | overall: 2.5
I don't know what it is, but most of the beers that I got at a nearby quickmart today ahve been on flat side. This one poured with a large, foamy, frothy, fluffy white head that soon faded and some lace. Color is a clear yellow. Aroma is at first, skunk ( second whiff saw that waning), malt, and hop, plus some grain. Flavor's like aroma. Body is good, but a little on the flat side. Finish is short to medium in length and forgettavle.
★
437 characters
3.85
/5
rDev
+9.7%
look: 3.5 | smell: 3.5 | taste: 4 | feel: 4 | overall: 4
Beer has a full golden color with a light head and good carbonation. Aroma was mixture of grain and hops. Taste was refreshing and a bit on the dry side. It finished with a smooth pleasant feeling. Great beer for more than one or to enjoy with friends.
★
252 characters

3.08
/5
rDev
-12.3%
look: 3.5 | smell: 3 | taste: 3 | feel: 3.5 | overall: 3
Beer bottle (33 cl.), tasted in 2004.
Appearance : golden color, with a white foamy head (not persistent).
Smell : grain and hoppy aromas.
Taste and mouthfeel : grass and hops flavors, with dry bitterness finish.
Drinkability : an average beer in the style German Pilsener.
★
274 characters
4.27
/5
rDev
+21.7%
look: 3.5 | smell: 4 | taste: 4.5 | feel: 4 | overall: 4.5
half liter bottle poured into a pilsener glass. pours a light golden color with a couple fingers of tight white head.
aroma is of light malts, with notes of munich and a touch of caramel. a pleasant floral yeast rounds out the profile into a well proportioned aroma.
taste is more of the same with a solid profile and a note of grain. a rich and complex pils on the palate.
mouthfeel is light bodied with a smooth and slightly silky texture. finishes smooth with residual grain and a slick mouthfeel.
drinkability is good. this is an excellent pils with solid flavors and a rich profile. so many pils fall short of the richness here. prost!
★
644 characters
4.3
/5
rDev
+22.5%
look: 4 | smell: 4 | taste: 4.5 | feel: 4 | overall: 4.5
Appearance: Bright light golden in color. Thin white head. Loads of carbonation, champagne like. Constant and consistent effervescence.
Smell: Slight hints of citrus but most of this beer's nose is hops, big noble hops.
Taste: Sweet dry front turns dry in the middle and finishes with huge harsh noble hops. Great!
Mouthfeel: Fun and bubbly. Dry and ubergehopft!
Drinkability: Fantastik! Would be my light session beer of choice were it available in the states.
★
474 characters
Pfungstädter Edel Pils Premium from Pfungstädter Brauerei
3.51
out of
5
based on
23
ratings.