Oatmeal Stout
| The Emerson Brewing Company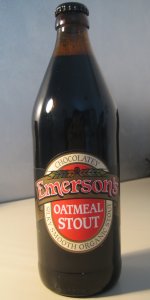 BEER INFO
Brewed by:
The Emerson Brewing Company
New Zealand (Aotearoa)
emersons.co.nz
Style:
Oatmeal Stout
Alcohol by volume (ABV):
4.80%
Availability:
Year-round
Notes / Commercial Description:
No notes at this time.
Added by BeerAdvocate on 06-22-2002
This beer is retired; no longer brewed.
Ratings: 12 | Reviews: 11
Reviews by willjansen:
4.27
/5
rDev
+10.1%
look: 4 | smell: 4.5 | taste: 4.5 | feel: 3.5 | overall: 4
Best Before September 2008 144
Appearance - Deep, dark-chocolatey black with khaki head that has decent retention before receding to a perfect ring of lace.
Smell - Roasted barley/oats coming through with some sublte coffee & chocolate undertones.
Taste - Oats in the mash gives this beer a nice complexity, with the oaty character taking the lead with dark chocolate flavours in tow and enough hoppiness to be noticable but not out-of-style.
Mouthfeel - Smooth and velvety with carbonation levels a tad too high for my liking.
Drinkability - Delicous stout for sure and excellent drinkability. This is the first beer I had on my trip to NZ and it was a great choice. Would make this my everyday stout if it was easier to obtain (and not as costly here in Aus)...
770 characters
More User Reviews:
4.25
/5
rDev
+9.5%
look: 4.5 | smell: 4.5 | taste: 4 | feel: 4 | overall: 4.5
Very smooth on the tongue, with a slightly bitter aftertaste. The colour is (to quote an old whisky ad from the telly) "deep, dark, mysterious" - it is very dark with a faint ruby translucence to it.
Smell is *very* pleasant, and I can imagine sinking a few of these.
I bought the one I am tasting as I type this at the supermarket this evening after going for a bike ride along the waterfront.
To me, context is important when I try something new - if you have the means to try this fine, fine beer, do so after doing something to make you thirsty - you will enjoy it all the more.
Highly recommended!
609 characters
3.53
/5
rDev
-9%
look: 4 | smell: 3.5 | taste: 3.5 | feel: 3.5 | overall: 3.5
A good oatmeal stout, nice roasty oaty coffee flavour, nice malt middle and the hops are in there in the finish, a good example of the style for sure.
150 characters
4.04
/5
rDev
+4.1%
look: 3.5 | smell: 4.5 | taste: 4 | feel: 3.5 | overall: 4
Lovely aroma of complex chocolate and coffee. Appearance is good, brown-black with strong garnet hues, clear with a low head.
Flavour is smooth and very well-rounded, consisting primarly of chocolate and coffee. A nice clean finish with a hint of bitterness detectable. Medium bodied with low carbonation, though almost a little watery on the finish.
Smooth, sweet and simple yet a very satisfactory stout.
412 characters

3.95
/5
rDev
+1.8%
look: 4 | smell: 4 | taste: 4 | feel: 3.5 | overall: 4
(500 ml bottle). Pours with a large to moderate frothy head. Very dark brown colour. Moderate but pleasant aroma of cherry chocolates and coffee. Decent sweetish flavour of roasted malts, oats, coffee and dark chocolates, some fruitiness too. Mouthfeel is surprisingly thin for an oatmeal stout. A bit too carbonated for my taste. Acceptable bitterness from the hops and roasted malts in the aftertaste.
403 characters
4.03
/5
rDev
+3.9%
look: 4 | smell: 3.5 | taste: 4 | feel: 4.5 | overall: 4.5
a: thick brown head that retains very well, near black color with some impressive lacing
s: chocolate malty smell
t: oatmeal upfront with subtle hints of chocolate, roasted malts, very smooth flavor
m: crisp with huge amounts of carbonation, medium almost creamy body that is smooth throughout
d: wow - very impressive as none of the flavors are over the top. just a simple, smooth stout. was worth the trip to nz to pick it up!
433 characters
4.15
/5
rDev
+7%
look: 4 | smell: 4 | taste: 4.5 | feel: 3.5 | overall: 4
Ahh the hard to find Emersons Oatmeal Stout. But damn was it worth it.
A =Poured a dark mahogany/black with little foam.
S = Roasted malts, dark chocolate with hint of coffee.
T = I'm thirsty just thinking about it. Smooth. Damn Smooth. Slight roasted malt flavour that mellows to a chocoate flavour that lingers.
M = Here is where the beer falls down a little. I felt it was a little watery. Lightly carbonated for easy drinking.
D = Good. I could do with one right now.
Definetly reccommend it.
516 characters

4.77
/5
rDev
+22.9%
look: 4 | smell: 4.5 | taste: 5 | feel: 4.5 | overall: 5
this oatmeal stout from emersons is an absolute pearler. i love drinking this beer at every possible opportunity. alas availability means thats not as often as id like, and it is a bit on the pricey side. however you have to be prepared to pay for quality and this brew has it in spades.
the appearance of this stout isnt too different from any other, perhaps a little more transparent than many in its brown/ deep ruby hues. it does have that foamy puce (almost) colored head that i always like to see from a stout. semi sweet smell, with something milky in there, with a bold roasted mocha type aroma that is very appealing. the body of the beer is light, particulalry for a stout, but this in no way detracts from the beer. flavor wise this still goes far beyond most. to me, the mark for an exceptional taste rating is based on one principle above all others. i can just be sitting around and suddenly the taste will come to me. then i go get some! the flavor of this beer is simple yet delicious. its got coffee and chocolate notes with a hint of dried fruit. nothing startling there, but these flavors are backed with the most awesome creamy smooth malty taste ive ever had in a beer. high praise, but its just exceptional. mellow hopping means theres some bite, but never losing the creamy character. the fact that this is not a heavy stout means youll be drinking this all night long if youve got enuff. once youve had one its hard to stop. this beer only loses points in the feel stakes because it can be a little fizzy at times. but overall this is a gem.
this is a great oatmeal stout top to bottom. once again, emersons have put together a beer to do the southern hemisphere proud. get thee to a bottle shop and buy buy buy!
1,742 characters
4.03
/5
rDev
+3.9%
look: 4 | smell: 3.5 | taste: 4 | feel: 4.5 | overall: 4.5
Deep black (looks like stout)
The smell was the most disappointing aspect of this stout It had a distinct seaweed/kelp quality
I didnt get too much in the way of burnt grain to this , rather more hoppy
The mouth feel is really distinctive being thick and smooth as.
A very drinkable stout and a pleasure to have tried it
325 characters
4
/5
rDev
+3.1%
look: 4 | smell: 4 | taste: 4 | feel: 4 | overall: 4
Quite a long, slow pour into a 500ml stein resulted in pitch black beer with a pretty big beige head.
Roasted malts at first smell with some chocolate aroma that arises at the right temp (not too cold).
The chocolate dominates the taste with an ever so slight bitterness.
Moderate mouthfeel, almost a little too light. Middle of the road carbonation.
If this wasn't so pricey this would make a pretty damn tasty session beer for cold winter nights like tonight.
466 characters
4.13
/5
rDev
+6.4%
look: 4.5 | smell: 4 | taste: 4.5 | feel: 3 | overall: 4
A: Pours a really dark mahogany that is practically opaque. Pretty thick tan head.
S: Smells of roasted malts predominatly. Little bit of chocolate as well.
T: Roasted malts and grainy oatmeal up front. Chocolate comes on gradually and accompanied by a slight bit of hops in the aftertaste. Lovely.
M: Quit a bit of carbonation especially for the style. Pretty smooth but once again a little light bodied for the style.
D: I'm usually not a fan of chocolate flavored beer but this one isn't to overpowering. The lighter feel of this beer makes this one a little more drinkable than others of its kind.
606 characters
Oatmeal Stout from The Emerson Brewing Company
3.88
out of
5
based on
12
ratings.