Belgian-Style Witbier
| Back Road Brewery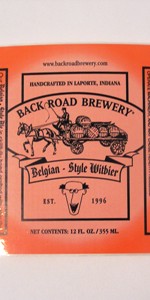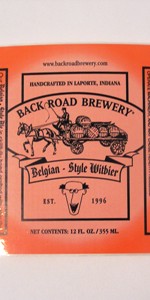 BEER INFO
Brewed by:
Back Road Brewery
Indiana
,
United States
backroadbrewery.com
Style:
Witbier
Alcohol by volume (ABV):
5.50%
Availability:
Summer
Notes / Commercial Description:
No notes at this time.
Added by zerk on 08-16-2002
HISTOGRAM
Ratings: 10 | Reviews: 9
Reviews by Viking:
4.1
/5
rDev
+7%
look: 4 | smell: 4 | taste: 4 | feel: 4 | overall: 4.5
Wow, my first review in over two months...I knew I'd been slacking off, but I had no idea it was this bad!
This is nice summer offering from an Indiana brewer. Very clear (for the style) straw-golden brew. Starts with a nice thick head, but doesn't last very long. Minimal amounts of lace left behind. Strong and crisp aroma of wheat, like standing in a newly harvested field. Very light notes of fruit hiding in there with a slightly stronger bit of spice. Strong wheat flavor, slightly sweet and malty with light spicy notes. Fruit nearly non-existent in the taste, but comes out a bit in the aftertaste. Very crisp, and somewhat dry. This is an extremely refreshing and drinkable brew, though I'd like it to be a bit spicier. Hopefully, I'll be able to find this in bottles for the hottest days of summer!
811 characters
More User Reviews:
3.89
/5
rDev
+1.6%
look: 3 | smell: 4 | taste: 4 | feel: 3.5 | overall: 4
I swear to got this is my witbier. I wonder if I could sue. I doubt it. I don't think they'd have access to my recipe. Chalk-cloudy yellow-tan body is topped by a fleeting white head. The aroma is sourish (almost like a dish rag, but not in a bad way) with coriander dominating slightly over the orange peel. The flavor is lightly tart, wheaty and nicely spiced. Excellent and flavorful. The only difference between this and my witbier is that my witbier is more acidic. This is lightly tart, mine is almost on the mild end of lambic tart. This is a better beer than mine.
572 characters
3.57
/5
rDev
-6.8%
look: 3.5 | smell: 4 | taste: 3.5 | feel: 3 | overall: 3.5
Bottle acquired in trade with BBB63 (thanks!).
Poured a darker and cloudy yellow color with a small sized white head. Aromas of citrus, coriander and yeast. Decent witbier aromas. Tastes of the same although on the lighter side. Thinner and watery body.
Notes from 7/9/05
274 characters
3.27
/5
rDev
-14.6%
look: 3 | smell: 3.5 | taste: 3 | feel: 3.5 | overall: 3.5
12 oz. bottle into a pint glass
Pours a not so pretty cloudy golden-orange, a bit dark for a witbier really. Tons of suspended yeast, worries me. A half inch white head on top, falls to a skim rather quickly. Lacing is nonexistent.
Aromas of clove, wheat, orange citrus, bubble gum, yeast. Quite pleasing and inviting.
Taste is very wheaty, a strong bread character, light on the citrus, clovey phenols bringing up the rear with a bit of spiciness and the bubble gum esters coming out along with some apple.
Mouthfeel is medium bodied, creamy texture, but ultimately comes across as a bit thick for the style to me. Drinkability isn't that great, it's just not that good.
I was pretty disappointed with this one hoping for a nice witbier since I never see any around here. The taste profile was kind of a mess overall and didn't make me want to finish the beer and risk getting a case of the massive yeast shits.
921 characters

4.18
/5
rDev
+9.1%
look: 4 | smell: 3.5 | taste: 4.5 | feel: 4 | overall: 4.5
Picked up a growler of this at the brewery. It's a beautiful hazy orange (a friend said it looked like cloudy Tang). The aroma is good, with some spiciness coming through with just a bit of orange, and of course wheat. The taste is complex yet subtle. You definitely get the wheat, coriander, and orange, but also subtle hops and malts. It seems to have just the right amount of carbonation. I could drink this stuff all night.
427 characters
4.45
/5
rDev
+16.2%
look: 4.5 | smell: 4.5 | taste: 4.5 | feel: 4 | overall: 4.5
Golden and slightly cloudy, with a small amount of lace after settling. Coriander aromas abound, offsetting a nice malty nose. Only enough hops to give some balance. Light to medium body, crisp, and dry. Malty taste... I noticed a touch of the coriander there too, not at all fruity - almost thought I tasted a little bit of nut. This was an excellent Wit, from a local brewery that I'm growing to like more and more.
423 characters
3.94
/5
rDev
+2.9%
look: 3 | smell: 4 | taste: 4 | feel: 4 | overall: 4
bootleggers make trips
across state lines for wit beers
belgian treats for me
I was initially worried as I heard no distincitive pop when I opened the bottle, and absolutely No HEAD formed when I poured this into my glass. I was pleasantly surprised to take a sip and find that this was very delicious and quite refreshing. Unfortunately, winter has made a second run through Chicago and I may have to wait a few weeks to appreciate this beer on a warm spring day. I imagine that this is an excellent beer for hot summer days. It is light, fruity, and refreshing.
568 characters

4.04
/5
rDev
+5.5%
look: 3 | smell: 4 | taste: 4 | feel: 3 | overall: 5
poured into a pint glass
A.
a murky yellowish color. no head at all. bad pouring technique probably.
S.
a pleasant smell of wheat, coriander, and little clove.
T.
taste of wheat and hints of citrus fruit. very refreshing. could be slightly stronger but still very good.
M.
disappointing that there wasn't much head and carbonation. tastes almost flat. not quite medium bodied, but close. goes down smooth.
D.
High on the drinkability scale. This was a very refreshing brew and would be great on a hot day. I would love to have this on tap and will definitely get it next time i visit the brewery.
608 characters

3.41
/5
rDev
-11%
look: 2 | smell: 3.5 | taste: 4 | feel: 2.5 | overall: 3
Provided by gwuilliums so that we could drink wheat while we were brewing with it.
A: Hazy yellow-gold color with virtually no head formation, even with an aggressive pour.
S: Very nice sweet malt and no small amount of clove and spice from the Belgian yeast.
T: Very malty. Excellent citrus hops. Some spiciness and clove and coriander.
M: Lack of carbonation makes this feel like some sort of imperial version - very syrupy.
D: The taste of this beer is really good. If they could bring the carbonation level up to what would be expected of a wheat beer, I would love to re-review this one.
599 characters
Belgian-Style Witbier from Back Road Brewery
Beer rating:
3.83
out of
5
with
10
ratings