Back Road Ale
| Back Road Brewery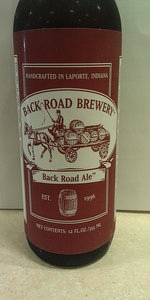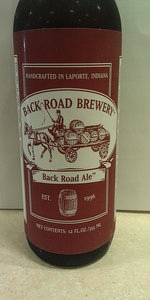 BEER INFO
Brewed by:
Back Road Brewery
Indiana
,
United States
backroadbrewery.com
Style:
English Pale Ale
Alcohol by volume (ABV):
5.00%
Availability:
Year-round
Notes / Commercial Description:
No notes at this time.
Added by zerk on 02-18-2003
HISTOGRAM
Ratings: 15 | Reviews: 9




3.77
/5
rDev
+8.3%
look: 3.5 | smell: 4 | taste: 3.5 | feel: 4 | overall: 4
P: 12 fl oz bottle in to a pint glass.
A: SRM is amber. Translucent, clear filtered. Head is off white, 1 in, dissipates to line the top of the beer. Moderate carbonation. Light lacing.
S: Rounded maltiness with light hop additions.
T: Full malt and mildly bready notes. Light hop notes and a touch of caramel tones. Mildly malty aftertaste with a light bite.
M: Medium/light body. Fuller malt profile than the body would generally indicate. This beer is unpasturized and exhibits the feel beers of this sytle generally do. Semi-wet finish.
O: New brewery to the Indiana beer scene, so I thought I'd give them a go. Nice beer, solid. No faults to cite, and actually a true English Pale. Not pasturizing this beer was a nice touch, though it does make distro and qc a bit more difficult to manage. Good flavors, well crafted, nice price point. I would buy/have this beer again.
881 characters
4.15
/5
rDev
+19.3%
look: 4 | smell: 4 | taste: 4 | feel: 4.5 | overall: 4.5
I saw this and was overjoyed that this brewery's bottles are making their way down to Indy. LaPorte is seven minutes from my boyhood home, so I'm hoping they rep the NWI well.
The beer pours a pretty hazy/mostly opaque amber brown color with a fluffed out white head that has a little staying power.
Aroma is truly toasty. Light roasted grains, slight piney bitterness. Very decently caramel and open fieldish.
The flavor is fairly standard, very straightforward. Lots of toasted grain flavor. Very dependent on the base malts with the light barley flavor, with just enough of the biscuity/crusty bready flavor you should get in an EPA. Just a touch bitter, very subdued on the hop front.
Frothy, well carbonated mouthfeel. Heavy but not too much so.
Way drinkable. Actually, this is exactly the kind of beer you could quaff and if every beer producer would have one of a similar quality, the beer world would be a better place. There is something to be said for executing on a style and making it just plain good.
1,019 characters

3.78
/5
rDev
+8.6%
look: 4 | smell: 3.5 | taste: 3.5 | feel: 4 | overall: 4.5
poured into a pint glass
A.
pours a nice amber color. head a little small, but there is still head.
S.
a nice strong malt smell. subtle hops. like floral hops but mainly the malt is the largest presence.
T.
similar to nose. nice malt presence, but a little bitterness up front from the hops, but smooths out and the end. reminds me a bit of Sam Adams Oktoberfest.
M.
Medium bodied beer. good amount of carbonation. goes down smooth, just like most malt dominant beers.
D.
Good drinkability. its not a stellar beer, so I don't know how much I would down in one setting. Would be a decent session beer.
611 characters

4.47
/5
rDev
+28.4%
look: 4 | smell: 4.5 | taste: 4.5 | feel: 4.5 | overall: 4.5
Very nice copper color with a bit of nice head and some lacing. Very nice scent; good English hops (jerky and slighly crisp) -- Fuggles and KG I think, with a nice malt sweetness. Excellent taste, a very hoppy beer with Fuggles on top for the hops, and with a nice malt backbone. Goes down very nicely.
302 characters
3.21
/5
rDev
-7.8%
look: 4 | smell: 3 | taste: 3 | feel: 3.5 | overall: 3.5
12 oz. bottle into a pint glass
Pours a clear orange hue with a half inch off-white head. It falls to a cap that retains well but doesn't leave any lacing.
Aroma is very malt forward with a strong caramel and butter toffee character, probably a slight diacetyl. There's a mild floral hop character but it's barely perceptible.
Taste is of caramel up front with the buttery character coming in next. Balanced out by a hefty amount of floral spicy hops with a bit of a mineral taste that lasts into the finish.
Mouthfeel is medium bodied, slightly syrupy with a bit of a creamy touch to it, but it ends on a slightly harsh note.
I decided to give this shot but like many of their beers I was disappointed. The biggest thing that ruins it for me is the slight butter taste and smell. Wouldn't recommend it.
809 characters
3.84
/5
rDev
+10.3%
look: 3 | smell: 4 | taste: 4 | feel: 3 | overall: 4
Picked this one up at City Wide on a business trip to South Bend. Slightly hazy amber color and a light dusting of white head which eventually dissipates to nothing.
Grainy malt smell, lightly sweet. Tart grapefruit with a bit of pine.
Subdued flavor more indicative to me of an English Pale Ale. Grainy and sweet with solid grapefruity hop flavor without too much bitterness.
Lighter than I'd like with more carbonation than the appearance would suggest. Still a little disappointing.
This beer is quite drinkable despite its flaws and I'm glad I grabbed it (on recommendation by City Wide employee).
Tasted on 7/14/08.
625 characters
3.13
/5
rDev
-10.1%
look: 3.5 | smell: 3 | taste: 3 | feel: 3 | overall: 3.5
I tried this recently at the hotel bar, first beer from Back Road I've had and it was a 25 oz. mug. Clear apricot-golden body with a moderate, two-finger white head resting atop, modest duration. Somewhat malty nose, veering toward sweet corn but a bit more complex--a bit of caramel, faint whiff of pine. Malty taste with light hop bitterness, pleasant enough but run-of-the-mill. Creamy, straightforward, pleasant after a good evening swim.
Worth trying, just don't expect a world beater. OK overall.
503 characters
2.25
/5
rDev
-35.3%
look: 2.5 | smell: 2.5 | taste: 2 | feel: 3 | overall: 2
Appearance: Pours a hazed amber body with an explosive, run-away white head.
Smell: A tart, twangy aroma akin to cooked berries along with a dose of pine.
Taste: A beer that begins and ends tart, with some mild malt flavors and English hops in between.
Mouthfeel: Thin-bodied. Questionably well carbonated.
Drinkability: A "flagship beer" that's flying at half-mast.
378 characters
4.12
/5
rDev
+18.4%
look: 4 | smell: 4.5 | taste: 4 | feel: 4 | overall: 4
Pours a hazy light copper with a thin white head that leaves some lace on the glass. Aroma consists of a yeasty bread dough-like maltiness, just a touch of a fruit, with grassy herbal notes. Flavor is very well balanced, with a buscuity beginning, then some caramel notes, with an herbal finish that has a slight bitterness. Has a medium body with low to medium carbonation. This is right on for the style, and is a very good English-style Pale Ale. Well done.
460 characters
Back Road Ale from Back Road Brewery
Beer rating:
3.48
out of
5
with
15
ratings