Dismiss Notice
Dismiss Notice
Zestig
| Brouwerij De Landtsheer NV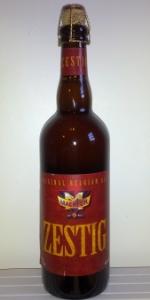 BEER INFO
Brewed by:
Brouwerij De Landtsheer NV
Belgium
|
website
Style:
Belgian IPA
Alcohol by volume (ABV):
10.00%
Availability:
Year-round
Notes / Commercial Description:
Meaning "sixty" in Dutch, "zestig" refers to this beer's 60 IBU, underscoring the prominent role noble hops play in this dry-hopped beer, in terms of both bitterness and aroma/flavor.
Added by smithj4 on 11-01-2013
Reviews: 11 | Ratings: 50

4
/5
rDev
+1.3%
look: 4 | smell: 4 | taste: 4 | feel: 4 | overall: 4
No date, it just says LGTB 13:14. Whatever that means. A couple months old - from the Rare Beer Club.
A: A clear gold pour. Big, light, airy and frothy white head. Great head retention but not much lacing sticking to the glass.
S: Decent citrus with some grass backing it up. Sweet grainy malt comes through in abundance.
T: More of the same, very nice crisp citrus with grassy hops in the middle. Grainy malt sweetness in the finish with cloves now. Light wave of bitterness and then lots of lingering grassiness.
M: Medium-heavy bodied, crisp and lighter than you'd expect.
O: Big golden ale with some traditional dry-hopping. Nice balance of sweetness and bitterness with a crisp bite makes for a nicely drinkable brew. Nothing too amazing but it hits all the good notes for me.
★
788 characters

4.23
/5
rDev
+7.1%
look: 4.5 | smell: 4 | taste: 4.5 | feel: 4 | overall: 4
Poured into a tulip. Finely bubbled head on top of a yellowish golden body. Nose is a bit underwhelming with hints of citrus. Taste is citrus, clove, pepper,and bread with less hoppiness than expected from the description. Easy to drink considering the 10% alcohol content. A well crafted, balanced beer but not a real standout to me.
★
335 characters

4.66
/5
rDev
+18%
look: 4.75 | smell: 4.25 | taste: 4.75 | feel: 5 | overall: 4.75
Poured from 750 mL bottle into snifter. Best by May 28, 2016.
A: Pours a hazy lemon yellow with a generous 3 inch frothy white head with excellent retention (lasts for many, many minutes). Backlighting really makes this shine. Quite a beauty.
S: Soft citrus (lemon and orange), white pepper, a note of earthy funk, dry cracker malt, and some interesting herbal notes (mint, basil, and perhaps more). Lovely.
T: Whoa! Soft citrus blossoms into distinct orange and cantaloupe notes. White pepper followed closely by more spice (clove and cinnamon) and herbal notes (mint and basil). Fruity esters, spicy phenols, and a touch of earthy funk courtesy of the yeast. Dry cracker malt akin to Pilsner. Soft vanilla and a pear note become more apparent as this warms.
M: Soft, creamy, and subtly sweet. Excellent mouthfeel with the superfine bubbles giving this a frothy, fluffy feel. Dry bitterness throughout from the nice hop component. Lingers and matures nicely on the palate with more of the herbal and spice notes coming to the forefront. I did a double-take when I saw the ABV was 10%. There is no way you'd guess that after the first few sips. Light-medium body. Crazy good here.
D: Extremely drinkable and exceptionally constructed brew. The yeast and hops are highlights and are allowed to play above the delicate malt backbone. This was a very pleasant surprise! My hat is off to you, Malheur!
★
1,416 characters
4.13
/5
rDev
+4.6%
look: 4 | smell: 4 | taste: 4 | feel: 4.75 | overall: 4.25
Appearance: Slips out a lightly clouded, pale dark golden body with a couple inches of airy, fluffy white froth.
Smell: Pale malts, bready and with a thin hint of honey dosed with a lightly earthy yeastiness and Noble-esque hoppy notes of floral perfume, orange marmalade and herbaceous spiciness.
Taste: A lightly bready pale maltiness with a sweet lick of honey to it and pinch of yeast-riddled bread dough. Floral, citrusy (orange peel) and just lightly grassy. Encroaching white peppercorn spiciness. Small splash of apple juice. All in all, it's not overtly bitter. Drying, sprightly finish seeing a touch of alcohol warmth and a continued citrusy fruitiness.
Mouthfeel: Medium-bodied. In line with the other Malheurs, it's quite crisp and carbonated for a rather lively mouthfeel.
Overall: I quite enjoyed it, though, for others, they may be a bit disappointed it doesn't really deliver a typical IPA-like punch.
★
922 characters

4
/5
rDev
+1.3%
look: 4 | smell: 4 | taste: 4 | feel: 4 | overall: 4
Poured into a Gulden Draak tulip. Pours hazy straw amber with gold notes and a huge, large bubble white head that dissipates slowly leaving lots of bubbly lacing. Aroma is very citrusy, with orange, grapefruit and lemon and ripe tropical notes, Belgian yeast, bready malt and Belgian spicing. Flavor is fruity, dominated by the same mixed citrus in the aroma, especially orange and exotic citrus flavors. Interesting estery flavors develop with both citrus and exotic fruit elements as well as moderate grassy hops. Finishes with grapefruit rind, clove and grassy hop bitterness. Medium bodied with peppery, active carbonation. A refreshing and brightly flavored Belgian style IPA, moderate bitterness, but with light hop flavors, mostly in the citrus range. Feels like a triple style crossed with an IPA, but with a more interesting and intense fruit component. The hops are much more citrus forward than expected from a Noble hopped European ale, and for the better. There are nice lively citrus flavors here that really made this interesting. I liked this quite a bit
★
1,070 characters

4.25
/5
rDev
+7.6%
Appearance: Big fluffy lace head. Hay/straw color. Hazy.
Smell: Malty, yeast, honey, slight bit if spices
Mouthfeel: light and traditional golden ale style feel,
Taste: malts, hops bitter left as an after taste, sweet honey malts transitions into biscuits then into the bitters.
Overall: solid beer. I have had better in the strong blond category. I could drink this all days.
★
378 characters
3.75
/5
rDev
-5.1%
Beer pours a cloudy dark golden body with a huge white head. The smell reminds me of a skunked beer. The taste is sort of skunky, slight bitter hops and sweet malt. There is a lot of carbonation behind this beer too.
★
217 characters

4.25
/5
rDev
+7.6%
A
pours a fully hazed dull straw yellow, frothy cumulus froth, white as snow, excellent lacing
the aroma is thick, cool that a scent can be described with dimension jargon
rich sweet powder sugared yeast
fruity citrus unnamed meld of sensations
very sweet
rich full somewhat firm mouthfeel shy of cloying
Malheur knows big, they don't seem to care about little
60 ibus don't come through, a grapefruit rind bitter
I believe in Malheur
cheers
jd
★
452 characters

3.45
/5
rDev
-12.7%
look: 3.5 | smell: 3.5 | taste: 3.5 | feel: 3.5 | overall: 3.25
Served in a Lagunitas mason jar.
Can I get a forty of "Sixty" anywhere? Regardless, this stuff pours a partly-cloudy straw-brass topped by a couple fingers of lightly cream-white foam. The nose comprises bread, spicy Belgian yeast, light champagne grapes, a dash of black pepper, some light grass, and a touch of clove. The taste brings in more of the same, though it often comes off as yeast-laden white bread dipped in white wine. The body is a lithe medium, with a moderate carbonation and a drying finish. Overall, a nice enough Belgian offering, though the hops really aren't able to shine very brightly amidst the overpowering yeast and bread parts. Still, it's not bad.
★
677 characters

3.04
/5
rDev
-23%
look: 4 | smell: 3 | taste: 3 | feel: 2.75 | overall: 3
A-Pours yellow/gold. Small sample but I can tell that this would birth quite a massive head.
S-Aroma is especially yeasty. All the Belgian spiciness pops up in the nose. Lacking a truly hoppy aroma. Noble hops are light. More about the yeast and alcohol.
T-Flavor is more of the same. Spicy Belgian yeast and a full, spiced-bready malt. Hops aren't potent enough for me. Wouldn't have guessed this was a Belgian IPA...if it even truly is.
M-Full bodied and hot. Carbonation was lively, which lifted the feel a bit. A sipper.
O/D-Not a fan of this beer unfortunately. Thankful I didn't shell out any more for this because I would have been disappointed.
★
656 characters
4.09
/5
rDev
+3.5%
look: 3.75 | smell: 4 | taste: 4.25 | feel: 4 | overall: 4
Appearance: Pours a very pale, somewhat cloudy gold into my goblet. A two-finger head composed of tiny white bubbles perches on top and then slowly collapses, leaving spotty lacing.
Smell: The yeast takes a more prominent role than in many beers, and it is interesting. Classic Belgian white pepper and cloves from the yeast are present, but the yeast itself is also prominent, if that makes any sense. A mix of herbal notes combine with a vinous element to round it out. Very enticing.
Taste: This is a good one. It's very well balanced, and the hops generally provide a perfect counterpoint to the candy sugar notes. Noble hops add an almost pilsner-like feel. White pepper and other spices combine beautifully with the herbal flavors, which amplify as the beer warms. Really complex and well done.
Mouthfeel: Carbonation is relatively high and the beer is almost airy in the mouth, which seems to help camouflage the almost undetectable 10% ABV.
Drinkability: Very high, particularly given the very well-hidden alcohol.
Edit: I'm tasting this one again almost exactly two years later because it arrived recently from the Rare Beer Club. All of what I wrote in 2013 still applies, although it's worth emphasizing just how excellent and balanced this beer is in light of the proliferation of Belgian-style IPAs. Sometimes when I taste one I feel like someone just dropped some Belgian yeast into a DIPA, or dumped a ton of hops into a tripel, and the results aren't great. This beer, on the other hand, is tremendously well constructed and works on multiple levels. Cheers!
★
1,581 characters
Zestig from Brouwerij De Landtsheer NV
87
out of
100
based on
11
ratings.