Fish Tale Organic Oatmeal Stout
| Fish Brewing Company / Fishbowl Brewpub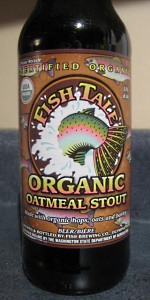 BEER INFO
Brewed by:
Fish Brewing Company / Fishbowl Brewpub
Washington
,
United States
fishbrewing.com
Style:
American Stout
Alcohol by volume (ABV):
6.40%
Availability:
Year-round
Notes / Commercial Description:
No notes at this time.
Added by bstave on 03-09-2012
Reviews: 11 | Ratings: 35
3.92
/5
rDev
+3.2%
look: 4.5 | smell: 3.75 | taste: 4 | feel: 3.5 | overall: 4
Serving: on tap in a shaker pint.
Foamy head that doesn't last, but coats the glass with lacing. Aroma is mild roasty. Flavor is roasty, a bit of coffee, and a lot of oatmeal. The beer is creamy but not at all heavy. Very nicely done.
239 characters
3.78
/5
rDev
-0.5%
look: 4 | smell: 3.5 | taste: 4 | feel: 4 | overall: 3.5
12 ounce bottle into pint glass, bottled in 2/2014. Pours nearly pitch black color with a 1 finger dense tan head with good retention, that reduces to a thin cap that lingers. Light spotty soapy lacing clings down the glass. Aromas of dark chocolate, cocoa, coffee, roasted malt, molasses, dark bread, toasted oats, light char, and roasted earthiness. Nice and pleasant aromas with good balance and complexity of dark/roasted malt and toasted oat notes; with solid strength. Taste of dark chocolate, cocoa, coffee, roasted malt, dark bread, toasted oats, light char, and roasted earthiness. Good amount of roasted bitterness on the finish; with lingering notes of dark chocolate, cocoa, coffee, roast, dark bread, toasted oats, light char, and roasted earthiness on the finish for a while. Very nice complexity and robustness of dark/roasted malt and toasted oat flavors; with a nice roasted bitterness/sweetness balance and zero cloying flavors after the finish. Medium carbonation and body; with smooth, creamy, and slightly chalky mouthfeel that is nice. Alcohol is well hidden with no warming present after the finish. Overall this is a very good oatmeal stout. All around good complexity and balance of dark/roasted malt and toasted oat flavors; and very smooth to drink. A nicely enjoyable offering.
1,305 characters
3.75
/5
rDev
-1.3%
look: 3.75 | smell: 3.75 | taste: 3.75 | feel: 3.75 | overall: 3.75
Poured from a 12oz bottle into a US tumbler pint glass.
A: The beer is a deep dark brown color, with a thin off-white head that fades slowly and leaves a thin lace on the glass.
S: The aroma contains roasted malts, coffee, chocolate and a touch hops.
T: The taste starts out sweet with a hearty roasted malt character and flavors of toasted oats followed by mildly sweet flavors of chocolate and coffee. The hops presence is mild but complementary and brings a good balance. The after-taste is slightly sweet.
M: Crisp and smooth, medium body, medium carbonation, finish is dry and slightly sticky.
O: Tasty, goes down easily, not too filling, decent kick, good representation style, it's a solid beer to drink for a while if you're in the mood for the style.
768 characters
3.47
/5
rDev
-8.7%
look: 3.5 | smell: 4 | taste: 3.25 | feel: 3.5 | overall: 3.25
Pours an opaque black with a foamy dark khaki head that settles to a film on top of the beer. Thin rings of lace line the glass on the drink down. Smell is of dark roasted malt, toasted oats, cookie dough, and cocoa aromas. Taste is much the same with cocoa and char flavors on the finish. There is a mild amount of roasty bitterness on the palate with each sip. This beer has a lower level of carbonation with a slightly crisp mouthfeel. Overall, this is an above average beer with a very nice set of smells but the roasted malt flavors are a bit too acrid in my opinion.
572 characters

4.06
/5
rDev
+6.8%
look: 4.5 | smell: 4 | taste: 4 | feel: 3.75 | overall: 4.25
Poured into a shaker pint glass.
Look: Black as midnight. Oatmeal colored head recedes to a thick film, nice retention. Sheets of webbed lacing.
Aroma: Burnt or charred malts, black licorice, dark coffee.
Taste: Starts off with some hearty roasted malts and flaked oats. Soon after, bitter chocolates, coffee, and black licorice.
Mouthfeel: Medium body, dry.
Overall: A well made oatmeal stout, organic or not. Can't wait to try their organic amber.
454 characters
3.82
/5
rDev
+0.5%
look: 4 | smell: 3.75 | taste: 3.75 | feel: 4.25 | overall: 3.75
12oz bottle, a pleasant single find at my not-so new go-to store for the like.
This beer pours a deep, very dark chestnut brown hue (black, I suppose, in low light), with basal cola highlights, and three fingers of puffy, bubbly, foamy chocolate milk head, which leaves some consistent spider web lace around the glass as it slowly ebbs away.
It smells of musty, ashy hops, very dry, chalky cocoa, nutty biscotti, grainy malt, mild bitter coffee, and mushy oatmeal porridge. The taste is more dry chocolate wafer, oat and mixed-grain breakfast cereal, caramel malt, a bit of fruity citrus, and sassy earthy, leafy hops.
The carbonation is pretty laid back, but not to the point of lethargy, the body an adequate medium weight, and mostly smooth, with a tangible creaminess. It finishes off-dry, the chocolate and cereal notes easily parrying the lingering earthy hops.
An agreeable enough oatmeal stout, however, the hops seem to get in the way more than actually aiding in the overall complexity, like the best examples pull off. Tasty, though, with a welcome kick.
1,070 characters
4.1
/5
rDev
+7.9%
look: 4 | smell: 4 | taste: 4 | feel: 4 | overall: 4.5
A: Poured a big, deep brown nearly black with a nice brown cap and some bubbles
S: Big milk chocolate, hearty oats and a light whiff of coffee
T: Followed the nose very well. Nice rich, smooth chocolate with a subtle oat presence, roasty a tad bitter with some light coffee
M: Great body, lots of flavor, well carbonated
O: Wow. Fish hit this one out of the park. I hope they are returning to their old ways. This beer was good but the overall drinkability of this beer was great. Well rounded.
498 characters
2.97
/5
rDev
-21.8%
look: 3.5 | smell: 1.5 | taste: 3.5 | feel: 3 | overall: 3.5
Spawned Feb 2012
Pours dark, black with a quilt of residing tannish foam. Initial whiff has a substantial amount of butterscotch. After a while, I get through to olfactory senses of sweet toasty malt and hints of caramel and vanilla. Not really happy with the nose for an oatmeal stout. Flavor is malty with a good dose of oats and creamed coffee flavors. A nice full body with moderate on low carb and a slick finish. The nose on this one is dissatisfying, but the flavor and mouthfeel are nice.
497 characters

3.92
/5
rDev
+3.2%
look: 3.5 | smell: 4 | taste: 4 | feel: 3.5 | overall: 4
12 oz bottle courtesy of Libby pours an opaque black color with a dense cap of tan head. Nice lacing.
Nose is an interesting blend of cocoa, black licorice, alcohol and molasses. Not sweet, per se...but definitely has some sort of malty sugar aspect to it.
Taste is smooth and rich and actually has more hops than usually found in an oaty stout. Not really much fruit, chocolate or sweetness. Pretty damn tasty though, it is incredibly balanced...equal parts hops, malt...sweet, bitter...etc. I dont know if I am totally sold on the idea of a hoppy oatmeal stout, but Id love to have this (and others of this ilk) again.
622 characters

3.87
/5
rDev
+1.8%
look: 5 | smell: 3 | taste: 4 | feel: 4.5 | overall: 4
12 oz single from "Lifesource" Salem. $1.79 6.4% alc very nice looking ale..near pitch black body topped by a gorgeous thick and creamy tan head. After the good looks the aroma is on the slight side..toasted oats,coffee but faint. Taste is strange its all rather sunshine fruitiness at the start then the dark chocolate and mid level black coffee take over..then a bit o cream..and again a sweetish finish. Good palate to this one loved the different textures. Overall a very nice stout
486 characters
4.44
/5
rDev
+16.8%
look: 3.5 | smell: 4.5 | taste: 4.5 | feel: 4.5 | overall: 4.5
12 oz bottle (spawn date FEB '12) poured into New Belgium Snifter.
A- Pours midnight with a chocolate milk colored head that dissipates quickly leaving little lacing.
S- Smell is big for a lighter stout. Big chocolate and coffee tones. Very nice.
T- Taste follows nose. Really satisfying stout with big chocolate and coffee. Right amount of bitterness to balance out the big malt.
M- Mouthfeel is clean and the carbonation is spot on to create a nice creamy mouthfeel. Very smooth!
O- What a great surprise from my local brewpub. This is the newest to Fish's six pack line up and it's their best to date. Great work and for those who seek out organic beer, this is the stout to find. Great work.
700 characters
Fish Tale Organic Oatmeal Stout from Fish Brewing Company / Fishbowl Brewpub
3.8
out of
5
based on
35
ratings.