Leavenworth Premium Lager
| Fish Brewing Company / Fishbowl Brewpub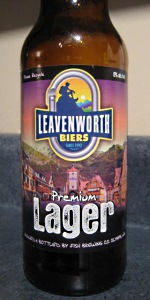 BEER INFO
Brewed by:
Fish Brewing Company / Fishbowl Brewpub
Washington
,
United States
fishbrewing.com
Style:
German Pilsener
Alcohol by volume (ABV):
5.00%
Availability:
Rotating
Notes / Commercial Description:
No notes at this time.
Added by hopwave on 09-17-2012
Reviews: 7 | Ratings: 26
3.9
/5
rDev
+4.6%
look: 3.75 | smell: 3.75 | taste: 4 | feel: 3.75 | overall: 4
Pours a murky honey orange with a foamy off-white head that settles to a film on top of the beer. Foamy streaks of lace form around the glass on the drink down. Tiny particles of lace sink to the bottom of the glass after the pour. Smell is of grain, grass, floral, and earth aromas. Taste is much the same with grain, grass, earth, and slight fruit flavors on the finish. There is a mild amount of bitterness on the palate with each sip. This beer has a lower level of carbonation with a slightly crisp mouthfeel. Overall, this is a good beer that is tasty, light, and easy to drink.
Serving type: can.
605 characters
3.43
/5
rDev
-8%
look: 4 | smell: 3.5 | taste: 3.25 | feel: 3.5 | overall: 3.5
A thanks goes out to the captain of the canship, woodychandler, for this beer. Poured from a 12 oz. can. Has a golden color with a 1 inch head. Smell is of malts, lemons, a bit grassy. Taste is lemons, some malts, becoming tart as it warms. Feels medium bodied in the mouth and overall a decent beer, but not really what I expect from this style.
346 characters

3.65
/5
rDev
-2.1%
look: 3.5 | smell: 3.5 | taste: 3.75 | feel: 3.5 | overall: 3.75
A: Golden yellow with a very slight haze; off-white foamy head that forms nicely and stands up well.
S: Malty, maybe just a bit of an herbal note. Nothing overpowering.
T: Follows the nose; clean and crisp, with no bitterness or spice to speak of. No aftertaste; very clean finish. Rather sweet; very easy to drink.
M: About average for a lager; nothing special but far from watery.
O: My expectations weren't too high for this beer, but it delivered a rather pleasant experience on a sweltering summer afternoon.
517 characters
3.75
/5
rDev
+0.5%
look: 3.75 | smell: 3.75 | taste: 3.75 | feel: 3.75 | overall: 3.75
And starting St. Patrick's Day is....Washington brewed lager? Bought a single while in Arizona, as this beer is not available in my area. On to the beer:
A little hazy inside this dirty goldenrod colored beer. Topping it is a half-inch of steady head which is holding its size. The aroma is pleasing to the nose, bringing to mind cut grass, hay, and vague grain.
Pleasing taste as well. It's a simple lager with good flavor. The beer has a dominant grassy/hay theme throughout and a decent malt backbone which adds a cracker-like note. It's an easy drinking beer, helped by its light body and somewhat crisp mouthfeel. For a warm day, Leavenworth Premium Lager would be one of many contenders for that beer du jour.
718 characters

3.79
/5
rDev
+1.6%
look: 3.75 | smell: 3.5 | taste: 4 | feel: 3.75 | overall: 3.75
A great grilling/smoker day like to day for me calls for a lager.Pours into a becker a slightly hazed lighter golden with a nice fluffy sticky bone white head that settles very slowly leaving nice lacing behind.Aromas are grainy with a tinge of metallic along with herbal hops.A nice palate and on the dryer side,toasted grain and crisp bready malts with noble hopped lightly spicy and herbal finish.This is a pretty damn good pilsner,I see it's seems hard to find but if you can find it,buy it.
495 characters
3.92
/5
rDev
+5.1%
look: 3.5 | smell: 4 | taste: 4 | feel: 3.5 | overall: 4
355ml bottle, a single dredged up from some random liquor store visit a few months back. Hope it's still good, I sure as hell need something lighter than the norm right now.
This beer pours a hazy medium golden straw colour, with one fat finger of densely foamy, bubbly off-white head, which leaves a nice array of pockmarked limestone cliff lace around the glass as it readily abates.
It smells of bready, doughy pale malt, aged lemon flesh, and floral, leafy, and somewhat bitter hops. Nice. The taste is grainy, lightly bready malt, some softly sweet honey, a mild stony flintiness, faintly tart generic citrus, and moderately bitter earth, leafy hops.
The carbonation is on the low side, but still well supportive, the body a decent medium weight, just a tad clammy, but smooth enough overall. It finishes off-dry, in an agreeably balanced manner - the subtly subdued malt and the sassy hops doing a fine job of playing off of each other.
One rather slavish, but almost entirely accurate recreation of the old world German pilseners - malty, bready, and hoppy - all of the right type and in the correct order. How endearing for this little enclave in the Pacific NW to more or less hit the nail on the head. Good stuff.
1,227 characters
3.85
/5
rDev
+3.2%
look: 3.5 | smell: 3.5 | taste: 4 | feel: 4 | overall: 4
12oz. Bottle with a freshness date... looks like this was bottled back in May.
Pours a golden honey colour with a thin white head. Light floral aroma... taste is very clean, smooth, and easy drinking not bitter just very smooth and 'Premium' tasting...
255 characters
Leavenworth Premium Lager from Fish Brewing Company / Fishbowl Brewpub
3.73
out of
5
based on
26
ratings.