Beyond The Pale
| Fish Brewing Company / Fishbowl Brewpub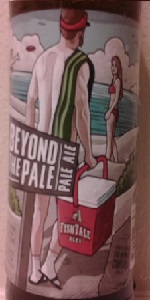 BEER INFO
Brewed by:
Fish Brewing Company / Fishbowl Brewpub
Washington
,
United States
fishbrewing.com
Style:
American Pale Ale (APA)
Alcohol by volume (ABV):
5.00%
Availability:
Year-round
Notes / Commercial Description:
No notes at this time.
Added by artoolemomo on 09-21-2013
Reviews: 8 | Ratings: 43
3.82
/5
rDev
+7.3%
look: 4 | smell: 3.75 | taste: 3.75 | feel: 3.75 | overall: 4
12oz single bottle - wow, it's been a while since I've since any of this brewery's wares up here in Alberta. Kind of sexy label, I gotta say.
This beer pours a clear, medium copper amber colour, with three fingers of puffy, loosely foamy, and somewhat bubbly tan head, which leaves some layered streaky and sudsy lace around the glass as it lazily subsides.
It smells of bready and biscuity caramel malt, muddled domestic citrus pith, faint earthy yeasty notes, and some nice leafy, weedy, and piney green hop bitters. The taste is gritty and grainy pale malt, a lesser caramel sweetness, acrid orange and white grapefruit rind, sort of musty yeast, and more edgy leafy, herbal, and grassy verdant hoppiness.
The carbonation is fairly robust in its straight-shooting frothiness, the body a so-so middleweight, and generally smooth, with a very subtle airy creaminess arising as things move out of basement bar fridge temperatures. It finishes trending dry, as both the citrus and pine esters seem to possess the chutzpah to linger well into that good night.
Overall, this is a pleasant enough Yankee pale ale, the West Coast hop treatment duly noted and appreciated. Enjoying a Fish Brewing offering is like meeting an old friend after a long time, something that I should really be doing more of, metaphorically and otherwise.
1,335 characters

3.65
/5
rDev
+2.5%
look: 3.5 | smell: 3.5 | taste: 3.75 | feel: 3.5 | overall: 3.75
Poured from a bottle into a cigar city pint glass.
Thin white head that dissolves quickly,light orange/pale amber I'm color.Light carbonation.
The nose is citrus and pine,west coast hops,with an earthy scent.
The palate is bitter hops,with an earthy back end.I'm also getting hints of the floral notes typical to an English Pale Ale.
The body is medium,with a slight resin texture.
This is a pretty standard American pale ale.Not bad but not spectacular either.Something I would definitely drink again,but not a favorite.
526 characters
4.05
/5
rDev
+13.8%
look: 3.75 | smell: 4.25 | taste: 4 | feel: 4 | overall: 4
22oz bomber served in a can glass. Beer pours on the amber side of pale and forms a medium white head. Aroma is super citrusy, suggesting orange peel to me, and dry hopping that compares to West coast IPAs. Great aroma for an APA in my book. Flavor is likewise hoppy and citrusy, but without the high-alpha bitterness I've been trained to expect from these flavors. Unsurprisingly, I suppose, my closest referent for this experience is the first time I tried Organic Wild Salmon Pale Ale, by the same Olympia brewery. Highly recommended for any glass that only needs a medium number of IBUs.
596 characters

3.53
/5
rDev
-0.8%
look: 3.5 | smell: 3.5 | taste: 3.5 | feel: 3.75 | overall: 3.5
This may or may not be Jim Gaffigan's favorite beer or at least his favorite label.
Look - With a slow pour very little traces of quickly disappearing foam with a slight lacing. Deep orange in color.
Taste - Guess I'd say a slight fruity flavor but nothing over powering. Not a memorable beer but not awful either. Weird overall flavor for a pale ale especially something labled "beyond the pale". I'd drink it again but won't seek it out when building my next grocery store 6 pack.
Overall - It's a better than average beer in my opinion, not much better than average but worth a try.
592 characters
3.25
/5
rDev
-8.7%
look: 3.25 | smell: 3.25 | taste: 3.25 | feel: 3.25 | overall: 3.25
Revisit.
This was poured into a pint glass.
The appearance was a glossy pale orange color with a thin white foamy head that dissipated pretty quickly. Thin lacing.
The smell had some burnt crisp pale malts, slightly biscuity and lightly dosed with some pomme-like fruits.
The taste was mainly sweet with a moderate crisp bready to biscuity flavor.
The mouthfeel was light to medium bodied with a decent sessionability to it. Carbonation felt fine as an APA.
Overall, decent APA, might be able to bang out again, numbers don't change for me. It is what it is.
558 characters

3.04
/5
rDev
-14.6%
look: 3.25 | smell: 3 | taste: 3 | feel: 3.25 | overall: 3
Pours amber-colored brew with a modest foam in the Het Kapittel chalice. Fairly frothy on the tongue with a rather sharp taste. Aroma seems to be lacking.
I'm not sure that "Pale Ale" comes to mind while sipping this stuff, but it's drinkable enough. It's more fruity, and citrusy. There is just a slight wheaty, grainy note. Just slightly bitter finish. I keep forgetting this even while I am drinking it. I am not tasting much in the way of hops, just that odd peach iced tea hint.
Pleasantly malty but sharp-edged brew. From the 12 oz bottle purchased at the Fish Tale brewpub in Everett.
593 characters

3.69
/5
rDev
+3.7%
look: 4 | smell: 3.75 | taste: 3.75 | feel: 3.5 | overall: 3.5
I am now committed to reducing, if not eradicating, my backlog of bottles. This one came out of the cooler at The Friendly Greek Bottle Shop.
From the bottle: "Spawned on Date Notched Above".
Ha! As a Piscean, I love fish jokes. As to the label, the bearded fellow with the cooler has his waist obscured by the sign. The look on the blonde's face, wearing a red bikini, indicates either interest or bemusement. Also, her distraction is disconcerting, since her ponytailed friend in the green bikini has already thrown the frisbee and now she is looking away!
I popped the cap and began a pretty aggressive pour to create a finger of fizzy, tawny head with limited retention. Color was a deep-gold (SRM = > 7, < 9) with NE-quality clarity. Naturally, this signaled the appearance of the comedy team of Mammon, Croesus and Midas, al sqabbling amongst themselves for a taste. Nose had a light grapefruit-citrusiness to it, highly appropriate for the style, but usually not enough to sustain a hophead like me. Mouthfeel was medium and it had a tang to it like grapefruit rind. Interesting and literally lip-smacking. I really liked the snap that the hops were adding to this one. Finish was semi-dry, a little tart and actually kind of refreshing. I prefer AIPAs to APA, but this was a nice diversion.
1,307 characters
3.37
/5
rDev
-5.3%
look: 3 | smell: 3.5 | taste: 3.5 | feel: 3 | overall: 3.25
Appearance- Pours up only about a finger's worth of head which has some retention but not much. The head is a pure cotton white while the body is a medium amber that glows a light, golden amber when held up to the light. No lacing at the moment.
Nose- Not a lot of presence but enjoyable. Light citrus backed up by honey and caramel. Very well rounded and integrated. Slight tomato note but it works with the other fruit. Some pineapple and melon on the nose. Very smooth.
Taste- Starts with caramel and seems to be riding that for a while as light notes of orange and lemon begin to follow. Tiny bits of grapefruit and matchstick. Slight spice on the finish with a bit of pine and resin. Could use more citrus presence. Is lacking in both presence and complexity. The more I drink it, the thinner it seems to become. Not bad but rather boring at the moment. Dull spice, slight wood and resin on the finish. Swirling revives to a pleasurable state but this is not something one should have to do with a pale ale. Caramel subsides a bit and more orange and grapefruit come out but not enough. Slightly above average beer.
Mouthfeel- Light to medium bodied with light syrup in the texture. A little too carbonated. Seems to clash with the spice and resin finish.
Drinkability- Definitely easy drinking but more for its lack of notable aspects than for presence of them. Around 8 bucks for a six pack but not really worth it.
Overall- Slightly above average. Didn't do all that much for me. It's worth giving a try but if you don't, you're not missing much.
1,574 characters
Beyond The Pale from Fish Brewing Company / Fishbowl Brewpub
3.56
out of
5
based on
43
ratings.