Oud Zottegems Bier
| Brouwerij Crombé / 't Brouwershof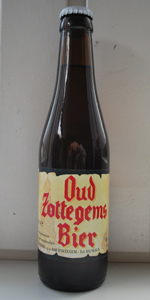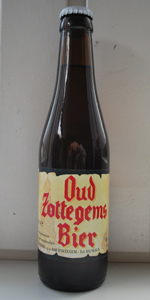 BEER INFO
Brewed by:
Brouwerij Crombé / 't Brouwershof
Belgium
brouwerijcrombe.be
Style:
Belgian Pale Ale
Alcohol by volume (ABV):
6.50%
Availability:
Year-round
Notes / Commercial Description:
No notes at this time.
Added by BeerAdvocate on 09-26-2003
HISTOGRAM
Ratings: 12 | Reviews: 9
Reviews by ManforallSaisons:
3.4
/5
rDev
-0.9%
look: 4 | smell: 4 | taste: 3 | feel: 3 | overall: 3.5
A bottle bought a few months ago at Beer Mania in Brussels, served at cellar temperature into a tulip (actually a Duvel glass, perhaps not what the maker had in mind, but I'm glad to have the subtle head concentrated). It poured with just a ghost of sediment, with a white head foaming up to a depth of a finger and a half, then settling down to a clinging veil of suds atop the clear liquid of a dark honey color -- not the standard amber but call it pine honey. The scent turned out to be my favorite part: a delicate herbal hop scent, no yeast but maybe a touch of cellar, with some peach, banana and vanilla. A bit thin in the mouth, it opens with just a flitting of toasty vanilla, almost scotch-like, then wiped away by a deep and long-lasting hop character, with an oaky drying of the tongue and a touch of coriander. After the above tasting, I'd note that it played nicely with a little of a barnyard-y St Marcellin cheese.
931 characters
More User Reviews:

3.37
/5
rDev
-1.7%
look: 3.75 | smell: 3.5 | taste: 3.25 | feel: 3.5 | overall: 3.25
3.75
/5
rDev
+9.3%
look: 4 | smell: 4 | taste: 3.5 | feel: 3.5 | overall: 4
750ml corked and caged brown bottle. Date missing. My bottle says it was brewed at Strubbe.
Pours a nice amber color with a billowing, foamy slightly off white.ivory colored head that takes a good while to recede. It does leaves some spotty lacing behind.
The smell is a bit tangy, just a slight tang and funk. it is fruity and rich, there is a lot of pear in the scent. Smells like a Duvel clone almost.
The flavor is sweet and tangy but balanced. There is a great deal of malt seeping through here, a subtle bitterness, and some lemon flavors. It is an interesting one.
Not the best, not the worst, a solid Belgian amber ale.
631 characters
3.9
/5
rDev
+13.7%
look: 3.5 | smell: 3.5 | taste: 4 | feel: 3.5 | overall: 4.5
Appearance: orangeish-gold, good clarity, a narrow layer of bubbly foam that quickly flattens out to almost nothing, some specs of lace
Aroma: candyish, malty, light hops, a bit soapy, and a meaty yeastiness in the background
Flavor: a dry malt taste up front with a slight woodiness, slightly tart, yeasty, a pleasant spicy hop flavor; finish is dry with a bitter, almondy aftertaste
Mouthfeel: medium body, light carbonation, minerally
Overall Impression: An interesting one. Seemingly "normal" at first, but there are some interesting smells and flavors in there. Can't really put my finger on it. The Crombe yeast strain is unique, which I'm sure contributes to the unusual character of the beer.
712 characters

3.68
/5
rDev
+7.3%
look: 4 | smell: 3.5 | taste: 3.5 | feel: 4 | overall: 4
A - Pours a two finger head with a clear amber body. The beer has some slight carbonation. The head is still present minutes after pouring from the 25.4 oz bottle.
S - Malts, grains and some faint sweetness.
T - Malts, grains and a faint sweetness all hit your mouth. This beer is pretty smooth as the sweetness is balanced well with the malts and grains.
M - This is a pretty solid beer. The malts and grains transition well to a nice sweet finish.
D - This is a pretty drinkable beer. There are definitely some shortcomings in this beer. However, this beer is is rather impressive considering there is 6.5% abv.
619 characters
2.54
/5
rDev
-25.9%
look: 3.5 | smell: 2 | taste: 2.5 | feel: 3.5 | overall: 2.5
BBE 03-07. Nice and quiet well lasting white head and pale beer with some proteinfloaties. Nose is lots of vegetables, sweet corn, rahbarber, pepperspice and smooked. Taste is compared to nose smooth but missing bitterness. Lots of oxidation, maybe bit of wood, rhubarb also in taste and though something else to me far off a good taste. Watery mouthfeel and maybe to some something great but a poor out to me after some sips. Maybe age had something to do with it as there was lots of floaties but within freshnessdate and well kept.
534 characters

3.5
/5
rDev
+2%
look: 3.5 | smell: 3.5 | taste: 3.5 | feel: 3.5 | overall: 3.5
This is a decent beer to start this review. I bought it at the Bierschuur in Poppel, Belgium. Best before august 2012.
Poured in my Struise glass. Nice golden yellow fluid. A little carbonation and a two finger white head which disappears after two minutes, leaving a frotty head. Nice lacing in the glass.
Smell of bread and a bit banana.
Nice somewhat bitter taste but not disturbing. Decent mouthfeel (with hints of citrus fruit) because of the soft aftertaste.
467 characters

3.18
/5
rDev
-7.3%
look: 4 | smell: 3.5 | taste: 3 | feel: 3 | overall: 3
A soft pour into my 25cl tulip glass produces a three-finger thick, pale tan colored head. The beer is brilliantly clear with a bright amber color and a perfectly clear, reddish copper hue when held up to the light. The aroma smells of toffee, quince paste, biscuit like malt, dusty crushed grain aromas, cider apples and lightly tart plum notes.
Quite well carbonated, the beer foams up as it hits my tongue. The beer is fairly dry and definitely light bodied, but not watery. This finishes with a spicy hop character and a lingering hop bitterness that is perhaps a bit more noticeable than I had expected. The malt character here seems a bit dusty and perhaps a bit oxidized. Some flavors reminiscent of cider, perhaps a touch of plum and some maltiness that reminds me of crackers and caramelized bread crust.
There is not a whole lot going on with this beer. It might be a little over the hill as it seems to be showing the affects of some light oxidation at this point. Not bad, but not overly interesting either.
1,022 characters
3.51
/5
rDev
+2.3%
look: 4 | smell: 3 | taste: 3.5 | feel: 3.5 | overall: 4
A: a nice rich amber color. There are some floaters in it that don't move around much (so orderly!). The head was kind of fizzy and didn't last too long.
S: Upon the first sniff, it seemed like the beer was gonna be funky farmhouse ale. As the beer warmed, I detected more sweetness in the aroma.
M: a slight dry sourness made me pucker a little with every sip, but the finish and aftertaste are definitely sweet. The beer stayed well carbonated the whole time it was open and I could feel the bubbles in my mouth.
T: Taste is a combo of dry and sweet like I say. The hops are light and subtle. Alcohol (at 6.5%) doesn't hit you right away. There is a little maltiness as well. In all, not really overpowering in any direction without really being "bland."
Drinkability: I think this is very solid straightforward beer. It doesn't seem to take any risks but it also doesn't seem to be missing anything. You could plop this in front of me blindly and I'd just say "Hey, that's pretty good. I'll have some more." This beer was given to me as a gift so I'm not sure of the cost but I would respect this as a pretty solid value. I wouldn't pay top dollar for it but I think it's a good choice when you want a decent Belgian offering.
1,234 characters
3.53
/5
rDev
+2.9%
look: 4 | smell: 3.5 | taste: 3.5 | feel: 3.5 | overall: 3.5
Glittering topaz with bubblebee yellow edges. Atop the beer sits the high quality sort of crown that is expected from all Belgian ales. The foam is pearlescent ivory in hue and is both sticky and rocky. A lovely array of delicate lace contributes to a good appearance score.
This beer is exhibit 'A' on why Belgian amber ale would be a worthwhile addition to the styles on this site. If had to choose between Belgian pale and Belgian dark, it would be the former without question. Each sniff delivers golden malt and sweet-and-tart fruit, such as apricots and peaches. All in all, nothing special.
Oud Zottegems Bier is pretty decent stuff, but I've come to expect the moon and stars from Belgian ale. Let's see how things play out over the next glassful or two. This is the kind of estery pale ale that just might sneak up on me over time. Here's hoping.
Not only does OZB look amberish, but it tastes amberish as well. The primary flavors are sun-ripened grain, sourdough bread, lemongrassy hops, clove-like yeast... and metal. Where the hell did that come from? If it doesn't fade soon, the flavor score will take a major hit. It's now pears and peaches rather than apricots.
The mouthfeel can't quite pull it off. Things start out on solid footing, then the bubbles lose their lift and the beer begins to (softly) collapse on the finish rather than remaining expansive and silky smooth.
Even though I'm finding some enjoyment in the bottom half of the 750 ml bottle, Oud Zottegems Bier won't find its way into my cart again. There are too many outstanding Belgian ales out there for the 'pretty good' ones to get a second look.
1,636 characters
Oud Zottegems Bier from Brouwerij Crombé / 't Brouwershof
Beer rating:
3.43
out of
5
with
12
ratings