Edwin Tucker's Empress Russian Porter
| Teignworthy Brewery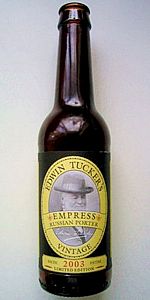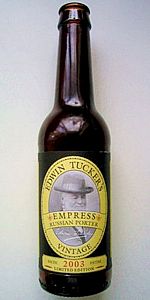 BEER INFO
Brewed by:
Teignworthy Brewery
England
,
United Kingdom
Style:
Russian Imperial Stout
Alcohol by volume (ABV):
10.50%
Availability:
Rotating
Notes / Commercial Description:
No notes at this time.
Added by wl0307 on 05-27-2006
HISTOGRAM
Ratings: 8 | Reviews: 8
Reviews by cypressbob:
4.47
/5
rDev
+9%
look: 4 | smell: 4.5 | taste: 4.5 | feel: 4.5 | overall: 4.5
275ml bottle, poured into a wide bowled tulip glass. Served a shade under room temp., put in the fridge for 5-10mins just to take it up closer to cellar temp.
2006 Vintage
Pours with a deep dark brown body, more or less black with no light penetration except for slight glimmers around the edges. Thick and slightly syrupy consistancy, not quite as dense as large american stouts that I've had though. I was expecting a dark head and thats what I got, thick dark tan head about a centimetre thick. Pretty poor retention, dissipating within a couple of minutues. Some small bubbles of light tan lacing up and down the glass
Smell, strong evaporating alcohol initially on the nose with a few spicy esters to accompany it. A whiff of rich mollasses and prunes, some vinous aromas (similar to a bid bold red like a cabernet) Some more esters follow, fresh pear and peach soaked in sugary syrup. A few notes of acetaldehyde, similar to that found in a few other big english stouts such as Sam Smiths Imperial Stout
Taste, spicy alcoholic coffee and a slightly spritzy mouthfeel from the small level of carbonation present. Rich sticky malt, some slight roasted character too along with a huge chunk of fruity spicy alcohol. Slightly nutty character, some bold rich espresso flavours exist on various levels and really explore the whole palette and mingle with the other tastes and flavours. Sticky liquorice and some slight acidity on the palette also. Lasting dark bitter chocolate on the finish along with dark deep malt character and a slight tinge of alcohol once again
I bought one bottle to age but realised to give aging any justice I'd have to try it fresh too. A superb achievment, a huge bold and aggressive porter. The alcohol is in there but not overwhelming by any means however it lets you know that what you're drinking is no session beer.
1,864 characters
More User Reviews:
3.63
/5
rDev
-11.5%
look: 4.5 | smell: 4 | taste: 3.5 | feel: 4 | overall: 3
275ml bottle brought back from Devon by a fine BA (Bobsy), 2006 vintage - thanks man!
Pours a viscous black with a nice mocha head billowing to the top, looks rich and luxuriant - fit for an empress!
Nose is sticky sweet, roasted/burnt malt, hint of smokiness, dark fruits. Pretty standard Baltic porter profile - not as much RIS.
This is a sweet, sweet brew! Sticky, thick sweet malt sulks over your tongue, coating it and not letting go! Roasted barley, charred wood, hint of smoke, cherries, hint of wood, anise, slightly herbal note, dark chocolate - all there and all fighting to be heard through the sweetness. Just not as balanced as I would like, especially after having a tasty Baltic porter earlier this week. Creamy carbonation, thick chewy mouthfeel.
A night cap for sure. The 275ml bottle is a boon because any more than that for one person would be too much says I. Sort of a Baltic porter, RIS cross-breed. Thanks for this rare treat Rob!
957 characters
4.47
/5
rDev
+9%
look: 4 | smell: 4.5 | taste: 4.5 | feel: 4.5 | overall: 4.5
275ml bottle bought from Tuckers Maltings... 2006 Vintage...
Poured pretty much pitch black. Dirty mocha head poured small but thick and foamy then faded quite quickly to the faintest covering with a thick ring around the edge... light patches of lacing...
Aroma - Deep roasted chocolate maltinesss, toffee and treacle sweetness, nice light peaty smokiness, muscovado sugar, charred wood, quite earthy, dark fruits (raisins, dates and figs), fruit loaf, light vanilla traces, peppery, no real hint of the alcohol, slightest hint of cardboard...
Taste - Quite a lot of roasted chocolate malt backed with light vanilla, some peat and charred wood smokiness, coffee, some molasses sweetness, spicy nutmeg, sooty and earthy, booze is just noticeable, light sourness, dried dark fruits (prunes to the fore), faint anise..
Feel - Pretty rich and smooth... full bodied... pretty drinkable for an 10.5% brew..
Overall - An excellent example of a RIS and one that ages exceptionally well. I have one left which i'll leave for another couple of years.. highly recommended...
1,069 characters

4.37
/5
rDev
+6.6%
look: 4 | smell: 4.5 | taste: 4.5 | feel: 3.5 | overall: 4.5
First of all, this beer is NOT retired, it is still brewed.
2010 vintage:
Look: the beer pours a deep black color with not head.
Smell: coffee, soy sauce, chocolate, some sourness from red fruits, roasted smoky malts and alcohol
Taste: Dark chocolate, lost of spices (pepper) coffee, red berries, roasted malts, licorice, alcohol, light peat, spicy peppery hops. Nice complex and balanced brew.
Mouthfeel: medium body and very low carbonation
Overall: A pretty good beer, not as sweet and overdone as most US beers in the same style. Very nice balance between bitterness and sweetness. Only negative points I can find are the low carbonation and the somewhat strong presence of alcohol.
688 characters
4.5
/5
rDev
+9.8%
look: 4.5 | smell: 4.5 | taste: 4.5 | feel: 4.5 | overall: 4.5
Poured from a room temperature 275ml bottle (purchased from Tucker Maltings, Newton Abbot), poured into a chalice.
Vintage 2006
Appearance: Pours thick and oily, with a midnight black colour, and a small tan head.
Aroma: Dark fruits, grapes, and blackberries. Smokey roasted malts, with a hint of dark chocolate. There is also molasses, and burnt toffee coming through. The alcohol is noticeable on the nose, but it is more of an undertone. Very complex aromas, something new seems to come through each time.
Taste: The initial flavours are smokey, much like a good aged whiskey. The malts are toasty and dark coming through with raisins, blackberries, and other dark forest fruits. Burnt sugars sit alongside hints of brandy alcohol, and molasses. Bitter chocolate and espresso coffee hold up the middle. The finish is alcoholic and warming, with a slightly bitter hoppiness, which is long lasting.
Mouthfeel: The feel is thick, smooth, and oily. It's undoubtedly full bodied, and has a deep warming alcohol feel.
Drinkability: A superbly smooth porter, which fulfills the 'silk in a glass' cliche. The flavours are brilliantly balanced and full. One of the best porters I have managed to get my hands on. Over recent years it seems that these high ABV Imperial Porters and Stouts have become the forte of American microbrewers but this is a perfect example that the British still make the original and the best. Try this if you can get it.
1,451 characters

2.54
/5
rDev
-38%
look: 1.5 | smell: 2.5 | taste: 2.75 | feel: 2 | overall: 2.75
From Tuckers. 2010 vintage.
A - pitch black body. Aggressive pour gives no head, only a scummy dish water film. Yuk.
S - muted. Roasts and a hint of cigar box.
T - dry roast driven. Licorice and hint of coffee. Dark chocolate and nuts but dry dry dry. Dull notes. More a Foreign Extra than an RIS. Not a Big Beer.
M - almost flat. No alcohol noticeable for ABV
O - the minimal pfffft when opened was not a good sign. I am soooo disappointed in this beer. It was a hand carry back from the UK. It has been well stored but not stood the test of time, despite being brewed 'to improve in the bottle over several years'. Hmmm.
627 characters
4.97
/5
rDev
+21.2%
look: 4.5 | smell: 5 | taste: 5 | feel: 5 | overall: 5
A rare find at the bottled beer bar, NWAF 06 in Manchester. Limited edition, only 2008 bottled were produced for the 2003 vintage--lucky me~~ Coming in a 275ml long-neck brown bottle, bottle-conditioned. Served cool in a large Burgundy bulb wine glass.
A: pours an opaque, black hue; the brownish beer head comes thick and foamy, with lots of medium air cells like a coffee-flavoured pancake... carbonation-status unknown.
S: incredibly complex... tangy and chewy dark fruity note upfront: plum-preserve+prunes+longan-fruits on shells+dried red dates; oily, thick, sour-coffeeish, backed by a lightly roasty edge of black-sugar and sour-sweet, toasted wood barrels, while a "quietly-stimulating", lightly savoury note of black beans+vintage soy-sauce sustains at the back, along with a mild touch of alc. Simply sublime... settled, rich, profound, and constantly-evolving... definitely the best aroma I've encountered for this beer style. Halfway house b/w Imperial Russian Stout and a robust Old Ale.
T: what a taste!!! leather-ish, charred-woody, tongue-shatteringly roasty, tangy, sour-edged black malts with a thick hoppy backbone to help achieve a certain gravity; backed by plenty of medium-bodied, chewy dark fruits as shown on the aroma, licorice and other grated dried root-herbs; leaving a superbly-lingering bitter-sweet, aromatic espresso-like aftertaste and a rounded taste of damson-preserve... Mildly tangy mouthfeel in the end, with a lingering, 3D-structured bitter aftertaste outliving both espresso and all fortified wines I've ever encountered... Where is the alc., by the way?
M&D: sublime... the taste goes so deep yet the overall impression makes one mistake it as a much lower-gravity ale; the robust body hides well beneath the complex flavour-profile, providing a subtle kickback way after one's five senses recover from the sensual feast. I thought I'd never given any beer full score on "smell" and "taste", but this one really opens up my eyes/nose/palate as well as expands the horizon for me by a mile-radius. Simply the best-ever Imperial Stout I've encountered.
2,100 characters
3.83
/5
rDev
-6.6%
look: 4.5 | smell: 4 | taste: 3.5 | feel: 4 | overall: 4
2006 bottle picked up after doing a tour of the maltings. Really neat place, where they use the old stone floor method - check it out if you're in that part of the world.
Pours a viscous black with a large mocha head that shows the carbonation is still in prime shape. Excellent lacing and retention. From here on in this beer reminds me of Southern Tier's imperial oatmeal stout. Strong roast in both the nose and the flavour, with coffee and bitter chocolate notes. Most markedly though is a tobacco, smoky oatiness that seems to overlay everything. Funnily enough I didn't find it all that sweet, but when you take sips in between bites of cookies and squares, I suppose that's to be expected! Alcohol is nowhere to be found, which makes this dangerously easy to drink. The body is thick and chewy... well suited for the size.
Not as outstanding as previous reviews had led me to believe, but a neat take on the style.
923 characters
Edwin Tucker's Empress Russian Porter from Teignworthy Brewery
Beer rating:
4.1
out of
5
with
8
ratings