Triple Fff Moondance
| Triple fff Brewing Company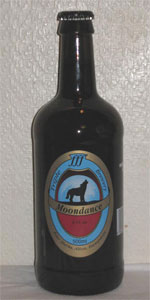 BEER INFO
Brewed by:
Triple fff Brewing Company
England
,
United Kingdom
triplefff.com
Style:
English Pale Ale
Alcohol by volume (ABV):
4.20%
Availability:
Year-round
Notes / Commercial Description:
No notes at this time.
Added by rastaman on 09-23-2003
Ratings: 13 | Reviews: 8
Reviews by Trizzle:
3.55
/5
rDev
+2.6%
look: 3.5 | smell: 3.5 | taste: 3.5 | feel: 3 | overall: 4
Crystal clear Amber body. Nice small head hangs around and leaves solid bath rings around the pint.
Equal parts dry malt and grassy hops in the nose. Reminiscent of horse poo. That's a good thing btw. I like the smell of horse poo. Hint of passionfruit, mango and orange.
Dry malt, dry bittering hops and some other aromatic varietals. Cereal, hint of banana. Some complimentary yeast notes. Basic and balanced.
Quite dry and moorish. Quite drinkable. A good drop.
467 characters
More User Reviews:
2.48
/5
rDev
-28.3%
look: 3 | smell: 2.5 | taste: 2.5 | feel: 2 | overall: 2.5
Pretty much a standard English Bitter/pale ale. Grainy malts and citric hops bitterness, nothing really poked its head out, pretty tame, but i won't go as far as to say its simple. Enjoyable i suppose, but not one i'd actively seek out, not too bad. (Cask KentBF 03')
267 characters
3.47
/5
rDev
+0.3%
look: 3 | smell: 3.5 | taste: 3.5 | feel: 3.5 | overall: 3.5
Drank at the Bateman's brewery beer fest, late May 2007.
Poured into a half pint sleeve glass, dispensed by gravity, it had no head, I do like to see a bit of foam, or a wisp of something when I take a beer, but this didn't seem to matter this time. The amber liquid looked happy enough without the need for a covering.
Hoppy and citrus flavours in the aroma, these carried on into the taste, some bitterness in there too.
A good beer, glad I tried it again.
467 characters
4.3
/5
rDev
+24.3%
look: 4 | smell: 4 | taste: 4.5 | feel: 4 | overall: 4.5
Had this at the Market Porter pub in London, a pub committed to real ale and ale from smaller breweries. Beer was medium amber and clear. Head was a tan color and airy, lacing was thick in spots only. Very smooth but had a citrusy hop bite, still well balanced. Very refreshing and light bodied. Very good beer.
311 characters
4
/5
rDev
+15.6%
look: 4 | smell: 4 | taste: 4 | feel: 4 | overall: 4
A light amber brew, an off-white small head, good lacing, and some curtains.
Smelling of malt, nuts, honey and pears.
Starting with sweet brown bread, red apples, orange peel.
Little carbonation, a soft texture, a long light dryness.
unexpectedly hoppy, unexpectedly nice!
276 characters

2.37
/5
rDev
-31.5%
look: 2 | smell: 2.5 | taste: 2.5 | feel: 1.5 | overall: 2.5
A - Pours a hazy amber with a gold hue with a lacklustre thin head, despite a hard pour. The head disappears immediately, leaving a trace of a thin ring.
S - Citrus, a little biscuity malt, tea-like background note. Can't find anything else.
T - Citrus appear almost immediately, with some caramel joining it in the middle. Finishes with a bubblegum note and very little bitterness. Nothing too interesting or complex.
M - Thin, with some smoothness building during the drink. Carbonation is almost non-existent.
D - An OK thirst-quencher, but there are many others within the style which are so much better.
612 characters


3.29
/5
rDev
-4.9%
look: 3.5 | smell: 3.25 | taste: 3.25 | feel: 3.5 | overall: 3.25
3.05
/5
rDev
-11.8%
look: 3 | smell: 3 | taste: 3.5 | feel: 2.5 | overall: 2.5
This is my second time to try this beer, and the first time for its bottle-conditioned version. The beer label reveals that it was voted as Champion Best Bitter at GBBF 2002--quite promising it sounds. BB FEB 07, served cool in a straight imperial pint glass.
A: translucent dark orangey amber in colour; the carbonation is weird, that it remains flat ever since the bottle is popped open, with sporadic med.-large bubbles ejected from the bottom and just a thin, sparse bubbly head.
S: the honey-ish and biscuity edges of pale malts on a par with light flowery scent of hops... somehow the aroma is very settled, simplistic, not exciting, yet still approachable with some pleasant hops.
T: the initial bite of bitter and leafy hoppyness gradually softens to a more delicate biscuit-malty body with plenty of malt aroma to enjoy at the back of the palate (a bit like boiled root-vegetables, e.g. Yum), along with a pleasant kick of citric sourness... the finish sees a semi-dryish texture from apparently good amount of leafy hops in the brew, and a mild bitterness that is quite timid for an English bitter. The aftertaste smacks of cold jasmine tea with much less tea leaves in the cup~~
M&D: throughout the drink, the flavour remains pretty subdued and the texture more flat than ideal, reducing the enjoyment on the palate by a good margin. The best thing I can say about this bottling attempt is that it's not great, but I definitely recommend the cask version to anyone who hasn't lost interest after reading all four reviews here~~
1,544 characters
3.37
/5
rDev
-2.6%
look: 3.75 | smell: 3 | taste: 3.5 | feel: 3.25 | overall: 3.5

4.35
/5
rDev
+25.7%
look: 4 | smell: 4 | taste: 4.5 | feel: 4.5 | overall: 4.5
This was enjoyed at the General Elliot in South Hinksey (Oxfordshire) at a beer festival. It was on cask served in a traditional pint glass. The color was golden with a slight orange hue. The head was very minimal; the aroma was very sweet and fruity; slightly reminded me of bananas and oranges. The taste has a light malty sweetness followed by a terrific and full hop flavor. The quality is excellent - I highly recommend it as a fine English Pale Ale. (Wish I could find it in the States!)
493 characters
Triple Fff Moondance from Triple fff Brewing Company
3.46
out of
5
based on
13
ratings.