Thomas Hooker Brewing Company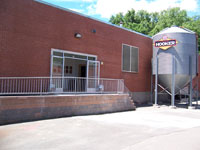 PLACE INFO
Type:
Brewery, Bar
16 Tobey Rd
Bloomfield
,
Connecticut
, 06002-3522
United States
(860) 242-3111 |
map
hookerbeer.com
Notes:
Formerly known as Troutbrook Brewing Company.
Added by BeerAdvocate
Reviews: 11 | Ratings: 35

3.63
/5
rDev
-7.4%
vibe: 3.5 | quality: 3.25 | service: 3.75 | selection: 4
As I'm sure most have read the beers are average to poor except for a few. The brewery is very large with two bars and room for hundreds of people in the gift shop/tasting area. They are very generous with the samples. You get a bracelet with 10 little tabs you are supposed to tear off and exchange for 3-4oz pours. Your choice, 10 of the same if you'd like. This seems loosely enforced, evidenced by the hundred or so free loaders pounding little beers and eating chips like it was a barbeque. This place appears to be a free beer pre-gaming stop for bar goers. Not passing judgement, just letting you know what to expect.
★
624 characters

4.34
/5
rDev
+10.7%
vibe: 4 | quality: 4 | service: 4.5 | selection: 4.75
Visited this brewery in early October after visiting Back East Brewery down the street. Easy to get to with plenty of signs and parking.
As you walk in, you pay $5 and get a bracelet with 10 pull tabs and a 4 oz. plastic cup. Would have been nice to have a nice branded, glass tasting glass like the other brew tours I've done... but beggars can't be choosers.
I believe they had 10 beers on tap, including Liberator (which at 9% is a steal), and you can use your 10 pull tabs for any of the beers, hell you could use all 10 on the liberator if you please. As a note, it's pretty laid back and they just fill your cups when you get to the bar, there were a few times I forgot to even throw a tab in the bucket to 'pay' for the sample. Also a plus, they had 2 bars and 2 servers at each bar, which greatly helped the ease of getting a quick refill.
Nice, large open space with TONS of memorabilia and swag and cool articles and history things on the walls (almost museum like). A tour was offered, but it was only about 15 minutes and didn't offer too much you didn't know already, although getting to taste a sample straight from the fermenter was kind of cool.
There was a big crowd there but it was handled well and there was plenty of staff on hand. I think we were supposed to get pint glasses on the way out but kind of snuck out and didn't get them, but not a big deal. Through and through, it was a really good tasting room with so-so brew tour and definitely worth the $5.
★
1,485 characters

4.89
/5
rDev
+24.7%
vibe: 4.75 | quality: 4.75 | service: 5 | selection: 5
Went to the Friday Night Open House, which goes from 5 -8 pm on the 1st & 3rd Friday of the month. For $10 you get a tour, endless samples of almost all the beers they brew, and a Hooker beer glass to boot (which had a coupon stuck in it for a free drink at a local restaurant that has their beer on tap). This is just an OUTSTANDING deal! We arrived around 5 pm, and quite a few people were already there. By 6 pm the place was packed - obviously it's a local hangout. The tour was informative, and just the right length of time. I tried every beer offered, from the 3 oz sampler plastic cup you get upon arrival. They had at least 8 on tap. I ended up purchasing a t-shirt, and a growler, which is another awesome deal at $11.00 filled with any beer you want (I chose the Irish Red)! As you leave they hand you your Hooker glass.
Even though I live more than an hour away I plan on getting to this party as often as possible. The people at Thomas Hooker Brewery really do it right!
★
985 characters

4.3
/5
rDev
+9.7%
vibe: 4 | quality: 4.5 | service: 5 | selection: 3.5
Thomas Hooker is a fabulous beer destination for CT. Not much more than a factory brewery with a tasting area and a merch area, two fridays a month it transforms. On these days, it fills up withcraft beer lovers (and their friends) for tastings. For $10 you get a sample cup and unlimited refills at whatever taps they have lined up, usually 4-6 beers in two stations to relieve pressure at one spot. Then as you leave for the night, you trade in your sample cup for a Hooker Logo pint glass. Win!
The service there is wonderful, simply by asking, we managed to convince the employees to give us an impromptu tour. Very informative and appreciated. They even let us taste beer right out of the tank.
The one downside is the crowd, unlimited beer for $10 attracts a lot of buzz seekers who don't care about the beer.
They dont offer food. While I was there there was delivered pizza for $2 a slice, but that may have been anoutside organization for charity, I cannot recall.
If you live in CT you must do this at least once, quite an experience.
★
1,051 characters

4.05
/5
rDev
+3.3%
vibe: 3.5 | quality: 3.5 | service: 5 | selection: 4
Went for a tour last Saturday, and it was very crowded. I guess they had some promotion on living social and everyone and their mom was packed inside. Little crowded but the lines for beer samples/growlers moved pretty quick.
The facility was very spacious and wide open. They have done some remodeling in the last few months according to the tour guide.
The location of the brewery is safe and is in no-way a bad section of town (per other peoples reviews)
I ended up spending $5 for a tour and was able to try their (American Pale Ale, Hop Meadow IPA, Blonde Ale, Irish Style Red Ale, Liberator Dopplebock, Nor'easter Lager, and some new Chocolate Stout). The only thing that stood out was the Liberartor and the IPA. The rest were just average and nothing to rave about. I ended up getting two growlers of the IPA which I have already consumed!
I would def head back there in the future!
I also found out the TH brews the Blonde on Blonde Ale for City Steam Brewery!!!
★
978 characters
3.36
/5
rDev
-14.3%
vibe: 3.5 | quality: 3.5 | service: 3 | selection: 3.5
Went on a Friday night. For $10 got all the beer I could drink and a pint glass, so cost is excellent. Beer was good but not great. There were 2 highlights. The Liberator Doppelbock is world class, an outstanding beer. Easy to drink and very well balanced. Also got Octoberfest virgin out of the tank which was tremendous as well. They have some take it or leave it selections for me, and the brewery is located in an industrial complex with a building of the same feel. Nevertheless, it's a really good trip for the money and one I would do again. Always good to support the local brewers.
★
590 characters
4.18
/5
rDev
+6.6%
vibe: 4 | quality: 4 | service: 5 | selection: 4.5 | food: 2
Came here with the wife and a buddy on a Friday durign the open house.
A - Lots of people getting their drink on before heading out. Had a funky happy hour vibe. Loved the 80's rap music playing. A really comfortable place.
Q - Many of their beers on tap to sample. The imperial porter went fast, but in total I counted 8 Hooker beers on tap.
S - Very friendly, moved the lines fast, and the folks there seemed eager to make sure you were enjoying being there. The tour was cool, and the people there answered questions about their products, and facility.
Sel - Plenty of taps and no issues trying the beers. The right way to sample Thoams Hooker beers.
F - Only option was pizza slices they sold for $2. But hey, it isn't a restaurant.
V - For $10 I got to try all their beers in a tasting glass, got a guided tour, and scored a pint glass with the brewery logo. That's a nice deal.
★
889 characters
3.73
/5
rDev
-4.8%
vibe: 4 | quality: 4 | service: 3 | selection: 4
NOTE: Troutbrook Grille is now closed. Troutbrook Brewery brews beer for off-premis only.
Located in the industrial, frog hollow section of Hartford. Let's just say it's not the area where you want your car to break down on the way there. The place itself is pretty cool though. An old brick factory building, large exposed beams, etc. Recently under new ownership, a lot of changes have been made.
Physically, the building is split up into a number of rooms. The bar room has the most relaxed atmosphere. Some booths around the perimeter, high tables in the middle. A nice place to have some beers. The dining room is in the middle of the building and is kind of choppy. Once you're in your high-backed, clausterphobic booth, you're cut off from the rest of the world. And the waitress forgets you're there sometimes. There's a large banquet room and a pool room that has a couple other games and a living room-like set-up with a large TV with comfy couches surounding it. In the back, behind large glass windows, is the brew room, visable from the dining room.
Menu: They seriously simplified their menu and it's probably for the better. They now have pizza ovens and the pizza is pretty good. The other items are basic bar food done pretty well.
Beer: The best change that came under new ownership was the hiring the ex-brewer of Castle Springs Brewing. The beer has greatly improved. On a recent visit the IPA (same recipe as his award-winning one at Castle Springs?) and Porter were delicious, the O-fest was good.
Overall, a pretty good place to visit.
★
1,574 characters

4.24
/5
rDev
+8.2%
vibe: 3.5 | quality: 4.5 | service: 3.5 | selection: 5
I've been meaning to visit this place for a while, and finally made it. I guess it took so long because it's far removed from the main eating and drinking venues in town, and difficult to find. It also sits pretty much alone in the middle of some not so wonderful areas of town. The building itself is a neat old factory with the original swinging wooden gates at the front entrance. The bar area is not too large, and is heavily wooded and dark. Didn't try the food, except for a few bowls of the salted peanuts in the shell, but I tried quite a few beers, and found most of those to be pretty good. Perhaps the improvements with the brewing mentioned in previous reviews have started to take hold, because I would rate the beers higher than some of the previous reviewers. I did find the red ale a bit watery, and the Thomas Hooker ale and the winter ale a bit bland with pretty mild hoppiness, but the IPA and the porter were excellent, and the nut brown was tremendous - very dark and malty. Did not try the belgian or the barleywine. I will visit this place again, and definitely recommend it to sample the vast beer selection.
★
1,132 characters
3
/5
rDev
-23.5%
vibe: 2.5 | quality: 3 | service: 2 | selection: 4 | food: 3.5
The beers are good to okay. They had overall good qualities with the porter being my favorite and the October fest being really good. They had a pilsner which was a brewer's choice that was almost undrinkable due to this strange chloroseptic, medicinal band aid taste. The food was good, I got a pizza that was good considering it was a brew pub and my best girl got a burger which she liked.
The service however was real poor. I had to flag my waitress down every time I needed something and that was after waiting 10 minutes to see her after we sat down.
I don't want to totally bash this place because I think it is great it's a brew pub. I may have just hit a bad night. I would however go back to City Steam brewery if I was to drive to Hartford again.
★
764 characters
3.53
/5
rDev
-9.9%
vibe: 4 | quality: 4 | service: 2.5 | selection: 4 | food: 3
Mr. Davis has done a fantastic job turning the brews around at this brewhouse. They used to have a weak selection of beer but now that has changed. About ten taps of their own brews plus guiness and a small selection of bottled beer was enough for me. It seems something new comes on tap every time i come here, last night it was a belgian golden pilsner. I'm not a pilsner fan but this brew was incredible.
The location is not the best, the food is ok and the service at times is slow. I found out last night that they allow cigars in the bar area while i was trying to eat. They also have some good entertainment in the early evenings on the weekends but not much of a crowd.
The biggest reason i frequent this place is the brews like Old Marley and the IPA . It's worth a visit if your in the area for the beer alone.
★
829 characters
Thomas Hooker Brewing Company in Bloomfield, CT
3.77
out of
5
based on
3,621
ratings.