Pilsner
| La Conner Brewing Company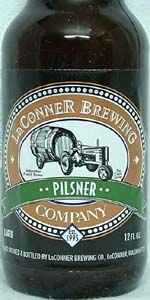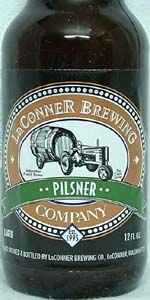 BEER INFO
Brewed by:
La Conner Brewing Company
Washington
,
United States
laconnerbrewery.com
Style:
German Pilsener
Alcohol by volume (ABV):
5.00%
Availability:
Year-round
Notes / Commercial Description:
No notes at this time.
Added by RoyalT on 09-08-2003
Ratings: 13 | Reviews: 9
Reviews by RedDiamond:
3.58
/5
rDev
+9.8%
look: 4 | smell: 3.5 | taste: 3.5 | feel: 4 | overall: 3.5
After purchasing a six-pack at the brewery, I drank three pilsners two days later. Remarkably, each of the three tasted different from one another. The Pilsner is frail straw yellow and is admirably clear with a thin white head. A doughy aroma makes a brief appearance then vacates. Given the dilute yellow body I wasn't expecting as much flavor as I received. The taste was biscuity with simple balances and a protracted sawdust finish.
The flavor has an odd way of abruptly fading as the beer breathes. And some bottles resonated with greater definition than others. Catch it at its peak and La Conner's Pilsner is attentive and precise. Wait too long and it dissipates to a compressed ambiguity.
701 characters
More User Reviews:
3.4
/5
rDev
+4.3%
look: 3.5 | smell: 3.5 | taste: 3.5 | feel: 2.5 | overall: 3.5
Pint consumed at the brewpub in Laconner for $4.25.
An oddly colored pilsener that looks for all the world like a glass of hazy, slightly dark lemonade with a modest, white foam cap.
Herbal, Euro hop notes. Floral, but bitter as well. While the hop aroma is not prticularly strong, there's no discernable sigh of the malts.
Surprisingly bitter, herbal hop flavor. The hops were of the European variety and so not out of place per se, but it seemed like it was a little over the top. Malts were barely there.
Light bodied, with a kind of blase attempt at what should be a crisp mouthfeel.
A drinkable "lighter" beer that was not unwelcome in hot, humid weather, but I did not find it close enough to the style to truly enjoy it.
732 characters
3.76
/5
rDev
+15.3%
look: 4 | smell: 3 | taste: 4 | feel: 4 | overall: 4
Appearance – Light but cloudy body with a decent head that went down quickly but laced the hell out of my glass.
Smell – Light hop scent with a grainy backbone.
Taste – The taste is much more sophicsticated than the smell. There's some complex malt in there to compliment the deep, hop body. The hops dominate, and offer a nice flavor of heavy, complicated hop combinations along with a bitter character.
Mouthgeel – Very carbonated for the style. This one pushed all the right buttons though and felt great.
Drinkability – A little too big and bitter for a Pilsner, IMHO, but good nevertheless.
613 characters

2.38
/5
rDev
-27%
look: 3.5 | smell: 3 | taste: 2 | feel: 2.5 | overall: 2
I must have gotten a bad batch of this. This version was thin, skunky and very neutral in flavors. I have noted that other reviews of this have marked this pilsner far higher, which leads me to believe that I'll need to give it another shot when I return to Seattle.
266 characters

3.75
/5
rDev
+15%
Solid Pilsner.
14 characters

3.6
/5
rDev
+10.4%
look: 3.5 | smell: 3.5 | taste: 3.75 | feel: 3.5 | overall: 3.5
Pale yellow with adequate carbonation. Quite malty in a pleasant way. Warm and just slightly sweet. Sort of a soupy flavor but the hoppy notes are resiny and spicy. A little dishwatery in the finish but quite drinkable.
Since nobody has reviewed this in years, I'm pleased to say it's better than average. Tastes good when cold. From the 32 oz growler purchased at the brewery restaurant.
389 characters
4.1
/5
rDev
+25.8%
look: 4 | smell: 4 | taste: 4 | feel: 4 | overall: 4.5
Wow what a shocker this was, I usually stay away from pilsners because of the lack of hops that I love, and usually just not my style. This beer however was incredible. The smell was pine and citrus hops but with a sweet sugared grain, buttered toast smelt also. The taste is where this truly shines, the hops are in the forefront, but they are smooth and refreshing, the blended sugared malt is so light and crisp that it makes this extremely drinkable. One of the few pilsners where I can say wow, this is great.
514 characters
2.76
/5
rDev
-15.3%
look: 3.5 | smell: 2.5 | taste: 2.5 | feel: 3.5 | overall: 3
Appearance: Arrives with a somewhat hazy light golden color - looked like a pilsner that needed to get a sun tan, unfortunately, although the head retention and lacing were nice
Smell: Very non-descript, certainly lacked the noble hop aroma I would expect from the style
Taste: Bready malt flavor with a slight bittering; I would have guessed this to be an all malt lager rather than a pilsner as both the malt and hop bill disappointed for the style
Mouthfeel: Light to medium body with moderate carbonation
Drinkability: This one missed the mark for me and, looking at the variability of reviews for this beer, I would think LaConner has trouble brewing lagers in a consistent fashion
690 characters

2.92
/5
rDev
-10.4%
look: 2 | smell: 2.5 | taste: 3.5 | feel: 2 | overall: 3
The pilsner is an odd beer. I'm not entirely sure what they are going for here. The color is such a pale yellow it almost looks green. The only aroma is could get out of it smelled like a cleanser but that might have been the glass although I thought I caught a whiff of honey. Sure enough the taste is a crisp honey taste with light hop bitternes that I kind of enjoyed despite being somewhat atypical. It finishes clean but their is a syrupy feel that lingers on.
465 characters

2.05
/5
rDev
-37.1%
look: 2 | smell: 2 | taste: 2 | feel: 2.5 | overall: 2
A bit of a mess this beer. Weird pale colour that almost looks green. Hop nose that seems off and no head. The flavour is unappealing and I had problems finishing the glass.It worries me when a brewer gets a style so wrong Avoid this beer and stick with their ales or wheat beer.
279 characters

3.62
/5
rDev
+11%
look: 4 | smell: 3.75 | taste: 3.5 | feel: 3.75 | overall: 3.5
Pilsner from La Conner Brewing Company
Beer rating:
23.1%
out of
100
with
13
ratings