IV
| La Conner Brewing Company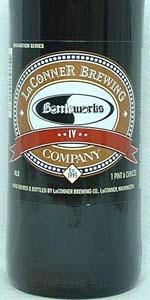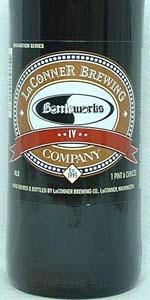 BEER INFO
Brewed by:
La Conner Brewing Company
Washington
,
United States
laconnerbrewery.com
Style:
American Double / Imperial IPA
Alcohol by volume (ABV):
9.60%
Availability:
Limited (brewed once)
Notes / Commercial Description:
No notes at this time.
Added by 49degrees on 03-23-2003
This beer is retired; no longer brewed.
HISTOGRAM
Ratings: 7 | Reviews: 7
Reviews by NorCalYeti:

3.65
/5
rDev
-9.2%
look: 3 | smell: 3 | taste: 4 | feel: 3.5 | overall: 4
taste- ripe, buttery, hoppy finish
smell- slight fresh hop quality, hint of sulphur
body- peppery, hoppy mouthfeel at the front of the tongue
appearance- organic apple juice
overall impression- would have had a month or two earlier (mellow character)
notes and comments- tastes of a smooth double ipa, sweet and bitter flavors, well balanced
346 characters
More User Reviews:
4.47
/5
rDev
+11.2%
look: 4 | smell: 4.5 | taste: 4.5 | feel: 4.5 | overall: 4.5
Appearance – This guy came out of the bottle a brownish-orange in color with a moderate head.
Smell – The thick, heavy malts assault the olfactory bulb without any mercy. This is a very hoppy brew, much more complex than the classic PacNW style. The malts and caramel are huge as well. This is a big nose by any measure.
Taste – The malts indeed are huge, strutting their ADIPA classification. The malts again are full of caramel and thicker than thick. The hops don't let up at the taste, either. They are just as big as they were in the smell with lots of pine and especially oodles of sharp citrus.
Mouthfeel – This is a big medium-bodied, very heavy on the tongue, and super slick along the teeth. This is enamel dissolving Washington State hops at their best.
Drinkability – Man oh man the hophead in me couldn't get enough of this at skyhand's Broken Fridge party. Thanks to this awesome friend and super BA for popping this gem.
955 characters
4.25
/5
rDev
+5.7%
look: 4 | smell: 4 | taste: 4.5 | feel: 4.5 | overall: 4
Pours a hazy caramelly orange, viscous looking with low to moderate cream colored, long lasting head into Unibroue tulip. Leaves a solid layer of lace on one side of the glass. Lots of little pieces, lots of big chunks left in the bottle
Aroma is primarily grainy. Some malt characteristics, raisins, and a hop presence that speaks to its age. Mellow but complex, portlike.
Taste is very complex. Some fruity, surprisingly light volatile flavors at first. Then comes more sweet, caramel and dried fruit flavors. Hops come in at the end to clean things up, just a hint of bitterness (for an Imp IPA) to remind you of what this beer once tasted like.
Feels slightly less syrupy than expected, but still coats the tongue nicely. Probably has thinned out over time. I can see this thing being somewhat of a monster when it was fresh (if only I had known back when I was 20).
This is definitely the most aged beer I have tried thus far (5-6yr). The dried fruit and overall complexity of the beer seem to be the distinguishing factors here, as well as a mellow hops presence, which was expected. Gives me motivation to hold on to some things I'd been tempted to break out recently. Overall, very drinkable for its age. Certainly not a beer that was ever made to session, but if it ever were available, I would definitely drink this again.
(Drank/Reviewed in celebration of acceptance to UC Davis Master Brewer Program)
1,412 characters
4.47
/5
rDev
+11.2%
look: 4 | smell: 4.5 | taste: 4.5 | feel: 4.5 | overall: 4.5
22 oz. bottle, brewed for Bottleworks' 4th anniversary in 2003. Poured in a big wine glass at 55 F/ 13 C.
Deep amber color, hazy with particles, small greenish beige head, plenty of sticky lace.
Complex aroma of sweet caramel and marmalade, with some vegetal green leaf, and deeper savory notes of leather and tobacco. Nice mix of fresh and dried fruit, and interplay between sweet and savory/pungent notes. A lot going on, yet cohesive, and the total effect is very nice.
Tastes like bittersweet citrus peel, with gobs of sweet complex caramel malt and a green vegetal bitterness like tomato leaf, along with citrus peel bitterness. The citrus aspect is very much like Campari. Well balanced in a perverse way; the sweetness and bitterness are equally belligerent, each attempting to bludgeon the other mercilessly until they collapse in a tangled pile. The vegetal note is unusual and interesting, and mild enough not to be a detriment. Quite tasty. Long sticky finish like Campari laced with caramel.
Sticky, oily, smooth. Great flavor and good balance make great drinkability.
I won't start aging any hoppy beers, but this was excellent.
1,146 characters

3.7
/5
rDev
-8%
look: 3.5 | smell: 3.5 | taste: 4 | feel: 3.5 | overall: 3.5
I have no idea how old this bottle is but I got it from the brewery and they found in the back somewhere. The reason I mention age is this beer tasted like an old barley wine. It was hazy old looking with little head. The smell was old hops and old citrus. The first taste was very un IPA like as there was no grapefruit and lots of aged notes. I have to say I felt cheated a little as this was not what I was expecting. As far as Barley wines go this was pretty good with lots of complexity and smoothness. Sure didn't taste like an IPA.
538 characters
3.85
/5
rDev
-4.2%
look: 4 | smell: 4 | taste: 3.5 | feel: 4.5 | overall: 4
22 ounce bottle acquired in a trade, drank tonight while watching the series finale of one of my favorite TV shows ever, poured into my Gordon Scotch Ale glass, murky medium orange color, barely any head whatsoever comes to the surface with an agressive pour, nothing but a few large empty bubbles sit at the top of my glass after a few seconds, looks pretty flat but still luring at the same time, aroma consists of hops, grassy accents, pine, lemons, oranges, pound cake, hint of booze, caramel, toffee, and herbal scents, taste starts off slightly dry with a hop twang, middle consists of a moderate malt profile with both toastiness and some sweet accents, finishes strong with earthiness and lingering malt, finish is not hot or anything but the booze are there to be tasted, warms up with some nice citrus and toastier malts coming to the surface, little sweet by the end but nothing drastic and had a nice rounded malt complexity to go with it, dry, earthy, citrusy, and slightly sweet mouthfeel, medium bodied, not much carbonation, a little on the thicker side for its style, taste lingers well, drank most of the bottle and could have had more, smooth and not overly sweet or filling, goes down well for a beer of its strength, this is one great strong ale and somehow the hops are still there after six years or so, this bottle had to have been cellared in ideal conditions because it blew me away how fresh this still tasted, all these Bottleworks anniversary beers have not disappointed in the slightest, wish I had more of this just to see how it will continue to age, recommended
1,594 characters
3.75
/5
rDev
-6.7%
look: 3.5 | smell: 3.5 | taste: 3.5 | feel: 4 | overall: 4.5
At 120IBUs this is a very hoppy beer, but it has a very strong malt content as well, and as such, doesn't punch you in the face like you'd expect. I was informed this was "over the top hop" and while it was hoppy, several lesser (IBUs that is) brews come across as being quite a bit hoppier.
Deep orange/ruby cloudy brown color. Minimal head, but reasonable and longstanding thin surface foam coverage. Decent collar but little lacing. Plenty of very small yeast particles floating throughout the glass on the pour. I found it visually similar to another other local brew favorite "Mac & Jacks African Amber" but most of the similarities end there.
Hoppy aroma yet malty side brings out some slight hints of caramel. Citrus kick of orange and even grapefruit,
Taste is full of hops with hints of pine. Not quite as much carbonation as one might expect, which almost lends this "imagination series" brew to be an offshoot of three different styles Amber Ale, I.P.A., and Barley Wine. Cirtus flavorings come through, particularly grapefruit, but that's perhaps as much to do about the high abv value along with the unique blend of hops and malts.
Brewed for and sold exclusively through Bottleworks in Seattle, WA (a local [decent] beer store] this beer is definitely a nice offer. Sold in 750ml bottles, the first half glass didn't sit as well on my palette as the second glass did. Once the palette became reacustomed to the blended style, it worked rather well. Complex flavors, bitter, malty, and warming. This is a brew that both hearty IPA and Barley Wine lovers should easily enjoy.
[ STATS:>> 750 ml bottle / ABV: 9.6% / PRICE: $ 4.99 USD ]
1,669 characters
IV from La Conner Brewing Company
Beer rating:
4.02
out of
5
with
7
ratings