Hubris Imperial IPA
| Elysian Brewing Company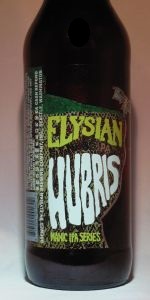 BEER INFO
Brewed by:
Elysian Brewing Company
Washington
,
United States
elysianbrewing.com
Style:
American Double / Imperial IPA
Alcohol by volume (ABV):
8.70%
Availability:
Rotating
Notes / Commercial Description:
No notes at this time.
Added by HuskyinPDX on 04-15-2012
Reviews: 10 | Ratings: 58

3.9
/5
rDev
-0.3%
look: 4 | smell: 4 | taste: 3.75 | feel: 4 | overall: 4
Poured from a 22-ounce bottle with no date a clear orange under 2" thick white head which leaves semi-rings and spotty lace. Aroma is piney and resiny. Flavors are malts and piney hops. Chewy, bitter finish. Medium body. Just O.K.
★
231 characters

3.69
/5
rDev
-5.6%
look: 4 | smell: 3.75 | taste: 3.5 | feel: 4 | overall: 3.75
Appearance: pours a hazy orange color with a 1" head. Some lace develops during the session.
Smell: fruit sweetness and some earthy tones are easy to detect.
Taste: caramel, orange, mild grapefruit, some pear, and an earthy bitterness rounds it out.
Mouthfeel: medium bodied beer. Crisp to start, less crisp at the finish. Long lasting aftertaste here.
Overall: a decent beer that has a nice flavor profile.
★
411 characters
3.72
/5
rDev
-4.9%
look: 3.75 | smell: 3.5 | taste: 3.75 | feel: 4 | overall: 3.75
Bottle from Boise Co-op. A return to the classic NW IPA. Clear, light amber with a soft, sticky off white head. Resinous hops lead the aroma, some sweet caramel malts underneath. Taste follows with up front hop bitterness, slick, smooth, sweet malts, and then more lingering bitterness. What I remember early IPAs being. Tasty.
★
328 characters

3.6
/5
rDev
-7.9%
look: 4 | smell: 4 | taste: 3.5 | feel: 3 | overall: 3.5
Poured from the 22 oz bottle. Dark yellow brew with plenty of foam in the Timmermans goblet. Sharp and acidic mouthfeel. More than a little sticky. Fruity mango aroma.
Brewed with Chinook, Cascade, and Centennial hops. Quite a blast of hop aromatics. Resiny and fruity at the same time. Quite bitter aftertaste, a little tongue-numbing actually. Quite a modest price at the Pioneer Market in La Conner.
★
404 characters

3.52
/5
rDev
-10%
look: 4 | smell: 2 | taste: 4 | feel: 4 | overall: 4
Exceptional on draught. A tawny bronze color. Oddly no floral/hoppy nose, nearly blank as water... yet the surprise is in the flavor: velvety body, smooth as silk finish, and fine balance of hops and malt. Not too bitter. Not too sweet. Just right. The hops create a sturdy backbone but don't dominate. This beer would be fine with most foods. Very summery!
★
357 characters
3.79
/5
rDev
-3.1%
look: 4 | smell: 3.75 | taste: 3.75 | feel: 4 | overall: 3.75
22oz bottle served in a tall beer stange. Beer pours a nice brassy gold color, very slightly hazy, and forms a slight bit of white head. Beer smells rich and sweet. Flavor is similar. There's definitely the familiar high gravity DIPA profile with a lot of hops, a lot of residual sugar, and a lot of alcohol. But hop character is significantly diminished as compared to what I'd expect given the labeling ("melt the wax off your wings"), and even more so considering the other IPAs in Elysian's Manic series. I wonder if I got an old bottle? There's no date on it anywhere. But honestly I'm ok without the overpowering alpha bitterness. I'm pretty ok with this beer even if it tastes like an East Coast DIPA and not at all what I expected.
★
748 characters
4.02
/5
rDev
+2.8%
look: 4.25 | smell: 4 | taste: 4 | feel: 4 | overall: 4
22 ounce bottle poured to tulip
Appearance: Light amber golden color, small off white foam, a little hazy
Aroma: Fragrant, but too much, smell of hops and malts/grains
Taste: very bitter, but mask by the grains,
Feel Palate: lively carbonation, long follow through, strong bitter aftertaste
Overall Very good beer, good to repeat, look for
★
346 characters
4.12
/5
rDev
+5.4%
look: 4 | smell: 3.75 | taste: 4.25 | feel: 4.25 | overall: 4.25
Pours a light copper honey color with a dense one knuckle head that provides excellent lacing. Aroma is fairly mild, the usual citrus and pine with a touch of underlying sweet bread. Taste is very pleasant. I think they may have misnamed this one, because it is in no way aggressive or boisterous. Light sweetness blended into grassy pine and citrus. Even the bite of the hops is more of a threat than a promise, as it never quite builds to anything. Yet I don't find any of that to be a negative. This is a nice, well balanced and enjoyable drink, with a very smooth and creamy mouthfeel that is completely unobtrusive on the palate. I feel like I am damning it with faint praise, but I guess the take away is that this brew is greater than the sun of its parts.
★
763 characters

4.13
/5
rDev
+5.6%
look: 4 | smell: 4 | taste: 4.25 | feel: 4.25 | overall: 4
Poured into a Seattle Beer Week pint glass.Pours a medium coppery amber with a one finger off-white head with great retention and lacing. Aroma of caramel malt, citrus and piney hops with a little dankness and slight light stone fruit. Flavor of lightly caramel malt, light stone fruit, mixed citrus, piney and citrus hops. The finish is long lingering, high alpha, resinous hops and pleasant light hints of the fruit and malt. Medium bodied with a good light creaminess. A sneaky, well made imperial IPA. The light fruit and moderate malt balance the hops at the start of the taste and the intensity of hopping is only clear in the finish, which still has enough pleasant fruit and malt flavors to support the quite resinously hoppy finish. Ales like this that have an interesting flavor progression simply invite further tasting, which must be paced in this fairly big IPA. I liked this a lot. Another fine IPA from Elysian.
★
926 characters
4.17
/5
rDev
+6.6%
look: 4 | smell: 4.5 | taste: 4 | feel: 4.5 | overall: 4
Served in a Schooner.
A - Served a dark, clear orange with a one finger tan head. Great retention and solid lacing left down the side of the glass.
S - Lots of hoppy pine and grass. A tiny bit of malty bread.
T - Again, lots of pine, grass, orange citrus and some mild malt toastiness.
D - Good carbonation and an average medium body.
O - Wow, stumbled across this one at the Tangletown location near Green Lake. My first time there and I find an awesome IPA. I can't wait to go back.
★
499 characters
Hubris Imperial IPA from Elysian Brewing Company
3.91
out of
5
based on
58
ratings.