Mortis
| Elysian Brewing Company
BA SCORE
79
okay
15
Reviews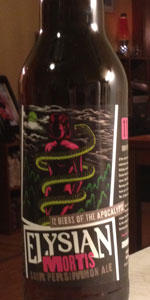 BEER INFO
Brewed by:
Elysian Brewing Company
Washington
,
United States
elysianbrewing.com
Style:
American Wild Ale
Alcohol by volume (ABV):
6.00%
Availability:
Limited (brewed once)
Notes / Commercial Description:
No notes at this time.
Added by harrymel on 11-20-2012
This beer is retired; no longer brewed.
Reviews: 15 | Ratings: 52

3.5
/5
rDev
+8%
Bottle.
Appearance: Orange-yellow. Clear. Thick, foamy head. Nice, sticky lacing.
Smell: not much there.
Taste: light malt. Light sourness....very well balanced. Cannot differentiate between lactic and acetic acid. Mild fruit characteristics.
Mouthfeel: medium-high carbonation. Medium body. On the sweet side, but not overly sweet.
Overall: decent sour. Very mild. Has some funky fruity taste. Also has a bit of hop bitterness at the end. I like it. Don't love it.
485 characters
3.62
/5
rDev
+11.7%
look: 3 | smell: 4 | taste: 3.5 | feel: 3.75 | overall: 3.5
Clear amber yellow color with a thin head with low retention.
Nice aroma for the style and quite mutating. Notes of sweet peach, lemon, horse mantle and tangerines.
Sour and sweet flavor with funky notes of horse mantle, sweet malt, pears and apple cider. Dry and acid aftertaste.
Interesting sour, malt is still quite present, balancing on a sweet and sour state. Good bridge, sour heads may hate it and beginners may love it.
427 characters
3.44
/5
rDev
+6.2%
look: 3.75 | smell: 4 | taste: 3.25 | feel: 3 | overall: 3.25
A - Golden pour with a thin foam head that settles fast. Very slight lacing noted.
S - Sour smell and scent of light fruits. Some grape and pear notes are present.
T - Seems to be a bit all over the place. The wild yeast gives this a tartness and plenty of sour notes. But I found the sweetness of fruit sugars put this beer into an area that it wasn't good at any one thing. The complexity did not improve this beer.
M - Nothing special, and I'd argue the balance is not there because of the introdcution of fruit sugars to this wild ale.
O - I'd venture that this should not be what one uses as a guide for the wild ale style. And for those who enjoy light fruit flavors, there are so many better options. Perhaps interesting, but I'd pass on this.
755 characters
3.58
/5
rDev
+10.5%
look: 4 | smell: 3.5 | taste: 3.5 | feel: 3.5 | overall: 3.75
A: Pours a lightly hazy light to medium golden yellow in color with light to moderate amounts of visible carbonation and some lemon yellow highlights. The beer has a finger tall fizzy white head that slowly reduces to a thin film that covers the entire surface of the beer with a slightly thicker ring at the edges of the glass.
S: Light amounts of sourness with some light fruits (pear) and hints of persimmon.
T: There is a light amount of upfront sourness with a little more sweetness from the persimmon in the finish.
M: Light bodied with moderate to heavy amounts of carbonation. Moderate amounts of acidic prickliness.
O: I found this beer pretty easy to drink, approachable, and enjoyable. The addition of the persimmon makes this beer have a nice balance between the sweetness and sourness.
802 characters
3.49
/5
rDev
+7.7%
look: 3.5 | smell: 3.25 | taste: 3.5 | feel: 3.5 | overall: 3.75
A: The beer is slightly hazy yellow in color with some amber hues and a light amount of visible carbonation. It poured with a thin white head.
S: Light aromas of pears and sourness are present in the nose.
T: The taste is slightly sour but finishes off with flavors of sweet fruits from the persimmon.
M: It feels light- to medium-bodied on the palate and has a moderate amount of carbonation.
O: For a wild ale, this beer is very well balanced with flavors of sweetness and sourness.
488 characters

3.42
/5
rDev
+5.6%
look: 4 | smell: 3.75 | taste: 3 | feel: 3.75 | overall: 3.5
A: A golden beer with excellent clarity. The rocky, white head isn't all that high but it has decent retention. There is a slight bit of lacing on the glass.
S: There is a moderate strength, sharp Berliner Weisse like sour note with a warm fruitiness and some light Belgian yeast aromas of spice and fruit. I'm not familiar with persimmons but the fruitiness I get is a mixture of berries, oranges with some of there peels and some peach backed by some black pepper and a little clove. There is a touch of malt sweetness as well.
T: A moderately-light sour flavor with a clean, light malt sweetness dominate the flavor. There is a moderately-light fruitiness in there as well. Little in the way of hops bitterness and no hops flavor perceived. The balance is about even between the sour and the sweet but it does tip more towards the sour as it warms.
M: Medium bodied with a moderate level of carbonation with a slight astringency.
O: The sour flavor is there but not as strong as I had hoped and the malt is add to much sweetness. The beer could be considered a fruit lambic but it not a great example.
1,110 characters
3.5
/5
rDev
+8%
look: 3.5 | smell: 3.5 | taste: 3.5 | feel: 4 | overall: 3.25
Bottle opened on 2.28.13
A - Pours a clear medium orange with a large soapy light tan head that fades pretty fast.
S - Tart floral, citrus, and soap.
T - Lots more spices here, still some tartness but pretty mild, finishes floral.
D - Good carbonation with a light body. Spices linger.
O - Taste and smell pull a 180, Easy to drink, but not sour at all. More liked a spiced saison. Call it that and I am happy.
415 characters
3.6
/5
rDev
+11.1%
look: 3.5 | smell: 3.5 | taste: 3.75 | feel: 3.5 | overall: 3.5
22oz, Winter 2012
The Bruery tulip
A: Really pale yellow. Cloudy as hell. Not a lot of head. No lacing.
S: Smells like a Belgian golden ale with Brett. Not much more. Some fruit character from the Persimmon but very faint. Doesn't smell "sour" as the label would lead you to believe.
T: Again, like a funky Belgian brew. Yeast character. Brett funk. Some sweetness I guess from the fruit. Some spice maybe. Dry close.
M: Light medium.
Taking points for it not being a "sour" at all.
487 characters
3.72
/5
rDev
+14.8%
look: 3.5 | smell: 4 | taste: 3.75 | feel: 4 | overall: 3.25
Appearance. Pours yellow gold with very little haze and a finer and a half of frothy white head.
Smell. Spicy Belgian yeast and some light grains with a little sweet juicy fruit ...maybe ripe peach and oranges.
Taste. Spicy and fruity Belgian yeast and light grains again with just a little tangy fruit. Very light on the sour and not sweet (which is nice).
Mouthfeel. Below medium body with fine, and fairly smooth medium carbonation.
Overall. Surprised by this one, it was actually pretty nice. Easy drinking and nice flavours, but not exactly sour or wild by any means. Half point off the overall for false advertising!
627 characters

3.45
/5
rDev
+6.5%
look: 3.5 | smell: 3.5 | taste: 3.5 | feel: 3 | overall: 3.5
Poured into a Gulden Draak tulip. Pours a light golden amber with a half finger white head with good retention and lacing. Aroma of sweet malt with light sour fruit and a hint of wild yeast. Flavor of sweet ripe persimmon juice, sweet malt, slightly vinous with a hint of brett. Light to medium bodied. Flavors are light and not very complex, but pleasant malt and juice combination. Not very sour nor bretty, which is fine for my taste. An odd ale that seems to miss its labelled mark of a sour brett beer, but interesting and drinkable. This and the beet ale were the weakest of the Apocalypse ales, but I found all to be enjoyable considering that they all pushed the envelope with style and ingredients. This is definitely my favorite of all series of beers I've tried from any brewery.
790 characters

2.55
/5
rDev
-21.3%
look: 3.5 | smell: 3.5 | taste: 2 | feel: 4 | overall: 1.5
Poured from 22oz bomber into a tulip. This is #11 in Elysian's Beers of the Apocalypse series.
Appearance: clear golden hue with the tiniest hint of haze and a very light, mellow effervescence. Head is a finger of frothy white foam with OK retention.
Smell: sweetish malt aroma with a bit of a waxy/chalky/alkaline character that I happen to rather like. Not much here that is particularly "wild", nor is there an up-front fruity character that would suggest persimmon. So, not really as-advertised, but suitable to my palate.
Taste: murky, sweet malt comes up first and finishes with a combination of sickly-sweet, grainy (but not in a good way), funky (but not in a good way), and generally unpleasant. This beer just doesn't work at all. I wish it were even half as tasty as the aroma suggested.
Mouthfeel: medium body with a surprising carbonation and a nice creaminess. Love the texture; I just wish the taste were better.
Overall: uff da. I went into this beer really wanting to like it. It's not utterly horrible, but it's not something I want to drink any more of. I think this bad-boy, unfortunately, will be a drain pour.
1,136 characters
3.17
/5
rDev
-2.2%
look: 3 | smell: 3.5 | taste: 3 | feel: 3.5 | overall: 3
I bought a bomber of Mortis Sour Persimmon Ale at the Swamp Tavern. Poured in to a flute glass.
Pours a a gold color, clear, with a thin foamy white head. Torrents of bubbles are swirling from the bottom of the glass.
Smell is sweet a fruity aroma, pears and peaches, with an acerbic sweet vinegar aroma.
Taste is like a Belgian ale, a lot of sugar flavors and soft fruits, with a mild dry bitter aftertaste.
Mouthfeel is light bodied and smooth, not crisp and slightly cloying.
Overall, I don't know. Maybe better in the summer than November/December? It just feels out of season to me
591 characters
3
/5
rDev
-7.4%
look: 3 | smell: 3 | taste: 3 | feel: 3 | overall: 3
#11 in the "Beers of the Apocalypse" series.. The one that I had the most hope for.
Edit.. I saw the earlier reviews and decided to review this at cool temps... it is better with some warmth... but no where great.
Picked up tonight at the COOP for about $8... poured into my slim tulip.. thin white head.. no real retention or lacing.... the brew is fairly clear golden.
Nose is not "wild" at all.. there is some minor brett character that shows as grassy and sorta plastic phenols.. bready pale malt.. some minor fruitiness that I never would have picked out as persimmons... a bit of clove and maybe EtOH that reminds me of cinnamon.
Flavor is basically a BSPA without the heavier malt/ester/phenol mash-up... Definitely "Belgian" but the only thing that I get that could be a brett component is maybe some hay notes... very background tartness that may come from the fermented out fruit or acidulated malt.. blah.
Body is medium .. but the carbonation seems too light..
Pretty okay if I was given this one blind... but knowing what Elysian was shooting for it is a big letdown.
I might buy a couple of these just to experiment and let sit in my cellar long after the apocalypse.. But I doubt it.
"Average" at best across the board.
1,243 characters

2.26
/5
rDev
-30.2%
look: 4 | smell: 3 | taste: 2 | feel: 2 | overall: 1.5
A - pours a hazy peach with a thin, lacy head. looks a lot like a tripel. The label is pretty, though.
S - some light fruity esters, mild acidic, berliner-weisse esque
T - ugh. this tastes like a run-of-the-mill american-made belgian beer. light tongue-shivering, thick grains, mildly peachy.
M - despite its relatively low abv, is cloying and wide-bodied. prickly carbonation persists.
O - a complete and utter disappointment. A shame to all beers with the word "sour" on the labeling. the worst of all the apocalypse beers, and the most anticipated (by me).
566 characters
1.59
/5
rDev
-50.9%
look: 3 | smell: 1.5 | taste: 1.5 | feel: 1.5 | overall: 1.5
I don't think this is supposed to be on shelves until Wednesday, oh well, I got it Sunday.
From the label: "Beer #11: MORTIS Sour Persimmon Ale. There's no escape from Mortis as it enwraps you in the tartness of persimmons and brettanomyces."
I'm quite underwhelmed by this beer. Pours a clouded golden with a bit of surface white foam. The nose carries primarily belgian yeast (run of the mill style), then there's some funk a little soily grain, some hay and some sweet bread. Not really getting the persimmons here. Taste is sweet, with some grain and clay and hints of peppercorn and chestnuts; the Brett is maybe, maybe a little funky in there, but I feel like I really, really have to search for it. No tartness here....none. Full bodied in my opinion with a sharp, but short lived carbonation and a little more resonance than I'd prefer. This one is probably one of the bigger flops in the series unfortunately.
924 characters
Mortis from Elysian Brewing Company
3.24
out of
5
based on
52
ratings.