Slavutic Yekstra
| Slavutych Brewery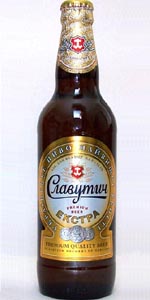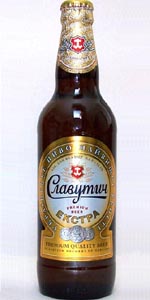 BEER INFO
Brewed by:
Slavutych Brewery
Ukraine
slavutich.com
Style:
American Adjunct Lager
Alcohol by volume (ABV):
5.50%
Availability:
Year-round
Notes / Commercial Description:
No notes at this time.
Added by BeerAdvocate on 11-16-2001
This beer is retired; no longer brewed.
HISTOGRAM
Ratings: 9 | Reviews: 9
Reviews by RblWthACoz:
2.87
/5
rDev
+3.2%
look: 3 | smell: 3.5 | taste: 2 | feel: 3.5 | overall: 3.5
Hazed straw gold with a white head. Nose is cereal in quality. Flavor starts off okay, but falls off to pretty mediocre at best. You begin with a slightly sweet cereal flavor, but it falls off too quickly. Feel is decent, but drinkability is weak. With no great characteristic that puts it apart from others like it, why bother? I can imagine this is the macro swill of Ukraine. Here in the U.S. we call it drain pour.
418 characters
More User Reviews:
2.5
/5
rDev
-10.1%
look: 2 | smell: 2 | taste: 2.5 | feel: 3 | overall: 3
Presentation: 16.9 oz (.5 liter) tall brown bottle, lots of foreign characters with little information about the beer. No freshness date.
Appearance: Haze pale golden, almost murky. Little head forms from the pour and disappears to nothing, few large bubbles rise to the top.
Smell: Big solvent alcohol aroma, smells of diluted rubbing alcohol with hints of oily diesel. Some malt comes through with a pale sweetness but the solvent takes over.
Taste: Thick medium body with a slick oily mouth feel, low carbonation makes for a dullish flatness. Somewhat overwhelming fumes of alcohol surround the beer not in strength but with a sheer solvent character, oddly it is not all that unappealing. Slickness of the mouth feel coincides with the maltiness which shows a little chewiness. Hops are a spicy noble variety with a cutting bitterness that pairs up with the solvent alcohol to cut even further and throw the maltiness away. In its path is the rubble of a decent maltiness, husk and drier husk with a lingering solvent alcohol.
Notes: Interesting, so flat you would think this is totally insipid. Not a horrific brew, saying it is rough on the edges is being lenient. Not something to try unless you want to go down the craggy path less traveled.
Ohh, my head. The solvent alcohols are getting to me in a bad way, starting to feel like when I drank kool-aid and moonshine back in highschool.
1,409 characters
3.23
/5
rDev
+16.2%
look: 3.5 | smell: 3 | taste: 3.5 | feel: 3 | overall: 3
Very pale and clear, looking worryingly like Bud Light. Healthy white head at first, and there's quite a bit of carbonation. Slight musty aroma. Hop flavour is present but fades, and a harsher, slightly medicinal alcohol tang kicks in to a certain degree. Albeit, this beer is refreshing and quite drinkable, but not the most superior in the world.
348 characters

2.71
/5
rDev
-2.5%
look: 3.5 | smell: 2.5 | taste: 2.5 | feel: 3 | overall: 3
Poured a medium straw hue with a one finger foamy white head. There was good retention and lacing.
The smell featured a musty hop and a husky adjunct ridden malt.
The taste was herbal and earthy with some adjunct sweetness. A slight toasted grain after the finish.
The mouthfeel was toward the heavy side of the style.
Overall a raw euro lager. Nothing really to report here.
379 characters
2.88
/5
rDev
+3.6%
look: 3 | smell: 2.5 | taste: 3 | feel: 3 | overall: 3
Brown stubby-necked half liter bottle with a gold and yellow label featuring words in Ukrainian and English and a small red shield above the name. Gold foil is wrapped around the neck Ingredients include ascorbic acid. There is a place to mark the best by date, but I don't see any markings. This bottle was hand-carried from the Ukraine to Moscow - thanks, Luda.
Pours clear gold under a 1.5 finger white watery head that fades fairly quickly to film, leaving no lace whatsoever. The nose is very grainy, full of rice and corn and not at all pleasant. The mouth is standard light and prickly. This is the classic eastern europan lager experience - sweet malt opening, with a touch of rice. The hops are strong and metallic, lingering well with a parched bitterness at the back of the throat. The bitterness lingers, now more rusty metallic than dry, well into the aftertaste. An utterly average experience: not a drain pour, but nothing great, either.
955 characters
2.47
/5
rDev
-11.2%
look: 2.5 | smell: 3 | taste: 2.5 | feel: 2 | overall: 2
1 pt 0.9 oz tall bottle. Listed as a Premium Beer Extra, with no other information listed. I had to guess that this was the Yekstra because the ABV matched.
Poured into a pilsner glass. Very clear yellow color, and not a lot of carbonation action. Mild fizzy head that quickly receded to a mild ring.
Smell definitely a lager yeast. There is no mistaking that smell. Dry and bready. Flavor is biscuity and mild corn.
Mouthfeel is a bit oily. Very mild carbonation for a lager.
A buddy of mine left this in the fridge, and figured what the hell. Glad I didn't spend money on this, even though it was less than $2
615 characters
2
/5
rDev
-28.1%
look: 2 | smell: 2 | taste: 2 | feel: 2 | overall: 2
Poured a clear piss yellow, sudsy head left slight collar all the way down, smell was grainy and vague, taste was grainy, and light hopped, a bit dry, mouthfeel was moderate carbonation, drinkability is not very good, fairly rough stuff, thought the Ukraine would produce something better. ah well...
300 characters

3.37
/5
rDev
+21.2%
look: 2.5 | smell: 3 | taste: 3.5 | feel: 4 | overall: 3.5
Pours a very light golden colour with a thick, snow white head almost like soap suds. Heavy lacing and fairly strong, but not over powering or offensive smell. The taste is, at first, similar to some big name American brews, but quickly changes its tone and finishes with an unidentifiable, but pleasant and interesting aftertaste in one's mouth. Not the best import or even the best Russian/Ukrainian brew I've had, but pretty good never-the-less. I'd spend money on this again.
479 characters

3
/5
rDev
+7.9%
look: 3 | smell: 3 | taste: 3 | feel: 3 | overall: 3
Pours a clear yellow gold with a dense and frothy two-finger head. Very lacy. Smells grassy with a faint sourness. Sweet, corny aromas.
Tastes of grassy malt, some faint DMS flavors, slight metallic taste. Clean finish and some strident low-level noble hops in the finish and aftertaste. Easy drinker but lacking.
316 characters
Slavutic Yekstra from Slavutych Brewery
Beer rating:
2.78
out of
5
with
9
ratings