Sherbrooke Ochsner's 1905 Alberta Porter

Alley Kat Brewing Company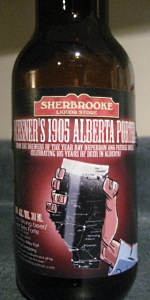 Write a Review
Beer Geek Stats:
| Print Shelf Talker
Style:

ABV:

5.6%

Score:

Avg:

4.2

| pDev:

6.43%

Reviews:

12

Ratings:

From:

Avail:

Summer

Wants

Gots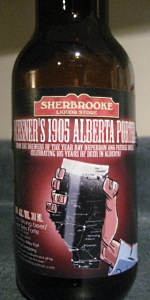 Notes:
Reviews: 12 | Ratings: 14

4.04
/5
rDev
-3.8%
look: 3 | smell: 4 | taste: 4.5 | feel: 3 | overall: 4
Bottle from wordemupg, 341ml into a tulip.
Pours, well, all head. Literally took me 20 minutes to fit this into my glass - absolutely relentless. Annoying to wait this long! Deep brown body, head is a creamy beige. Nose has rich, sweet chocolate malts. Some roast and dark fruits in the periphery. Taste has roast, chocolate, some oats perhaps, and a fruity dark berry character. Some earthy flavours too. Lighter feel, perhaps a little more so than I dig. Lightly roasty and mildly sweet finish. Very drinkable, but carbonation requires quite a bit of taming to get there. Still, some real quality flavour.
609 characters

4.08
/5
rDev
-2.9%
look: 4.5 | smell: 4 | taste: 4 | feel: 4.5 | overall: 4
We finally got to Kawa Espresso Bar (based on reviews here and a pretty unique beer list).
Pours pitch black, with an inch of tan head, good retention and thin lacing strings.
Smells of dark and sweet chocolate, earthy malts.
Taste is more one the sweet side than heavy maltiness, but still not overly sweet or sugary. Slightly nutty, light bitter finish.
Carbonation level was right on, smooth and easy to drink, with a dry and clean finish.
Flavor-filled, but not heavy or cloying, all elements well balanced.
Well done, will be put on my "to find again" list.
562 characters
3.88
/5
rDev
-7.6%
look: 4.5 | smell: 4 | taste: 4 | feel: 3.5 | overall: 3.5
Thanks to wordemupg for this one. Feared this one was lost as there was some seepage so cracked this one right out of the box.
Poured from a 341ml. bottle.
Appearance: Hugely massive foam fills glass, perhaps due to shipping? It's not too overwhelming and actually looks real nice with a tan-brown head and the aspect of mountainous foam. Body pours a dark brown but looks black in the glass.
Smell: Raw cocoa, chocolate chunks and do i smell a hint of cherries in the finish?
Taste: Dark chocolate (kind of like Belgian) with cocoa powder, a bit of charcoal, some nice burnt flavor and a strong creamy coffee. Has a bit of metallic twang in the finish.
Mouthfeel: A bit gassy but it's kept at a minimum as it starts smooth and ends with a robust finish and lingering bitterness.
Overall: Glad i was able to salvage this. A solid porter and worth grabbing.
862 characters
4
/5
rDev
-4.8%
look: 4 | smell: 4 | taste: 4 | feel: 4 | overall: 4
Bold tasting, spot on style. Opaque black, above average mouthfeel. A must try porter, no gimmicks. Some chocolate. Good roasted aromas and roasted malt taste. A little anise, enough malt to control the edges of acidity. I would have this regular if available.Thanks Presario.
276 characters
4.14
/5
rDev
-1.4%
look: 3 | smell: 4 | taste: 4.5 | feel: 4 | overall: 4
A - Pours pitch black, finger of head with some retention and no real lacing.
S - Dark chocolate, a bit sweeter, with a bit of earthy oats coming through on the finish.
T - Sweeter than the scent implies with the cocoa malts dominating, a touch of nuttiness and earthy hops. A bitter espresso lingers on the palette.
M - Perfect carbonation level, goes down smooth and finishes nicely balanced between wet and dry.
O - Super tasty and one of the better porters coming out of Alberta. A solid offering and I could easily take down a sixer of this stuff.
556 characters
4.3
/5
rDev
+2.4%
look: 4 | smell: 4 | taste: 4.5 | feel: 4 | overall: 4.5
A - black cola colour, respectable mocha head left random sticky lacing
S - bittersweet chocolate, cherry syrup, roasty, just a hint of leafiness
T - strong bittersweet chocolate, roasty and smoky, espresso undertones, very light sweetness
M - smooth and slightly chalky, finishes full and lightly bitter
O - full flavoured and tasty, this plays to my weakness for chocolate, big props Ray Duperron and Patrick Doyle for this award winning home brew recipe
456 characters

4.18
/5
rDev
-0.5%
look: 4 | smell: 3.5 | taste: 4.5 | feel: 4 | overall: 4.5
341ml bottle poured into pint glass, from notes taken on feb22 2011
A black with cola at the edges once held to a light, thumbs width of mocha head has decent retention and leaves a few patches of lace
S bakers chocolate and perhaps a little raisin, decent smell but a little faint
T big improvement over the nose, more dark chocolate, a little smoke and charred wood, and some faint but very dark roasted coffee, this is a tasty porter without doubt if you love a super dark malt
M not overly thick but not thin either and it leaves a little something behind in your mouth I'll be tasting this for quite a while
O a pretty solid brew that I wish was easier to find outside of Edmonton, this is a very tasty porter and I recommend it to anyone
drank this a few days after its BBdate of feb14 2011 and I'm curious if its improved or diminished in quality after some time. Perhaps I'll get to try a fresh bottle one of these days but for now I'll thank Alex at Kawa for saving me a trip to Edmonton
1,004 characters
4.42
/5
rDev
+5.2%
look: 4 | smell: 4.5 | taste: 4.5 | feel: 4 | overall: 4.5
341ml bottle, with nice 'what if the map of Alberta was a pint of stout?' imagery on the label...
This beer pours a solid black, with slight cola edges, and two fingers of dense foamy beige head, which displays decent retention, eventually giving up a swath of coral like lace around the glass. It smells of dark chocolate, roasted malt, ash, wood, and a mild milky sourness. The taste is dry chocolate, roasted malt, a subtle, but persistent, sourness, and an earthy, cigar-leaf woodiness. The carbonation is moderate, in the most unobtrusive way, the body a hefty medium weight, with a tinge of creaminess. It finishes clean, and a little smoky.
One enjoyable porter - an array of flavours intermingling in an unassuming package. Even more agreeable as an accompaniment to the changing seasons - it's still nippy enough out there to welcome the robustness of this centennial (plus GST!) offering.
900 characters
4.73
/5
rDev
+12.6%
look: 4.5 | smell: 4 | taste: 5 | feel: 5 | overall: 5
This beer has set the bar for porters, in my book. It doesn't get better than this. An exceptionally drinkable (guzzlable, even) session beer with loads of character, so well balanced as though to seem as if it rests on the head of a pin. Subtle; nuanced; bright and flavourful. I really can't say enough about it. Too bad it's only available at one store in the world... Alley Kat would do well to add this to their regular lineup.
432 characters
4.19
/5
rDev
-0.2%
look: 3.5 | smell: 4.5 | taste: 4 | feel: 4 | overall: 4.5
A- This is almost jet black in appearance, red tinges around edges when held up to light. Creamy looking beige head. Sparse lacing left behind as this settled out rather quickly.
S- Great aroma, very upfront with loads of roasted malt, smoke and wood. I get a little cocoa as well.
T- Again, this is all about the roasted malts. Mellows out in the middle a bit with flavors of milk chocolate. Finish is smoky.
M- Body is medium-full, carbonation is a little higher than I like in a porter, but this still has a smooth mouthfeel.
D- A great offering from Alley Kat although most of the credit should go to this years Aurora Brewing Challenge winners. Congrats! A solid porter!
679 characters
4.27
/5
rDev
+1.7%
look: 3.5 | smell: 4 | taste: 4.5 | feel: 4 | overall: 4.5
Very dark in colour, looks black in the glass. One finger of beige head from an aggressive pour. Head falls quickly to a ring. Some lacing.
Some classic notes to the aroma, roasted malt, hint of sourness, some smoke impression. Maybe even a touch of tobacco.
Roasted malt is king in the taste, but the complexity of the smell remains. The sourness is there in the back half of the mouth. Woody flavour underlies everything. Lingering tobacco smoke at the tail end.
Smooth bodied, carbonation is subtle and there is a light creaminess. Pretty good.
If you like porters, this is well worth your time. I would say this is far and away the best job Alley Kat has done with brewing a porter to date(though I realize the recipe isn't originally their's).
752 characters

4.83
/5
rDev
+15%
look: 5 | smell: 4.5 | taste: 5 | feel: 4.5 | overall: 5
From what I understand this was released to commemorate the 105th anniversary of the province of Alberta this September. Named after Robert Ocshner who opened the first brewery here in Edmonton, it was based on a recipe by local homebrewers Ray Duperron and Patrick Doyle who not only claimed the title of Edmonton Homebrewers of the Year this year, but also Canadian Homebrewers of the Year as well. It's also a Robust Porter based on BJCP guidelines.
Pours out total pitch black with bright ruby fringes, tall frothy beige head that slowly settles to a thick cap.
Lots of layers in the aroma, this is what a Porter is all about. Some roast, wood, smoke, some sour acidity, even some toasted malt comes forth. Some coffee grounds and espresso as well as light cocoa.
Flavour is soft and rounded, with a bit of a grainy dry finish. Woody, earthy, burnt malt up front, soft coffee and chocolate in the middle with a lactic acidity, finishing with a sharp dry burnt roasted malt character. The burnt malt and mild acidity linger on in the aftertaste, actually sweetening up after a while.
Full mouthfeel, smooth texture that turns a bit grainy on the finish, with assertive carbonation as well.
Kudos to Alley Kat for pulling off such a great job on replicating a commercial sized batch of such a layered Porter, I can see why these two homebrewers earned the accolades that they did. If there were more Porters like this out on the market I probably wouldn't be so much of a hophead. Definitely a Porter to check out while it's available!
1,543 characters
Sherbrooke Ochsner's 1905 Alberta Porter from Alley Kat Brewing Company
Beer rating:
88
out of
100
with
14
ratings