Unity Brew
| Alley Kat Brewing Company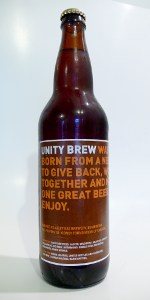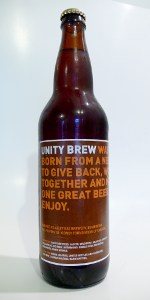 BEER INFO
Brewed by:
Alley Kat Brewing Company
Alberta
,
Canada
alleykatbeer.com
Style:
American Amber / Red Ale
Alcohol by volume (ABV):
5.00%
Availability:
Limited (brewed once)
Notes / Commercial Description:
No notes at this time.
Added by Shadman on 10-22-2010
This beer is retired; no longer brewed.
HISTOGRAM
Ratings: 12 | Reviews: 12
Reviews by Shadman:

4.3
/5
rDev
+8.6%
look: 4 | smell: 4 | taste: 4.5 | feel: 4 | overall: 4.5
Apparently they did a rye beer in 2009 under the same auspices. This is the 2010 version. Most of the Alberta brewers, sans the big boys, are involved with this noble project.
Nice, bright amber copper colour, Great, rich off-white head and tons of sticky lacing.
Cross between caramel malt, cinnamon buns, and sweet, slightly piney hop.
Nicely balanced for an Amber. Malts are rich and smooth caramel vs. the afterthought of a lot of ambers. Hops add interest in the slightly piney, slight herbalness of their character. Finish moves toward a nice, slightly dry bitterness.
Mouthfeel is smooth, slightly creamy.
I've always said the American Amber/Red is the bastard stepchild of the beer world. This is one of those bastards I could drink by the pint full all day.
781 characters
More User Reviews:
3.98
/5
rDev
+0.5%
look: 4.5 | smell: 4 | taste: 4 | feel: 3.5 | overall: 4
22oz bomber, with a no-nonsense big-font manifesto front and (sort of) center on the label. Very committee-like; let's hope that the beer doesn't suffer the same fate...
This beer pours a clear medium brass colour, with one finger of soapy, foamy off-white head, which leaves a nice tight pattern of drooping lace around the glass as it recedes. It smells of creamy caramel nougat malt, and mild sweet grapefruit and orange hops. The taste is bready caramel malt, nicely balanced by citrusy, floral, and leafy hops. The carbonation is slightly on the low side, the body full, solid, and unpretentious for the style. It finishes off-dry, with restrained biscuit in the sweetness, and a pleasant mix of citrus, floral, and pine hops in the offset.
I gotta say, this tastes like Alley Kat's Amber, with a dash of Full Moon. No complaints here, and by no means a bad thing, but all I can imagine now is the rest of Alberta's microbrewers lounging around, drinking complimentary Full Moon and Old Deuteronomy, while Neil runs the brewing cycle, AK-style...
1,054 characters
3.73
/5
rDev
-5.8%
look: 4 | smell: 3.5 | taste: 4 | feel: 2.5 | overall: 4
Bomber from Presario. A hoppy fuggles beer. A light reddish colour and cloudy. Soapy head. Surprisingly less than average mouthfeel from so many brewers chipping in. Light toasted malt. Big malt backbase. Good drinkability and sessionability.Expected more taste.
262 characters
4.17
/5
rDev
+5.3%
look: 3.5 | smell: 4 | taste: 4.5 | feel: 4 | overall: 4
Love the big in your face message on this bottle
A - clear deep amber with a short head that left decent lacing
S - roasty malt with pine and leafy greens, molasses and honey
T - stronger piney hops with a leafy compliment, bready and sweet caramel malt, finishing with a pleasant burnt sugar and citrus twist
M - medium body smooth moving to a hop bitter and spicy finish
D - an amber ale with a strong hop feature, more of an ESB in my opinion, extremely well balanced
470 characters
4.05
/5
rDev
+2.3%
look: 4 | smell: 4 | taste: 4 | feel: 3.5 | overall: 4.5
Very clear red in colour with a thin off white head. Head doesn't last, but a bit of sticky lacing does.
Smells of grapefruit hoppiness and toffee like malt. Nice fresh aromas, simple but inviting. The warmer it gets, the more a caramel sweetness shows to the nose.
The taste is hop forward, very citric, over a base of bready malt. Balanced and again very fresh.
Light bodied with medium carbonation. Nothing extraordinary, but pleasant.
A strong version of the amber/red style. Really a great choice for a session brew if you need one. Too bad this isn't always going to be around.
588 characters

3.65
/5
rDev
-7.8%
look: 4 | smell: 4 | taste: 3.5 | feel: 3.5 | overall: 3.5
This is the 2nd annual Unity Brew, a concept that originated here in Alberta by the Grizzly Paw Brewpub's head brewer Michele Lowney. All the beer producers in the province were welcome to join in, and all participated except for Labatt. Proceeds from the sales of this beer go on to support the Kidney foundation, as well as local food banks. While last year's innagural brew was done at the Grizzly Paw Brewpub, this year was hosted by Edmonton's Alley Kat Brewery with 12 provincial head brewers in attendance.
Comes in a 650 ml brown bottle. Pours out a clear burnished copper hue with a tight off-white merrengue head.
The aroma holds sweet bready malt and hints of caramel, a dry nutty character, along with spicy and citrus hops.
Decent balance of malt and hops in the flavour. Both are apparent from the beginning, a dry nutty malt combining with citrus notes, mild presence of spicy and herbal hops towards the finish. Very clean finish and aftertaste.
Medium-light mouthfeel, brisk carbonation, clean texture.
A decent straight-forward Amber Ale here, no surprises, but it will make a good session beer while it lasts. Worth checking out for the local crowd at least once.
1,188 characters

3.95
/5
rDev
-0.3%
look: 4 | smell: 4 | taste: 4 | feel: 3.5 | overall: 4
A: Amber with an off-white head, thin ring of retention, hints of lace.
S: Floral, grassy, peppery and a bit of citrus... really well-rounded hop profile. Hints of underlying toffee sweetness.
T: Floral, citrus, grass and a hint of pepper; caramel; sponge toffee; nutty; biscuit; pleasantly balanced slightly to the bitter side.
M: Well-attenuated, seems a bit thin.
D: An easy drinker and well-rounded brew.
Thanks Boney!
"September 20, 2010 – Edmonton, Alberta
Alberta Brewers Unite to Brew for Charity
Alberta's brewers are getting together to brew a "Unity Brew" for charity. Brewers from
eleven of the Province's twelve breweries will get together to brew an amber ale based on
a cooperatively written recipe. Once the beer is finished it will be packaged in 650 ml
bottles and sold. The profits will go to the Kidney Foundation and a number of smaller
local charities.
This is the second year that Alberta breweries have joined forces to brew for charity. Last
year's unity brew took place at Grizzly Paw Brewery in Canmore.
The participating breweries are Yellowhead (Edmonton), Wild Rose (Calgary),
Roughneck (Calmar), Jasper (Jasper), Grizzly Paw (Canmore), Drummond (Red Deer),
Brewsters (Calgary and Edmonton), Brew Brothers (Calgary), Big Rock (Calgary),
Amber's (Edmonton), and Alley Kat (Edmonton).
The Unity Brew will take place at Alley Kat Brewing Company in Edmonton on
September 25, 2010. The finished beer will be sold as "Unity Brew 2010" and will be
released at the new SHA-BAM beer festival which takes place at Mayfield Trade Centre
in Edmonton on October 15 and 16. It will also be available through specialty liquor stores
and through some of the participating brew pubs."
1,726 characters
4.12
/5
rDev
+4%
look: 3.5 | smell: 4 | taste: 4.5 | feel: 3.5 | overall: 4
Big ups to joemcgrath27 for hooking me up with this delicious offering.
A - Pours a nice copper brown with a reddish hue, a thin layer of head, little retention, little visible carbonation on the body and some random sporadic lacing.
S - Pine citrus hops with burnt sugar and caramel malts.
T - Burnt sugar and bready malts dominate complemented by a nice sweet iced tea citrus hop. Delicious bready caramel lingers on the tongue.
M - A tad thin, but not offensive. Finishes slightly dry but goes down quite smooth.
D - Incredibly tasty amber ale and one of the best that I've had to date. A very pleasant surprise and I would highly recommend this to any amber ale fan looking for something that is a bit more bold. Nice hop and malt balance!
748 characters

4
/5
rDev
+1%
look: 4 | smell: 4 | taste: 4 | feel: 4 | overall: 4
650ml bottle poured into pint glass nov18 2010
A clear golden amber with lots of big bubbles feeding a tight off white head that has great retention and leaves just a few specks of lace
S some citric hops with lots of malty toffee
T even more hops with a slight nutty flavor and even more toffee, fairly good but a faint metallic flavor stops it from being amazing, still very good though
M lots of bubbles, just a little sticky on the lips and the flavors linger
D I'd drink this again, it went down with ease
I'll drink another for the beer and perhaps a couple more for the Kidney Foundation, pick one up while you can because I doubt it will be around for too long
678 characters
3.72
/5
rDev
-6.1%
look: 3.5 | smell: 4 | taste: 3.5 | feel: 3.5 | overall: 4
Sammy's bottle. Pours an amber-brown colour with thin white head, no real lacing at all. Smells like grapefruit with some sweet caramel malt and sugar. Some hop bitterness in the flavour, but still fairly sweet. Mouthfeel actually feels fairly thin for this, but still an good beer.
282 characters
4
/5
rDev
+1%
look: 4 | smell: 4 | taste: 4 | feel: 4 | overall: 4
Vigorous pour from a 650ml bomber into a glass mug. A beautiful clear amber brown. Big fluffy three finger bubbly head. Lots of foamy lacing.
Smells include grapefruity citrus. A bit od a soapy smell which soon goes away. Tastes of fruity malts, with a grapefruit hop finish.
Medium light body with good carbonation. Drinkability is very good, especially if you like hoppy beers. This one hits the spot.
405 characters

3.8
/5
rDev
-4%
look: 4 | smell: 4 | taste: 4 | feel: 3 | overall: 3.5
Pours a sightly cloudy amber colour, nice white head. Smells of citrus, and a faint malt presence is there as well. Nice hop profile, firm citrus taste. Overall pleasant in terms of taste. The mouthfeel of this fell short as it was quite watery. Overall its a very drinkable brew that I would welcome again.
307 characters
Unity Brew from Alley Kat Brewing Company
Beer rating:
3.96
out of
5
with
12
ratings