Prime Time

Asahi Breweries Ltd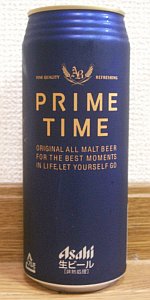 Write a Review
Beer Geek Stats:
| Print Shelf Talker
Style:

ABV:

5.5%

Score:

Avg:

3.22

| pDev:

13.35%

Reviews:

9

Ratings:

From:

Avail:

Year-round

Wants

Gots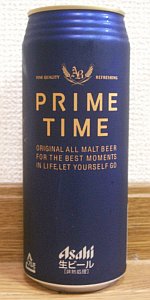 Notes:
tpd975 from Florida
2.83
/5
rDev
-12.1%
look: 3.5 | smell: 3 | taste: 2.5 | feel: 3 | overall: 3
A: Pale yellow hue nice tight head. Okay retention with no real lace.
S: Light lemon zest mixed with apple, hints of corn as well.
T: Light biscuit malt, citrus, cardboard, and corn. Not tasty but not terrible.
M: Light in body, nice carbonation.
D: Okay for the style. Not the best beer, but as good as most american macros.
Sep 13, 2009
getalife2k5 from New York
2.82
/5
rDev
-12.4%
look: 2.5 | smell: 3 | taste: 3 | feel: 2.5 | overall: 2.5
A: no head, amber yellow, nothing special.
S: malty, a little sweet... like a Czech or Russian Pilsner... slightly lemon-citrusy.
T: crisp, kinda like white bread with a tiny bit of orange marmalade. something in there tastes like corn, which isn't a good sign. flavor disappears very quickly.
M: surprisingly flat... could be due to the fact that it was transported from Japan to Korea and then to the US in a -40 degree cargo hold. a little starchy feeling.
D: well, i suppose it's easy to down all at once, which is probably how you'd want to drink it, i mean, you know, if you had to.
Sep 05, 2009
jpBeerGuy from Japan
3.62
/5
rDev
+12.4%
look: 3 | smell: 3.5 | taste: 3.5 | feel: 4 | overall: 4
This was Asahi's first all-malt beer. Not a bad attempt at it.
Appearance - Golden and looks very bubbly with a nice tall 3 finger head which dicipates to a thin frothy head about 1cm in height.
Smell - A little fruity with a good malt hint.
Taste - I like this beer. It has a rich taste with some fruit notes. Not sure which ones but I can imagine some kind of diluted fruit punch.
Mouthfeel - Creamy with a fresh cold water feel.
Drinkability - I can toss a few of these back and feel happy about it.
Probably the best all-malt beer Asahi makes that Japanese people never talk about...
Mar 31, 2009

SargeC from California
4.1
/5
rDev
+27.3%
look: 4 | smell: 4 | taste: 4 | feel: 4 | overall: 4.5
Appearance: Deep gold colored brew with a thick white head to top it off.
Smell: Rich malt aroma with a touch of roasted malt and apple.
Taste: Very flavorful brew with malt in the starring role. Very well crafted.
Mouthfeel: Medium body with a very full feel. Extremely smooth.
Drinkablity: Very refreshing brew. Another good Japanese premium brew that deserves credit.
Sep 29, 2008

hoegaardenhero from Virginia
2.63
/5
rDev
-18.3%
look: 3 | smell: 2.5 | taste: 2.5 | feel: 3.5 | overall: 2.5
the can says "original all malt beer for the best moments in your life, let yourself go". i think i will.
a: pretty nice straw/copper color w/minimal head; but the color is quite nice for a macro lager
s: sweet malts w/ smallest bits of hoppy bitterness
t: first off very sweet followed by a bit of winey/alcoholic flavor
m: nice and carbonated; pretty smooth and creamy for style
d: you could drink a lot of this beer but it isn't very remarkable at all
definitely my least favorite of the higher end japanese macro lagers
Nov 05, 2007
soulgrowl from England
3.25
/5
rDev
+0.9%
look: 2 | smell: 2 | taste: 3.5 | feel: 3.5 | overall: 4.5
Appearance: Slightly hazy yellow body with a very, very small, white head.
Smell: Cauliflowery DMS, subdued grainy malts. A hint of leafy hops.
Taste: Light, sweet, grainy malts with a touch of caramel. Pleasant Noble hop bitterness adds balance. Overall, this is a simple beer, but one with a fresh taste devoid of any off flavors. Finish is sugary sweet.
Mouthfeel: Medium bodied, soft, and frothy, but a bit syrupy.
Drinkability: This is a fine beer, fairly faithful to the style, easy to drink and enjoy. But in my opinion, it's not quite worth the price.
Oct 21, 2006
Naerhu from Japan
3
/5
rDev
-6.8%
look: 3 | smell: 3 | taste: 3 | feel: 3 | overall: 3
Small off white head, on a transparent dark yellow body.
Sweet simple malty aroma.
Firm juicy malty bread flavor, very little bitterness. Asahi has the rep of using a higher hop content than the other majors in Japan, so this was quite a disappointment.
Typically over carbonated. Medium body.
This was just average. I demand something better.
Sep 07, 2006
donnebaby from North Carolina
3.5
/5
rDev
+8.7%
look: 3.5 | smell: 3.5 | taste: 3.5 | feel: 3.5 | overall: 3.5
Another delicious Japanese lager. Golden beerlike hues and an adequate head -- but who cares if you're drinking out of the can. Aromatic, floral nose that is full of sweet maltiness.
Beer's flavor spectrum is dominated by the sweet residual sugars that tend to candy-like sweetness, as if there's a bit of a belgian yeast blended in. Nice mild but firm spicy hop character in the mouth and a similarly mild and careful cloying bitterness in the aftertaste.
I like Asahi's version of its emblem on this can...an "AB" which could be mistaken for a different AB..
Jul 10, 2006
davidchollar from Washington
2.91
/5
rDev
-9.6%
look: 3.5 | smell: 2.5 | taste: 3 | feel: 3 | overall: 3
this is a new "premium" beer from asahi, probably an answer to suntory's premium malts which is selling quite well. asahi has even copied the premium malts colors, blue and gold, for the packaging. the advertising for prime time is mind-boggling. i browsed the internet to try to figure out what kind of style they were attempting, and the website devoted to this boring lager is really impressive, way more so than the beer itself.
clear golden lager, medium carbonation and a decent head. extra half point for good retention, but this is totally average in appearance. the smell is also average, but loses a little because i detect sulfur. i hate that smell, it pretty much ruins a beer for me when i smell hot springs in a glass. other than that, a deep wiff reveals a hint of hops. there is a definite, obvious smell, which makes this better than so many rice lagers. i had to take a guess on the style, there are so many japanese beers classified here as pilseners and this one is comparable to the rest.
not a lot to speak of for taste and mouthfeel. average. one thing that saved this for me, half way through i went and grabbed some lightly pickled cucumber slices (beer snack). this is much better washing down some salty food. but, i will not get it again. not recommended - get some suntory malts. actually, i just remembered asahi's fujisan premium beer that i had recently. i liked that one a lot better.
Jul 01, 2006
Prime Time from Asahi Breweries Ltd
Beer rating:
79
out of
100
with
12
ratings