Jacobsen Bramley Wit
| Carlsberg Danmark A/S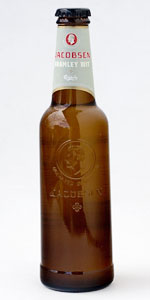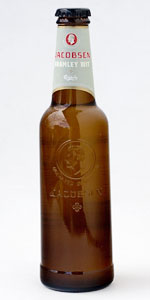 BEER INFO
Brewed by:
Carlsberg Danmark A/S
Denmark
carlsbergdanmark.dk
Style:
Witbier
Alcohol by volume (ABV):
5.00%
Availability:
Year-round
Notes / Commercial Description:
No notes at this time.
Added by bark on 12-21-2005
This beer is retired; no longer brewed.
HISTOGRAM
Ratings: 8 | Reviews: 8
Reviews by cypressbob:
3.82
/5
rDev
+0.3%
look: 3.5 | smell: 4 | taste: 3.5 | feel: 4.5 | overall: 4
750ml, capped
Served in a deep tulip type glass
Pours with a light amber body, thin straw yellow highlights throughout. Small off white head, forms about half an inch thick with poor retention
Smell, slightly skunked whiffy belgian yeast, some fresh belgian malt, little bit of candied sugar, hint of corriander and fresh basil
Taste, crisp and slightly spicy belgian malt, dry yeast, little bit of mixed spice, some fresh basil, some slight hint of clove.
A solid and interesting wit, worth a try
513 characters
More User Reviews:
4.3
/5
rDev
+12.9%
look: 4 | smell: 4 | taste: 4.5 | feel: 4 | overall: 4.5
The cloudy yellow body is topped by a short head of creamy bright white foam that holds fairly well and leaves some minor spots of lace. The aroma offers a somewhat sweet and fruity, lightly earthy and floral malt with a gentle clove note and some delicate lemon. The body is light, but with an extremely fine bubbled carbonation that lends a delicate tingle to the tongue. The flavor is initially sweet with lightly tangy notes of sugary lemon and orange peel along with a bright & fresh but restrained clove spiciness. The finish is lingering, and lightly sweet, with spices fading upfront and then a gentle reminder of the malty flavor that was just had, beckoning you to have another sip. Nicely done!
705 characters
3.59
/5
rDev
-5.8%
look: 3 | smell: 4 | taste: 3.5 | feel: 3.5 | overall: 3.5
Brown 75cl bottle, best before 22 Dec 2007, drank in the company of Chad (AWolfAtTheDoor), my first ever BA houseguest. The beer was almost 2 weeks 'out of date'.
I poured the beer in one go, but into three glasses, the beer getting cloudier with each glass, the third glass getting all the sediment from the bottle base, I took that glass.
My Corsendonk tulip glass had a pale lemon/yellow heavily clouded beer with a very small white head that left straight away, as it did on the other two glasses I had poured.
The aroma was all apple and yeast, my wife thought I had given her a cider until she had a sip. As the beer warmed a sweeter toffee apple smell took over from the cooking apple style smell at the begining.
The beer was lively, spritzy and tangy. The flavours were of lemon and grapefruit, refreshing more than tart or cheek suckingly sour.
There was some staying power within the mouthfeel and nothing nasty turned up to ruin the aftertaste.
Not bad at all, different but not a bad beer. A hot summers day drink, not an English dark winters evening beer, which is when I tried it.
1,101 characters
3.67
/5
rDev
-3.7%
look: 3 | smell: 3.5 | taste: 3.5 | feel: 3.5 | overall: 4.5
750ml bottle bought from Sainsburys...
Poured a very pale golden straw colour with some cloudiness. White head poured quite small and faded quickly to almost nothing.. no lacing and no real carbonation...
Aroma - Spicy and citrusy hops, light biscuity malts, definite spicy apple notes, salty hints, floral / grassy, some sugary / honey sweetness, some light corn notes, some cinnamon, perfumey...
Taste – Nice spiciness (cloves, some cinnamon and coriander), grassy, floral hops, no real maltiness, faint apple and lemon fruitiness, some creaminess, light rice notes, some wheatiness, some yeastiness...
M&D - Sharp and dry. Light body... Very refreshing and drinkable - would be nice on a hot summers day...
Overall - A pretty good beer... shows what Carlsberg can do when they put in a little effort...
821 characters
3.88
/5
rDev
+1.8%
look: 4 | smell: 3.5 | taste: 4 | feel: 4 | overall: 4
Appearance: pale goldy yellow, hazy (especially after swirling up and dumping in the dregs), big pillow of pure white foam, great head retention, lace
Aroma: dust, coriander, passion fruit, canned pineapple, wheat, hint of orange
Flavor: lemony wheat, oats, breath of coriander, dusty yeast, hint of apple; finishes dryish with an aftertaste of chamomile and honey
Mouthfeel: light body, mineral water-like carbonation, soft texture
Other comments: I was surprised to read apple juice is one of the ingredients. Guess that esplains the "Bramley" bit. Can't really taste much apple, though. That's OK, cuz it's a pretty good wit! My wife tasted it and said "On the exhale, there is a flavor that reminds me of fall." Not sure what to make of that, but I suppose she's right.
785 characters
3.83
/5
rDev
+0.5%
look: 4 | smell: 3.5 | taste: 4 | feel: 3.5 | overall: 4
750 ml bottle from Dublin
Pours hazy orange with one finger head that soon fades to a thin and transparent layer, dense patchy downsliding lacing. Aroma is very light sourish fruit (apples, citrus), floral hops.
Taste is fruity citrus and apple malt, bits of yeast, mild cloves with light sweet malty aftertaste. Mouthfeel is light, above medium carbonation.
Overall, I would say very good and refreshing, especially considering the price (1.99 eur for 750 ml bottle), could have more pronounced flavour, but then I would not be believe it was Carlsberg who made the beer.
575 characters
4.1
/5
rDev
+7.6%
look: 4 | smell: 4 | taste: 4 | feel: 4 | overall: 4.5
The colour is pale cold yellow with a tint of green. The large airy head sinks down to a compact white lid, leaving some lacing. The liquid is cloudy.
He smell is sour with notes of various spices, herbs, sour apple juice, wheat flour and yeast.
The taste is fresh with sour earthy wheat-beer flavours. There are spicy notes of cloves, cinnamon and bitter oranges as in many other witbiers, but there is also a fairly sweet and mellow taste of red apples. The aftertaste is a milder version of the same theme; sour wheat, spices and apples.
The carbonation is refreshing with medium strong, small bubbles.
Just what one could expect from a Jacobsen beer: A creative interpretation of a classic style. I can't get that the same brewery is responsible for disaster brews like Master Brew and Carlsberg Gold.
823 characters

3.32
/5
rDev
-12.9%
look: 3 | smell: 3.5 | taste: 3.5 | feel: 3 | overall: 3
Had this back in January but just now getting around to my tasting notes. As noted in the review below me, I drank this during a lovely weekend with my first BA friend the one and only Jeremy--better known on here (and at beer festivals across Europe) as BlackHaddock.
Poured slightly cloudy into a tulip glass. Appearance reminded me of apple juice.
I noted that I caught a sweet apple smell on the nose.
In the taste I note that there were some cloves, with a citrusy splash and more apples.
My conclusion is that if one fancies witbiers, you will probably like this beer, it is however not my favorite style.
615 characters
Jacobsen Bramley Wit from Carlsberg Danmark A/S
Beer rating:
3.81
out of
5
with
8
ratings