Gildenbier
| Brouwerij Haacht NV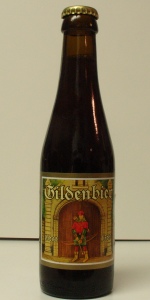 BEER INFO
Brewed by:
Brouwerij Haacht NV
Belgium
primus.be
Style:
Belgian Dark Ale
Alcohol by volume (ABV):
7.00%
Availability:
Year-round
Notes / Commercial Description:
No notes at this time.
Added by Bierschenker on 06-21-2005
Reviews: 8 | Ratings: 18
3.06
/5
rDev
-12.8%
look: 4 | smell: 3 | taste: 3 | feel: 3 | overall: 3
A deep burgundy beer with a creamy head that leaves some nice lacing on the side of my glass.
Smell is fruity and estery with notes of hard candy and winegums. Some cherrie smell.
Taste is fruity with notes of cherry and overall esters, which give the beer a hard candy taste, without trying to mention the seperate fruits. Maybe some dark fruits and caramel maltiness. The beer has a light body and drinkbility is OK. Bitterness is low.
An average beer with the 7% alcohol well hidden. I suspect a lot of sugar in the grist. Not the most complex beer or best beer I ever had.
580 characters
4.06
/5
rDev
+15.7%
look: 3 | smell: 4.5 | taste: 4 | feel: 4 | overall: 4
Poured brown with a nice head. This is one of the rare occasions where I actually notice the smell of a beer without trying to look like I'm snorting suds. Fantastic sweet burnt sugary smell with some blended malt. Flavor is very good, slightly sweet malt but not cloying or overdone like some of the ambers or browns floating around out there clogging good beer shelves. This was light and with a nice soft mouthfeel. One of my favorite things about ordering beer in Belgium is that each brand comes in its own glass. Not each style, each brand...can't get much cooler than that. This one is definitely one of my favorites, as it's served in what is essentially a glass coffee mug. Some of my friends think I'm giving this beer too much credit, but darn it I just really like it.
780 characters

3.48
/5
rDev
-0.9%
look: 4 | smell: 3.5 | taste: 3.5 | feel: 3 | overall: 3.5
I had this beer in my fridge for more than three months so it's time to crack this one open.
Poured in my Struise glass the beer looks very nice. A brown fluid with a broken white to lightbrown head.
Good smell, some brown sugar smell and the burned malt.
Soft and somewhat sweet taste. Worth trying!
303 characters

3.7
/5
rDev
+5.4%
look: 3.5 | smell: 3.5 | taste: 4 | feel: 3.5 | overall: 3.5
Beer bottle (33 cl.), tasted in 2007.
Appearance : a red-brown colour, with a tan foamy head.
Smell : caramel and fruity aromas.
Taste and mouthfeel : fruity and malty roundness in the mouth.
Drinkability : a good beer in the style Belgian dark ale.
251 characters
3.48
/5
rDev
-0.9%
look: 4 | smell: 3.5 | taste: 3 | feel: 4 | overall: 4
I had this on tap with dinner at the Pelgrom cafe in Antwerp. It was served in a ridiculously small Guildenbier mug, less volume than a Kolsch glass I swear. I was nearly insulted, as if I was given a child's portion. It was a dark colored ale with a clean malty taste, similar to a French bier de garde in flavor. So unbalanced in favor of malt that I suspect there were no hops used. Still tasty in it's own way, very drinkable, but really the glass was too small.
466 characters
3.5
/5
rDev
-0.3%
look: 3.5 | smell: 3.5 | taste: 3.5 | feel: 3.5 | overall: 3.5
Pours dark red-hued beer with small off-white head, nose is immediately sweet and mildly roasted. No sediment in the bottle at all.. BBD 02/12/05 (euro-style), hmm, I just bought this from a store in belgium...13 months out of date?
Taste is sweet and malty, very light porter notes in the background. It is very pleasant though sort of one-dimensional. Aftertaste remains malty, and the 7% is invisible. There is some hopyp bitterness in the taste but it is brief and hard to nail down.
This is a completely unexceptional malty brown sweet beer that is tasty and quite pleasant. Worth trying, particularly if dunkel malt character is appealing.
651 characters
2.75
/5
rDev
-21.7%
look: 3 | smell: 3 | taste: 2.5 | feel: 2.5 | overall: 3
BB 2-12-05. Not much head but staing ok and a dark brown beercolor. Smell is sweet oxidised and wortlike and having some caramel in it. Not much yeastarome and the whole yeastpalate is more bottom then topfermenting. Taste is also very pale and sweet with a slight burnt and honey note in it. Did they forget the hops? Mouthfeel also pale and sweet with low carbonisation making it sticky and flat. Drinkable for them who like it sweet but to me a pale and uninteresting brew.
476 characters
4.67
/5
rDev
+33%
look: 4 | smell: 4.5 | taste: 5 | feel: 4.5 | overall: 4.5
This is a very old. It has been around since the fourteenth century. This beer used to be brewed for the annual fest of the guild of bowmen. The day of their patron saint. It originates from the city of Diest. Now a small provincial city. But during the middleages it was an important city for trade from Nordrhein-Westfalen/Köln (Germany) and the rich and mighty cities of Flanders (Brugge, Veurne, Gent, Kortrijk). The caravans passed through the cities of the duchy of Brabant. Giving them protection and shelter. But it also involved financial gain, as the caravans had to pay toll in order to pass through.
I served in the little Gildenbier Stein. It has a creamy head with big bubbles that stays and sticks to the glass.
The colour is dark rusty brown with some red tones. Not a lot of CO² activity visible.
I would describe the smell as a combination of heavy caramel malts, banana, lots of dades and some fresh hops.
I can't help it if I'm overdoing this one. Brown ales are my favourite beers.
Its taste is a festival in my mouth. A vivid dry caramel malt taste, bitter harsh and yet at peace and well balanced. The dades are present too.
The aftertaste is sweeter. The malts are there again. Ends with a soft hop bitter sensation. Nice!
Ut Vivat, Crescat, Floreat!
1,290 characters
Gildenbier from Brouwerij Haacht NV
3.51
out of
5
based on
18
ratings.