Rieder XXX Weisse
| Brauerei Ried
BA SCORE
81
good
11
Reviews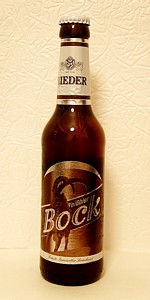 BEER INFO
Brewed by:
Brauerei Ried
Austria
rieder-bier.at
Style:
Weizenbock
Alcohol by volume (ABV):
6.50%
Availability:
Year-round
Notes / Commercial Description:
No notes at this time.
Added by tone77 on 02-24-2010
Reviews: 11 | Ratings: 19
3.51
/5
rDev
+2.6%
look: 4 | smell: 3.5 | taste: 3.5 | feel: 3.25 | overall: 3.5
Sampled yesterday on 12/20/15. Found it in the discount bin at the Hy-Vee over in Council Bluffs, Iowa for just $1.00 last time I was over that way, about 6 weeks ago. Best By: "17" on back of bottle. Comes in a 330ml (12.2 ounce) bottle. Bottle chilled down to 36 degrees F in my beer cooler and poured in to a 12 -ounce "CHEERS-BOSTON" handled-glass stein.
Brew pours a hazy golden-apricot in color with a good 1+-finger foamy white head with dark 'pepper-like' specks floating in the brew. A decent amount of lacing is seen when sipped. Sediment is seen at the bottom of the bottle after the pour. Aroma is of sweet malts and spice for the most part. More going on with the taste as there is some caramel, yeast, banana and clove also. Maybe a hint of honey. Pretty sweet brew actually. Pretty easy to drink but more of a sipping kind of brew. Medium+-heavy bodied with lower carbonation.
892 characters

4.02
/5
rDev
+17.5%
look: 3.5 | smell: 4 | taste: 4.25 | feel: 3.5 | overall: 4
Had as "Rieder Weißbier Bock", same as in the photo.
Hazy yellow pour, a bit "dirty", huge fluffy white head with great retention.
Smells accordingly, lots of banana (mostly green), some caramel, soft wheat, decent clove, some floral notes too, yellow apple and cream.
Bananas not so unripe in the taste, but rather caramel coated banana chips. Sweet apple mash, perfumey pear. There are honey notes too amongst all the sweetness. Soft wheat, with a a bit of fluffy white bread, some crust in the aftertaste. Decent clove, faint pepper. Finishes with some booze and some green notes, a bit of bitterness right on time to balance out the big sweet notes.
Feels kinda heavy, chewy, medium carbonation, pinches a bit. Warm alcohol hidden ok(ish), nice aftertaste.
Might feel a bit too sweet, but it worked for me. Fruity, punching away the heavy malts, flavourful, a really nice one.
882 characters
1.79
/5
rDev
-47.7%
look: 3.5 | smell: 1.25 | taste: 1.75 | feel: 2.25 | overall: 1.75
11.2 oz bottle into a pint glass.
A: Pours a murky amber color. The head is a one finger white shade. Retention is just okay, but it has a nice texture and a bit more lacing left than I'd expect from a weizen.
S: OH GOD WHAT IS THIS. It smells like shit - I'm not being cute, it really does smell like a combination of fertilizer, bile, cardboard, and ammonia. I know this isn't a fresh bottle, but cripes on a stick. Way, way, WAY too oxidized: the screw top and the dinged bottle cap should have warned me...
T: The fecal qualities aren't here, but who cares...this is a total cardboard bomb. On the finish, some sugary qualities make themselves known along side some earthen notes. A shame, the oxidation has killed it.
M: Undercarbonated to hell and back. While it helps give it a pleasant creaminess, it makes it a syrupy mess on the palate. Because it finishes half-acceptably, it's not entirely undrinkable! Great...
O: Bad, plain and simple. Let's be fair, though, there are wisps of a good hefeweizen here - but a lot of this could have been prevented had the brewer not used a screw cap. It's always fun to try these old-ass beers that aren't meant to be aged regardless.
1,186 characters
3.19
/5
rDev
-6.7%
look: 3.75 | smell: 3.5 | taste: 3 | feel: 3.25 | overall: 3
Coming in a 330ml slim brown bottle; BB 09/01/14, served chilled in a long-stemmed wine glass.
Appearance: pours a cloudy light amber colour, coming with a thin off-white frothy head and pretty mild carbonation.
Smell: notes of bubble gum, banana esters, and dried mango slices abound, but overpowered by rather deep and dense sweetness from caramel malts almost like melted & sticky crystal sugar. Given a very good swirl, all elements are integrated plus awakened fragrant esters, along with a light touch of alc. On the balance, it really comes too one-dimensional sweet for my liking…
Taste: an one-dimensional banana-bread and mango like sour-sweet taste prevails upfront, ensued closely by mild salty-acidity and an interesting tannic touch as of sweetened star fruit, leaving traces of faintly spicy cloves in the end and random sweet coating around the tongue.
Mouthfeel & Overall: the palate is nearly flat, suggesting bad bottling or underdone bottle-conditioning, while the body remains medium but goes somewhat thin-ish at the end of each sip, and the flavour profile is generally too simplistic for this style. All in all, I just can't quite convince myself this is a good weizenbock or this is a decent bottle; maybe the draught version can be better?
1,271 characters
3.62
/5
rDev
+5.8%
look: 3.5 | smell: 4 | taste: 3.5 | feel: 3.5 | overall: 3.5
Pours a cloudy, gold color. 1/4 inch head of a white color. Decent retention and decent lacing. Smells of alcohol, sweet malt, pale malt, yeast, slight hop, hint of sulfur, and slight wheat. Fits the style of a Weizenbock. Mouth feel is sharp and crisp, with an average carbonation level. Tastes of alcohol, hint of wheat, pale malt, sweet malt, and slight hops. Overall, good aroma and blend, but has that distinctive sulfurous aroma indicative of Europe.
456 characters
3.64
/5
rDev
+6.4%
look: 3.25 | smell: 3.5 | taste: 3.75 | feel: 3.5 | overall: 3.75
Rieder XXX Weisse
11.2 fl. oz. bottle, "Best before: 17"
$2.39 @ HyVee, 14591 Stony Brook, Omaha, NE on 04/26/2013
Appearance: Typical. Fair head retention. Less than average lacing.
Smell: Wheat malt and fruit, banana with some apple.
Taste: Surprisingly fruity. Lots of apple. Wheat malt base comes through delivering a nice bit of sweetness. Balanced. Low bitterness level. Finishes with lingering notes of banana and apple. The strength is surprisingly well-cloaked at 6.5%.
Mouthfeel: Medium to medium-light body. Crisp carbonation becomes creamy across the palate as it warms.
Overall: Fairly average Bavarian weisse. I think a fresher sample is needed to be sure.
675 characters
3.44
/5
rDev
+0.6%
look: 3 | smell: 3.25 | taste: 3.5 | feel: 3.75 | overall: 3.5
A - Cloudy, golden-orange color with a one-finger, white head of foam. It left sudsy trails of lace on the glass.
S - Smelled of wheat and a touch of maltiness.
T- - Nice cracked wheat flavor with a nice malty backbone. Some banana and clove flavor.
M - It was crisp, sharp and smooth. A light to medium bodied ale.
O - This is a nice weizenbock. True to the style.
369 characters

2.99
/5
rDev
-12.6%
look: 2 | smell: 3 | taste: 3 | feel: 3.5 | overall: 3
The color of this beer is murky, hazy dark yellow, but there is a tinge of orange too. The foam was much less than expected with only a few wisps of foam which settles to virtually nothing. The aroma reveals a heavy dose wheat. There are some dark fermented fruits lingering around giving it medicinal quality.
The flavor is fermented wheat mixed with doughy barley. This combines to produce a chewy texture. A grainy sweetness lingers as a small dash of spice finishes off the tasting. The ABV is only 6.5%, but it somehow manages to warm the chest just a bit.
563 characters
3.91
/5
rDev
+14.3%
look: 2.5 | smell: 4 | taste: 4 | feel: 4 | overall: 4
11.2 oz. bottle,
A: Pours a hazy orange with a light head, poor retention, light lace.
S: Lots of banana bread, fragant, true weizen yeast character.
T: Pretty much a strong hefeweizen. Banana upfront, but ends with heavy clove and some EtOH.
M: Medium-bodied, smooth, a bit solventy.
D: Really a solid beer. The light malts allow the ethanol to come through a bit, but it never takes over the beer. Boozy at 6.5%, but the other flavours are there, worth a try.
466 characters
3.76
/5
rDev
+9.9%
look: 4.5 | smell: 3.5 | taste: 4 | feel: 3.5 | overall: 3.5
11.2 oz bottle. "XXX Weisse". Judging by the abv and the Goat on the label, I'm guessing this will be closer to a Weizenbock.
it pours a noticeably darker hue than the typical hefe, a vibrant orange gold with a sky high, fluffy white head. It is hazy and unfiltered.
Smell is noticeably spicy, with a heavy emphasis on clove. There are also hints of lemon. It is a very well refined, basic smellin Weizen.
Yes, this is a weizenbock, the flavor is rich and caramally, with the aforementioned clove being a center flavor. Banana is also a big component to the taste here.
The mouthfeel is creamy and full-bodied, with a moderate prickling carbonation.
It is the bridge between a hefe and a Weizenbock perhaps in the abv department, but I think this would be better classified as a Weizenbock.
795 characters
3.97
/5
rDev
+16.1%
look: 3.5 | smell: 4 | taste: 4 | feel: 4 | overall: 4
Poured from a brown 11.2 oz. bottle. Has a cloudy golden color with a small head. Smell is of fruits and spices, a bit on the sweet side. Taste is good, bananas, spices, very flavorful. Feels full bodied in the mouth and has good drinkability. Overall a fine quality beer.
272 characters
Rieder XXX Weisse from Brauerei Ried
3.42
out of
5
based on
19
ratings.