Hubertus Festbock
| Hubertus Bräu Johann Kühtreiber OHG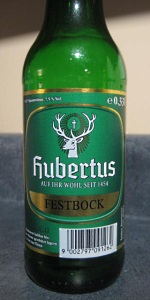 BEER INFO
Brewed by:
Hubertus Bräu Johann Kühtreiber OHG
Austria
hubertus.at
Style:
Bock
Alcohol by volume (ABV):
7.50%
Availability:
Rotating
Notes / Commercial Description:
No notes at this time.
Added by wordemupg on 09-27-2012
Ratings: 10 | Reviews: 5
Reviews by OF001:

3.45
/5
rDev
+3%
look: 3.5 | smell: 3.5 | taste: 3.5 | feel: 3 | overall: 3.5
330mL poured into a miniature 'imperial' pint glass. 3C serving temp.
Golden pour with a very, very light haze. Thin head that is maintained very constant from very fine and active carbonation.
sweet biscuit nose, definitely wheaty. Light yeast combined with an effervescent-ness and citrus herbs.
sweet honey and light citrus notes followed by a musty lager yeast and white biscuits. Light combined herbs (maybe lemon thyme or marjoram. sp?.) A moderate finish that is clingy but not entirely unpleasant.
Mouth feel is a little creamy but less bubbly than the visual carbonation would make you believe; the flatness is increased as it warms despite the increased carbonation. There is an oily note to it that is a little strange but, again not bad. Good body and finishing texture.
Overall I would not have a problem drinking this more often, but it comes across a little cheap; only compared to other lagers of the style and region, see Ayinger. I would like to have seen it have a cleaner finish and a littler more complexity on the spicy notes; maybe a little more carbonation on the mouth feel.
It is probably the equivalent of a basic $10-12 (BC prices) 6-pack lager locally but better than the majority of my locals.
1,229 characters
More User Reviews:

3.47
/5
rDev
+3.6%
look: 3 | smell: 3.5 | taste: 3.5 | feel: 3.5 | overall: 3.5
330ml bottle, day number 8 (wow, the weeks fly by this time of year, quoth Mr. Obvious) in the 2012 Craft Beer Advent calendar. Another twist-off - are the old-school breweries catching up to the macro idea of convenience?
This beer pours a slightly hazy medium golden yellow hue, with one measly skinny finger of barely foamy dirty white head, which leaves a few minor specks of detritus lace around the glass as it quickly burns off.
It smells of lightly bready, warm cereal malt, some musty, floral honey, and dried, forlorn alfalfa. The taste is more simmering breakfast cereal maltiness, a further soft pop-rocks candy sweetness, and some rather understated, tremulous booze edginess - quite tame for the style.
The carbonation is very sedate, the body a decent medium weight, but a tad cloying from the overdose of sugary elements, and sort of smooth as an afterthought. It finishes off-dry, and not as sweet as I had expected - the breadiness and muddled noble hops doing us all a solid.
I had a heap of this type of offering in last years 'Best of Bock' nine-pack, and this would have competed with the best of that lot, as my lasting memory is of overly boozy, unbalanced lagers. Not now, though, as Hubertus Festbock holds its liquor well enough, just giving a wee peek here and there as to its actual strength. Prost!
1,332 characters

3.42
/5
rDev
+2.1%
look: 3.5 | smell: 3.25 | taste: 3.5 | feel: 3.25 | overall: 3.5
Poured a nice coppery straw colour but no head to be seen. One first taste the carbonation is subtle and goes away fast. Get a sweet maltiness on the nose with a subtle hoppiness, but have a hard time deciphering much else. The taste definitely has a bit of the same malt sweetness and a bitterness that doesn't linger too long. Surprisingly though I don't get an overly boozy flavour given the 7.5% ABV (Alcohol By Volume) and limited amount of other flavours in the beer.
473 characters

2.93
/5
rDev
-12.5%
look: 2.75 | smell: 2.75 | taste: 3 | feel: 3 | overall: 3

3.52
/5
rDev
+5.1%
look: 3 | smell: 3.5 | taste: 3.5 | feel: 4 | overall: 3.5
Craft beer advent...
A: Crystal clear yellow, pours with a bit of a white head, not retention or lace. Why the green bottle with a twist off?
S: Floral with a light mineral, sweet toffee, hints of bread.
T: Sweet toffee, earthy mineral in the bitterness, floral & grassy hops, gentle bitterness for a nice balance, alcohol is concealed remarkably well. Unfortunately it seems a bit oxidized (bb 26.02.13), I'd love to try a fresh brew.
M: Moderate to full body has a slight residual sweetness but it still has a relatively crisp finish.
O: This is a ridiculously easy-drinker for its strength. Incredibly well-balanced. Nice work.
635 characters


3.02
/5
rDev
-9.9%
look: 2.5 | smell: 3 | taste: 3 | feel: 3.5 | overall: 3
330ml bottle poured into tulip 26/9/12
A clear golden yellow liquid and it looks a little still, hard pour give me nothing but a patch of lace, no head at all and I don't know where the single big patch of lace came from
S honey and dry cereal, perhaps a little purple candy and hay but its pretty faint all around
T more sweet malts and a little booze, nothing harsh but not a whole lot going on, basic stuff, the kind of booze I could see people drinking to catch a cheap buzz
M more bubbles then I'd guess from looking at the liquid, not much evidence of the booze its somewhat smooth with a sweet corny aftertaste but its short lived
O meh.... if its cheap perhaps? I'd guess this is the Austrian version of not quite Colt 45 but you get the idea
I'm not feeling this one.... well actually I am feeling this one but its the easily consumed booze I'm feeling if anything. Easier to drink then lots of strong brews but I'd get board before I got hammered
977 characters

Hubertus Festbock from Hubertus Bräu Johann Kühtreiber OHG
3.35
out of
5
based on
10
ratings.