Burgkopf Pils

Darguner Brauerei GmbH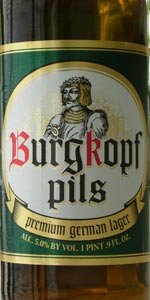 Write a Review
Beer Geek Stats:
| Print Shelf Talker
Style:

ABV:

5%

Score:

Avg:

3

| pDev:

9.67%

Reviews:

12

Ratings:

From:

Avail:

Year-round

Wants

Gots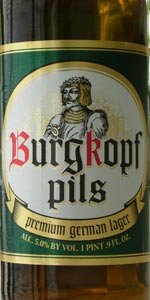 Notes:
3.46
/5
rDev
+15.3%
look: 4 | smell: 3.5 | taste: 3.25 | feel: 3.75 | overall: 3.5
Look: white creamy, head that leaves lots of lacing behind; yellow gold color with nice amount of carbonation.
Smell: slightly metallic aroma typical in European Pilsners but thankfully no skunkiness - could be due to age or the fact it is in a can; bit of toasted bread and malted barley; not getting much from the hops but that is not to be expected.
Taste: toasted sweet barley flavor; a bit green and earthy but not much bitterness in the finish.
Feel: clean, crisp, and refreshing with a bit of tingling on the tongue; not much aftertaste.
Overall: expected a Belgian influence but they evidently don't use that kind of yeast in this beer. This is more of a German-styled Pilsner but is refreshing nonetheless. Price point for this 4-pack canned beer made it well worth the money and time.
803 characters

3.34
/5
rDev
+11.3%
look: 3.25 | smell: 3.5 | taste: 3.25 | feel: 3.5 | overall: 3.25
Appearance: pours a thick white sudsy head which slowly recedes. Plenty of lacing. Color is light gold with plenty of carbonation.
Aroma: funky yeast that is typical of euro lagers, lightly toasted barley malt, a hint of grassy hops. Mouthfeel: light, watery and crisp. mostly dry finish.
Flavor: sourdough bread, sweet barley malt, grassy and earthy hop bite in the finish.
Overall: pleasant and typical of the style.
420 characters
3.03
/5
rDev
+1%
look: 2.5 | smell: 3.25 | taste: 3 | feel: 3 | overall: 3
I saw the 4 packs on sale for $4.99 so I picked it up.
A fast pour to a decent white head. The heads a little less rich then i like and the color is to light as well. Decent lacing. Not a bad smell to the beer. Actually a "good" one. The grain comes thru.
I guess the disappointment is the taste. Its just to bland for me and slightly metallic. OK, 1/2 way thru Im losing the metal and getting a bit of grain with a bit of dryness..
Im going to raise this rating a bit. this isnt a bad Pils but certainly not premium.
520 characters

3.11
/5
rDev
+3.7%
look: 2.75 | smell: 3 | taste: 3.25 | feel: 3.25 | overall: 3
Another 99 cent sale purchase from my June 9th visit to Premier Gourmet in Buffalo NY.
Poured into a Nonick pint glass from the 16.9 oz. can.
Fairly clear light gold, formed a curiously uneven inch thick head which dissipated to a rather unappetizing and very uneven detergent-like foam which soon thankfully disappeared.
s: None that my 67-year old nose could detect. But in my aging sense of smell's defense, for a pilsener, that is not so unusual.
t: Light and refreshing, slight ripe pear notes as it warmed.
m: Light but good body for a pilsener.
o: A decent to above average pilsener. At the sale price point it would be tempting to buy again, but there are lots of other comparable summer beers out there in the mainstream, some of them for even less money.
772 characters
2.75
/5
rDev
-8.3%
look: 3 | smell: 3 | taste: 2.5 | feel: 3.5 | overall: 2.5
Pours a slightly murky light orange with a foamy orange-tan head that settles to an oily film on top of the beer. Small dots of lace form around the glass on the drink down. Smell is mainly of malt and grain aromas. Taste is much the same with a watered down flavor. This beer has a lower level of carbonation with a slightly crisp mouthfeel. Overall, this is a pretty poor beer in the flavor department but not much better in the others.
438 characters
2.85
/5
rDev
-5%
look: 2.5 | smell: 2.5 | taste: 3 | feel: 3 | overall: 3
Appearance: From a tall boy and into a mug is a clear golden colored beer with a two finger hear that is bright white.
Aroma: Lemon zest, light grassy and grain, buttery, and some biscuity notes.
Taste: Light bodied and a fairly crisp mouthfeel. Lemon, biscuity, faint grassy, subtle notes of a buttery texture and a dry finish.
Notes: It's drinkable good for a very warm day or if you simply want something nice and light. Cheers.
434 characters
3
/5
rDev 0%
look: 3 | smell: 3 | taste: 3 | feel: 3 | overall: 3
Not bad, nothing special. Served at a decent temperature and with a smallish, off white head that soond settled to a ring and islands plus a little lace. Color is a clear amber with some tiny bubble trails. Aroma is malt and lots of wet grain, a little hop. Flavor is similar to nose, heavy on malt and a bit of butter thankfully cut some by carbonic tang and hop/yeast bitter. Body is ok, carbonation ditto. Finish is like flavor and dominated by the wet grain. Meh.
467 characters
3.07
/5
rDev
+2.3%
look: 2.5 | smell: 3 | taste: 3 | feel: 4 | overall: 3
Thin white head over an impressively clear straw color. Head won't hold up in the glass. Clean yeast and light grainy aroma. Subtle hops smell mixed in as well. Not very strong aromatics, but whats there is pleasant. Quenching! Good Pilsner grain flavor. Taste like Saaz, really mild, but a tasty hop presence. Lingering grainy flavored aftertaste. It does have an odd flavor I can't put my finger on as to what it is. But for my palate it registers as an off-flavor. Healthy carbonation lends a slightly acidity to the mouthfeel. Really simple, easy drinkin'.
560 characters

2.58
/5
rDev
-14%
look: 3 | smell: 2.5 | taste: 2.5 | feel: 3 | overall: 2.5
Poured from a 500mL bottle into my Radeberger pokal - best before November 17, 2011.
Brilliantly clear amber liquid with a tall highly active ghost white head. No real lacing or retention.
Sweet aromatics suggestive of corn, iron, green grass, and overripe apples.
Tastes very much like an adjunct lager rather than a proper pilsner. Sweet, rice/corn infused, sloppy with little hop bitterness or balance. Finish is nearly cloying, though there are some spicy elements from hops. Gets worse as it warms. Papery aftertaste.
Low carbonation, light bodied, but slick.
Very disappointing for the style - will avoid in the future.
634 characters

3.06
/5
rDev
+2%
look: 4 | smell: 3 | taste: 3 | feel: 3 | overall: 3
Classic blackletter label, sole US importer based out of Cary, IL of all places. "Best before end: 17.11.11"
Bright pale gold with some ascending carbonation. Tight cap of white foam, leaving a scattershot pattern of delicate foam inside the glass. Some decent retention, an unbroken veil of skim rests on the surface.
Sweet apple and malt combo, reminds me of Samson beer and by proxy, wasted nights at Johnnie's shooting pool.
Tastes like sweet graham cracker and a little bit of cardboard. Lightly sweet, not cloying, but verging on too much sweetness. Graham cracker with honey and dry herbs. Medium bodied for a pils. Dry aftertaste. Nothing special, mellow and slightly sweet. Nothing distinctive, not especially crisp. Quaffable, but why? Have to say, the label is the best thing about this beer unfortunately.
821 characters
2.84
/5
rDev
-5.3%
look: 4 | smell: 2.5 | taste: 2 | feel: 4 | overall: 4
A- Straw clear yellow body with carbonation running through to a large white foamy head.
S- Soft light bready malts, no hop presence.
T- Sweet and malty suprisingly very low on the hop bite, tons of buttery diacetyl notes, seems to be more of a Euro Pale Lager than a Pils.
M- Light and crisp
D- Nothing offensive here, just seems to be off for the style I could quaff this stuff if i chose to.
398 characters
3.08
/5
rDev
+2.7%
look: 4 | smell: 3.5 | taste: 2.5 | feel: 3 | overall: 3.5
500ml bottle, best before 17.11.11.
It pours a light, clear gold with a big, foamy white head.
This one smells super malty, it is biscuity, bready, with a touch of honey graham cracker.
The flavor is sweet and malty with a mild hop bite, and some diacetyl, this is the first time I have ever tasted diacetyl in an German Pilsener. American pilseners seem to always have a problem with it.
It is okay, if you like American pilseners you will like it.
463 characters
Burgkopf Pils from Darguner Brauerei GmbH
Beer rating:
75
out of
100
with
23
ratings