Gravity Never Fails

Brouwerij Brasserie De Ranke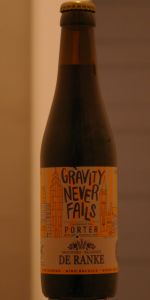 Rate It
Beer Geek Stats
| Print Shelf Talker
Style:

ABV:

5.8%

Score:

87

Avg:

4.02

| pDev:

4.48%

Reviews:

9

Ratings:

From:

Avail:

Retired (no longer brewed)

Wants

Gots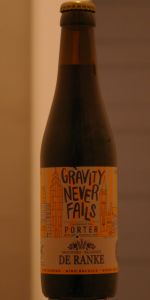 Notes:
Collaboration Porter between Brouwerij/Brasserie De Ranke and 2SP Brewing Company with experimental hops.

jkblr from Indiana
4.07
/5
rDev
+1.2%
look: 4 | smell: 3.75 | taste: 4.25 | feel: 4.25 | overall: 4
11.2oz bottle with L09T21 MAR 17 EXP: 17/03/22 printed on cap. Poured into a perfect pint glass at fridge temp 5.8% ABV. The beer pours hazy medium brown in color with sticky tan colored head. The head builds quickly then recedes slowly to a cap. Minimal lacing, but maintains a cap until the finish. The aroma is mild with a little baker's chocolate and bread. The taste is more of the same with bittersweet chocolate, dark roasted coffee and a earthy & firm medium bitterness. Just a touch of trademark tang as the beer warms. The mouthfeel is medium to thin bodied, adequately carbonated and dry in the finish. Overall, very good to excellent. I bought this online from a company that claims all beer is kept cool. I'm a little surprised this is so nice and flavorful after 2+ years in the bottle.
Jul 05, 2019

Lone_Freighter from Vermont
3.84
/5
rDev
-4.5%
look: 4 | smell: 3.75 | taste: 3.75 | feel: 4 | overall: 4
Poured into a becher pint glass.
The appearance was a dark brown close to black towards the center of the glass. Definitely more of a "brown pour." Nice looking finger of eggshell white foamy head. Softly dissipated to leave some sticky lace in a light messy sort of way.
The aroma had some plums and roast to sweet char/earthiness. Dark chocolate nibs with just the sweet side of some anise.
The flavor yields to the sweetness surrounding it all. Some roast and plum sweetness rolling into a finely meshed aftertaste of dark chocolate, milk chocolate and plums.
The mouthfeel was about medium bodied, perhaps just a touch under. Carbonation seemed to have fallen off for this one, however, I must say that smoothness found was quite good. Finish was full of plums and dark chocolate.
Overall, not a bad American porter. I'd have again.
Mar 22, 2019

malrubius from Vermont
3.74
/5
rDev
-7%
look: 4 | smell: 3.75 | taste: 3.75 | feel: 3.5 | overall: 3.75
Bottle. Brown with rocky head and lace. Fruity plummy aroma with cocoa and light coffee. Chocolate plummy sweetness with woody fruity light bitterness in dry finish. Light body lively and soft. Very good.
Mar 12, 2019
StonedTrippin from Colorado
4
/5
rDev
-0.5%
look: 4 | smell: 4 | taste: 4 | feel: 4 | overall: 4
neat of these two to get together for a beer like this, always exciting to see new ones from de ranke, i love these guys and there arent that many of their beers in the market ever. had fun busting this out with my neighbor last night. its light for the style, more of a deep brown than a conventional porter black. the head on this is frothy and high, and it looks very much alive. not sure when it was made but there is slight oxidation to it, with a little roast and a lot of dry chocolate notes, some woodiness too but its not aged in barrels, and bitter, but seemingly somewhat less hoppy than i was anticipating for a beer that uses experimental hops. the flavor has a little berry to it from the hops which is cool, a little ground coffee, but not that dark or bitter, the grain is kind of light for a porter, more of a brown ale, and with a flavorful english type yeast so it that gives it some bready depth. bitter from the hops, a little vegetal, and with a dry cocoa finish with it. pine and spruce too, earthy, complex, drinkable too, a little dated maybe, but very good.
Oct 20, 2018
GreesyFizeek from New York
4.12
/5
rDev
+2.5%
look: 4.25 | smell: 4 | taste: 4.25 | feel: 4 | overall: 4
This one pours a pretty dark brown color, with a big fluffy head, and a good amount of lacing.
This smells like dark chocolate, smoke, heavy roast, and licorice.
The roast character here is great- dark, bready, and tasty. There's a nice creamy vanilla feeling here, dark bitter chocolate, and a little bit of light smoke.
This is medium bodied, pretty creamy, with a very high level of drinkability.
I didn't expect a ton out of this, and it was surprisingly very tasty and well-crafted.
Jul 21, 2018

LiquidAmber from Washington
3.96
/5
rDev
-1.5%
look: 3.75 | smell: 4 | taste: 4 | feel: 3.75 | overall: 4
Poured into a Fremont small snifter. Gusher! When I get it to a glass as fast as possible, it pours dark orange with a thin khaki head that dissipates to a ring around the glass. Aroma of dark toasted malt, cocoa, brown bread and faint vanilla. Flavor is dark toasted and bready malt, brown bread, cocoa and light coffee. Very faint hints of fruit, probably from the yeast. Finishes with light coffee and hop bitterness. Medium bodied with fairly tame carbonation; it must have blasted all its carbon dioxide on the opening. A nice light porter that has clear Belgian yeast influence; if there was a porter style to match Belgian stouts, this would be it. The flavor is a little light, but what's present is well balanced with good chocolate and coffee notes. Interesting, but with only a half bottle left from the gusher (and the resulting light carbonation) as well as the the somewhat attenuated flavor, probably a one and done.
Jun 21, 2018
The_Kriek_Freak from Pennsylvania
4.19
/5
rDev
+4.2%
look: 4.25 | smell: 4 | taste: 4.25 | feel: 4.25 | overall: 4.25
This is a very nice and pleasant beer. It pours dark brown with a huge Belgian head. The aroma is of burnt bread and dark chocolate and the taste is very similar but it is accompanied by some sweet notes from the yeast. Intense coffee-like bitterness. Light body without too much carbonation.
Jul 19, 2017
drtth from Pennsylvania
4.03
/5
rDev
+0.2%
look: 4.25 | smell: 4.25 | taste: 4 | feel: 4 | overall: 3.75
The dark brown liquid pours out into a Duvel glass with a 1 1/2" thick fluffy light tan head that recedes very very slowly to leave some nice thick sheets of lacing on the sides of the glass. Even midway through the beer there's still a layer of foam on the surface of the liquid. Sipping creates it's own sheet of lacing that leaves behind some scattered small patches of leggy lacing as much of it slides back down to the foam.
The aromas include some dark chocolate and a light touch of what seems like dark roasted coffee. In the background there's an interesting add in of light fruity tartness that reminds of tart cherry.
The flavors are much as expected from the nose with the dark chocolate and that dark roasted, coffee-like character. In addition there's a temporary bit of sweetness from the malt that blends well with the almost burnt and earthy bitterness. What seems to be a fruity tartness is way in the background but adds only an interesting accent to the flavor profile and isn't enough to make the beer tart.
The mouthfeel is medium bodied and slightly prickly with some moderate very finely bubbled carbonation. The finish begins as the dark chocolate and light fruitiness slowly leave the scene as the dry dark roasted bitterness becomes dominant and then slowly fades to the back of the palate leaving an even drier bitter ending that invites, almost demands, another sip.
On the whole this is an interesting beer and one I've enjoyed trying. I'd be willing to have another to continue unraveling the complexities of the aroma/flavor profile but don't think I'd drink it regularly since I find the dark roasted, almost burnt dry bitterness borders on being unpleasant in how long it persists after the touch of sweetness disappears into the almost bone dry ending.
Jul 17, 2017

woodychandler from Pennsylvania
4.21
/5
rDev
+4.7%
look: 4 | smell: 4.25 | taste: 4.5 | feel: 3.5 | overall: 4
Ooh! Nice approved pic on this one. Bro, Woody never fails.
From the bottle: Collaboration Porter with Experimental Hops"; "Bob Barrar * Nino Bacelle * Guido Devos".
Wow! What a find at the FGBS recently. This was this this year's PHL Beer Week raffle winner in which a lucky silly-vilian picks a PHL-area brewer & they head over to Belgium for a weekend of frivolity & brewing of a collaboration beer. I usually manage to lay my hands on one, but this one showed up on the shelves this year.
I Pop!ped the cap & not knowin what to expect, I commenced a slow, gentle pour. Imagine my shock & surprise as the glass began filling, unbidden, with dense, foamy, rocky, light-tan foam! I waited patiently for it fall away & become something manageable. Settling, the color was Dark Brown to Very Dark Brown (SRM = > 27, < 34) with NE-quality clarity. Nose was dark roasted coffee & baker's chocolate, but with an odd marshmallow-like sweetness. The mouthfeel was thin-to-medium, not watery, but not much beyond it, either. The taste was very interesting, ranging from a coffee/chocolate bitterness to a bizarre toasted marshmallow sweetness with a mild sourness in between. Wow! It has to be an American Porter only because there is no such thing as a Belgian Porter, but the Belgian influence was obvious throughout. Finish was dry, especially for a Porter, but if you think that you hear me complaining, you would be sadly mistaken. This may have been a limited one-off, but it was quite a divergence from the beaten path. Here I am again, lost in the Ardennes Forest with only "Big" Bob Barrar to guide me home.
Jul 14, 2017
Gravity Never Fails from Brouwerij Brasserie De Ranke
Beer rating:
87
out of
100
with
18
ratings