Pale Ale
| Bitter Root Brewing
BA SCORE
81
good
11
Reviews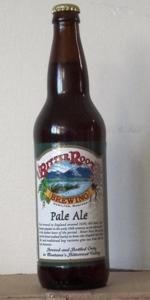 BEER INFO
Brewed by:
Bitter Root Brewing
Montana
,
United States
bitterrootbrewing.com
Style:
English Pale Ale
Alcohol by volume (ABV):
5.40%
Availability:
Year-round
Notes / Commercial Description:
First brewed in England around 1630, this beer style became popular in the early 18th century, as an alternative to the darker beers of the period. Bitter Root Brewing uses the finest malted barley to brew this English style Pale Ale, and traditional hop varieties give our Pale Ale its hop character.
Added by Gusler on 05-07-2004
Reviews: 11 | Ratings: 15
1.95
/5
rDev
-43%
look: 3 | smell: 3 | taste: 1.5 | feel: 1.5 | overall: 1.5
Appearance- golden orange hue, a bit hazy, quickly dissipating head even with vigorous pour
Smell- citrus and floral yet quite mellow. Hop presence low
Taste- past it's date. Unfortunately this brew has been skunked.
Overall- I've had this brew before at a festival and remember quite enjoying it. Will wait until I get a fair chance.
337 characters
3.62
/5
rDev
+5.8%
look: 3.5 | smell: 4 | taste: 3.5 | feel: 3.5 | overall: 3.5
Decent pale ale. Big, frothy white head a cloudy burnt orange body. The head clings to the side of the glass in large, foamy chunks. Toffee, creamy malts, yeast. Very light hops and a slight citrus note.
Slightly more bitter taste, hoppier than the scent belies. A faint hint of apple. Big malt flavour as well: grains, bread and toffee.
Good body - well rounded carbonation, chewy mouthfeel. Holds promise as a good session beer.
432 characters

3.34
/5
rDev
-2.3%
look: 4 | smell: 2.5 | taste: 3.5 | feel: 4 | overall: 3.5
22 oz bomber served in a Duvel tulip
A - Massive off-white head on top of a cloudy, dark amber ale.
S - Yeast and fermented grains...strained through a recently worn sock.
T - Slightly lemon-tangy up front, with bready malts and apricot/peach following. Not sweet though - the malts are dry and earthy. The finish is slightly bitter, with dried grass and sourdough accompanying the hops.
M - Decently chewy and well carbonated.
D - Wouldn't be my first choice to session, but it wouldn't be too difficult. Let's talk opportunity cost...
541 characters
3.9
/5
rDev
+14%
look: 4 | smell: 4 | taste: 4 | feel: 3 | overall: 4
I bought a bomber of Bitter Root Pale Ale at a beer store. $5.49. Poured in to a pint glass.
Pours a deep copper color, clear with a hint of chill haze, and a few bubbles rising in the glass. The head is thin and frothy, composed of rather large bubbles.
Smell is as sweet bread aroma, with a dairy presence, and little earthy scent.
Taste is malty, a biscuit flavor, with a subdues citrus flavor and a dry bitter finish.
Mouthfeel is medium bodied and clean.
Very drinkable pale ale. The price might be a little steep compared to some some common American pales, but this is a good representation of the English style. I would have it again.
648 characters
3.46
/5
rDev
+1.2%
look: 4 | smell: 3 | taste: 3.5 | feel: 4 | overall: 3.5
Appearance: Pours a clear, amber body with a small white head.
Smell: Spicy toffee drops with a bit of lemon peel.
Taste: Sweet, candied maltiness. A taste of lemon peel sprinkled with spice and table sugar. Mild bitterness that lingers on into the otherwise light finish.
Mouthfeel: Medium-bodied. Medium carbonation.
Drinkability: C'mon, it's not that bad, is it? I found it to be a decent little pale ale.
412 characters

3.5
/5
rDev
+2.3%
look: 3.5 | smell: 3.5 | taste: 3.5 | feel: 3.5 | overall: 3.5
Pours cloudy orange with a light 1/16 inch head. Below average lacing. Under carbonated with a super sweet hoppy flowery citrus smell. Very fruity that is unusual for a pale ale. The light flowery hops dominate the malts . It finishes with a light sweetness with just a hint bitterness. This is does not taste like a pale ale.
326 characters
3.62
/5
rDev
+5.8%
look: 3 | smell: 3.5 | taste: 3.5 | feel: 4 | overall: 4
Poured into my favorite 24oz mason jar, this beer appears cloudy with a thick cream-colored head, not quite white, not quite tan. The aroma is floral, about what you'd expect from an American Pale. The taste is sweet & malty, with a crisp hop bitterness at the end. There's a very slight yeasty aftertaste. Carbonation is spot on for the style.
All in all, it's a very drinkable pale ale. It's not worth driving across the country for, but maybe across town if you don't live in too big of a town.
BTW, I was at their brewery a couple days ago. That is worth a trip across the country, except for the 48oz rule (in Montana, breweries can have tasting rooms, but not full-on brewpubs, and you're limited to 48oz per person, per day!) It's a fun brew pub with a great, laid back atmosphere.
edit: I just looked at Bitter Root's website, and they've got the Pale Ale described as an English style. It actually does taste more like an English than American.
956 characters

3.66
/5
rDev
+7%
look: 4.5 | smell: 3.5 | taste: 3.5 | feel: 3.5 | overall: 4
Bought 22oz bomber from the Man Store in Helena.
A: Pours an amber color with small white head, good lacing down the glass.
S: Smell is very sweet and malty with a slight metallic scent
T: Taste is very sweet, slight hoppy flavor. Doesn't really taste like most pale ales I've had. More balanced toward the malty side.
M: Mouthfeel is medium bodied, goes down easy
D: Good beer, although doesn't really taste like most pale ales I've had, more like an amber I would say.
477 characters

3.59
/5
rDev
+5%
look: 5 | smell: 3.5 | taste: 3.5 | feel: 3.5 | overall: 3.5
01/12/05- Purchased at the Brewery in Hamilton, MT
Presentation- Poured into my 24 oz glass mug. 22oz bottle with no expiration or packaging date.
Appearance- Cloudyish yellow-golden pour with massive amounts of foam. Very nice lacing.
Smell- Huge amounts of sweet caramle malts and decent floral hops.
Taste- Mirrors the smell. Lots and lots of malt. More so than hops. What hops there are are a tad bitter and acidic.
Mouthfeel- Super carbonated. Maybe it's because this beer has been sitting around for a good 5 months almost. A tad watery on the finish.
Drinkability- A decent pale ale, but nothing to go out of your way for. I do suggest that anyone try the rest of their brews though. Bitter Root usually doesn't dissapoint.
748 characters
2.98
/5
rDev
-12.9%
look: 3 | smell: 2.5 | taste: 3 | feel: 3 | overall: 3.5
Drank this one out of the 22oz bottle for lack of a proper glass on a camping trip. Pretty generic American pale ale. Decent hop profile, balanced nicely by a light maltiness. Nothing special, but certainly respectable. Perhaps on draft or in a decent glass this could be a pretty good beer.
291 characters
3.92
/5
rDev
+14.6%
look: 3.5 | smell: 4 | taste: 4 | feel: 3.5 | overall: 4
The beer after extrication from the brown 22-ounce bottle pours nebulous deep amber to mahogany color with a Bunyanesque creamy light tan head, the lace a thick and glutinous sheet to obscure the glass. Nose is lightly floral, backed up by nice malt sweetness, quite crisp and clean. The beer starts lightly sweet with a nice malt profile; the top is fair to middling in its feel to the palate. Finish is orthodox in its acidity; the hops are purposeful in their spiciness, the aftertaste quite dry, and a real refresher as its 103 here today.
543 characters
Pale Ale from Bitter Root Brewing
3.42
out of
5
based on
15
ratings.