The Rule Of Three
| Little Creatures Brewing Company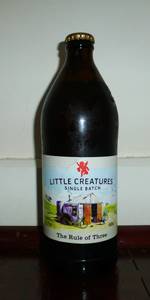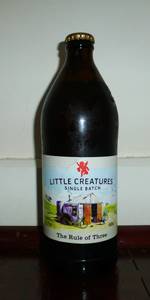 BEER INFO
Brewed by:
Little Creatures Brewing Company
Australia
littlecreatures.com.au
Style:
English Bitter
Alcohol by volume (ABV):
5.70%
Availability:
Limited (brewed once)
Notes / Commercial Description:
No notes at this time.
Added by ADZA on 03-23-2014
This beer is retired; no longer brewed.
HISTOGRAM
Ratings: 13 | Reviews: 6
Reviews by SmashPants:

3.82
/5
rDev
+8.5%
look: 4 | smell: 3.25 | taste: 4 | feel: 4 | overall: 4
Bottle: stumpy embossed 500mL brown bottle, classically-styled old-school label.
Appearance: poured into a tulip glass - a vibrant deep orange-amber colour with limited fine carbonation visible. A thin beige head pops up and drops quickly to a thin cap. Decent lacing. Looks good.
Aroma: a fairly demure aroma per the style. Earth, biscuit and some honey. Not all that much there.
Taste: the predominant flavours are biscuit malts and a massive earthy funk. I don't think I have had too many beers with such a definitive earthen whack. Lovely.
Aftertaste: a huge biscuit malt bitterness comes through on the finish. Quite unique, and definitely welcomed.
Mouth feel: quite thick in body with limited carbonation. Unlike most of the English-brewed English Bitters, this one has enough flavour to cover for the fairly flat feel.
Overall: a fantastic Australian take on the English Bitter. Strong in flavour and low in carbonation, this is a good pub sipper. The price is good too at AU$65 for a case of 12 x 500mL. I'll definitely have this one again.
1,055 characters
More User Reviews:


3.78
/5
rDev
+7.4%
look: 3.75 | smell: 3.25 | taste: 4 | feel: 4.25 | overall: 3.75
Drank from my Ciney sniffer
A - Pours a slightly cloudy copper colour with an off White head that reduces quickly and laces.
S - Not much on offer here small phenols of malt slightly perfumic. with grass
T - A little bit of biscuit up front with some spice. Slight amounts of Belgian yeast. The malt characters are nice and overall its a smooth drop with plenty of subtle balance.
M - Medium body with light to medium carbonation. Important to drink at room temperature.
O - Well as I drank this beer it became so much better , the more it approached room temperature. It is actually quite a complex beer (albeit on the safe side). I definitely get the hybrid of the Dubbel and ESB. Overall its a good effort and well worth a shot. I think it will improve with age. I will review again in 12 months. If you are looking for a massive imperial super duper tripel barrel aged Dubbel then don't bother. This is a very well balanced brew in a European style.
958 characters

3.79
/5
rDev
+7.7%
look: 3.75 | smell: 4 | taste: 3.75 | feel: 3.5 | overall: 3.75
On tap at Preachers Bar in Hobart.
Pours a russet amber colour; fairly clear with small bubbly head, beige but sinks quickly. Nice English lacing left behind. Looks decent; unpretentious.
Smells quite nice. Fruity hops with apple and pear mostly. Touch of lemon and some light biscuity malts. Subdued touch of herbs; subdued overall but pleasant.
Taste is more malty. Biscuity, grainy on the front, then gets hugely grainy midway, with a touch of Maris Otter and lots of graham cracker notes. Mild spice on the back, touch of cloves and pepperberry. Finishes clean and inoffensive. Would like more hop character maybe but a decent, unexciting bitter.
A bit of fizz, maybe a touch thin. Decent.
Drinkable. Not bad.
722 characters



3.41
/5
rDev
-3.1%
look: 3 | smell: 4.5 | taste: 3 | feel: 3.5 | overall: 3
One thing I like about Little Creatures is that their single batch brews always have names I want to Google search; take Rule Of Three - as an occasional Cinematographer/Photographer I immediately thought "rule of thirds" but there is a plot device in story writing called the "rule of three" in that things that come in threes are inherently better, interesting, thank you Little Creatures [err just realised this is written on the side of the bottle].
Poured from an Imperial pint bottle into a nonic pint.
A: Presents a clear tangerine body with a white lace on top.
S: The nose is intriguing with notes of honey, bubblegum, hints of pepper and coriander. Underlying this is a broad biscuit malt base. It certainly fits within the realm of a Belgian dubbel and English bitter as it proclaims.
T: Bit of a Frankenstein brew this Rule Of Three, yes the above aromas present well as the flavour profile: honey, bubblegum, pepper, coriander and biscuit malt base. However the finish is where it overplays its hand; those dry-hopped Styrian Golding hops really take on an odd dimension, and quite frankly ruin the flavour with their spicy bitter orange note.
M: Medium bodied with light carbonation and some resin hop slickness.
D: This single batch was a bit of a hit and miss for me, those Styrian Golding hops were just plain distracting at best and downright annoying at worst. The aroma was really great too, so it's a shame this brew had such a distracting finish, for me at least. You cant win them all can you Little Creatures?
Food match: A spicy Thai or Malaysian curry would match well, masking some of the lessor attributes with chilli.
1,653 characters
3.11
/5
rDev
-11.6%
look: 3.5 | smell: 3 | taste: 3.25 | feel: 2.75 | overall: 3
Ok this is a English bitter crossed with a Belgian Dubbel hopped with Styrian hops and yeah it's a hybrid of styles but on taste it's more English bitter,it pours a golden hazed hue with a fluffy white head and some lacing here and there but all in all it looks like creatures,the smell is mostly spicy herbal hops along with some phenolic spicy yeast but nothing too flash to be honest,the mouthfeel is medium bodied and in my mind a touch over carbonated and the tastes are pretty boring really which start off with biscuity malts then a touch of the phenolic yeast and finished with a bitterness that is right up there with the true English bitters but overall it's nothing that makes me want to come back for more as it's pretty average and just reminds me of another little creatures release glad I only bought one cheers.
827 characters

3.93
/5
rDev
+11.6%
look: 3.75 | smell: 3.75 | taste: 4.25 | feel: 3.5 | overall: 3.75
568mL bottle, seems like an eternity since the last single batch hit the stores over east. Combo of english bitter and belgian dubbel seems enticing...
A - orange-brown, slightly cloudy, pours a thin white head
S - Getting a few smells here, honey, biscuity malts with afaint whiff of dark cooking chocolate, plums and musk.
T - Biscuity malt, subtle dark fruits and gentle english style hoppy bitterness. The warmer the beer gets, the more the belgian dubbel style dark fruits (prunes, raisins) and cloves come to the fore.
M - low carbonation, dryish texture, medium body.
O - bit of an odd one, worth a try - more of a bitter than a dubbel. I'm not sure it is any better than a good ESB or a good Dubbel (i.e. not much hint of alcohol), but mixture worked well once it reached room temp. Not as good as some of the other single batches though.
852 characters

The Rule Of Three from Little Creatures Brewing Company
Beer rating:
3.52
out of
5
with
13
ratings