Little Creatures East Kent Goldings Ale
| Little Creatures Brewing Company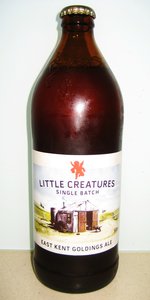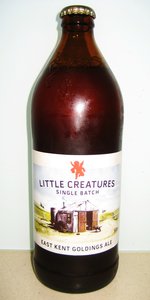 BEER INFO
Brewed by:
Little Creatures Brewing Company
Australia
littlecreatures.com.au
Style:
English Pale Ale
Alcohol by volume (ABV):
4.50%
Availability:
Limited (brewed once)
Notes / Commercial Description:
No notes at this time.
Added by ADZA on 02-10-2011
This beer is retired; no longer brewed.
HISTOGRAM
Ratings: 13 | Reviews: 11
Reviews by heygeebee:

2.8
/5
rDev
-14.4%
look: 3 | smell: 3 | taste: 3 | feel: 3 | overall: 2
Poured into a 380 ml Bodum double wall glass. Massive sudsy head, despite a 'usual' pour height. Head reminded me of the high watermark on the beach on one of those 'bad' days, when you really question whether you should swim or not!! Took well over 5 minutes to subside.
Nice lacing - as you would expect
Moderate aromas of citrus and grapefruit to start with, quickly dissapated to very little aroma at all.
Very un-integrated bitter taste, leaving the rest of the bottle looking less appealing as I sit here.
Going off Little Creatures single batches bit by bit, the Brown ale was excellent, the Oatmeal stout less so, and this less impressive still
658 characters
More User Reviews:
3.48
/5
rDev
+6.4%
look: 4 | smell: 3.5 | taste: 3.5 | feel: 3 | overall: 3.5
Pours amber with a large lasting head. Nose shows some herbal, grassy hops with soft sweet clean malt underneath. The herbal earthy hops continue as a flavour backed by sweet bready and cookie dough-like malt. Carbonation is a little high. No real faults, but I've never found EKG to be a particularly interesting hop variety.
326 characters
3.03
/5
rDev
-7.3%
look: 3.5 | smell: 3 | taste: 3 | feel: 3 | overall: 3
Drank from my Bombardier conic pint glass.
A - Pours a nice clear Golden colour with a frothy white head that hangs around for a while.
S - A nice aroma of hops from the bottle. Once poured the aromas disappear somewhat.
T - Up front there are some nice hoppy notes, that are followed by some very slight biscuit and at the end some orange notes come through.
M - Light body and medium carbonation.
D - EPA is not my beer of choice, but this again seems to miss the mark. Alex needs to grow some balls and brew something with substance that will leave us old timers begging for more. The more they produce these beers the less I regard this brewery. The Oatmeal stout was a good crack at a stout, but seriously guys, come on. The most flavoursome brew that you have produced is still the Pale Ale. You continue to miss opportunity after opportunity. Mad Brewers have at least had a go at an American Barley Wine and an RIS. Stop playing it safe. If you want to be a Matador, then at some point you need to get in the bull ring.
1,032 characters
3.11
/5
rDev
-4.9%
look: 4 | smell: 3 | taste: 3 | feel: 3.5 | overall: 3
This pours a clear amber with a solid couple of centimetres of white head.
Earthy hop aromas on the nose. Maybe a touch of fruitiness but nothing really appealing. It's a bit muddy for mine.
The hops and malt are there on the palate but are really messy. Nothing stands out nor does it really gel. For a single hop beer the hops don't really sing.
Medium bodied good carbonation.
This is my second look at this. 1st time it may have been too cold so this time I gave it plenty of time to let it warm up in the hope that the hops would be more expressive but that was not the case.
Another disappointing release in the Single Batch line. I wish they would try and push the boundaries a little more.
702 characters
3.38
/5
rDev
+3.4%
look: 3.5 | smell: 3 | taste: 3.5 | feel: 3.5 | overall: 3.5
I was actually looking forward to this despite the negative vibes I was getting. All the British beers we get are usually stale by the time they get here so a fresh UK style brew was just what I was looking for. Pours nicely with a weakish bubbly froth. Aromas are a little peppery and herbal. I can't help but feel this beer should have been more about malt than hops though. It feels like it's out of whack in the hop-malt balance. Bitterness is good but just lacking the malt backbone that makes these beers so cool. If it had of been just a straight up UK impression instead of a hop showcase it may have been better. Still, it's not unpleasant at all.
656 characters
3.08
/5
rDev
-5.8%
look: 3.5 | smell: 3 | taste: 3 | feel: 3.5 | overall: 3
Kind of surprised that I even bought this considering the general BLEH response from others.
Imperial Pint poured into a globe glass
A-- Poured a hazy golden brown color. Moderate pour got a 2 finger bright white head that receded to one finger. Good shape to the head. Good head retention and decent lacing to this. More spotty than anything else.
S-- Peach, orange blossom, and grapefruit . Very faint though. Some earthiness to this but overall very soft.
T-- Earthy orange taste. A little bit of grapefruit but once again very soft and very reserved. As it warms up it is more like grapefruit that has the body but no zing to it.
M-- Medium body and totally correct carbonation for the style. Bitterness is there but soft and reserved. More in the back of the palate then in the front. Much more about earthy orange and grapefruit than anything else. Honestly would say the feel is the strong suit of this beer.
D-- Good but just very uninspired on so many levels. I guess if I wanted an English Pale Ale I should have bought Coopers or Pigs Fly Pale Ale. It is nice, refreshing and tastes well but just does not sing like LCPA does. Then again the stuff LC makes has the same issue. Reaching the point to why bother with anything else than LCPA at this point. One was plenty.
1,292 characters
2.53
/5
rDev
-22.6%
look: 3 | smell: 2.5 | taste: 2.5 | feel: 2.5 | overall: 2.5
The brew pours a semi cloudy golden hue with decent carbonation that leaves behind a sudsy two finger head and some sporadic lacing,i have to admit as soon as i poured it i didnt really like the look and the smell is the same with feint aromas of grains and herbal hops and maybe a tinge of honey but not much else and with the taste it doesnt get much better it is quite bland with a light bodied averagely carbonated mouthfeel and has subtle tastes of very light grapefruit and i mean light,pale malts,a tinge of jarrah honey and finishes with a light passion fruit bitterness,overall what a dissapointment i mean after this breweries first 2 single batches i was expecting big things but after their last 2 they have definately failed to hit the spot in my eyes and i hate to say it but im glad i only bought the one of these,come on guys pull your socks up your capable of so much more seriously.
900 characters
3.18
/5
rDev
-2.8%
look: 3.5 | smell: 3 | taste: 3 | feel: 3.5 | overall: 3.5
poured into a tulip.
A- pours a light ambery gold with about 2 inches of head. looks alright, if a bit light.
S- a bit sweet to begin with, touch of hops, but a little undescript. a tiny bit of of yeast in the backround.
T-slightly bitter straight away, malt comes through a tiny bit in the middle but its very slight. finish is bitter, but not overtly, touch of passionfruit, but nothing else really stands out. hoppy, but almost a nondescript hoppiness. for a single hop, it needs more hop.
M- a little effervescent, light bodied, the bitterness is a touch drying, but the length leaves a bit to be desired. alright, but nothing great.
D- i could have one or two, its better than a lot of beers, but there are so many out there that are much better and less costly. its not a bad beer, but im dissapointed because creatures have so much potential.
857 characters
3.5
/5
rDev
+7%
look: 3.5 | smell: 3.5 | taste: 3.5 | feel: 3.5 | overall: 3.5
A - Dark golden with a slight haze. 3cm head falls fairly fast leaving a touch of lacing.
S - Earthy, light fruity hop character with some slightly sweetish pale malt.
T - Fruity - marmalade like - woody earthiness. Very basic pale malt sweetness.
M - Medium carbonation, fairly noticeable bitterness.
O - Nice enough for what it's supposed to be. But it could be so much more.
377 characters

3.44
/5
rDev
+5.2%
look: 4.5 | smell: 3 | taste: 3.5 | feel: 3.5 | overall: 3.5
Crystal clear, golden colour with a large, fluffy, off-white head. Good head retention.
Dull aroma with mild earthy, citrussy EKG notes. Unfortunately, cardboardy and oxidized despite being fresh.
Smooth, clean malt is good, backed up by moderate bitterness. The EKG character is there but not entirely prominent. This is okay for an EPA but it lacks a bit of spark.
Medium-light body with moderate carbonation. Fine.
A reasonable attempt at a beer but yet again Little Creatures is pushing no boundaries here. This is a very straight forward English ale and they need to step up their game with this series.
612 characters
3.53
/5
rDev
+8%
look: 4 | smell: 3.5 | taste: 3.5 | feel: 3.5 | overall: 3.5
Appearance - 4.0
Gold to amber in colour with a white head and good lacing.
Smell - 3.5
Subtle and pleasant aroma, biscuity malt.
Taste - 3.5
Rather thin malt backbone allows the hops to lead, very dry and quite bitter despite moderate IBU count.
Mouthfeel - 3.5
A little thin but very smooth.
Overall - 3.5
A decent, if uninteresting session ale.
351 characters
Little Creatures East Kent Goldings Ale from Little Creatures Brewing Company
Beer rating:
3.27
out of
5
with
13
ratings