Little Creatures Marzen
| Little Creatures Brewing Company
BA SCORE
79
okay
14
Reviews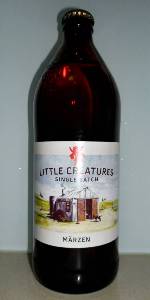 BEER INFO
Brewed by:
Little Creatures Brewing Company
Australia
littlecreatures.com.au
Style:
Märzen / Oktoberfest
Alcohol by volume (ABV):
5.80%
Availability:
Limited (brewed once)
Notes / Commercial Description:
No notes at this time.
Added by brendan13 on 04-15-2011
This beer is retired; no longer brewed.
Reviews: 14 | Ratings: 15
3.36
/5
rDev
+3.1%
look: 4 | smell: 3 | taste: 3.5 | feel: 3 | overall: 3.5
On-tap at the source in Fremantle several months ago. Never seemed to get around to entering my notes.
Pours a deep brownish gold with a fine and slick head of white. Foamy and rather boisterous lacing. Lots of carbonation slewing through the body. Looks decent, and fits the style well.
Minimal character on the nose, just a hint of malty grain with a uplift of sharp soda or citrus. Very bland, if not unpleasant.
Taste is similar. Grainy and clear for the most part, with a bit of fain fruit coming through. Phenolic finish gives a slight nod to the German style, but even still, it's very light and not particularly inspiring.
Stylistically, it's not too bad. They get a lot of the characters in there, but they're all very subdued. It's all just a bit too bland and unexciting.
★
786 characters
3.45
/5
rDev
+5.8%
look: 3.5 | smell: 3.5 | taste: 3.5 | feel: 3 | overall: 3.5
A - Beautiful golden honey-amber colour. Touch of head.
S - Sweet wheat and honey. Touch of the smoky, rauchen-Marzen aroma.
T - As with the taste it's sweet wheat and honey that predominates here. Big slice of malt coming through as well to coat the mouth. Some lemon and more tart flavours hiding underneath.
M - Vibrant at first but softening with the malty coat. Not enough carbonation to get excited but still ok.
O - Good to see an Australian brewer who tries to do something different. Thick and malty this ticks most of the boxes it needs to, but still lacks a touch of the full flavour and thus the authenticity it requires. If the Little Creatures guys keep coming up with unusual beers I'll keep reviewing them.. Amen!
★
735 characters
3.62
/5
rDev
+11%
look: 3 | smell: 3.5 | taste: 3.5 | feel: 4 | overall: 4
Appearance - 3.0
Pours a small white head which quickly disappears over a clear body of light amber. It's a lovely, bright colour, but let down by the poor head retention and lack of lacing.
Smell - 3.5
Definite caramel sweetness on the nose, along with baking white loaves and a little spicy hop aroma.
Taste - 3.5
A very balanced beer with toasty, bready malt, a good measure of caramel sweetness, balanced by 30IBU of hops, with spicy and earthy notes coming through in the finish. Alcohol not so well hidden, which is something of a given with the style.
Mouthfeel - 4.0
Very smooth, medium bodied and moderately carbonated.
Overall - 4.0
Having been to Oktoberfest in 2010 and having tried every Marzen available, I can confidently say that this is true-to-style. In fact, I would rate this beer as better than every Marzen I had at the Weisen, with the exception of Hacker-Pschorr. In my opinion this beer has been rather underrated by many and is a good example of its style.
★
986 characters
2.74
/5
rDev
-16%
look: 4 | smell: 2.5 | taste: 3 | feel: 2 | overall: 2.5
A - Pours a nice clear Amber colour with a White large bubbled head that dies quickly to a film.
S - Aromas are slightly metalic and sweet.
T - A sweet and malty taste with a little bitterness on the finish.
M - A little watery and slightly overcarbonated.
O - Yet another mediocre offering from this brewery, who have failed to deliver anything of quality since the Pale Ale and Rogers.
★
392 characters
3.37
/5
rDev
+3.4%
look: 3 | smell: 3.5 | taste: 3.5 | feel: 2.5 | overall: 3.5
Pours clear amber with a small white head.
Nose is pretty faint, shows some nutty and caramel malt.
Flavours are very similar, with toasty, nutty malt, hints of melanoidins, no bitterness. Pretty tame, but not bad.
Could do with some more carbonation.
★
251 characters
3.82
/5
rDev
+17.2%
look: 3 | smell: 3.5 | taste: 4 | feel: 4 | overall: 4
I think there may be a little much expectation on Little Creatures to produce extreme beers. This is not extreme or out there but it definitely isn't bad.
Didn't get much of a head or lacing but a nice copper body with a fine bead. Aromas are malty and grainy yet nothing at all like any macro pale lager from the big breweries. Have another smell people - it's quality lager. The flavours are sturdy, malty and full. This style of beer rarely blows minds but this is well put together, balanced and above all tasty.
Sure the Germans can do it better but by the time any German versions of this get to these shores they don't taste too hot.
Good beer. Even if it is the red headed step-child of Little Creatures.
★
716 characters

3.07
/5
rDev
-5.8%
look: 4 | smell: 2 | taste: 3.5 | feel: 2.5 | overall: 3.5
Pours a shiny colden colour with very appealing head, dense and fluffy. Sinks steadily, leaving some specks of lace behind. Looks pretty decent.
Doesn't really smell of much. Mostly grainy, with a cough lolly kind of aroma and some brown sugar as well. A bit phenolic as well, but mostly a non-event. Meh.
Taste is rich-ish, and kind of 'golden' in character, with some fresh wheat notes and golden syrup on the front that dwindles a bit for the mid-palate, before the finish takes over. Finish is quite phenolic but also grainy and sweet with a boiled lolly kind of flavour. Would like more cohesion in this palate between front and back, but it's not too bad overall.
Too much carbonation here, largely because the body is thin. Doesn't come across as too refreshing, sadly.
I think it's a decent enough marzen. But one of the reasons I think this is because Australian breweries just don't brew this style enough. Therefore I don't feel right holding this up to the high standards I would hold an indigenous German example to. Is this comparable to the best German marzen/oktoberfest? No, not in the slightest. But this isn't steeped in the tradition of German brewing. Until Australian breweries start offering more of these rarer European styles (and given the whole world's love affair with Oktoberfest, this shouldn't be a hard sell), this beer is going to remain a pretty decent offering, in my opinion.
★
1,415 characters

1.9
/5
rDev
-41.7%
look: 4 | smell: 1.5 | taste: 1.5 | feel: 4 | overall: 1.5
A: Colour is the gold of a macro (Carlton Draught). The head is decent and the lacing is good. 4
S: They claim to have "thrown bucketloads of Saaz and Williamette" into this beer. I don't believe them. Alternates between smelling like nothing and smelling like an Aussie macro with a bit of Heineken skunk trying to break through. Occasionally some nicer smells will rear their head before vanishing abruptly into the ether. 1.5
T: Ok maybe there was the slightest hint of the style on the first few sips- a little bit sweet, that kind of yeasty/maltiness and I even thought I detected a phantom amount of roast. 1.5
M: Pretty good actually. Wholesome. 4
O: Not an unpleasant beer, and unfortunately I'll probably keep buying their single batch series, because I'm a sucker, and because I (perhaps incorrectly) associate Little Creatures with quality.
They seem to intentionally make these beers blander and blander as they go on. Considering their price, would it kill them to make something interesting, or, failing that, something that at least has some flavour? I dislike paying for the privilege of experiencing an experiment in blandness. 1.5
★
1,153 characters
3
/5
rDev
-8%
look: 3 | smell: 3 | taste: 3 | feel: 3 | overall: 3
Well before i even review this drop im going to say credit to the boys for trying a brew of this nature and the brew pours a very light see through golden amber hue with average carbonation that leaves behind a one finger head and little lacing,unfortunately smell is similar to look in this case and not greatly appealing with aromas of marzipan,light caramel and some herbal hops,it has a light bodied well carbonated mouthfeel and has tastes of brown sugar,sticky dates,a touch of light sweet toffee and finished with a nice all round herbal,grassy hoppiness but not bitter at all its just a grassy hop flavour very similar to a pilsner but with more backbone from the malt characters and overall i hate to say it but i really did think it was going to be better and i do feel if it had more of a body this beer could be improved but it is a hard style to perfect.
★
867 characters
3.18
/5
rDev
-2.5%
look: 3.5 | smell: 3 | taste: 3 | feel: 3.5 | overall: 3.5
Clear copper colour with a small, off-white head. Poor head retention.
Malty with a distinct herbal hop character. Mildly metallic.
Crisp, clean malts with mild hop character. A little metallic again and a touch grainy. Not as well defined as the German versions.
Medium body with moderate carbonation. Fine.
A fair shot at the style but this is nothing more than a decent malty lager.
★
389 characters
3.2
/5
rDev
-1.8%
look: 3.5 | smell: 3.5 | taste: 3 | feel: 3.5 | overall: 3
A- golden yellow, pretty sprightly head, giving me about 3cm. fluffy and working itself down kinda quickly. leaves some lacing. Looks alright if a little plain and watery.
S- smells sweet, malty, and with a touch of nondescript hop that suggests bitter.
T- sweet and malty. suggests at some caramel, finishing with a bitterness that just seems to round it out.
M- light and carbonated okay. a little bitterness seems to linger longer than usual, and a little drying. not as effervescent as i was expecting, but with a larger length.
O- its not a bad beer, and it would be easy to drink a couple of them. but like with most of there small batch beers it seems lacking in flair and a bit of creativity. they have the potential to do so much.
★
746 characters
3.25
/5
rDev
-0.3%
look: 3 | smell: 3 | taste: 3.5 | feel: 3.5 | overall: 3
This pours a dark golden colour with disappointing loose head that is there in name only.
Bit of bread on the nose with just a touch of something herbal behind it.
The malt sweetness is there and the hops come through a bit more. Bitterness balances out the sweetness.
Medium bodied.
I don't have a very good knowledge of marzens so maybe this is a cracker and true to style but as a general beer it's a bit boring and very consistent with the rest of the Single Batch releases so far.
★
489 characters

3.39
/5
rDev
+4%
look: 3.5 | smell: 2 | taste: 4 | feel: 4 | overall: 3.5
Copper golden appearance, poured at the Riverview Hotel, Balmain with 1cm of foam that stays for a little while before settling to be a little white film on top.
Not a lot happening on the nose, perhaps a little sweet malt.
Tasting better than expected given previous experience with their lagers. Slight malt sweetness, little bit of warming alcohol. Pretty well balanced.
Nice mouthfeel, a little creamy and soft. Moderate body for the style.
Overall a decent brew for the style. I've been critical of Little Creatures over-hyping their single batch brew only to be disappointed. This flew under the radar and was a pleasant surprise.
★
640 characters
3.53
/5
rDev
+8.3%
look: 4 | smell: 3.5 | taste: 3.5 | feel: 3.5 | overall: 3.5
A - Pours a very dark golden/borderline light copper. Initially a 3cm white head but it falls quite quickly.
S - Light toasted bready malt up front with some herbal/grasyy hints..
T - Bit of bready malt sweetness and a touch of herbal noble hop character.
M - Lighter side of medium body. Smooth, moderate carbonation.
O - Like most if not all LC small batch beers it is a decent, drinkable beer but lacks any 'wow' factor. Not enough rih bready malt character.
Still worth trying though.
★
494 characters
Little Creatures Marzen from Little Creatures Brewing Company
3.26
out of
5
based on
15
ratings.