Fresh Hop Organic Initial Attack Wildfire IPA
| Butte Creek Brewing Company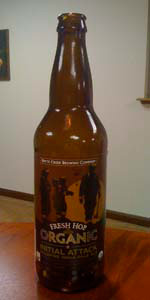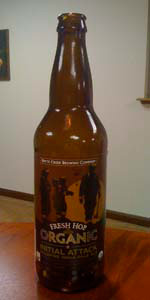 BEER INFO
Brewed by:
Butte Creek Brewing Company
California
,
United States
buttecreek.com
Style:
American IPA
Alcohol by volume (ABV):
6.60%
Availability:
Fall
Notes / Commercial Description:
No notes at this time.
Added by flexabull on 11-08-2008
HISTOGRAM
Ratings: 11 | Reviews: 11
Reviews by athensbeermaster:
3.65
/5
rDev
-2.7%
look: 3.5 | smell: 3.5 | taste: 3.5 | feel: 4 | overall: 4
The appearance was a deep blood orange with good head retention. The nose gave a pleasant citrus and spice aroma mixed with a woodsy overtone. The taste of fresh granny smith apples that were lightly smoked. A hint of brown sugar that fades into a grapfruit and white pepper finish. A well balanced beer between the malts and the hops. This fresh hop ale is low on my short list of fresh hop ales, but this brew is well made.
425 characters
More User Reviews:
3.35
/5
rDev
-10.7%
look: 3 | smell: 3 | taste: 3.5 | feel: 3.5 | overall: 3.5
Started the night off at the O'Briens Wet Hop Festival with this one. Pours clear gold with a medium white head. Clean, fresh floral aroma. More freshness in the taste. Light caramel malt (always nice when it doesn't go overboard) blended well with the bittersweet of the centennial hops. Great start to the night.
314 characters
3.76
/5
rDev
+0.3%
look: 4 | smell: 3 | taste: 4 | feel: 4 | overall: 4
From a bomber. Pours clear full amber with a two finger off white head and fair amount of lacings. Aroma is bready with some floral hops. Taste is slightly sweet caramel that is quickly pushed aside by hop bitterness. Resiney grapefruit hops with a kiss of smoke. Malts are full enough to suggest a pumped up amber but the hop levels are IPA. The carbonation is just barely adequete and the finish is plenty bitter and dry. Overall an enjoyable and interesting beer.
466 characters
3.65
/5
rDev
-2.7%
look: 4 | smell: 4 | taste: 3.5 | feel: 3.5 | overall: 3.5
This is a solid looking ipa, pouring a nice, deep amber.... almost actually looks like an amber. had a nice head on it to begin with, but it died off pretty quickly. I can't really say much to the lacing as I'm not sure how this thing should lace down the side of a clear plastic cup... it's printed with speakeasy logos, so don't knock me too many points!
solid aroma that would lead me to believe this will be a pretty well balanced IPA. plenty hoppy, plenty malty. not overly citrusey, not overly sweet.
it's got a nice start to it once taking it in. sweet, malty with some bitter hops... but after the swallow, hop oils take over. This beer turns more bitter than an ex that walked in on you cheating on her... not that that's ever happened to me... forget I said that. the hops bitterness really lingers for quite a while and doesn't get out of the way for anything. not ideal in my opinion.
this beer has a nice, medium body about it, but I'd have to agree with a few of the people who've said this brew is a bit over carbonated. if the carbonation were a bit lighter, I could see enjoying this beer a bit more.
overall, this is a decent ipa. I have a rough time with the hops bite, but it's not bad. I can't see myself drinking a whole lot of it, but I'll enjoy it when it's in front of me.
1,301 characters
3.86
/5
rDev
+2.9%
look: 4.5 | smell: 3.5 | taste: 4 | feel: 3.5 | overall: 4
A new fresh hop ale from Butte Creek. Label says that part of the proceeds from the sale of each bottle of this beer supports fallen local fire fighters. Very cool.
Beer pours a bright and clear amber color with a big solid white head.
Aromas are of hard candies, pine, grapefruit, and other bright fresh hops. Smells nice, but a bit toned down compared to other wet hop ales.
Taste is very hop dominant, but not overwhelming. Very nice bitter flavors, citrus fruits, mostly oranges. There is a nice malt component here, it lends some creamy sweet flavors, tea, and non bitter fruits as well. There is a nice blend of malts and hops here. Tastes like a very solid IPA. Not a ton of fresh hop notes, but still quite tasty.
Mouthfeel is ok. Nice carbonation, but a little light and thin feel.
Drinkability is good. As mentioned before, this comes off as a good IPA. Doesn't quite have the "wet hop" flavors, but that doesn't matter, this is still a tasty and solid ale.
972 characters

3.09
/5
rDev
-17.6%
look: 4.5 | smell: 3 | taste: 3 | feel: 3 | overall: 3
Poured from 22oz bottle into Gulden Draak Tulip.
A: Dirty dark amber with large oily off-white head that reduced to a thick film that lasted the whole way through. Left lots of sticky lacing on the glass.
S: Not particularly smelly. Some piney hops with a sweet malt backbone. Smell leans more towards the malt. Slight green olive notes.
T: Malt hits up front with some sweetness, and then comes a big bitter punch full of hop oil, hop resin, some floral hop notes with hints of pine. Ends with lots of grapefruit bitter with a slightly sweet fruit finish. Very faint tobacco smoke in the aftertaste.
M: Sticky and oily. Good full carbonation, medium body with lots of bitter at the end.
D: A bit off balanced. A dark resiny AIPA with a ton of bitter but not a huge hop flavor. Skewed slightly more towards the malt. The bitter overshadows a lot of the flavors. Not bad none the less, and I'm glad I tried it, but there's better ones out there.
948 characters
3.65
/5
rDev
-2.7%
look: 4 | smell: 4 | taste: 3.5 | feel: 3.5 | overall: 3.5
Picked it up at a store because I always like to see how "fresh hop" beers turn out. SN's Harvest is always quite good, and I know other brewers who make fresh-harvest hopped beers to wonderful effect. This one strikes me mostly as a pretty standard American IPA in the vein of super-bitter IPAs like those from Stone or Anderson Valley among others. Lately I have begun to expect a softer and fuller hop profile that results from mostly bittering with the newer high-alpha hops and heavily loading the late additions, as is done at Russian River, for example. BC Initial Attack's hoppiness comes on as strong and woodsy as a forest fire and lingers like an ember. The piney-woodsy-grassy and vaguely citrusy aroma is unusually mild and gentle compared to the bitter onslaught in the drinking. The flavor is resiny-woody-piney with notes of dry chaparral. I'll say this for it, it does evoke the rugged, semi-arid landscape of inland Northern California, a beautiful territory that I long to visit again, and not just for he beer.
1,030 characters
3.83
/5
rDev
+2.1%
look: 4 | smell: 3.5 | taste: 4 | feel: 3.5 | overall: 4
Bottle from the Davis Co-Op. Pours a nice even red to amber, looks a bit undercarbonated at first, but a good head forms slowly, even prettily. Sticky lacy deposits ring the glass as i drink. Big resiny pine aroma with caramel malt sweetness, smells fresh. Taste is piney and hop filled, quite bitter but in a refreshing sort of way. Malt base is able to contain the hop bitterness, which i like. Mouthfeel is a heavy medium bodied, a bit too much of a syrupy feel maybe. Drinks well, glad to be drinking for a good cause.
522 characters
3.88
/5
rDev
+3.5%
look: 4 | smell: 3.5 | taste: 4 | feel: 4 | overall: 4
Pours a clear mild copper with a lot of sticky head and lacing.
Smell is lots of hop action. Lots of citrus and pine with a slight malt sweetness.
Taste is very hoppy, bitter up front and as the brew warms, so does the finish. There's lots of smooth and oily hops, grapefruit, mild dates, and a lingering hop finish.
Smooth and with a tight carbonation. Very easy to sip and would pair well with stronger foods.
412 characters
4.03
/5
rDev
+7.5%
look: 4.5 | smell: 4 | taste: 4 | feel: 4 | overall: 4
Poured a nice light orange color with a dirty white head, lots of carbonation, almost to much. Nose is of malts and bitter hops, a little floral as well. Taste is nice and malty up front, with a nice hop bite and bitterness on the end. Very earthy and organic. Mouthfeel is good and hoppy. Well balanced. Tastes like a single hop IPA of pure Centennial hops. A really good fresh hop brew. at 6.6 ABV I poured this down in minutes!
430 characters
4.54
/5
rDev
+21.1%
look: 4 | smell: 5 | taste: 5 | feel: 3 | overall: 4
Appearance> Dark gold, reddy, cloudy with medium livliness. Creamy head dissipates immediately. Slight lacing.
Smell>sweet, fresh and resiny hop aroma. Divine!
Taste> Sweet, full body with a huge punch that softens, leaving in its wake a honey and resin hang. Hot dang. It is delicious
Mouf> easy, but not amazing
Drinkability> Great!
353 characters
Fresh Hop Organic Initial Attack Wildfire IPA from Butte Creek Brewing Company
Beer rating:
3.75
out of
5
with
11
ratings