Amsterdam Dutch Amber Lager
| Amsterdam Brewing Company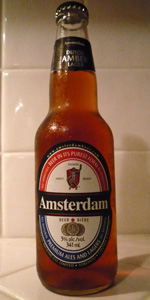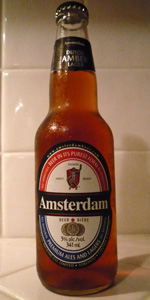 BEER INFO
Brewed by:
Amsterdam Brewing Company
Ontario
,
Canada
amsterdambeer.com
Style:
Vienna Lager
Alcohol by volume (ABV):
5.00%
Availability:
Year-round
Notes / Commercial Description:
No notes at this time.
Added by BeerAdvocate on 08-05-2003
This beer is retired; no longer brewed.
HISTOGRAM
Ratings: 10 | Reviews: 10
Reviews by epk:

3.6
/5
rDev
+17.6%
look: 4 | smell: 4 | taste: 3.5 | feel: 3 | overall: 3.5
The amber color is accentuated well by the clear bottle making the beer very appealing appearance-wise before even poured. A nice head is formed by a constant stream of bubbles - well carbonated, but not over done - it settles into a fine lace.
The malty sweetness is evident in the smell as well as the taste. Everything seems quite balanced however with no one characteristic playing too intensely on the palate. A very subtle hops flavor no doubt helps even it out. Easy drinking, a fairly light spring and summer brew - I might have liked to see it with a tad more kick now that I have had a few under my belt.
However I would definitely recommend it and went as far as to purchase some to bring home to the U.S. since I first sampled it in Niagara Falls (on tap) - unfortunately they do not distribute into the U.S. (Or very far, if at all, out of Ontario I believe).
874 characters
More User Reviews:
2.86
/5
rDev
-6.5%
look: 3.5 | smell: 2.5 | taste: 3 | feel: 2.5 | overall: 3
Sweet but drinkable amber. A Vienna? Medium mouthfeel, some toasted and even chocolate and spice and spice flavours. All around average beer, which is an accomplishment for this brewery. Big head and pleasant amber colour, aggressive carbonation. Thanks Pootz.
260 characters
2.85
/5
rDev
-6.9%
look: 3 | smell: 3 | taste: 3 | feel: 2.5 | overall: 2.5
Bottle- Amber liquid topped with a white foamy cap. No real retention or good lace. Aromas are caramel/butterscotch with some toasty, maybe bron sugar in the nose. Tastes somewhat sweetish of caramel, sugars, bread, with some bittering from the hops. Touch of metallic twang on the finish. Standard.
299 characters
2.93
/5
rDev
-4.2%
look: 3.5 | smell: 3 | taste: 3 | feel: 2 | overall: 3
Lively coloured lager, with a head that contributes to better than average lacing.
Good malt-to-hop ratio in aroma. A touch of "grainy."
Attack is sweet malt with just enought carbonation and hops to make sure it's not honeybrown syrupy sweet. On the mild side. Does not stand up to food.
Empty middle. Light finish. Mouthfeel overall not full enough.... that watery middle that disappoints me when it comes to so many Canadian lagers.
Respectable in a land where there's much worse, but that's damning with faint praise, I guess.
542 characters
3.5
/5
rDev
+14.4%
look: 3.5 | smell: 3.5 | taste: 3.5 | feel: 3.5 | overall: 3.5
Pours a clear copper orange, big white head forms, little bit of lacing on the glass. Smooth and malty smell, honey sweetness, some citrus/floral hoppage. Taste is also malty, some roastiness in the middle, clean lagery malt finish. Smooth and refreshing, medium body and carbonation.
284 characters

3.32
/5
rDev
+8.5%
look: 3 | smell: 3.5 | taste: 3.5 | feel: 2 | overall: 3.5
Poured a a nice copper-amber color...weak head some lacing, fairly well carbonated. The nose is very good on this one: Caramel toasted malts, sweetness and light herbal tone ( this smells like a Vienna), Starts well with the sweet toasty malts up front then a light hernal decernement from the hops then the body and finsh leaves you dangling...wet but clean with light sweet bready after taste. This was a tease beer...it has so much potential...I want to see a well made local vienna and Amsterdam got half way there then they wimped out with their typical watery mouth feel and light palate....put some malt bodied substance in this beer it could be good.
658 characters
2.73
/5
rDev
-10.8%
look: 3.5 | smell: 3 | taste: 2.5 | feel: 3 | overall: 2.5
As the name on the label implies, this beer is definitely amber. It's also very clear and maintained a thin light-cream coloured lacing of foam for quite some time, thanks to a constant stream of CO2 bubbles. Caramel sweetness is prominent in the aroma, along with a light whiff of hops. A slight sourness is there as well, but contributes more to the flavour. Malt sweetness gives way to a more fruity flavour towards the finish. Some grain dryness and flavour are also present, along with a muted hop bitterness. Carbonation seems alright to start, but becomes excessive towards the finish and contributes a harshness that takes away from the other flavours. The aftertaste that builds by the end of a bottle is not very pleasant, kind of a mix between a cloying sweetness and stale hops.
790 characters

3.31
/5
rDev
+8.2%
look: 4 | smell: 3 | taste: 3.5 | feel: 3.5 | overall: 3
Pours with a constant stream of bubbles, thin sheet of head that last through. A fine looking beer. Nice ruby colour, transparent. Light astringency. A bitterness upfront but with a soft, nutty finish. Decent malty flavour. Aroma filled (flavour as well but to a lesser extent) with diacetyl - which seems to be a recurring theme with Amsterdam's beers. Good texture, more caramel/amber malt as it warmed. Mouthfeel actually quite nice minus the diacetyl. Similar makeup to their nutbrown, a hint of yeast on the aftertaste. I'm not crazy about this style or this brewery, but this is a decent offering, I was happy to have a second bottle.
640 characters
2.55
/5
rDev
-16.7%
look: 3 | smell: 3 | taste: 2.5 | feel: 1.5 | overall: 2.5
16 oz draught
5.0% ABV
I tried this beer on November 26, 2008 at "Pizza Rustica" in Toronto, Ontario, Canada with lenusik. The beer poured a translucent metallic red with no head at all. The aroma was a combination of grainy and sweet malt, with some floral hop tones weakly present. As stated by a couple of others, the mouthfeel was slightly watery, and not well carbonated. The flavour was rather bland with some grainy malt being the predoninant flavour.
458 characters
2.97
/5
rDev
-2.9%
look: 3.5 | smell: 4 | taste: 2.5 | feel: 2 | overall: 3
So, pours a darkish amber more on the brown side of things with a 1 cm head. The foam disappears quickly to lace.
Smells slightly of hops and mostly of a sweet berry/gum. The aroma is nice and pleasing.
Mouthfeel is sharp, but slightly watery. Not bad, but the carbonation is a tad subdued for my tastes.
Taste is roasted subdued sweet malt and a very subtle bitter finish (which lingers in the aftertaste and becomes less subtle). It stills seems to be on the watered-down side, like it was a much more defined brew before a few too many litres of water were added. Not bad though, and not as bad as I'd been led to believe by other people's warnings.
661 characters
Amsterdam Dutch Amber Lager from Amsterdam Brewing Company
Beer rating:
3.06
out of
5
with
10
ratings