Six Boroughs

Amsterdam Brewing Company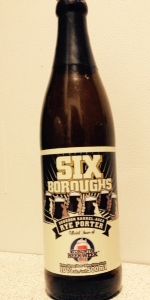 Write a Review
Beer Geek Stats:
| Print Shelf Talker
Style:

ABV:

10%

Score:

Avg:

3.97

| pDev:

15.11%

Reviews:

14

Ratings:

From:

Avail:

Year-round

Wants

Gots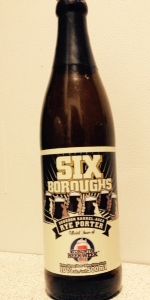 Notes:
Jeffo from Netherlands
1.61
/5
rDev
-59.4%
look: 2 | smell: 1 | taste: 2 | feel: 1.5 | overall: 1.5
Got this one from peensteen I think. Cheers!
From a 500ml bottle into a snifter
APPEARANCE: Slow foamer upon opening. A careful pour comes out clear brown and yields a three finger, loose, foamy tan head that quickly recedes to a foam cap. Bistre brown body with no real carbonation evident. A ring and splotchy wisp remains leaving touches of lacing down the glass.
SMELL: Sour cherries, lemon, and plenty of tart berries. Definitely off.
TASTE: Infection all over this place. Tart and metallic flavor and very puckering. The finish is sour with plenty of tart cherries and red berries, metal, and some hints of roasted flavor behind it.
PALATE: Light body and foamy with higher carbonation. Foamy and overcarbed, which isn't surprising. Finishes a bit dry and plenty of puckering sourness lingers.
OVERALL: Infected, but too bad it's not intentional. As far as the world of infections go, this one isn't all that horrible. Still, I'd much rather drink what the brewers intended here, so this particular bottle is a disappointment for sure. Would give it another chance if the opportunity arose. Thanks again, peensteen!
Mar 17, 2018

Lone_Freighter from Vermont
4
/5
rDev
+0.8%
look: 4 | smell: 4 | taste: 4 | feel: 4 | overall: 4
Treated as an Imperial Porter, this was poured into a snifter.
The appearance was a nice thick dark brown close to black sort of color with a thin cap of a little white foamy head that slid off at a moderate pace. Sly trickling lace.
The aroma had a clean nutty sweet to semi-sweet rye maltiness running over some sweet bourbon/dried driftwood sort of conglomeration. Mild earthiness rounded out the ends.
The flavor was somewhat sweet with a dried nutty and somewhat dark fruitiness coming about. Smooth sweet driftwood/nutty/dark fruity sort of aftertaste.
The mouthfeel was about medium bodied and leaning towards more of a sipping quality due to the noted alcohol sort of "heat-like" feature starting to come out. Carbonation felt fine. ABV felt appropriate.
Overall, pretty nice Imperial Porter that I would have again.
Jun 28, 2017
Sammy from Canada
3.65
/5
rDev
-8.1%
look: 3.5 | smell: 3.5 | taste: 3.75 | feel: 3.5 | overall: 3.75
A bit of ageing. Rye and bourbon dominate. OK drinkability. LCBO bottle. Good for bourbon fans. Drinkable stuff by itself but not competitive against great stuff.
Jun 24, 2016
papat444 from Canada
4.06
/5
rDev
+2.3%
look: 4 | smell: 4.25 | taste: 4 | feel: 4 | overall: 4
Generous local shared this while in line at the DDC release. Very thick, strong bourbon with classic porter notes including a bit of coffee. Carbonation a tad high but otherwise very enjoyable.
Feb 01, 2016
Phyl21ca from Canada
4
/5
rDev
+0.8%
look: 4 | smell: 4 | taste: 4 | feel: 4 | overall: 4
Bottle: Poured a pitch-black color porter with a large dark brown foamy head with good retention and some lacing. Aroma of roasted malt with some spicy notes of rye malt with some light residual sugar notes and some bourbon notes is pretty enjoyable. Taste is also dominated by roasted malt with light dry coffee notes with spicy rye notes which are well rounded by the barrel notes. Body is full with nice creamy texture and good carbonation with no apparent alcohol. Very enjoyable beer that should be made regularly by this brewery.
Nov 30, 2015

wordemupg from Canada
3.45
/5
rDev
-13.1%
look: 3.5 | smell: 3.5 | taste: 3.5 | feel: 3 | overall: 3.5
500ml bottle poured into tulip 6/11/15, cheers liamt07 for sending the bottle
A leaning towards black with a deep cola edge. finger of dark foam falls after a few sips leaving no lace
S heaps of charred barrel, vanilla, chocolate covered coffee beans, some spice, and faint booze, lingering in the background however is the faint signs of an infection, just a hint of funk that's not intended, not really dominating but its there
T more spicy, roasted rye malt, still lots of charred barrel, still has a sour stout thing going on but again its not taking over at this point, still decent and drinkable
M not as thick as the color would let you believe and you don't have much time to gauge the weight because it explodes to foam upon entry, I'm surprised this didn't pour foam, lots of spice on the finish
O I'm guessing this ones just a bad bottle, I have no problems drinking it but I don't think I'm getting the experience of other BA's who loved it start to finish
OK brew but a little disappointing considering the score, I could see this one going downhill fast so drink em if you got em
Nov 07, 2015
Rutager from Canada
4.03
/5
rDev
+1.5%
look: 4.5 | smell: 4 | taste: 4 | feel: 4 | overall: 4
Pours dark brown, almost black, finger of creamy tan head.
Nose is woody bourbon and sweet dark malts with a touch of chocolate syrup.
Taste is nice. Some sweet dark roasty malts, a touch of bourbon and woody vanilla.
Nice beer. Cheers, Sammy!
Nov 05, 2015

polloenfuego from Canada
4.17
/5
rDev
+5%
look: 4.25 | smell: 4 | taste: 4.25 | feel: 4 | overall: 4.25
Poured a rich and deep brown with a thick brownish head that lasted forever. The smell mixed the rye base and the barrel nicely. Taste followed the nose and I found the two mixed quite nicely. There was a slightly astringent feel to this beer. The carbonation was medium to high and the feel was medium. Overall a nice beer. The barrel was pretty subtle which was nice, I'm glad I have another to share with a friend.
Oct 30, 2015
TheSevenDuffs from Canada
4
/5
rDev
+0.8%
look: 4 | smell: 4 | taste: 4 | feel: 4 | overall: 4
An excellent beer with a nice integration of the base beer and the barrel qualities. Roast, chocolate and a nice hint of rye spice mix with the charred oak and bourbon flavours from the barrel. Would be happy to try this again.
Oct 12, 2015
EricVonStein from Canada
4.21
/5
rDev
+6%
look: 4 | smell: 4.25 | taste: 4.25 | feel: 4 | overall: 4.25
cola black with a finger of thick chocolate brown head. fades to a film in a short while.
roasty and vegetal, slightly salty aroma. some nuts.
Sweet prune, coffee, roasted almost char like flavours, molasses. Spicy on the finish, a bit of salty leather in the aftertaste. Really nice complexity. Good carbonation, smooth, and drinkable.
Nice balance and complexity. Rich and flavourful. Quite warming but not in a way that affects the taste. Really nice over the winter. Ill get a few for in front of the fireplace.
Oct 09, 2015
jrenihan from Canada
3.93
/5
rDev
-1%
look: 4 | smell: 4 | taste: 4 | feel: 3.75 | overall: 3.75
Both the rye and the bourbon are pretty prominent in this beer. The rye provides a bit of a spicy flavour, along with some roast malt. Bourbon, vanilla and chocolate are all there. Fairly heavy and thick, unsurprisingly. Pretty good, although it does suffer a bit from "another bourbon-barrelled stout/porter".
Oct 04, 2015
kevinlater from Canada
4.43
/5
rDev
+11.6%
look: 4.5 | smell: 4 | taste: 4.5 | feel: 5 | overall: 4.5
4 oz sample at bar hop's "greatest hits" event. pitch black with light brown head. cocoa, sweet bourbon, coffee. bitter and a bit rye-spicy on the finish. full-bodied. delicious!
Sep 25, 2015

Coronaeus from Canada
4.53
/5
rDev
+14.1%
look: 4.5 | smell: 4.5 | taste: 4.5 | feel: 4.75 | overall: 4.5
Opaque near black with a rich deep brown head that dissipates slowly. Coffee, toffee and caramel on the nose. minimal barrel flavours. Bourbon, chocolate, coffee, caramel. Pleasantly thick mouthfeel with appropriate medium carbonation. The 10% ABV is well integrated. A very enjoyable rye porter brewed for Toronto Beer Week 2015. It is unfortunate that this is a one off. Great stuff.
Sep 22, 2015

DaveBar from Canada
4.27
/5
rDev
+7.6%
look: 4.5 | smell: 4.25 | taste: 4.25 | feel: 4.25 | overall: 4.25
Purchased at the LCBO for $7.45 for a 500ml bottle. Served at 12deg C in a tulip.
A- Opens well and pours a 2" high whitish brownish head that films out in around 2mins or so. Very dark brown almost black color.
S- Oodles of bourbon, malt and chocolate.
T- Bourbon is there. Not overpowering which is nice but the oaky goodness shines through. Fair amount of heat. Tastes like it could have used a touch more time in the barrel. Don't get me wrong it has the body and depth to stand up to a mediocre barrel aged stout which is a great review for a porter.
M- VERY carbonated. Light bodied for a super dark beer which is typical of a porter.
O- Nice brew. Bought a few for the cellar but don't think this will improve at all with age. Might actually lose a bit as time rolls by so I think I may just keep 2 and bring the rest back.
Food Pairing
This pretty good little brew went very well with......... Chocolate. Just a touch of good dark chocolate with a small chuck of milk chocolate. Hey might as well through in some 70% coco chocolate and mix them up. Don't go light with a white chocolate or anything as this brew will overpower it greatly.
Enjoy!
Sep 22, 2015
Six Boroughs from Amsterdam Brewing Company
Beer rating:
90
out of
100
with
25
ratings