Ur-Krostitzer Schwarzes
| Krostitzer Brauerei GmbH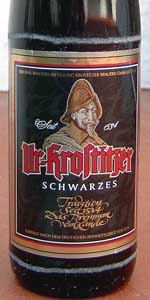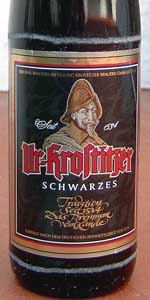 BEER INFO
Brewed by:
Krostitzer Brauerei GmbH
Germany
ur-krostitzer.de
Style:
Schwarzbier
Alcohol by volume (ABV):
4.90%
Availability:
Year-round
Notes / Commercial Description:
No notes at this time.
Added by Todd on 03-01-2005
HISTOGRAM
Ratings: 15 | Reviews: 8

3.39
/5
rDev
-0.6%
look: 3.75 | smell: 3.5 | taste: 3.25 | feel: 3.75 | overall: 3.25
4.5
/5
rDev
+32%
look: 4.5 | smell: 4.5 | taste: 4.5 | feel: 4.5 | overall: 4.5
blah blah blah blah balh
24 characters

3.63
/5
rDev
+6.5%
look: 3.5 | smell: 3 | taste: 4 | feel: 4 | overall: 3.5
330ml bottle. Lager glass. Very dark brown in color, very dark amber tints to the light. Foam is light beige & creates a fairly good retention thin head. Roasted & slighty burnt malt aromas. Roasted & creamy upfront. Light to medium body. Soft carbonation. Dense texture. Burnt grain, low bitterness – due to roastiness- & herbal hints in the middle. Dried finish. Refreshingh & flavorful.
391 characters


3.5
/5
rDev
+2.6%
look: 3.5 | smell: 3.5 | taste: 3.5 | feel: 3.5 | overall: 3.5
Appearance: Dark chestnut body with a big, cream-colored head
Aroma: Roasted malt; coffee; sweet notes
Taste: Juicy , roasted malt bitterness on start; with a semi-dry, bitter finish
Remarks: Did not score A, T, S, M at that time; so please disregard those scores
269 characters




3.06
/5
rDev
-10.3%
look: 4 | smell: 3 | taste: 3 | feel: 3 | overall: 3
Served on-draught at Ohne Bedenken in Leipzig, Germany in June 2011. Confusingly labelled "Dr. Schreiber" Nummer 1 Schwarzbier Hartmannsdorf. Extensive googling enabled me to identify this as the proper beer. Serving vessel was an Urkostritzer pint glass. Reviewed from notes.
A: Pours a two finger head of slight tan colour, nice cream, good thickness, and fantastic retention. Black colour.
Sm: Fruit ester - maybe raspberry? A light pleasant aroma.
T: Slight raspberry and maybe caramel on the climax. Rather bland unfortunately. Very slight chocolate malts emerge on the finish. Well balanced but simple and boring. Some subtlety, but little complexity.
Mf: Smooth and wet, but with nice cream. Suits the flavours of the body.
Dr: Easy to drink but a bit too sweet and not horribly affordable by German standards (I think it was something like 4 Euro). A strange but worthwhile beer to try once. I'd never get it again, however.
C+
946 characters

2.97
/5
rDev
-12.9%
look: 2.5 | smell: 3 | taste: 3 | feel: 3 | overall: 3
Bottle purchased in Leipzig. Freshness dated before 4/11.
A: Dark reddish brown with a large, fluffy off-white head that leaves good lacing. The color is nowhere as deep as it needs to be to be a schwarzbier IMO.
S: Malt with a hint of caramel.
T: Fairly sweet start gives way to some roastiness in the center. There is, however, an unpleasant off-note in the roast, although I can't quite place my descriptive finger on it. It's an overtone just past the center that's akin to a sour, ash-like note.
M: Light body and ample carbonation.
D: Aside from the off-note, which might be an artifact of this particular bottle, this is pretty run-of-the-mill beer.
664 characters
3.81
/5
rDev
+11.7%
look: 4 | smell: 3 | taste: 4 | feel: 4.5 | overall: 4
Bottle: 0,5 l; Served: Glass; Bought: Leipzig
Brown with reddish note colour. The base for the taste is simply malt - in positive way. Nothing extraordinary in the smell, The aftertaste is a bit sour (but the malt taste is the long lasting part). The head keeps for quite some time. Stronger than a typical Czech Dunkel, though comparable to, for instance, Krušovice Černé.
No food consumed with this beer - this seems to be perfect just for drinking.
460 characters
2.98
/5
rDev
-12.6%
look: 3.5 | smell: 3 | taste: 3 | feel: 2.5 | overall: 3
A- A bright, deep ruby hue. Dark though not truly black.
S- Sweet bread and noble hops; just the slightest hint of a slightly burnt roast aroma.
T- A very clean, dry bitterness up front. The malt then comes through; not really sweet but not really roasted either. Just a lightly burnt taste with the hop bitterness in the finish.
M- Adequately carbonated; on the thin side.
D- Very light and refreshing; definitely a session beer.
Overall: Not a bad Schwarzbier, but not exceptional either. This beer is indicative of why some call Schwarzbiers the "black Pils": while not bad, there's little in its flavor profile to differentiate it from its light-colored brother.
667 characters
3.21
/5
rDev
-5.9%
look: 3 | smell: 2 | taste: 3.5 | feel: 3.5 | overall: 4
Good until 7/11
Bought at Halle (Saale) Kaufland Getränksmarkt
Dark brown (not even that dark for Schwarzbier) that poars a medium large tan head with decent retention. Aroma is weak and pretty grainy. Medium body, good level of carbonation. Notes of floral hop character up front that recedes to a slightly bitter, quite chocolatey flavor. Also quite a bit nuttiness (peanut/walnut primarily). Altogether, quite pleasant and drinkable beer, but nothing remarkable.
470 characters
4.58
/5
rDev
+34.3%
look: 5 | smell: 4.5 | taste: 4.5 | feel: 5 | overall: 4.5
Great beer from the Eastern Lands. Black, potent, pleasantly bitter, with strong hint of chocolate and more delicate one of black berries. I can only wish it will be exported more widely without spoiling the style. One of the best black lagers I ever had. And guess where I bought my bottle of Schwarz - at Almaty International Airport, Kazakhstan!
348 characters
Ur-Krostitzer Schwarzes from Krostitzer Brauerei GmbH
Beer rating:
3.41
out of
5
with
15
ratings