Klin Kokos
| Nøgne Ø - Det Kompromissløse Bryggeri A/S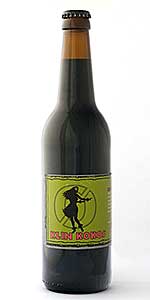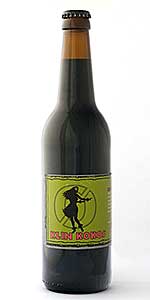 BEER INFO
Brewed by:
Nøgne Ø - Det Kompromissløse Bryggeri A/S
Norway
nogne-o.com
Style:
English Porter
Alcohol by volume (ABV):
6.00%
Availability:
Limited (brewed once)
Notes / Commercial Description:
Brewed with coconut.
"Klin kokos" is a Norwegian slang expression for a person being rash or foolhardy. "Kokos" is also Norwegian for shredded coconut.
Added by bark on 05-30-2008
This beer is retired; no longer brewed.
Ratings: 12 | Reviews: 10
Reviews by RblWthACoz:
4.1
/5
rDev
+38%
look: 4 | smell: 4 | taste: 4 | feel: 4 | overall: 4.5
Pours almost opaque with a brownish head. Nose is oddly sweet. There's something that I can't quite pinpoint. Some botanical I don't know the name of. Almost seems minty and reminds me of an herbal liquer. Flavor is unusual. Kind of an oily overtone to it. Coconut? Hmmmm. I suppose so. Mostly I feel like this is a concoction of herbs that I'll never be able to pinpoint. Feel is smooth on liquid with a subdued carbonation. I like this beer. It's unique, gives me loads to try to figure out, and is a nice cold weather beer. I feel like this is something you will either like or dislike, depending on your mood or expectation. I had low expectations after seeing the score and am pleasantly surprised. I'd suggest this as an after dinner treat or even paired with a mild dessert whose character will not interfere with this interesting flavor profile.
Drink cool but not cold.
880 characters
More User Reviews:
1.7
/5
rDev
-42.8%
look: 4 | smell: 1.5 | taste: 1.5 | feel: 3 | overall: 1
Ben(madorb) popped this open today. I poured my share into a taster glass.
This beer pours a solid brown with some decent off white head that fades very fast.
Ok, this beer is infected. I'm picking up on dusty olives, a little coconut, more dirt and earth and some weird oaky notes.
The taste follows suit with a strong olive taste, some faded coconut, and alcohol. Over cooked vegetables and vanilla. There's some old chocolate, like bad stocking stuffer chocolate in there as well.
Mouthfeel is on the thinner side with a low level of carbonation.
This isn't the worst beer I've ever had, but... We drain poured most of the bottle. It's a shame, I wish I had a chance at it before it crashed.
699 characters
3.33
/5
rDev
+12.1%
look: 4 | smell: 3.5 | taste: 3.5 | feel: 2.5 | overall: 3
Inflatablechair brought this over a while back.. I was pretty excited to try it...
1398/1550 on the label.
Dark brown brew with a nice lite tan head and a surprising good lace leftover.
Nose is spicy and lite chocolate... mildly phenolic... and I could be guessing with some background coconut...
Flavor has a bunch more "porter" qualities... nutty and cocoa.. a bit of vanilla is sorta surprising... again, the coconut is not like I was expecting.. probably too much carbonation with a lite/medium body... still somehow comes out fairly smooth..
Overall... I rarely like porters... even big porters... and this is no exception.. it seems sorta lacking across the board.
This beer needs to be dialed in a bunch... I don't know how the coconut is put into the equation... but the base beer needs a significant amount of work before tropical qualities are added.
I never would have had a chance to try this without Sam grabbing it when he could in PDX... Truly appreciated buddy!
987 characters
3.06
/5
rDev
+3%
look: 4 | smell: 3 | taste: 3 | feel: 3 | overall: 3
This is actually a special stored batch of Nøgne Ø Julenatt, which was brewed with artificial vanilla flavouring, differentiating from other batches of Julenatt, which all were brewed with real vanilla. After a couple years this artificial flavouring no longer smelled nor tasted of vanilla, but of COCONUT OIL, causing Klin Kokos to be marketed as a special beer. If you like the aroma and flavour of suntan oil, this is the beer for you ...
444 characters
1.9
/5
rDev
-36%
look: 4 | smell: 1.5 | taste: 1.5 | feel: 3 | overall: 2
Was quite excited to try this beer. Had never had a coconut porter and was expecting great things. Quite excited indeed. Until I opened it....
The first smell that hit me was kalamata olives. Kalamatas soaked in bourbon was the next. Then kalamatas aged in vanilla extract. Seeing a trend?
Taste was first of vanilla and burbon, but it was very offputting because with those tastes one expects some sweet. But actually it was a bit spicy and dry. It fades into that kalamata olive flavor I kept picking up in the nose. That lingers for a while until a slight roasted malt flavor comes in but leaves you with a burnt taste.
Mouthfeel is too thin and bubbly. Reminded me of Guinness on C02.
Drinkability was thrown off because the taste made my throat hurt. This is my first drain pour in so long. I will normally sit through a beer. But this one is making me feel sick.
873 characters
4.1
/5
rDev
+38%
look: 4 | smell: 4 | taste: 4 | feel: 4 | overall: 4.5
"Klin kokos" is a Norwegian slang expression for a person being rash or foolhardy. "Kokos" is also Norwegian for shredded coconut.
The colour is black; the head is finger thick, airy and brown. It sinks slowly to a thick lid. Lots of lacing.
The smell got notes of heavily roasted malt and sweet notes of fresh coconut and chocolate.
The taste is medium sweet with a bitter-chemical flavour of coconuts and milk chocolate. There are light flowery, earthy notes, some yeast and dry roasted malt too. The aftertaste got a growing bitterness, some flavours of soap, roasted malt and coconut candy. Growing bitterness in the finish.
The carbonation is medium strong, small bubbles. The liquid is smooth.
A very unusual beer, based on an English porter. There are many rumours concerning this beer and its history, but I just look at it as a fun and tasty experiment.
869 characters

2.16
/5
rDev
-27.3%
look: 4 | smell: 3 | taste: 1.5 | feel: 3 | overall: 1.5
Best Before 12.1.2009, Sampled March 2009
A solid pour into my 25cl tulip glass produces a three-finger thick, nicely browned, darkish tan colored head. The beer is pretty black in color, but does show some clear, ruby highlights when held up directly to the light. The aroma is pretty interesting, it definitely smells a bit like coconut, but really has a significant vanilla note as well as a backdrop of spicy bourbon-like aromatics. Actually it even smells a bit like tequila towards the finish. The aroma definitely smells a bit charred, with a sour roast note and a burnt vegetal note that lightly spices the nose. The aroma is more interesting than it is actually good, though it is not bad.
The flavor has a light sweetness to it up front that picks up a touch more sweetness towards the middle and finish, but never gets really sweet (the vanilla notes seem to add to the perceived sweetness more than anything). The finish is just plain weird; really it is just weird and I have a hard time figuring out how to describe it, sort of vegetal, a bit burnt and acrid, vanilla gone wrong, a mix of the worst qualities of tequila and bourbon, perhaps some plastic like phenolics, badly roasted coffee. Blech, this makes my tongue flinch, I don't know what has gone wrong here, but something has gone terribly wrong. It is so bad and so unfamiliar that I don't even think it is an infection. The texture isn't too bad as it has a certain fullness to it, though it is a bit on the light side.
Wow, definitely an experience, but certainly not a good one. I am really curious what exactly has gone wrong here.
1,611 characters
3.88
/5
rDev
+30.6%
look: 4 | smell: 3.5 | taste: 4 | feel: 4 | overall: 4
Pours black, bit of soapy tan head.
Nose is coconutty, like someone mixed a bit of perfumey pina colada in with a very dry porter. Not really bitter or hoppy, just dry.
Flavor follows suit - a reserved porter, dry, not quite roasty but almost, with a big coconut note that isn't quite natural tasting emerging towards the finish and bashing down any chance of a substantive malt body. Layered. It isn't bad, by any stretch - to be honest, I was really sold on this by the time I finished. I would have been more than happy to drink another. The coconut presence is bigger than expected, spicy, carrying hints of vanilla, and coupled with a dry malt note that's roasty in a completely non-assertive sort of way, makes for an interesting beer. Really? Really.
760 characters
2.68
/5
rDev
-9.8%
look: 4 | smell: 3.5 | taste: 2 | feel: 2 | overall: 3
Shared with my father on a rainy summers eve.
A: Dark with a generous beige head that looks very creamy!
S: Smoke, Sour fruit, Acetone, Vanilla, Chocolate.
T: Cocoa, Coffee, Chocolate, Dishwater, with a hint of vanilla.
M: Very thin and dry a low carbonation and a bitterness at the end.
This is by far the worst beer i've ever tried from Nøgne. Stay away from it as it's not worth the money.
398 characters

3.71
/5
rDev
+24.9%
look: 4.5 | smell: 3.5 | taste: 3.5 | feel: 4 | overall: 4
Bottle at home ... from my coppenhagen haul ... Deep black small bubbly tan head ... Nose is an odd mix of roast malts and coconut ... hmmm very oddd ... again thats odd mix of coconut and roast malts(i do hope this has coconut in it) light hop in background ... quite soft and smooth ... low carbonation ... medium body
320 characters
Klin Kokos from Nøgne Ø - Det Kompromissløse Bryggeri A/S
Beer rating:
25%
out of
100
with
12
ratings