100% Peated
| Nøgne Ø - Det Kompromissløse Bryggeri A/S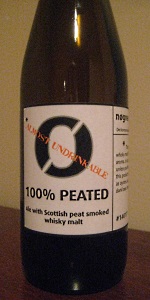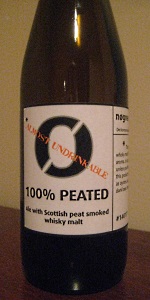 BEER INFO
Brewed by:
Nøgne Ø - Det Kompromissløse Bryggeri A/S
Norway
nogne-o.com
Style:
Smoked Beer
Alcohol by volume (ABV):
8.50%
Availability:
Limited (brewed once)
Notes / Commercial Description:
No notes at this time.
Added by lacqueredmouse on 09-07-2013
This beer is retired; no longer brewed.
Ratings: 13 | Reviews: 5
Reviews by lacqueredmouse:
4.31
/5
rDev
+15.5%
look: 4 | smell: 4.25 | taste: 4.5 | feel: 4 | overall: 4.25
Small brown 250ml bottle purchased from Slowbeer in Melbourne. Shared with Rich.
Pours a cloudy golden colour, with a hint of orange. Head is a firm, creamy mess of off-white that forms pocked tiny dots of lace. Body looks pretty light, but with a very fine bead of carbonation. Looks pretty good.
Nose is intensely peaty, with a rich, earthy smoke character pretty much pummeling anything else into submission. Some medicinal characters, antiseptic and sharp with pine and leather coming through as well. Mothballs: pretty much just intensity, all of these incredible things. It's like a compressed Islay whiskey.
Taste is really quite good. Crispy burnt, smoky roastiness throughout, with the smoke coming through very strongly and the peatiness somewhat taking a sidebar. Sweetness is muted, meaning that there's a crispness in the body that's actually quite pleasant: it improves the drinkability and allows a slight acidity to punctuate the finish. Really lovely stuff.
Feel is light, especially for the ABV: it actually helps the beer, which is intensely flavoured.
Overall, I'm super impressed. "Almost undrinkable" they say on the label. I say rubbish. It's like Laphroaig in a crisp, refreshing approachable package. It's hard not to compare this to Yeastie Boys' Rex Attitude, which was my first introduction to a 100% peated beer. I still have a soft spot for that brew, as it was really revolutionary to me. But I feel as though the lightness in the body here and the pleasing crisp smokiness might actually make this better.
1,552 characters
More User Reviews:
4
/5
rDev
+7.2%
look: 3.5 | smell: 4 | taste: 4 | feel: 3.75 | overall: 4.25
250ml bottle. The bravado/warning on the label reminds me of those pepper extract-laden hot sauces: "Do not consume this product straight-up - mix it carefully into stews, soups or sauces". Pfft - bring it on.
This beer pours a hazy medium golden amber colour, with one finger of weakly foamy, bubbly, and somewhat frothy dirty white head, which leaves a bit of archipelago lace around the glass as things quite slowly sink away.
It smells of wood smoke, iodine and sea brine-laced peat, musty leather, faint band-aid medicinal notes, burnt citrus rind, gritty pale and caramel malt, and an ashy leafiness - so far, still less heady than yer first whiff of a typical Islay malt. The taste is mildly acrid, dry ashy green vegetation, i.e. wet roasted peat, the sort still afflicted by the ravages of the seashore, further generic medicinal twinges, toasted bready, and surprisingly sweet caramel malt, and understated leafy, earthy hops. The elevated booze perhaps gets lost in all that Scotch malt fuss.
The bubbles are quite low and unobtrusive, the body a bit on the light side of medium weight, and a hell of a lot smoother (read: a least a little) than I might have expected. It finishes off-dry, the 'dry' being the lingering peaty smoke, and the 'off' being the still surprisingly enjoyable, almost fruity caramel malt.
Well, what turns out here is actually kind of less than the Nøgne Ø hype machine promised. I don't even like Islay malts, but this is quite good, even uncut, yes, if you're in the mood for smoke, that is, and strangely, um, 'balanced'. And a hell of lot better than the Sunturnbrew, which is the offering from this brewery that required such overwrought label warnings, as opposed to this one.
1,725 characters
3.82
/5
rDev
+2.4%
look: 3.5 | smell: 4 | taste: 3.75 | feel: 4 | overall: 3.75
A: Golden orange and loaded with small particles, tons of carbonation, and no real head just some off white almost grey foam.
S: Smoke, BBQ sauce, cigarettes, BBQ chicken, a sour smoky quality.
T: More sweet than I'd expected. The smoke only comes in strong on the second half, so the sweet and smoky quality is reminiscent of BBQ sauce. There is an almost Marzan quality in the sweetness, and a whiskey quality as well.
M: Thick and syrupy, light almost flat carbonation.
O: Almost undrinkable? No. Great name, but its surly drinkable. The weighty body on a smoky beer is what stands out to me. Unique for sure, and love the whiskey qualities as well. Got on Wishbeer, drank in Kunming April 14, 2015. #08617
731 characters



3.47
/5
rDev
-7%
look: 3.5 | smell: 3.25 | taste: 3.5 | feel: 3.75 | overall: 3.5


3.36
/5
rDev
-9.9%
look: 4 | smell: 3.5 | taste: 3.25 | feel: 3.25 | overall: 3.25
250ml bottle poured into tulip 16/4/14
A light copper with lots of sediment slowly settling after the bubbles die down, half a glass of noisy soapy foam has great retention leaving just a few random patches
S smoky apple, heavy peat, iodine and some band-aids, hard toffee and medicinal notes, intense really, not as bad as it sounds
T lots of band-aid but less iodine, some apple shinning through but not the best flavors going on, a little booze as it warms
M fluffs up and flattens out, heavy side of medium, band-aid linger strong
O once I found band-aids and iodine it was hard to shake, not quite undrinkable like the bottle suggests but nothing great
its not terrible but it would make better cooking beer, I should've taken the bottles advice
760 characters
3.49
/5
rDev
-6.4%
look: 3.5 | smell: 3.75 | taste: 3.25 | feel: 3.75 | overall: 3.5
Hazy golden colour with a small white head. The head generation and head retention is disappointing.
Big peaty aroma with some sweetness. Almost a citrus note. The peated character is strong but not overwhelming.
To me there is a lovely sweetness here. The peat follows up with a burnt smokiness but it is drinkable. This actually annoys me because the beer bills itself as being way, way peatier.
Medium-full body with moderate carbonation. Okay.
A decent beer. Surprisingly and disappointingly drinkable. There is a ton of sweetness which dominates the peated character. As I get to the end of the glass, in fact, the peat is almost gone.
644 characters
100% Peated from Nøgne Ø - Det Kompromissløse Bryggeri A/S
Beer rating:
61.5%
out of
100
with
13
ratings