Marks & Spencer Southwold Winter IPA
| Adnams plc, Sole Bay Brewery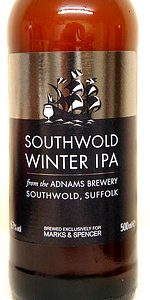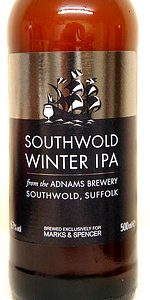 BEER INFO
Brewed by:
Adnams plc, Sole Bay Brewery
England
,
United Kingdom
adnams.co.uk
Style:
English India Pale Ale (IPA)
Alcohol by volume (ABV):
6.70%
Availability:
Winter
Notes / Commercial Description:
No notes at this time.
Added by BDTyre on 11-14-2011
HISTOGRAM
Ratings: 11 | Reviews: 9
Reviews by CwrwAmByth:
3.92
/5
rDev
+9.2%
look: 3.5 | smell: 4 | taste: 4 | feel: 3.5 | overall: 4
Poured from a 500ml bottle into a straight pint glass.
Pours a light amber colour with a decent but quickly fading head.
Smells lightly malty with hoppy notes too.
Tastes very malty and very hoppy too. A lovely burnt caramel warming flavour with an awesome hoppy kick.
Lovely jubbly.
289 characters
More User Reviews:

3.62
/5
rDev
+0.8%
look: 3.5 | smell: 4 | taste: 3.5 | feel: 3.5 | overall: 3.5
3.9
/5
rDev
+8.6%
look: 3.75 | smell: 3.75 | taste: 4 | feel: 3.75 | overall: 4
Pale orange in colour. Light head.
Hops to the nose. Citrus and pine.
Taste follows the aroma with added sweetness.
A light mouthfeel.
This was great with my Christmas turkey.
175 characters
3.79
/5
rDev
+5.6%
look: 3.75 | smell: 3.5 | taste: 4 | feel: 3.75 | overall: 3.75

3.6
/5
rDev
+0.3%
look: 3.5 | smell: 3.5 | taste: 3.75 | feel: 3.5 | overall: 3.5
Bottled
Pours an amber body with a medium large, frothy, slowly diminishing, white head.
Aroma of orange jam, mango and some pine. Quite sweet, moderately bitter, fruity-grassy and slightly resiny taste of orange jam, mango, some pine and a touch of honey, followed by a medium long, dry-bitter, grassy and resiny finish. Medium to full body, slightly creamy and moderately effervescent mouthfeel, average carbonation. Very decent IPA
436 characters
4
/5
rDev
+11.4%
look: 4 | smell: 4 | taste: 4 | feel: 4 | overall: 4
500ml bottle.
Nice amber/orange colour with decent head and lacing. Moderate stream of carbonation in centre of Duvel tulip.
Good strong hop aroma. Grapefruit, apricot and honey like sweetness are noticeable.
The taste is of sweet malt followed by pinjk grapefruit bitterness. Perhaps not quite as strongly flavoured as the aroma suggested but still very pleasant and packing a good deal of hops.
Overall, a very enjoyable English version of an American style IPA. Worth checking out if you're in Marks ans Spencer. Worthy of a place in the fridge alongside Punk IPA, Thornbridge Jaipur and Goose Island IPA, not to mention other widely available USA style IPAs on the shelves in the UK.
81/100
702 characters
3.75
/5
rDev
+4.5%
look: 4.25 | smell: 3.5 | taste: 3.75 | feel: 4 | overall: 3.75
Pours golden, small head. Pin bright.
Low aroma of lychee, tropical fruit, touch of lime there too. Nice but I want more :)
Great flavour - good bitterness with some nice balancing sweetness. Well balanced overall, could be a bit drier for my personal taste . Low carbonation, good body
another solid beer from adnams
321 characters
3.55
/5
rDev
-1.1%
look: 3.5 | smell: 3.5 | taste: 3.5 | feel: 4 | overall: 3.5
Not sure how this compares to the Summer IPA...alcohol is just a tad lower (6.7%).
Golden amber, and very little head. The head disappears quickly and leaves very little lace - just a thin wisp on both the glass and the top of the beer itself.
Mild malts, with very faint hops. Might be a bit too cold for the hops to really come out. As it warms, the hops become pleasantly floral, and the malts thicken a bit.
Citrus and buttered biscuits; good malts but this seems to be a bit off-balance. The initial flavour is malts, quickly followed by floral hops and then it turns fairly bitter - almost like the hops have taken over.
Nice mild carbonation, but the higher ABV and the off-balance flavour knock this down a few points.
738 characters
1.7
/5
rDev
-52.6%
look: 2 | smell: 2 | taste: 1.5 | feel: 2 | overall: 1.5
66th Review
Bottle to pint
A: Clear golden hue; definitely filtered. 3+ (bright white) fingernail head on medium pour.
S: Floral hops with hints of pine, oak, sweet malt, caramel, and brown sugar. Nothing memorable here though.
T: Medium hop character with loads of malt. Rye. Pine. And more malt; loads more malt.
M: Light bodied (for the style) and medium carbonation.
O: Malt bomb that tastes as though it is past its prime. This baffles me though considering the winter solstice has not even arrived yet. Maybe I am just too used to drinking American IPA's, but this thing is just not good. I miss hop bombs!
620 characters
3.99
/5
rDev
+11.1%
look: 3.75 | smell: 4 | taste: 4 | feel: 4 | overall: 4
Purchased at the Marks & Spencer, this is a "Seasonal Guest" beer "brewed exclusively" for M&S; coming in a 500ml brown bottle, not bottle-conditioned. BB 09/2014, served cool in a straight imperial pint glass. NOTE: hops used are "Boadicea, Columbus and Styrian Goldings" varieties, according to the back label.
A: pours a bright golden colour with great clarity, coming with fairly mild carbonation and a well-lasting thin layer of off-white head.
S: on the nose the Styrian Goldings are everywhere with the distinctive flowery+peachy+orangy aroma, mixed well with grapefruity+lychee-ish Columbus hops, sweet candy-ish as well as biscuity malts, and, interestingly, almost Belgian Blonde-like exotic floral esters. Quite intense in terms of hop aroma and malt sweetness, befitting the 6.7%abv. I think.
T: just like on the nose, Styrian Goldings' unique flavour leads the palate, followed by light grapefruits, mixed fruit candy, light-flavoured pale malts, leading towards a long, semi-chewy and rather tannic finish where the bitterness expands but in an elegant way, IMO.
M&O: refreshing on the mouthfeel without being too fizzy, against a medium-plus body of rich malts balanced by an equally pronounced hop profile. The application of Styrian Goldings is just perfect, making this beer as lovely and elegantly fragrant as hoppy which a nice drinkable IPA should be.
1,388 characters

3.71
/5
rDev
+3.3%
look: 3.5 | smell: 3.75 | taste: 3.75 | feel: 3.5 | overall: 3.75
Appearance - Pale bright amber with rich rocky head that dies very quickly and becomes a heavy lace cover and leaves spotty lumps in the glass. Some light CO2 activity but nothing massive
Smell - Very heavy pine aroma from the three types of hop being used. Some coriander seed like elements similar to wood and lemon loads of leaf with some mango and dragon fruit completing a very tropical mix.
Taste - Seriously sweet and fruity. Very much like a fruit salad in fact. Mango, dragon fruit, lychee and lime. Some elements of decent but light pine hop bitterness. There is some of the same woody lemon coriander seed notes with spicy goodness.
Mouth feel - Pretty good body with a medium to full feel embodying some almost cream like elements. There is also a pretty decent boozy warmth that is not over powering but has a good dry end.
Overall - Well flavoured and nicely rounded this beer is the best I have had from Adnams but it is still not my favourite in the style. Still it has plenty of interest to keep the drinker interested.
1,041 characters
Marks & Spencer Southwold Winter IPA from Adnams plc, Sole Bay Brewery
Beer rating:
3.59
out of
5
with
11
ratings