Big City Lager
| City Brewing Company, LLC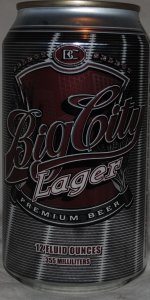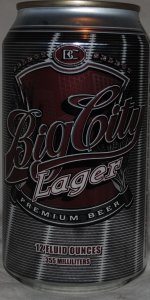 BEER INFO
Brewed by:
City Brewing Company, LLC
Wisconsin
,
United States
citybrewery.com
Style:
American Adjunct Lager
Alcohol by volume (ABV):
not listed
Availability:
Year-round
Notes / Commercial Description:
No notes at this time.
Added by NeroFiddled on 11-25-2006
Ratings: 6 | Reviews: 6
2.17
/5
rDev
+5.9%
look: 1.5 | smell: 2 | taste: 2.5 | feel: 2 | overall: 2
Poured into abita pint glass. phil collin's invisible touch bumpin' in the backround.
-Pours a lively crystal clear hay. clarity reminds me of coors light. a fizzy one finger dissipates to absolutely nothing within seconds. Looks like a watery one. I don't know if I've ever seen an adjunct lager do that before.
-The smell is sweet and grassy. lots of corny adjunct and light metal notes. smells a little dirty, like a penny that you dropped in margarine. 2 points for creativity.
-taste is spritzy and light. some grain notes toward the aftertaste with a touch of bitterness. Reminds me of old water. super easy to drink due to lack of flavor and the liquor store I purchased it at doesn't have 'hurt your teeth' cold beer. so that helps
-I grabbed this sixer when I saw it was as cheap as boxer. ugly cans, ugly beer.
824 characters

1.32
/5
rDev
-35.6%
look: 3 | smell: 1 | taste: 1 | feel: 2 | overall: 1.5
The CANQuest (TM) presses on in its march towards a half-century of CANs, but this does not look to be a treat. Oh well.
The CAN reads: "Brewed by Melanie Brewery Co., Inc., Cincinnati, OH 45214". Way to really muddy the waters, guys! Come on, who's zoomin' who, here? I have been doing this long enough to be able to see through the smokescreen.
The Crack & Glug produced just better than a finger of fizzy, rocky bone-white head with low retention. Color was a deep golden-yellow with NE-quality clarity, the kind that makes Croesus rub his hands together and King Midas salivate with envy. The nose had the same grape bubble gum aspect as some of my epic "F's" and I suddenly wanted to run screaming from the room. OMFG, why do I do this to myself? That afternoon of Malt Liquors was preferable to this. What awful strategy do they employ on their yeast to get it to produce this? Here goes sip #1! Mouthfeel was watery with a definite taste of concord grape on the tongue. The swallow left me with a metallic aftertaste that was just north of downright unpleasant. Sip #2. No change, but I am thankful that it is cold. It would probably make my gag reflex kick in if it it were to get warm. I CANnot decide whether I taste aluminum or steel on the finish. I am seeing some lacing begin to appear, but were it not outside the boundaries, I would make this a drain pour. Sip #3. The end is nearly in sight and I am beginning to CANtemplate drinking a beer (as opposed to whatever this was). This would be good in a pie tin to attract slugs away from the roses and other desirable things in the garden. It has no business in my cooler and not really any place in my fridge/heart/soul, ad nauseum. Stay well clear of this!
1,724 characters
1.97
/5
rDev
-3.9%
look: 3 | smell: 1 | taste: 2 | feel: 2.5 | overall: 2.5
Poured into a shaker pint. Yellow fizzy stuff that pours a big head (listen to it fizz) that rapidly goes to a thin film. Sporatic lacing. This would be better drinking straigh from can to mask the boiled cabbage smell. Taste is sour but not as bad as smell. Tingles sides of my mouth. Avoid this one.
301 characters

2.18
/5
rDev
+6.3%
look: 2 | smell: 1.5 | taste: 2.5 | feel: 2 | overall: 2.5
Completely translucent yellow body with a good sized white head that has almost no rentetion as it disppears quickly. No lacing left behind.
Doesn't smell too good. A corn-like sweetness dominates, with some metallic notes.
Taste is actually a little better than the smell. Same sweetness dominates up front with just a touch of hops in the back end. Mouthfeel needs more carbonation, it tastes somewhat flat.
Something this watery and weak is fairly drinkable, but do you want to drink it?
I've had several beers from this brewery (they are dirty cheap and I keep forgetting); they're all terrible. Avoid this place!
621 characters

2.26
/5
rDev
+10.2%
look: 2.5 | smell: 1.5 | taste: 2.5 | feel: 2.5 | overall: 2.5
I tried this and first It does not look great pale and thin looking weak head. Smell sort of Sulfery & strong.
Taste not even average. Mouth feel not anything great not refreshing at all. Drink one only at a sitting and not something I will try again.This one is nothing I had hoped for and sad as I thought it might be a good tasting cheap beer I was wrong! I had Hoped that City brew had brought something out that might be real nice.
436 characters
2.39
/5
rDev
+16.6%
look: 3.5 | smell: 2 | taste: 2 | feel: 3 | overall: 3
Big City Lager - Premium Beer. "Brewed by GJS Sales Inc." 12 oz. can
Deep golden body. Better than average head retention and lacing.
Dimethyl sulfide in the nose over an adjunct-loaded malt base. Sweetish and corny. Medium bodied with a median carbonation.
DMS returns in the flavor along with a sweetish, sugary, and alcohol-infused malt base. Some messy hops are in there as well, probably Cluster.
Overall, not a good beer. Flawed.
450 characters
Big City Lager from City Brewing Company, LLC
Beer rating:
0
out of
100
with
6
ratings