Copper Flask
| City Brewing Company, LLC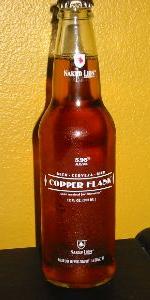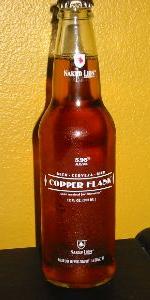 BEER INFO
Brewed by:
City Brewing Company, LLC
Wisconsin
,
United States
citybrewery.com
Style:
American Amber / Red Lager
Alcohol by volume (ABV):
5.95%
Availability:
Year-round
Notes / Commercial Description:
No notes at this time.
Added by rockwell on 08-02-2007
HISTOGRAM
Ratings: 13 | Reviews: 13
Reviews by JackWeizen:
3.71
/5
rDev
+13.1%
look: 3 | smell: 4.5 | taste: 3.5 | feel: 3.5 | overall: 3.5
Interesting beer. I've never heard of the brewery, had no clue what style of beer it was, or even the price for that matter. Paid 7.99 for a six pack. The bottle tells me that it's "Sour Mashed For Character", brewed in Wisconsin, and 5.9% abv.
The beer pours a very nice orange/copper color, but you know the color before the pour because of the clear bottle it comes in. Head develops then goes south. Clarity is superb. Lacing is thin.
I poured this into a "Stella" glass, and I must say, this glass does a fabulous job of bringing out the scent in this beer. I may have to try the glass with more beers. Rich notes of fruit and perhaps some floral hop notes comes though on a big malty backbone. I really dig the aroma. Its beery.
The taste is a bit surprising. Its definitely a lager, but its fruity like an ale. Its has a taste I associate with "premium lagers", but with caramel, and a weird aftertaste that I guess it from the sour mash. I don't really like the aftertaste. Its a bit astringent. Its a clean beer besides that. Maybe a bit lacking in hop character, but its not void of hops.
The mouthfeel is fine. Its a dry beer, and its drinkable. If it was not for the strange aftertaste I would really enjoy this beer more. As it is, it might grow on me.
1,270 characters
More User Reviews:
1.94
/5
rDev
-40.9%
look: 3 | smell: 1.5 | taste: 2 | feel: 2 | overall: 2
12 oz bottle. Pours a clear copper-gold with a white head that quickly recedes to a thin film that leaves a little lacing.
The aroma is pretty subdued - metallic malts, maybe a little vegetables. Some sweet sugary malts come out as it warms.
The flavor is sweet malts with some sugary candy with a bit of bitterness to finish. Sour mash comes out some as it warms. The mouthfeel is medium bodied with sharp carbonation.
Overall, a small step above macros - nothing too exciting.
481 characters
2.67
/5
rDev
-18.6%
look: 3 | smell: 3.5 | taste: 2.5 | feel: 2.5 | overall: 2
I tend to get caught up with just the beers I know I enjoy, so I really like when someone surprises me with beers I've never tried or heard of. Many times I've been pleasantly surprised and add the beer to my regular line up. This was not one of those situations.
Naked Lion Brewing Company "Copper FLask-sour mashed for character" The bottle states this is 5.95% ABV/VOL and that it is indeed BEER*CERVEZA*BIER. Immediate thought: No good can come from this. I was right.
No head. No lacing. Sicky sweet malt nose. I love malt and that's the only flavor I'm getting from this pint, and the reason I rated the taste as high as 2.5.
I can't see a reason to try this beer. There are much better examples of this style.
719 characters

3.86
/5
rDev
+17.7%
look: 4.5 | smell: 3.5 | taste: 4 | feel: 3.5 | overall: 4
At $2.99 a six-pack, this brew is pretty hard to beat. 12fl.oz. clear glass bottles with clear labels and 3 color graphics (primarily white), sporting a twist-off cap.
It pours a nice light copper with a short lived 1/2" foam head that is beige in color. Give the brew a few good swirls and the head lofts back up.
The nose is filled with malt...a rich malted milk kind of malt, sweet yet earthy. As it warms a tad, the malt has nice grain and cereal like aroma to it, kind of like Grape Nuts.
The taste is chockfull of malt with a pleasant sweetness that is nicely balanced for a smooth, yet brisk finish that lightly tingles the tongue. Just good malt flavor, plain and simple.
Decent girth to the body, due to the sourmash, and easy to drink with a moderate ABV of 5.95% that is well masked. Give it a try, you might just like it...especially at three bucks a six-pack!
876 characters

3.35
/5
rDev
+2.1%
look: 3.5 | smell: 3.5 | taste: 3.5 | feel: 3 | overall: 3
Clear red colored ale in a clear glass bottle. Pours clear and red with small tan colored head.
Fruity and bready with quite a lot of yeast aroma. Malty with a faint banana scent. Fainter grape scent.
The taste starts out fruity and malty with a faint sour aftertaste. There is a weird grape and banana flavor here, not bad but unexpected.
Mouthfeel is OK.
Bit of a weird beer here. Taste OK with some weird flavors and is sour mashed according to the label. Better than expected anyway.
491 characters
3.05
/5
rDev
-7%
look: 3 | smell: 3 | taste: 3.5 | feel: 2.5 | overall: 2.5
Clear 12oz bottle. I think I got this one in a trade but didn't not down from who or where.
Poured a medium golden color with a small sized head. Aromas of wet grass, earthy, and vegatables. Tastes of caramel, lightly bready, and a trace of brown sugar.
Notes from: 7/25/08
275 characters

3.7
/5
rDev
+12.8%
look: 3.5 | smell: 3.5 | taste: 4 | feel: 3.5 | overall: 3.5
Our distributor in Rochester says this beer is massively popular in LaCrosse, WI. Is that why they sold it to us for $7/case? Regardless I picked this one as I made my own sixer. Figured I would give it a shot since it says it's "sour mashed" and I'm from the land of Bourbon.
Pours a clear copper color with a small off-white head but leaves little lacing. Aroma is slightly sour, hints of caramel and a definite sour mash aroma. Didn't think it would be true, but there it is. Taste is slightly sweet, hints of bruised apple, a little lingering sourness, light caramel and hints of bourbon. It's interesting how this does have a bourbon like quality, however it is light. Smooth mouthfeel, ample carbonation. Not a bad beer coming from a clear bottle. This stuff is cheap, and I wouldn't be angry if I bought this for the $4/sixer it goes for.
847 characters

3.08
/5
rDev
-6.1%
look: 3.5 | smell: 3 | taste: 3 | feel: 3.5 | overall: 3
Pours a three finger white head that fades quickly to a thin layer, leaving some lace. Clear amber color. Good carbonation and medium bodied. Malty nose. Flavor is sweet bourbon and caramel, unusual lager, hops are in the background. Label has this brewed by the Naked Lion Brewing Co and their web site is nakedlion.com. $1.50 for a 12oz clear bottle from Manchester Wine and Liquors Manchester, CT.
400 characters
4.25
/5
rDev
+29.6%
look: 4 | smell: 4 | taste: 4.5 | feel: 4.5 | overall: 4
My bottle makes no mention of City Brewing, but says it's made by Naked Lion in Wisconsin. The backside label says that it is an ale. Other than that, I agree with the other reviewers: A deep amber color with both an aroma and taste of sour mash. It's different but very good. The mouthfeel has an alcohol warmth, and it finishes similar to a Belgian.
351 characters
3.7
/5
rDev
+12.8%
look: 3 | smell: 3 | taste: 4 | feel: 4 | overall: 4
Dark gold colored beer with a rapidly fading head.Aroma is faint caramel.Taste is caramel malts,butter and bread.I found this to be a decent beer.Very refeshing and flavorful.My bottle says Naked LIon Brewing Company,I don't know who actually brewed it but in my opinion they did a good job!!
292 characters
3.63
/5
rDev
+10.7%
look: 4 | smell: 3.5 | taste: 3.5 | feel: 3.5 | overall: 4
Poured a deep copper color from a clear bottle with very modest white head.
Smell is very mild with a slight sweetness present.
Taste is pleasantly malty with a very light skunky background (why do they use a clear glass bottle??)
Finishes with more sweet maltiness and is suprisingly refreshing.
An OK beer, but nothing to seek out.
333 characters
3.28
/5
rDev 0%
look: 4 | smell: 3.5 | taste: 3 | feel: 3 | overall: 3.5
Clear copper in color with a short-lived tan head. Aroma of sour dough and caramel. The mouthfeel is medium with a seltzery carbonation. Taste starts off with a sour maltiness that's similar to the sour dough aroma. Muted flavors of caramel and biscuit follow. Middle has a dry tang to it and the finish is forgettable.
Somewhat interesting beer. As an amber, it's not great but the sour mash seems to lend a bit of uniqueness to the flavor of this beer.
455 characters
2.41
/5
rDev
-26.5%
look: 3 | smell: 2 | taste: 2.5 | feel: 2.5 | overall: 2.5
12 oz. clear bottle.
Pours a clear amber with very little carbonation.
As the label says, there are hints of sour mash on the nose. Also hints of sweet malt.
On the palate there is a huge chunk of maltiness and a small hint of the sour mash. Actually it comes close to having a touch of Belgian funk to it, but I can't think of a better way to describe it. A touch astringent on the tongue, slightly imbalanced. On the finish it is actually quite dry. Dryer than I would ever expect it to be with some of the sweeter notes on the nose.
Overall not bad, it's nice to see City Brewery doing some decent beers. I don't think I would seek this out again. It would be very interesting to try on tap to compare it to the bottle, see what different notes would come forth. A very interesting beer, just not my favorite.
825 characters
Copper Flask from City Brewing Company, LLC
Beer rating:
3.28
out of
5
with
13
ratings