Side Pocket High Gravity Malt Liquor
| City Brewing Company, LLC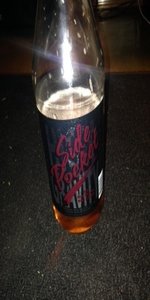 BEER INFO
Brewed by:
City Brewing Company, LLC
Wisconsin
,
United States
citybrewery.com
Style:
American Malt Liquor
Alcohol by volume (ABV):
10.50%
Availability:
Year-round
Notes / Commercial Description:
No notes at this time.
Added by Lemke10 on 09-23-2012
Ratings: 7 | Reviews: 5
Reviews by Lemke10:

3.3
/5
rDev
+10.4%
look: 3.5 | smell: 3.5 | taste: 3.5 | feel: 2.5 | overall: 3
I got a single 16oz can of this from Woodman's in Janesville, WI in summer 2012.
Pours a cloudy amber orange color with a slight but fast diminishing head. Scent is fairly strong with sweet, cheap grains. Taste is surprisingly sweet and mellow which is a very dangerous combination at 10.5% as stated on my can of malt liquor not "malt ale" at a lower ABV%. Drinks very smooth and easy. Not much to the flavor but still rather good for a cheap malt liquor designed to get you drunk fast. If you into malt liquors, it's worth a try for just over $1.
558 characters
More User Reviews:
2.54
/5
rDev
-15.1%
look: 4 | smell: 3 | taste: 2 | feel: 3.25 | overall: 2.25
Poured from a clear 40 oz. bottle. Has a golden color with a 1/2 inch head. Smell is of malts, alcohol. Taste is alcohol, plastics, hints of gasoline, actually not quite as bad as I was expecting. Feels medium/light bodied in the mouth and overall I'm lucky my friend and his old lady are here to help with this one, I wouldn't want to drink this 40 oz. alone.
360 characters
2.6
/5
rDev
-13%
look: 2.75 | smell: 2 | taste: 2.75 | feel: 3 | overall: 2.75

3.41
/5
rDev
+14%
look: 3.5 | smell: 3 | taste: 3.5 | feel: 3.25 | overall: 3.75
A - Pours clear amber almost like Bud or Coors but a little darker.
S - I smell apples. Apples and alcohol.
T - I taste apples. Its sweet. For 10.5% ABV there is hardly any alcohol after bite.
M - It goes in my mouth it feels right. I swallow. Pretty smooth.
O - If I was a street corner alcoholic, I could beg 5 bucks for this. It beats after shave by a long shot. If all you want is a cheap buzz this is going to be my go to.
431 characters
3.76
/5
rDev
+25.8%
look: 4 | smell: 3.5 | taste: 3.75 | feel: 3.25 | overall: 4.25
This Beer once you get over the first taste its party on after that. the first can will get you where you want to go. the second can "you are now the co-pilot". Because its now driving... love it.
Appearance i gave it a 4.0 because it looks like any other amber beer.
Smell 3.50 it smell like a party.
Taste 3.75 it Taste like a party.
Mouthfeel 3.25 because after awhile you are too busy talking to everyone you really dont feel ...your mouth.
Serving type - get the 10.5% because if you gonna do it, do it BIG.
Overall 4.25 because your friends will tell you all about the good time you had. because you will not remember half of your night....
647 characters

3.35
/5
rDev
+12%
look: 3 | smell: 3 | taste: 3.5 | feel: 3.5 | overall: 3.5
Pours a pale golden in color, topped with an off-white head -- good lacing from this one, but it's a great tasting glass (Boulevard Smokestack tulip.)
Smells malt . . . smells better than average for what it is, but the fusels, OMG, they are as punchy as they always are for a classic City Brewery bruiser such as this one undoubtedly is. There's a vinuous white wine character, almost but not quite a Semillon-Chardonay goin' on, mixed with a horrible burning sensation . . . bring tha' PAIN!
Sweet and with a good amount of carbonation, but with a goodly mouthfeel and sense of classic "beer" on the first sip, along with the heat of the 10.5% kicking it up to Eleven. Bam. All go and no slow from this 40 ouncer.
Mouthfeel is at least better than average, and overall it is a better than average 40oz beer.
Altogether better than average, and I love the glass bottle -- totally old school!
904 characters
Side Pocket High Gravity Malt Liquor from City Brewing Company, LLC
2.99
out of
5
based on
7
ratings.