Black River Red
| Sand Creek Brewing Company
BA SCORE
82
good
11
Reviews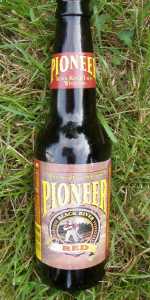 BEER INFO
Brewed by:
Sand Creek Brewing Company
Wisconsin
,
United States
sandcreekbrewing.com
Style:
Märzen / Oktoberfest
Alcohol by volume (ABV):
5.50%
Availability:
Year-round
Notes / Commercial Description:
No notes at this time.
Added by KarlHungus on 09-10-2006
Reviews: 11 | Ratings: 13
3.46
/5
rDev
-1.7%
look: 4 | smell: 3 | taste: 3.5 | feel: 4 | overall: 3.5
Served in a FFF pint glass
This beer was amongst the random assorted beers bestowed upon me for my most recent of birthdays.
This pours a nice deep copper/amber color with an ecru foam. The smell is absolutely vacant, I can't smell a thing off of this beer. Which as I've learned, isn't a bad thing. The taste is quite malty. There is a touch of cinnamon and a decent amount of biscuit with the predominate malt flavor. The mouthfeel is rather smooth and easy drinking. Overall I would have to say there's not much to say about this beer. It's pleasant enough, but it is so nondescript it's hard to recommend for any purpose.
627 characters

3.33
/5
rDev
-5.4%
look: 3.5 | smell: 3 | taste: 3.5 | feel: 3 | overall: 3.5
A. Poured a cloudy, amber brown, with a tan one finger diminishing head. No lacing on the glass.
S. Malt, brown sugar, carmel, dark fruit
T. Malt, caramel, nuts, bread. Good bitternes.
M. Medium bodied, light carbonation, semi dry finish, thin.
D. Just a decent ale, nothing really jumps out here.
301 characters
3.97
/5
rDev
+12.8%
look: 3.5 | smell: 4 | taste: 4 | feel: 4 | overall: 4
Pours a copper color with a small head that settles to a skim coating of film. Moderate amount of sticky lacing is left on the glass surface.
The aroma is dominated by the toasted malt. No hop aroma noted.
Definately on the sweet malt side of Oktoberfests. Nice caramel flavor. Very little if any hop presence. Medium body with a well suited carbonation.
As other Oktoberfests go lighter or hoppier this one is definately malt dominated.
441 characters
3.32
/5
rDev
-5.7%
look: 3 | smell: 3.5 | taste: 3 | feel: 4 | overall: 3.5
Black River Red pours a deep, lightly hazy, orangey amber with a thin lid of fine off-white fizz.
Smells slightly sweet fruity with a definite musty vegetal earthy quality, and lightly toasted malts.
Flavor is pretty much the same as the smell. It does have a pretty nice medium-light body that has a fairly smooth, chewy, and soft feeling light carbonation.
Didn't find this to be anything amazing, but it ain't bad.
420 characters
3.42
/5
rDev
-2.8%
look: 3.5 | smell: 4 | taste: 3 | feel: 3.5 | overall: 3.5
When poured into a glass it has a nice copperish orange color to it. There is a little bit of cloudiness to it. Light passes through easily enough but images are rather fuzzy. It had a nice off-white head about a half-inch thick that slowly faded into a thin layer on top. There was no real lacing to speak of.
There is a nice roasted malt smell to it. You can also detect a hint of a biscuity smell along with some spicy hops. The taste is a combination of caramel malts and a hint of spicy hops. The flavor is very mild and unobtrusive. What aftertaste there is fades quickly and doesn't last long.
It is a medium bodied beer. It is a little heavier on the carbonation that I prefer, but it's not bad.
707 characters
3.54
/5
rDev
+0.6%
look: 4.5 | smell: 3 | taste: 3.5 | feel: 3.5 | overall: 4
Pours a pretty, clear red with off-white head and generous lacing. A little mineral in the aroma at first. From the flavor I thought this was ringwood ale at first. Must be some diacetyl or similar chemical brining that light and pleasant butterscotch. There's also a super smooth caramel with grassy hops finishing the beer out. On the creamier side of O-fests, but still a tasty interpretation of the style. Prost!
416 characters
2.9
/5
rDev
-17.6%
look: 3 | smell: 3 | taste: 2.5 | feel: 3 | overall: 3.5
Appearance: Pours a medium amber body with a full, off-white head.
Smell: Altogether faint aroma of caramel malt, spicy hops, and soft fruit esters.
Taste: Caramel malt flavor with only a mild sweetness. Spicy hop flavor and bitterness remain light. For me, it finishes weak and watery.
Mouthfeel: Medium-thin body. Medium carbonation.
Drinkability: Essentially, it's an Oktoberfest lite.
393 characters
3.63
/5
rDev
+3.1%
look: 4 | smell: 3.5 | taste: 3.5 | feel: 3.5 | overall: 4
Glowing coppery orange, a fantastic color when infused with bright morning sunshine. The pale orange cap is pretty damn nice as well. It's richly creamy and has a melted marshmallow stickiness about it that should result in quite a bit of lace. Even though there isn't much glass coverage in the end, this is a good looking beer from top to bottom.
The aroma is less Munich malt earthy than most, while still having the toasted nuttiness that defines the style. I don't appreciate any true hoppiness, but there is a modest fruitiness coming up to greet my nose. Not bad at all.
I thought Black River Red was a red ale until I saw the style listed above and then checked out the Sand Creek website. It's definitely an Oktoberfest, but like the nose, the flavor isn't pedal to the metal, full-bore O-fest. In fact, to me, it tastes like a marzen-red ale hybrid.
The flavor profile is a dead ringer for the nose. Lightly sweet, lightly nutty malt is favored over hops, while being nicely balanced by their polite bitterness. It might be the beer's color messing with my head, but the fruitiness tastes a little orange-like to me. All in all, this is a drinkable, soft-edged version of the style that should appeal to a wide range of people.
There's very little, if any, letdown when it comes to the mouthfeel. It's a smidgen closer to medium than to light, and has that wonderful lagery smoothness that I now appreciate more than I used to. I also like the fact that the carbonation is on the subdued side.
I was previously confused, but it now looks like Sand Creek has picked up a few of the beers that the now defunct Pioneer Brewing Company used to produce. Black River Red was a good choice since I'm sure it has a lot of defenders up Wisconsin way.
1,766 characters
3.28
/5
rDev
-6.8%
look: 4 | smell: 3.5 | taste: 3 | feel: 3 | overall: 3.5
As advertised this 12oz twist-off pours a coopery-red with a thin white head in the 16oz pint glass. The beer has brilliant clarity and the head reduces to a thin ring around the top after the first few sips. The aroma is that of sweet malt and little, if any detectable hop aroma. The malt aroma is in the moderate-moderate/high range. The moderately carbonated red ale has a sweet, malt taste, again in the moderate range with a small tingling of toasted grains, maybe Munich. There is little to no hop flavor. The malty beer has a low bitterness, still enough to keep it from being overly sweet. The beer is remarkably smooth and is medium bodied with medium-high drinkability. Overall the beer is tasty, malty sweet but not overdone. The only knock I can come up with is a slight off-taste in the aftertaste, rather hard to describe and quite minor. Another good beer from Sand Creek Brewing Company, although not as good as the English Style Special Ale; but I would definitely drink this beer again.
1,005 characters
3.6
/5
rDev
+2.3%
look: 3.5 | smell: 3.5 | taste: 3.5 | feel: 3.5 | overall: 4
(Served in an American pint glass)
A- This beer has a warm orangish-brown body with a faint hazy and a thin rim of bubble making up the head. The carbonation is made up of lots of big bubbles racing to the surface.
S- The smell of biscuit malt has some dry lightly roasted malt notes in the background.
T- the dry biscuit malt is balanced with a fresh pale malt taste and a soft caramel and dark malt hint in the background. There is a tangy note in the finish but it didn't have any real hops to it.
M- This beer has a medium mouthfeel which was due to the carbonation.
D- This beer did have some nice fresh malt flavors but it would be nice to have more of them or something to contrast them to make it a bit more interesting.
746 characters

4
/5
rDev
+13.6%
look: 4 | smell: 4 | taste: 4 | feel: 4 | overall: 4
When brewed by Pioneer Brewing Company this beer was listed as a Munich Dunkel Lager, but one of the brewers from Sand Creek Brewing told me it was a Marzen in with rye malt had been used. Thus, I added it as an Marzen/Oktoberfest.
This brew pours a clear red color with a one inch white head that slowly recedes into a thin cap of lacing. The aroma is of caramel malt, and spicy rye. The taste is like the aroma, but with the rye coming through a bit more. The mouthfeel is medium bodied with nice carbonation. Overall, I like this beer. It seems to me that so many American craft breweries brew an Oktoberfest, but very few brew a Marzen. Whereas, my experience of living in Germany indicates that German brewers do the opposite and make more Marzens. I tend to like Marzen more than Oktoberfest, so I will certainly buy this beer again.
842 characters
Black River Red from Sand Creek Brewing Company
3.52
out of
5
based on
13
ratings.