Pioneer Oderbolz Bock
| Sand Creek Brewing Company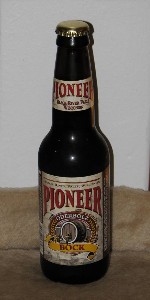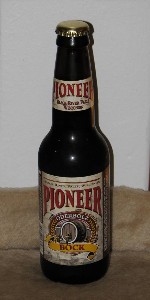 BEER INFO
Brewed by:
Sand Creek Brewing Company
Wisconsin
,
United States
sandcreekbrewing.com
Style:
Bock
Alcohol by volume (ABV):
6.50%
Availability:
Spring
Notes / Commercial Description:
No notes at this time.
Added by rhoadsrage on 09-22-2006
This beer is retired; no longer brewed.
HISTOGRAM
Ratings: 13 | Reviews: 12
Reviews by Vancer:
3.75
/5
rDev
-2.6%
look: 3.5 | smell: 3.5 | taste: 4 | feel: 3 | overall: 4
Now, this Goat beer poured a orange amber into the Maredsous tulip, tan head appeared and pull a Houdini on the way out. Left a tidbit of tan sheet ring behind.
Sweet caramel malts in the aroma and quaff. Tasty, easy going and enjoyable - this brew be, although it does have a smidgen of orange cough medicine in the finish. Just a tad thin on the body is the only other drawback; however, this would really hit the spot in the summer heat versus the winter cold.
I'd go for a full sixer the next time around.
511 characters
More User Reviews:
3.57
/5
rDev
-7.3%
look: 3.5 | smell: 4 | taste: 3.5 | feel: 3 | overall: 3.5
(Served in an American pint glass)
A- This beer has a warm deep brown body with a light haze and a thin oatmeal colored head that last for a few sips. The dense carbonation is tiny bubbles.
S- The nice rich caramel malt aroma has some notes of dark malt in the background.
T- The taste starts a bit watery but the roasted malt and caramel malt flavors come through nice after that. There are some faint biscuit and dry pale malt notes that come through as the beer warms a bit. The finish has a tangy brightness to it when it is a bit warmer and it adds a nice note to the malt.
M- This beer has a light mouthfeel with a tiny fizz in the finish. It is a bit watery in the mouthfeel also.
D- The malt characteristics that are in this beer are nice but there is very few of them and it could use much more.
822 characters
3.97
/5
rDev
+3.1%
look: 3.5 | smell: 4 | taste: 4 | feel: 4 | overall: 4
Sand Creek has crafted a fine beer in their revival of the Pioneer Oderbolz Bock.
The name is a nod to the defunct Olderbolz brewery (1856 to 1911), which became the Badger Brewing Company (1911-1920) after the last Olderbolz died. In 1995 Pioneer bought the old building and set up shop; and then in 2004 Sand Creek combined forces with Pioneer, moving their production from Downing to the historic brewery. It's an interesting tale, and a great beer!
It pours a clear ruby-accented chestnut with orange and amber highlights beneath a creamy yellowed head. The retention and lacing are average.
Toasty, lightly sweet malt greets you in the nose. It's clean and welcoming.
In the mouth it's medium-full in body and creamy smooth with a fine-bubbled, moderate carbonation that lightly tingles the tongue.
The flavor is as the nose suggests with toasty malts dominating, and caramelish accents rounding it out. Some mildly grassy and leafy hops float around in the finish. It's nicely balanced by a very firm but restrained bitterness, and it finishes mainly dry with just a touch of residual sweet malt and a flicker of alcohol.
1,144 characters
3.92
/5
rDev
+1.8%
look: 3.5 | smell: 4 | taste: 4 | feel: 3.5 | overall: 4
It pours a fairly clear rubey color with a nicely formed head. The head disappears fairly quickly.
The aroma is toasty with caramel malt and not really much else, but that is OK per the style. It shouldn't be very complex, just malty.
The flavor is quite nice with some rich deep malt flavor. I do get the typical vienna malt flavor with some caramel as well. It really is not very sweet or cloying and finishes with just a nice toasty semi-sweet finish. The hop flavor is pretty much non-existant but the bitterness balances out the malt almost perfectly. The semi-sweet finish makes this beer very drinkable and the toasted caramel quality makes this a great springtime beer to enjoy while you are out preping the yard for summer.
735 characters
3.53
/5
rDev
-8.3%
look: 4 | smell: 3.5 | taste: 3.5 | feel: 3.5 | overall: 3.5
12 oz bottle poured into a Pilsner glass. No date - untold age though. Probably way old.
Thanks to my girlfriend's parents for this beer found in the basement!
A - Clear and effervescent brown amber with a fat three-finger tan head - light khaki color - with moderate retention. Stages of legs were left on the glass as the head slowly went down. Haphazard clumps of lacing on the glass.
S - Dirty and grainy aroma with the toasted but sweet caramel malts. A boozy hint to it and a light touch at hops hidden in there with a bit of citrus and pine. Not bad so far!
T - The sweet caramel malts are a bit thinner than they smell like. A bit toastier too with a tiny coffee-toffee hint. A dry finish has a micro-kiss of hops. Really not bad for how old it's presumed to be.
M - Light-medium in body with a bit toasty presence and a dry finish. It's getting a bit warm but it's still got the fizzy carbonation.
D - I'm very surprised at this beer and it's age - well, supposed age and how it held up. Not bad at all and if you could ever find it again, it's worth a buy to try it. Solid bock beer.
1,099 characters
4.17
/5
rDev
+8.3%
look: 3.5 | smell: 4 | taste: 4.5 | feel: 4 | overall: 4
Pours a rich amber color. 1/4 inch head of a pale tan color. Decent retention and poor lacing. Smells of sweet malt, roasted malt, hops, and slight yeast cleanliness. Fits the style of a Bock. Mouth feel is smooth and crisp with a high carbonation level. Tastes of sweet malt up front, then roasted malt comes through, hops noticeable in the background, and very slight yeast cleanliness present. Overall, a surprisingly good beer; great blend, rich flavors, good body. I recommend this beer especially because it's so affordable.
530 characters
3.8
/5
rDev
-1.3%
look: 4 | smell: 4 | taste: 3.5 | feel: 4 | overall: 4
Poured from a bottle into a pint glass. It pours a deep red. A 1/2 inch tan head forms and reduces to a decent lacings. Carbonation is minimally visible and it is clear when held to the light.
The smell demonstrates all that malty sweetness. There are notes of caramel and some citrussy notes from the hops. This is an earthy component to the aroma.
The taste starts out strong with a caramel malt sweetness. However, this quickly dies and then there is a mild metallic taste. The metallic is paired with some bitter/hops notes.
The mouthfeel is reasonably good. It is fairly light and crisp due to the carbonation. The alcohol is well hidden. A nice level of dryness lingers on the tongue at the finish.
This is a fairly drinkable beer. The sweetness is not too much and the bitterness makes it somewhat complex and interesting to continue tasting. A decent effort for a beer that does not appear to be particularly prominent.
932 characters
3.77
/5
rDev
-2.1%
look: 3.5 | smell: 4 | taste: 4 | feel: 3 | overall: 3.5
Quick one finger head recedes to a thin island of filmy foam. Bright, yet deep rusty amber with a fast bubble or two scurryng to the surface. Sweet toasted malt give some syrupy fruit and caramel scents. The taste starts a little grainy rough texture wise. But this smooths out to a caramel, fruity syrup middle and finish. Maybe some caramelized musk melon notes. Syrupy, sweet malty palate. But very easy to drink, but the aftertaste slowly transforms, reveling a touch too much of the 6.5% alcohol.
501 characters
4.18
/5
rDev
+8.6%
look: 4 | smell: 3.5 | taste: 4.5 | feel: 4 | overall: 4.5
I enjoyed this beer from the comfort of my own living room. From the 12oz bottle to a mug.
Appearance: Pours a clear light brown in color with a quarter inch lightly tanned head that stuck around for a while.
Smell: Toasted, sweet malts dominate the nice aroma with hints of yeasty bread.
Taste: Just as the nose suggests, and the style dictates, the toasted malts dominate.
Mouthfeel: Medium-bodied and creamy smooth with a good carbonation. A meal in a glass.
Drinkability: Very drinkable brew. Another solid effort by Sand Creek. Would definitely recommend and drink again.
581 characters
3.77
/5
rDev
-2.1%
look: 3 | smell: 3.5 | taste: 4 | feel: 3.5 | overall: 4
It poured copper hued. It was slightly dark. There was a one finger head. There was very little carbonation.
It had a lite sweet malt scent. Floral hops accompanied the malt.
It was nice and malty with a bitter hop flavor. It was medium bodied. It had a slightly dry malty finish.
It is a good beer. It's drinkable.
318 characters
4
/5
rDev
+3.9%
look: 4 | smell: 4 | taste: 4 | feel: 4 | overall: 4
Burnt apricot with butter rum edges. The several finger head is the color of toasted peanut shells and has a firm creaminess that promotes persistence. This is a classic looking bock.
The nose is Munich malty from stem to stern and is also classic for the style. I've always thought that this particular malt smells toasted and earthy and nutty all at once. If you like bocks (or Oktoberfests), you'll probably like the way this one smells.
I'm not so sure about the 'large amounts' of malt that the brewery claims is used. When I read that, I expected something with a little more body and more sweetness. Having said that, it is pretty consistent with most bocks that I can remember drinking.
As in the nose, it's Munich malt on parade. The flavor profile is dominated by sweetish, well toasted grain, along with a (not quite) balancing amount of spicy hoppiness. In some ways, Oderbolz Bock tastes like the beer equivalent of French burnt peanuts. I like the fact that the flavors are melding and deepening as the beer warms.
The mouthfeel is also firming up over time. It's at least medium and perhaps a bit bigger than that. The carbonation is on the lower end of the spectrum, which is usually a good thing in a beer that is as moderately big as this one is.
Other than the outstanding Wild Ride IPA, this is the best Sand Creek Brewing Company beer that I've had. I never would have guessed that given my ambivalence about bocks. Although it's unlikely to convert any hopheads, Oberdolz Bock is surprisingly good.
1,535 characters
3.85
/5
rDev 0%
look: 3.5 | smell: 3.5 | taste: 4 | feel: 4 | overall: 4
Appearance: Pours a crystal clear, dark amber body with a tiny, whiteish head.
Smell: Sweet-smelling toasted malt aroma with an underlying tart, fruity note.
Taste: Sweet maltiness yielding flavors of honey and caramel. Slight toasted quality throughout. Dash each of peach and raisin syrup. Very mild spicy hoppiness. Touch of alcohol on the altogether sweet finish.
Mouthfeel: Medium-bodied. Just barely medium carbonation. Slightly sticky mouthfeel.
Drinkability: A surprise, but a pleasant one. Definitely one of the better Sand Creek products I've encountered in awhile.
579 characters
Pioneer Oderbolz Bock from Sand Creek Brewing Company
Beer rating:
3.85
out of
5
with
13
ratings