Bunny Green Toe

Lake Louie Brewery Company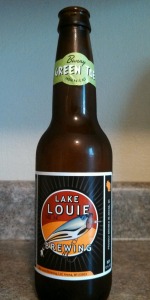 Rate It
Beer Geek Stats
| Print Shelf Talker
Style:

ABV:

6.8%

Score:

Avg:

3.94

| pDev:

11.17%

Reviews:

12

Ratings:

From:

Avail:

Rotating/Seasonal

Wants

Gots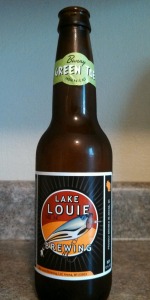 Notes:
Roby923 from Canada (AB)
4.39
/5
rDev
+11.4%
look: 4.25 | smell: 4.5 | taste: 4.5 | feel: 4 | overall: 4.25
Very thick to taste, a meal onto itself. Full on the nose. Amazing hop mix that works in liquid unity - Magnum, Columbus, and Amarillo. Listed at 79 IBUs. Well balanced with tasty malts.
Worth seeking out. On tap at The Old Fashioned in Madison, Wi.
Sep 03, 2017

emerge077 from Illinois
3.49
/5
rDev
-11.4%
look: 3.75 | smell: 3.5 | taste: 3.5 | feel: 3.25 | overall: 3.5
Dark brownish orange amber, thin layer of khaki foam.
Aroma of caramel malt and pine.
Tastes like caramel malt and resiny pine, buttery diacetyl.
Light to medium bodied, slightly sweet at first becoming dry in the finish. Decent carb level. Overall it's not terrible but not very good either. Not sure how old it is without bottle dates, it was from the cold case though.
Aug 05, 2017

TheSSG from Illinois
3.75
/5
rDev
-4.8%
look: 4 | smell: 4 | taste: 3.5 | feel: 3.5 | overall: 4
Pours a huge, soapy, white head that has great persistence and laces wildly. Really nice, fresh, bright citrus hop aroma. Lovely, clear, golden color. Starts with a really bitter, citrus rind/pine front. Builds to a high bitterness, then evens out as sweet malt cuts through it. Citrus rind lingers on top the malt into the finish.
This is pretty good. Very bright aroma and really strong citrus rind and pine notes (which aren't my favorite profiles). Despite being a profile I don't typically like, I find this one enjoyable.
Nov 07, 2015
nickapalooza86 from Wisconsin
4
/5
rDev
+1.5%
Pours a nice deep orange, hazy with a half finger of white head
Smell is grapefruit, pine, kiwi, biscuit,
Taste is grapefruit, pine, bready biscuit malt, caramel, some lime, a bit of a astringint note on the finish
Mouthfeel is medium light with a nice drying finish
It is good, worth a shot. But there are better options, will gladly go through the couple of 6ers I grabbed.
Oct 15, 2014

Stevedore from Oregon
4
/5
rDev
+1.5%
look: 4 | smell: 4 | taste: 4 | feel: 4 | overall: 4
12oz bottle dated 9/30/2014 in Julian code. Poured into a teku glass 10/14/2014.
A- Hazy darker amber-caramel body, two finger offwhite head with nice retention. Thick splotchy film and collar. Lots of lacing. [4]
S- Pine, grapefruit mixed in with some caramel and bread, as well as a non-descript pine resin. [4]
F- Grapefruit, caramel, grainy bread, a bit of honey. Pine on the back-end, resinous and moderately bitter. A nice balance of malt sweetness, grapefruit aromatics and bitter piney resins. [4]
M- Medium in body, not watery at all- quite soothing and refreshing. Good amount of carbonation. Slightly drying but also a bit slick at the same time. Good pine bitterness finishes things off. [4]
O- Above average IPA with a good balance of grainy malt sweetness and aromatic + bittering hops. Very nicely done by Lake Louie, which isn't a brewery regarded for its quality hoppy offerings. [4]
Oct 14, 2014
kkleu357 from Wisconsin
3.58
/5
rDev
-9.1%
look: 4 | smell: 3.5 | taste: 3.5 | feel: 4 | overall: 3.5
Medium hazy body with little head. Intense aroma of earthy hops. Taste is very strong. Lots of bitterness. Good sharp hop flavor with just a hint of malty sweetness. Definitely a hop forward beer.
Sep 26, 2014

stouts4me from Illinois
4
/5
rDev
+1.5%
Description says American apa, bottle label says India pale ale, which is what I would go with, better than an apa.
Bought this on a whim in the Wis. Dells.wish I would have bought 3, good beer!
Smells light er and very fresh , I am not good enough to recognize the hop variety, but it is very good.
Nice frothy cream-colored head, nice floral hoppy smell, not huge, though.
This has a good malty backbone, that chewy , maltiness, the way I like it.
Very enjoyable really cold after any summer activity outdoors.
Pick up a sizer if you get a chance, definetly worth the 9 bucks.
Aug 23, 2014
Tone from Missouri
3.77
/5
rDev
-4.3%
look: 4 | smell: 3.75 | taste: 3.75 | feel: 3.75 | overall: 3.75
Pours a clear, copper color. 1/2 inch head of a white color. Good retention and good lacing. Smells of pine, citrus hops, floral hops, sweet malt, slight alcohol, and a hint of yeast. Fits the style of an American IPA. Mouth feel is sharp and clean, with an average carbonation level. Tastes of alcohol, pine, citrus hops, floral hops, sweet malt, and a hint of yeast. Overall, good appearance, aroma, body, and blend.
Jul 25, 2014

bound4er from Wisconsin
4.21
/5
rDev
+6.9%
look: 4.25 | smell: 3.75 | taste: 4.5 | feel: 4 | overall: 4.25
A. Straight amber appearance with a nice fluffy two finger white head. Darker than most IPAs.
S. Shy nose with some funky, dairy smelling malt and pine.
T. Way more expressive on the palate than nose - creamy almost buttery malt followed by really nice piney bitterness. Beers with this kind of bitterness often don't appeal to me but for some reason, this beer's bitterness really adds to its taste and charm. Pretty unique flavor profile for a recently released IPA.
M. Nice creaminess and overall mouthfeel with adequate carbonation.
O. This beer is damn tasty. It actually took me by surprise since many Lake Louie beers I've had previously have been so-so. Worth seeking out and hopefully this will be available year round.
Jul 17, 2014
joe1510 from Illinois
3.98
/5
rDev
+1%
look: 4.25 | smell: 3.75 | taste: 4 | feel: 4.25 | overall: 4
12oz Bottle
$8.99 6-Pack
Discount Liquors - Milwaukee
Bunny Green Toe has a surprisingly red body, garnet really, and shining like a gemstone. Large carbonation bubbles release from the glass and jailbreak to the surface. Tiny bubbles crawl up the sides of the glass. The head is made up of pure white foam, both meringue like and craggy, with lacing that glues itself to the glass. She's purty!
The hop profile is very unique. Candied grapefruit and orange peel off the bat is greeted with a solid dose of melon....new-ish German varietals perhaps? Grapefruit and orange are both pithy as well. There's even a squeeze of pine thrown in there. The malt profile is light and complimentary adding clean caramel, in pale doses, that lend well to the candied citrus.
The flavor profile isn't far off. Candied citrus peel leads the way before a peppery alcoholic bite kicks in along with the honeydew mid-palate. Pine picks up middle to end and is met with the citric pithiness I mentioned above. Faint tropicals emerge with some warmth. The malt base, again, is caramel driven but light and very much a base for the hop characteristics. I'm a fan.
A moderately weighted body plays perfectly with an active carbonation that produces a somewhat frothy mouthfeel. The bitterness grows with each drink, eventually reaching just beyond moderate. The finish is bone dry and accentuates that bitterness. I keep reaching for another drink after the last.
Lake Louie has always produced quality beer and Bunny Green Toe is no exception. As a matter of fact it's one of the best beers they have ever brewed. The hop profile is very unique, taking some of the best hoppy elements and throwing them into one. The malt base is simply a canvas. I wouldn't hesitate in picking this up again. Worth a try, no doubt.
Jul 13, 2014
PLebowski from Wisconsin
4.59
/5
rDev
+16.5%
look: 4.5 | smell: 4.75 | taste: 4.5 | feel: 4.25 | overall: 4.75
Had the pleasure to find a sixth barrel of the lovely Bunny Green Toe. Very nice beer. Really like the hop profile. Mouthfeel felt creamy, a little chalky and flat at first sip. Then this big IPA warmed up a tad and everything is so very beautiful. Good Bunny. Very good Bunny
Jun 25, 2014

Ri0 from Wisconsin
4.11
/5
rDev
+4.3%
look: 4.75 | smell: 4.25 | taste: 4 | feel: 4 | overall: 4
poured 12oz bottle into snifter. Bottled 5/28/14
A - Deep amber orange with a slight haze and big 2.5 finger white head. Thick cap remains for the session and the lacing is thick and beautiful.
S - Heavy aromas of citrus and floral hops. Mainly grapefruit and blood orange along with lime. Very mild caramel sweetness.
T - This beer has one of the biggest citrus flavors I can remember and I am addicted to it. It is grapefruit, orange, tangerine, blood orange, you get the idea. The grapefruit is the most dominant hop flavor. The malts are laid back with mild sweet caramel notes. Finish is bitter grapefruit with lime notes.
M - It is a lighter body for a IIPA and that is okay. Slightly resinous and sticky.
O - What does this remind me of? A lighter version of Surly Abrasive. It is quite good and I give props to Lake Louie for really hopping this IIPA and leaving the malts hidden in the background. I typically don't enjoy IIPAs as the weather warms, but the lighter body is ideal.
Jun 11, 2014
Bunny Green Toe from Lake Louie Brewery Company
Beer rating:
88
out of
100
with
67
ratings