Cat's Eye Pub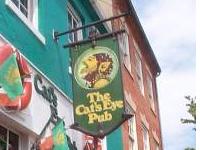 PLACE INFO
Type:
Bar
1730 Thames St
Baltimore
,
Maryland
, 21231-3416
United States
(410) 276-9866 |
map
catseyepub.com
Notes:
No notes at this time.
Added by NeroFiddled
Reviews: 12 | Ratings: 16

3.75
/5
rDev
-2.1%
I needed to check this place out since it was so well known.
Tons of beer on tap. Great selection.
Live music...pretty loud. The stage is too close to the bar so you can hardly hear the people you're with or hear your own thoughts.
Still, not too bad
255 characters
4
/5
rDev
+4.4%
vibe: 4 | quality: 4 | service: 4.5 | selection: 3.5
A - Not the brightest lit bar, floors are well worn, lots of old Baltimore memorabilia to check out on the walls, bathrooms have years worth of hilarious graffiti and one cardboard box taped over a hole in the wall that reads "This is the most expensive repair in the Cat's Eye" in faded Sharpie. Live blues 365 days a year, which is probably the main reason to go. Small patio out back for the smokers which is heated with propane in the cooler months.
Q - Beers were fresh and plenty cold. They don't serve food so there's really not much else to say here.
S - Last time I was in was on a Monday night during a football game, since it's not a sports bar and only has one or 2 TV's there wasn't much crowd so I got served within a minute of sitting down at the bar.
S - About 25 to 30 beers on tap and probably a few more in bottles. Most of the big breweries (Coors, Budweiser, Miller) and the regional stuff (Yuengling, Dogfish Head, Clipper City, Troegs, Victory).
F - No kitchen, just the usual bar munchies. There is a hot dog stand just down the street in the Broadway market for when you get the beer munchies though.
V - Prices are good considering you'll always have live music any night of the week and it's in prime drinking territory.
1,252 characters

3.76
/5
rDev
-1.8%
vibe: 4.5 | quality: 3.5 | service: 4 | selection: 3.5
The Cat's Eye, a Fells Point pub on Thames Street between the mighty Max's Taphouse (king of all beer places in Bawlmer) and John Steven, Ltd. and The Wharf Rat. All of them look similar, old pirate taverns, cozy neighborhood hangouts. I swear there is a "Fells Point Tavern" factory where every bar in the area is molded!
The Cat's looks good inside, a little craggy but well-worn. This tavern seems to have more of a rock-and-roll theme going on, a bit punk and unpolished.
Beer selection... over 30 taps, mostly macro (Harp, Guinness, Smithwicks, Yuengling, Newcastle) but some good stuff: Stone IPA, Evolution Lucky 7, Sierra Pale Ale, Dogfish 60, Flying Dog and their own Cat's Eye Brew.
Service is interesting... although the bar was totally empty except for two lonely customers, the bartender still took her sweet time to come over. She is big, pretty ugly and rough. I like that. She warms up and we start talking all things local. I like her.
I wouldn't come here for the beer (Max's anyone??) but the ambience makes up for it, and that would draw me back.
Didn't try food. Prices seem to be fine, I paid $4 for my pint of Evolution Lucky 7.
1,160 characters

3.99
/5
rDev
+4.2%
vibe: 5 | quality: 4 | service: 3.5 | selection: 4
After years of walking by this one, I got asked to go for Valentines Day. My date wanted to hear live music. I had recently read they had several taps, and was pleasantly surprised when we walked in.
The Cat's Eye has an eclectic though radical Irish undertone to the decorations. A great example of a bar that was built for music, beer, and fun. Both bands that played were very good. They have live music every night, with an early band on Saturdays and Sundays. Great vibe in the crowd, as everyone was having a good time.
The quality of the beer selection was nice. I didn't count the taps, but they had around 20 I personally enjoyed a Paulunar HW, Murphy's Stout, and Flying Dog's Garde Dog. They did have several local beers on tap including Resurrection Ale, 5 or 6 Clipper City Brews, and 2 taps from Olivers. A nice mix that should allow you to drink good beer and hear good music, so I'm not sure how you can beat that.
Service is a little slow, you have to go to the bar, there are some stools at the bar and around the outside wall. 4 tables in a back room, and several tables outside in a tented courtyard (It has a heater for you winter smokers).
They don't serve food, so you'll have to eat elsewhere. I tagged them a bit pricey as beers were $6.00 a pint, which I thought was a bit on the high side, but I haven't been out much in Baltimore recently to compare.
1,382 characters

2.94
/5
rDev
-23.2%
vibe: 2.5 | quality: 3 | service: 3 | selection: 3
Third stop on our Baltimore pub crawl. The place is a bit shabby inside, nothing special. There's a bar, and a fairly large space to stand. That's about it. Very comical-looking nautical themed decorations strewn about. There was a small stage with an acoutic band playing some tunes. There were a bunch of beers on tap, but most were Irish and macros, with a few local taps sprinkled in. Pints seemed a bit pricey to me. We had one quick beer here and took off, no real reason to hang out here too long.
504 characters
3.76
/5
rDev
-1.8%
vibe: 4.5 | quality: 3.5 | service: 3.5 | selection: 4
Had not visited this place in a while, so thought I would stop in this past Saturday.
One of the interesting things about all of these Fells Point, water front bars, is how much bigger they are then they appear from the outside. As one walks in from the street, one notices a fairly long bar, running along the left side of the front bar room. There is a fairly good size dining area in the back, as well as an outdoor dining area farther back still. There is also another small bar area in the back dining room. The pub has a very relaxed, very laid back vibe to it, with all kinds of interesting knick knacks and decorations. There are a couple of model ships hanging from the ceiling, and the back bar area has post cards, old newspaper articles, police patches, etc. The place has sort of old, well used feel to it, with a considerable amount of brick and wood. There is also one good size flat screen TV at the end of the bar, which I thought was a nice touch. Most of the places along the waterfront seem to have TV's placed pretty much everywhere. In any event, this is a very good place to hang out and have a beer.
With respect to the quality and quantity of the beer selection here, at first glance it looks pretty good. In actuality, it really isn't. After looking it over, I was reminded of the Blue's Brother scene where the band played at the country western bar. In that scene the bar owner's wife notes that they play both kinds of music there; country and western. At the Cat's Eye, they had something like 35 different beers on tap. That sounds impressive, I know, until you look more carefully at the selection. Aside from 2 or 3 macros, they have pretty much everything else you would otherwise imagine when it comes to craft and import mainstays. There was Stella, bass, newcastle, Guinness (regular and the 250), murphy's, hoegarden, Paulener and Spaten hefe-weizen, sierra nevada, boddington's, etc., etc. The more interesting items, if you want to call it that, were the red and pale ale from Oliver's, the 60 minute ipa and Clipper City's Loose Cannon. That's as good as it gets here. There are also some bottled beers in the back, though the selection didn't appear to be anything to write home about (Corona, etc.)
Service here was fairly prompt, though the bar tender wasn't much of conversationalist. This is the sort of place where the bartender quickly pours your beer, takes your money and makes change, and then wanders off until it appears you need another drink.
I'm not sure if they serve food here or not. I didn't see a kitchen area anywhere, nor did I see a menu or anyone eating. Prices were a bit on the high side, with my pint of Oliver red going for $5.50. One thing I should mention is the bathroom here. I highly recommend that no one use the men's bathroom unless it's an emergency. Aside from the fact that the rest room is pretty unappetizing, I couldn't find a lock for the door. It's a small bathroom and it appears that someone could easily walk in on you at any time. So I quickly decided that I would go elsewhere rather then take a chance using the one here.
This is an interesting place, but given the other alternatives in the area, I can't imagine making it a habit to stop by here more then once in a while.
3,271 characters

4.06
/5
rDev
+6%
vibe: 4.5 | quality: 4 | service: 4 | selection: 4
This is the bar to go to for a story and some character. As the bar tender informed me the building has been around for a long time. It used to be a house, in the 1950's it was a brothel, the bartender believes the place is haunted, and some other random history. This is the friendly dive bar, come as you are, have a beer and a good time. I have been once at night when there was live music. The beer selection is pretty good. They seem to have a style of good beer for whatever mood you are in, craft beers and imports. This is also the bar where locals hang out, the real neighborhood people who have come for years, this is their bar.
639 characters

4.06
/5
rDev
+6%
vibe: 4.5 | quality: 4 | service: 5 | selection: 3
A hidden gem for sure. The Cat's Eye Pub is located right off the water in the Fells Point district that harbors a great view of the harbor. (That was lame. Sorry.) Inside you will find only a few seats by the windows, which were, to no surprise, filled when we got there. There's definitely a nautical theme going on here with lots of worn woods, old ropes and other sailing paraphernalia. The ceiling is covered in various flags and upon a more thorough inspection, there's what seems to be an authentic peg leg hanging down from above the bar. The front has the main bar with the bar on the left and a small stage on the right backed by the wall of remembrance that contains photos of various deceased Cat's Eye's VIPs. There's a secondary room further back with a smaller bar and a darker, more claustrophobic feel and then a bier garden of sorts all the way to the rear. Personally, I'm a fan of compartmentalization, so I'll take this as a plus. Arguably the most striking feature of this Pub is their mascot, which is a pirate werecat of sorts whose striking nature mandated a t-shirt purchase. This fellow is all around on various paintings and signs; both large and small.
The beers on were respectable and novel enough for an out-of-towner to appreciate. I wish I would have written down what was on, but I regret that I didn't. From memory, I could see myself having three beers there and then getting bored. That's not saying that there's crap on tap, but that I'm all about originality and trying something new. Still a great stop if you're not looking to camp out and work you way through the craft selection.
We stopped in on a Friday and it happened to be "Cheese Friday." The bartender told us all about the event in great detail. So, there was a salsa con queso con port dip and various cubed cheese to be had, on the house. This wasn't just American, mind you. The smoked gouda and blue cheese were my favorites. Delicious!
The bartender who told us the cheese history was a riot. From the moment we sat down, she had us rolling. I have never before been treated with such warmth and welcome in my life. She made us feel as if we had been regulars there for years. Here conversation and hospitality was off the charts. This deserves the 6, but alas, it only gets a 5.
This was the second hidden gem of our pub-crawl. It is a definite mandatory return whenever I come back.
2,420 characters
4.15
/5
rDev
+8.4%
vibe: 5 | quality: 4.5 | service: 4 | selection: 3.5
My favorite place to spend a night listening to music and drinking Oliver's Iron Man Pale Ale and Oliver's Red. It's all about the atmosphere here. The service is ok-good, there is no food, and the bathrooms are ... uh... nevermind.
There are always about 16 taps , some interesting stuff from
B-more like Brewers Art Resurection and Ozzy and the aformentioned Olivers (also available around the corner at the Wharf Rat). Sierra Pale is the best of the Macros here. Bottle selection is below average.
It's the atmosphere that will always bring me back here. People here range in age from 20-80 and there are always locals with interesting stories to tell.
664 characters
4.06
/5
rDev
+6%
vibe: 4.5 | quality: 4 | service: 4 | selection: 4
**Stopped in the other night again, and had to increase all the numbers. This is one of the best bars in Baltimore, and should be getting some props on BA. Mike: 8/30/04**
Definitely an atmosphere gem for Fells Point. There is crap on the walls that have been there for decades. The dust mentioned in the earlier reviews is definitely present everywhere. This place used to be considered an "irish bar." Supposedly, the old owner used to send money and guns overseas "for the cause." None of that mess to worry about now.
There are detailed paintings on the walls behind the front stage and the back bar. The front paintings detail the history of Ireland and the back paintings detail the history of the Cat's Eye.
For you out-of-towners, my sure fire way to scope a Fells point bar is the graffiti in the bathroom. Like the Wharf Rat around the corner, there is generally some quality here. I never stop by without my sharpie. Although they paint over quite often, the scrollings seem to pop right back up.
A few nights a week, local bands place some good music. The last few weekends, they've had some groovin latino tinged band that rocked.
Well worth a few beers on a Sunday while the ladies cruise the stores.
The service has been inconsistent the last few times I've been there. However, they are usually old salty Fells regulars.
The only food I've had are the cheap bags of potato chips and a strange night where one of the owners was selling deviled eggs. I don't even think they have a kitchen (thus, the N/A rating) Eat somewhere else (possibly at John Stevens down the street), come here for a beer. The selection is above average and rotated often enough with a few locals. Last weekend, I had two different Paulaner offerings that were fresh and delicious.
1,789 characters
3.76
/5
rDev
-1.8%
vibe: 4.5 | quality: 3.5 | service: 4.5 | selection: 3
Surprisingly, this place is a hidden treasure. It's right off of the water, right where the taxi drops you off, but not many venture in. That's better for the rest of us!!
Not a tremendous amount to choose from, but this is a good place to get the local flavors. Despite the "cleaning up" mentioned in the earlier review, this place was still a dust haven, and the bathroom still has plenty of good graffiti to entertain.
The bartender was drilling 'em while we were there...I love that. The place was very friendly and lots of fun. Check it out while in Fells Point...Max's is only a few blocks away.
603 characters
4
/5
rDev
+4.4%
vibe: 4 | quality: 4 | service: 4 | selection: 4
The Cat's Eye Pub is one of Baltimore's hidden treasures. Or, maybe it's not... It's located in Fell's Point, right off the water. Easy to find! It used to be a sailor's bar back in the day, with flags from all nations suspended from the ceiling; and tons of bric-a-brac adorning the walls, ceiling and backbar. They've cleaned it up (it all got very dusty, dirty, and smoky), but it still has some of that charm. And the bathroom used to have (possibly) the best graffitti in the entire world, but alas, they've cleaned that up as well. Still, they have some great beers on tap (DeGroen's, Clipper City, Oliver's, Redhook, Alpenhof from Ellicott City, Anchor Steam, Tennent's, Tetley's, etc. - 40 taps!!!), and music throughout the week. The stage is small, but the atmosphere is intimate. It can get crowded, yes; and it's very smoky, but it's worth it for the good time to be had. Food is limited to basically bags of potato chips, but most people seem to make this an after-dinner stop anyway. In fact, I like it so much that I always stay at Celie's Waterfont Bed & Breakfast (just a few door down) or the Admiral Fell Inn when visiting Baltimore! Take a stroll along the shops on Broadway and then head over for a pint when the music starts. You won't be disappointed!
1,274 characters
Cat's Eye Pub in Baltimore, MD
3.83
out of
5
based on
16
ratings.