The Knight's Ale
| Brasserie Du Bocq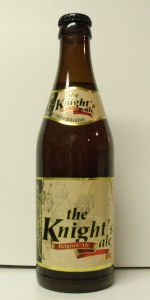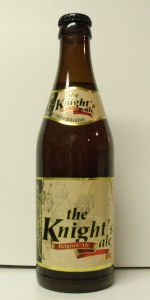 BEER INFO
Brewed by:
Brasserie Du Bocq
Belgium
bocq.be
Style:
Belgian Pale Ale
Alcohol by volume (ABV):
6.00%
Availability:
Year-round
Notes / Commercial Description:
No notes at this time.
Added by BeerAdvocate on 07-05-2002
This beer is retired; no longer brewed.
HISTOGRAM
Ratings: 7 | Reviews: 7
Reviews by FINA:
3.1
/5
rDev
-9.9%
look: 3 | smell: 3 | taste: 3 | feel: 3 | overall: 3.5
Golden / straw in color. Slightly cloudy, probably due to bottle conditioning. Light moutfeel with a slight graininess. I feel like it is about to slide into a smooth malty finish, but all you seem to get is a slight sweetness maybe from some candi sugar. Hops are hardly present. I gave a good swirl of yeast about 1/4 of the way through. It helped out rounding out the beer, but it still just didn't have that kicker. This isn't a bad beer, but I doubt I'd buy it again.
472 characters
More User Reviews:
3.12
/5
rDev
-9.3%
look: 3 | smell: 3.5 | taste: 3 | feel: 3 | overall: 3
Appearance – Cloudy light orange in color with a hearty head that went down rather quickly.
Smell – There are some big, spicy, orange characteristics to this nose. The coriander especially is very sharp, along with a slight medicinal alcohol note. The strong Belgian malt smell rounds out this aroma.
Taste – The orange malt makes it to the tongue in spades, and the spicing from the nose is very sharp as well. Unfortunately, the overpowering medicine cabinet takes over the buds, leaving the drinker somewhat disappointed.
Mouthfeel – This one has a nice, fluffy, medium body, but again the alcohol was a little much.
Drinkability – It wasn't bad, but the medicinal nature of this ale is cause to not buy again.
731 characters
2.86
/5
rDev
-16.9%
look: 4 | smell: 3 | taste: 3 | feel: 3 | overall: 2
Poured a very deep ivory head settling over very yeast-hazed deep golden liquid. Nose is very sweet and a touch fruity/honeyish, a touch of Witbier-like spice as well. The taste is profoundly malty and cloyingly sweet with a brief tropical fruit note. The sweetness is a bit too much for my liking! Finishes up with lingering palate coating sugary sweetness. Maybe some extended cellaring could dry this out some, but still not one of the better Belgians out there, IMO.
470 characters
2.98
/5
rDev
-13.4%
look: 3 | smell: 2.5 | taste: 3 | feel: 2 | overall: 4
Light orange/yellow - slightly cloudy. Almost no head and very thin mouthful. Both the taste and aroma will surprise you. It's both sweet and oddly sour. Pungent, like tart fruit. This reminds me of cider. It's shockingly drinkable. Just opened another one (needed to taste it with some cheese - pairs well with new amsterdam aged gouda.)
338 characters
4.08
/5
rDev
+18.6%
look: 4 | smell: 3.5 | taste: 4.5 | feel: 4 | overall: 4
Nice cloudy golden color, foamy thick off white head. Bottom of the bottle yeast brings out slightly darker top.With thick clumps floating until the bottom. Strong yeast smell, some faint florals. Taste is dominated by the yeast, decent malt, and very sweet finish. It is a different taste, but very pleasant. Medium bodied, thick head, and very drinkable. I have had several of these, and always liked it.
407 characters
3.88
/5
rDev
+12.8%
look: 4 | smell: 3.5 | taste: 4 | feel: 4 | overall: 4
Cloudy golden color, big bubbly head, bread yeast, sweet, floral, weak nose, large particles of yeast floating around, smooth, sweet, yeasty, cider like, over ripen apple taste with a solid malt background. Semi dry middle. A unique tasting Belgian beer with a sweet finish.
274 characters

4.08
/5
rDev
+18.6%
look: 4 | smell: 3.5 | taste: 4.5 | feel: 4 | overall: 4
I really like the Knight's ale. Very smooth beer, no hops detectable, but tons of belgium spices going on here. You can see them at the bottom of the glass. Nice caramel texture and taste to this one. Has a medium body and a sweet aftertaste. I just wish I could find it somewhere.
281 characters
The Knight's Ale from Brasserie Du Bocq
Beer rating:
3.44
out of
5
with
7
ratings