Autumn Fall
| George Bateman & Son / Batemans Brewery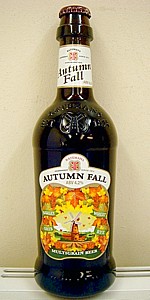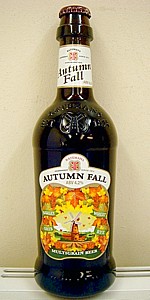 BEER INFO
Brewed by:
George Bateman & Son / Batemans Brewery
England
,
United Kingdom
bateman.co.uk
Style:
English Brown Ale
Alcohol by volume (ABV):
4.20%
Availability:
Fall
Notes / Commercial Description:
No notes at this time.
Added by BlackHaddock on 11-12-2006
HISTOGRAM
Ratings: 8 | Reviews: 6
Reviews by kmacphail:

3.8
/5
rDev
+6.7%
look: 4 | smell: 4 | taste: 3.5 | feel: 4 | overall: 4
This beer was purchased from a supermarket on a recent trip to Inverness, Scotland.
The beer poured a very nice ruby-copper colour with an off-white head that settled to a thin film.
The nose is of toasted malts and a biscuit fragrance, very pleasant. This is not carried through to the taste, an initial hit of bitter hops is then mellowed by an oaty taste, quite surprising for a darker beer. This heavy bodied beer leaves a dry crisp aftertaste.
At 4.2% this is ideal if one wishes to partake of few beverages also the taste is not too rich. However the heavy body may result in filling you up over the course of a night. This is one of the best of the Batemans ales that I have tried.
691 characters
More User Reviews:

3.35
/5
rDev
-5.9%
look: 3.5 | smell: 3.5 | taste: 3 | feel: 4 | overall: 3.5
Time for something unseasonal. A 500ml bottle with a BB of Sept 2012. Picked up from Aldi a while back. Described on the label as a multigrain beer - contains barley, wheat, oats and rye.
Poured into a tulip pint glass. A rich coppery-red hue with medium carbonation. Forms a decent, off-white head of foam that dissipates swiftly. Aroma of rich caramel malt with notes of decidedly fruity ale yeast (distinctively Batemans) and stewed hops. Slightly sweet, with a subtle hint of rye and roasted grain in the background.
Tastes of caramel malt with a dry finish. Notes of fruity yeast and stewed hops. Slightly grainy. A mild, yet faintly harsh bitterness upon swallowing. Mouthfeel is silky smooth and tingly, with great body. Somewhat astringent. Aftertaste of caramel malt and stewed hops.
OK, though nothing mind-blowing. Good maltiness, and decent yeast presence. The flavour is balanced but dull, with the stewed hops possessing a harsh quality that detracts from the impression. The body is this ale's greatest strength. A solid brew but nothing special - no need to seek it out.
1,089 characters
4.13
/5
rDev
+16%
look: 3 | smell: 5 | taste: 4 | feel: 3.5 | overall: 4
Expires in late September, 2012. States that it's a multigrain beer, includes barley, oats, wheat and rye. A cream soda color, head and overall appearance. Beautiful smell. Sweet, nutty but also fruity. Extremely well blend which creates a totally separate and new, but a "stand alone" flavor. Not as strong and well rounded in the flavor but still delicious. Fruity and nutty. But perhaps a hair thin. Slick on the tongue with not a whole lot of carbonation. Very nice, one of the better brown ales I've had.
509 characters
4.38
/5
rDev
+23%
look: 4.5 | smell: 4 | taste: 4.5 | feel: 4.5 | overall: 4.5
500 ml brown bottle, with a colourful, country scene front label telling me it is a multi-grain beer (barley,wheat, oats and rye).
Pours beautifully into my Gordon's tulip glass, off white foaming head sat atop a lovelly copper red body.
Aroma of baked digestive biscuits and a malty wiff.
The rear label mentions Maris Otter pale and crystal malts, it also states Goldings hops were used. All I know is, it tastes great, like an English bitter should.
The bitterness stays in the mouth and down your throat, rich, wholesome and enjoyable.
This is one of the best bottled beers I have ever had and will be getting some more very soon. I don't know if Bateman's produce it in draught cask conditioned, but I will certainly drink it if they do.
757 characters

3.52
/5
rDev
-1.1%
look: 3.75 | smell: 3.5 | taste: 3.5 | feel: 3.5 | overall: 3.5
I had this on cask with some very other lacklustre cask beer so mthis my haveinfluenced a little my scoring
It was indeed the best of a bad bunch but it was a perfectly served cask pint
nice light brown body with creamy dense microscopic bubbled head
The aromas slightly reminded me of brown sauce
On the tongue it is quite a rich malty taste with little hop but slight allspice flavouring
Solid mouthfeel makes for a feeling of a much more boozy ale
A decent enough pint on cask I guess
494 characters
3.41
/5
rDev
-4.2%
look: 4 | smell: 3 | taste: 3.5 | feel: 3.5 | overall: 3.5
Containing barley, oats, wheat, and rye, this is a multigrain beer. BB 11/11/2007, served cool in a straight imperial pint glass.
A: bright copper-ish hue, off-white foamy head with o.k. retention; constant streams of gentle fizziness.
S: caramely malts and mildly sour-sweet wheatiness on top of almost "winey" note of fermented ryes; almost no trace of hops.
T: very light burned-sugary sweetness plus a smooth flow of roasted maltiness prevail upfront, backed by a lighter, sour-grainy edge of ryes and dates; turning dry-ish, licorice-root like herbal bitter in the aftertaste, coupled with a feather-light grainy sweetness and more winey ryes to linger in the end.
M&D: light-bodied and mildly spritzy, with mixed maltiness on balance with an underlying hop bitter aftertaste. Easy-drinking autumny bitter this is. Not bad, and I'm sure it's much better on draught.
876 characters
Autumn Fall from George Bateman & Son / Batemans Brewery
Beer rating:
3.56
out of
5
with
8
ratings