Highland Schenk's Cream Ale
| Highland Brewing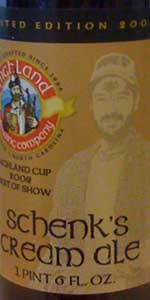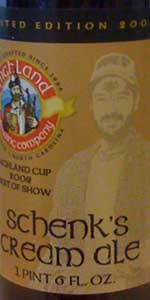 BEER INFO
Brewed by:
Highland Brewing
North Carolina
,
United States
highlandbrewing.com
Style:
Cream Ale
Alcohol by volume (ABV):
5.00%
Availability:
Limited (brewed once)
Notes / Commercial Description:
No notes at this time.
Added by ffejherb on 09-24-2008
This beer is retired; no longer brewed.
HISTOGRAM
Ratings: 13 | Reviews: 9

3.7
/5
rDev
+1.4%
look: 3.5 | smell: 3.5 | taste: 3.5 | feel: 4.5 | overall: 4
Poured into a pint glass. Straw colored. Somewhat hazy. Looks vaguely wheatey. Small white-ish head. Nose is gentle grains, cereal, mild saaz.
The taste is simple but well done. Earthy tones and European hops mix. Subtle. Lager-like qualities, almost a Pils in character and flavor.
Mouthfeel is very smooth and full. Nice medium level of carbonation that compliments the other aspects of the beer. Quite drinkable.
417 characters
3.03
/5
rDev
-17%
look: 3.5 | smell: 3 | taste: 3 | feel: 3 | overall: 3
Bomber pours a mostly clear pale golden body with a small vanilla head. Some patchy lacing is left on the glass.
Muted aroma has a hint of pears and earthy hops.
Light medium body has plenty of carbonation.
Taste has some corn syrupy malt sweetness, a hint of pears, and some earthy hop bitterness. Slight metallic note in the middle. Malt becomes grainy midway through. Clean finish.
Not something I would try again but a decent example of an underwhelming style.
468 characters
3.92
/5
rDev
+7.4%
look: 3 | smell: 3.5 | taste: 4 | feel: 4 | overall: 4.5
Pours a lightly hazy strawy golden with a bit of soapy head that disappears and leaves little behind.
Aroma is of lightly toasted grain, biscuit, faint earthy hops. Not much else, and all of it is muted. Smells quite drinkable though.
Flavor is much like the nose: muted malty biscuit notes, some faint earthy hopping in the background, and a finish of lightly milky notes.
Mouthfeel is crisp, clean, lightly creamy, smooth, and has a very clean finish. Carbonation is medium-high.
This ale is a pretty good example of this rare style, and is highly drinkable. I could enjoy this all night. definitely worth a try.
620 characters
2.95
/5
rDev
-19.2%
look: 3 | smell: 3 | taste: 3 | feel: 2.5 | overall: 3
Thanks to Sarah for providing this 22oz sample bottle from her last visit to Asheville.
Schenk's Cream Ale pours a straight-up yellow, with a fizzy, white head that exits rather quickly. Grainy aromas, combined with a light corn essence and a mild, floral hoppiness make up the bulk of the smell. The taste is rather bland, but I'm sure this is what the style expects. It begins with a strong, sweet, effervescent front, follows with a grainy middle, and finishes with a bready character balanced with a bit of hoppy bitterness. I found the carbonation a bit off-putting--the soda-like fizziness prohibited my tongue from a full taste experience. I wonder why this style is known as a "cream" ale? There's nothing creamy about it at all!
738 characters

3.8
/5
rDev
+4.1%
look: 3.5 | smell: 3.5 | taste: 4 | feel: 3.5 | overall: 4
Thanks to Deuane for bringing this back from NC. Poured from a 22oz. bomber into my Tröegs shaker glass. Appears a hazy bright yellow color with about two fingers of white head. Smells of sweet grain with a slight hoppiness. Taste is bready with notes of citrus. Smooth and crisp with medium carbonation. A nice session ale.
325 characters

3.83
/5
rDev
+4.9%
look: 4 | smell: 3.5 | taste: 4 | feel: 3.5 | overall: 4
A-Slightly hazy bright golden yellow with a medium bright white head. Head reduced a bit and left behind good lace.
S-Bready corn sweetness with a nice bouquet of floral hops.
T-Corn bread sweetness with a good base of biscuit malt. Bright floral hop profile that provides some serious zing. Nice touch of citrus in the finish.
M-Medium-light body quite crisp and just a tad thin feeling. Mild hop bitteress in finish.
D-Good stuff....light, crisp with just enough hop pop to make things interesting. A nice summer drinker. An interesting take on the style and a beer that certainly was worthy of winning the contest.
621 characters

3.6
/5
rDev
-1.4%
look: 3.5 | smell: 3.5 | taste: 3.5 | feel: 3.5 | overall: 4
22 oz bottle into a pint glass. Thanks go to Deuane for opening up a bottle of this to share.
Pours a hazy (with some clarity) medium golden yellow with a finger of creamy brite-white head. Thin, smooth looking retention that flares up quite nicely when swirled, leaving a solid cascade of lacing down the sides of the glass. The aroma smells of corn syrup, light bread, and fresh flowery esters.
The taste smacks of corn bread sweetness (but still provids a strong base of Pils malts) with a surprisingly sprightly hop profile that provides floral tones and a touch of citrus to the surroundings. The mouthfeel is on the lighter side with a creamy feel and easy carbonation.
Not too bad. I only expect so much out of this style but it's hoppy profile, freshness, and quaffable appeal made for a rather pleasant drinking experience. Plus it's great to see Highland tackle a style that you just don't see a lot of.
919 characters
3.67
/5
rDev
+0.5%
look: 3.5 | smell: 4 | taste: 3.5 | feel: 4 | overall: 3.5
Thanks to Deuane for bringing this one back north.
A: The cream ale is a pale yellow color, a drop or two of yellow food coloring darker than a blonde ale. A finger of white head resulted from the pour but did not lace.
S: The nose is smooth with a sugary aroma of honey and corn. The sweetness is broken up with a firm hop presence.
T: The creamy smoothness of the nose is pleasantly mild in the taste. Honey and pale grains, with some creamed corn, dominate the taste. Citrus hops add needed bitterness. The ale is subtle and low-key.
M: The ale has nice carbonation and the hops are strong enough to leep me happy. The ale, overall, is uneventful but enjoyable.
D: The abv is low but I think that I'd get bored but the lack of pizzazz.
743 characters
3.98
/5
rDev
+9%
look: 4 | smell: 3.5 | taste: 4 | feel: 4 | overall: 4.5
22oz. bomber into shaker pint glass on 9/22/08. Thanks to Deuane for sharing.
A - Clear golden/light amber body with one-finger bubbly, white head that was quick to recede and left some spotty lacing. Minimal carbonation. Very nice clarity overall.
S - Honey, sweet corn and some mild floral and perfumy hops. A little bit of bready malt also weighs in.
T - Sweet malt with a surprisingly ample hop character with floral and perfumy notes. Hints of citrus and buttered crackers emerge. Flavor also has a mild bubblegum-esque character in the finish.
M - Medium body with a smooth, creamy texture and medium carbonation. Finishes on the hoppy side, especially for a cream ale, with a mild zing of bitterness.
D - Smooth and drinkable with a pleasant hop character, which was unexpected. Quite nice overall.
821 characters
Highland Schenk's Cream Ale from Highland Brewing
Beer rating:
3.65
out of
5
with
13
ratings