Winter Ale (2008-2009)
| Paddock Wood Brewing Co.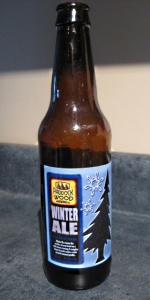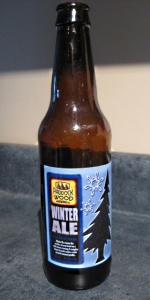 BEER INFO
Brewed by:
Paddock Wood Brewing Co.
Saskatchewan
,
Canada
paddockwood.com
Style:
Winter Warmer
Alcohol by volume (ABV):
8.00%
Availability:
Winter
Notes / Commercial Description:
"Strong Ale with Belgian influences"
Added by elricorico on 12-19-2008
This beer is retired; no longer brewed.
HISTOGRAM
Ratings: 14 | Reviews: 13
Reviews by markaberrant:

3.62
/5
rDev
-4.2%
look: 3.5 | smell: 4 | taste: 3.5 | feel: 3.5 | overall: 3.5
I sat down and did a side-by-side review of the 2008 and 2009 version, as the brewery specifically mentions that this beer can be aged and enjoyed the next winter. Actual score is combined.
2008 (individual score - 3.2)
A - light brown, slight haze, ridiculous tan head, was unable to get 1/4 of the bottle into the glass on my first attempt,
S - big carmel, malty, like a smaller barleywine
T - slight sourness, cardboard, carmel
M - med high carbonation, med body, somewhat boozy and harsh
D - I'm having a tough time drinking this one
2009 (individual score - 4)
A - light brown, brilliantly clear, off white head quickly recedes to thin cap, some sticky lace
S - toasty, light carmel sweetness, clean,
T - carmel flavour upfront, turns to toasty biscuit, med earthy bitterness in the finish
M - medium body, medium light carbonation, dry finish, mild astringency, well hidden alcohol
D - clean winter warmer, somewhat restrained, but still satisfies
I tried one bottle of the 2008 last winter, and found it quite harsh and boozy at the time, so I figured some age would definitely help, and I would hold off on a review. Unfortunately, it now seems to have picked up an infection. I let it sit out for about an hour, and it improved greatly, it is definitely richer and more carmel than the 2009. I'll check another 2008 bottle and update my scores accordingly if it has not suffered the same fate.
The 2009 is quite a nice beer, though not really rich enough for an 8% winter warmer (I would say it drinks more like 5.5-6.5%). I have been enjoying it on tap at various locations around Regina.
1,612 characters
More User Reviews:
3.75
/5
rDev
-0.8%
look: 4 | smell: 4 | taste: 3.5 | feel: 3.5 | overall: 4
This beer pours a deep, dark, slightly hazy brown colour, with two fingers of creamy tan head, which leaves a wall of lace as it falls away. It smells of caramel, toffee, and molasses, and a bit of bready malt. The taste is lightly toasted caramel malt, some nuttiness, and mild holiday spices - nutmeg and cinnamon. The carbonation is nice and soft, the body smooth and creamy, and somewhat light in weight. The 8 points of alcohol are not apparent in any regard (for now, that is), and it finishes off-dry, some nutty caramel maltiness following through.
A nice warmer, well balanced, and a worthy sipper (or nervous quaffer, watching Team Canada vs. Team USA).
664 characters
3.48
/5
rDev
-7.9%
look: 3.5 | smell: 3 | taste: 3.5 | feel: 3.5 | overall: 4
Thanks Voonder for this one. Not too much foam on a light amber coloured body. Smell is a bit beerish and malty. Drinkable and above average carbonation and above average mouthfeel. The spices are muted and x-massy, I got nutmeg and cloves, a touch of brown sugar.
264 characters
3.59
/5
rDev
-5%
look: 3.5 | smell: 4.5 | taste: 3.5 | feel: 3 | overall: 3
Mmm. Time for a winter warmer. Even though it was 6 degrees in Edmonton today. Oh well.
a - nice. Reminds me of the colour of the mill street barleywine, but a touch darker. Deep amber. The head on this is dense. Laces my wine glass with little spots of head.
s - again, reminds me of barleywine. This time, like a lighter, more minimalistic Alley Kat barleywine. Apricots and light rasins, medicinal notes, toasted carmel malts. Aromatic hops are nicely inegrated (lost, in a good way) in the melange.
t - Not as bold as I had hoped. For all the promise of the nose, this one is actually pretty tame. Lots of good, smooth metallic hop bitterness coming through on the aftertaste. Not much on the front of the palate though. An indescriminate malty something. Well balanced though, just, not enough umph for me.
m - very effervescent. i prefer the toned down carbonation of the Alley Kat barleywine. I know this isn't a barleywine, but, altogether, it seems too crisp.
d - Great beer. Very drinkable. Nice and complex, but not too overbearing with spice, nut or sweet malty influence (the Howe Sound winter ale comes to mind. It's good, but, fucking bold). The carbonation turned me off a bit. The crispness takes away from the soothing, soft flavours and their delicate, understated balance.
The bottom line? A great ale, but, the flavours could be turned up and the carbonation could be turned down for it to be a real fireplace sipper. But the alcohol content is just right. Mmm.
This one is really expensive. I prefer their london porter (not that it's really comparable). It fares better as a cold-weather beer for sipping and ruminating. It's more complex, and has more character. Though, this one is still well above average.
1,739 characters
3.98
/5
rDev
+5.3%
look: 4 | smell: 3.5 | taste: 4 | feel: 4 | overall: 4.5
Deep aamber in the glass with a finger of foamy beige head. Head is well retained. Plenty of lacing as well.
Smells of spice and toffee. Perhaps nutmeg, perhaps some cinnamon, cardamon. Nose hints at the higher ABV.
Spiced up caramel taste with a toasted breadiness to it. Certainly has a "festive" blend of spices. Alcohol hidden to taste, and even hidden to the nose as the beer warms. More than pleasant.
Full bodied with subtle carbonation, proper mouthfeel for a sipper. In fact, everything here works well for sipping on a wintery evening. Well brewed.
567 characters

3.47
/5
rDev
-8.2%
look: 3.5 | smell: 4 | taste: 3.5 | feel: 3 | overall: 3
From a 341 ml brown bottle. Pours out a dense opaque brown, yet reveals a translucent ruddy chestnut hue when held to light. Quick light beige head that dissipates quickly.
Malty caramelized notes on the nose, hints of sweet dark fruit and vanilla. Even a bit of black licorice.
Nutty, roasty, woody malt up front in the flavour, toasty in the middle, dry woody finish. A bit of vanilla coats the lips in the aftertase, although the remainder is a dry nut husk and atringent affair.
Light, low carbonated, dry and astringent mouthfeel.
I enjoy what this brewery puts out however this winter warmer doesn't really do anything for me, it'd make a better brown porter or perhaps a dry Westernized version of a wee heavy, even a strong brown. A quality ale still, just no real character to it.
793 characters

3.63
/5
rDev
-4%
look: 4 | smell: 3.5 | taste: 3.5 | feel: 3.5 | overall: 4
A - Medium carbonation with an off white head. Good lacing as beer warmed up. Brown with hints of red through it.
S - Low aroma but has a very pleasant seasonal smell of nutmeg and perhaps clove or other spices.
T - Very representative of an English winter warmer. Malty with low hop bitterness but replaced with a balance of spices. Flavours reminded me of Anchor's Special Christmas Ale - 2007 vintage.
M - Excellent mouthfeel. Good amount of warming alcohol from the higher gravity body.
D - A drinkable English winter warmer. Well worth the trip to the brewery thru the Christmas traffic to pick up this limited seasonal offering.
639 characters
4.32
/5
rDev
+14.3%
look: 3.5 | smell: 4 | taste: 4.5 | feel: 4.5 | overall: 4.5
Pours copper colour with almost no head. Smell - caramel, spices. Even more spices when it warms up. Taste is very interesting, caramel and toffee, coriander, alcohol is very well hidden. Perhaps I served it too cold, as it warms up spices are more noticable. Very crisp, it feels almost light, even though it is 8% ABV. Great Winter warmer and great that it comes in six-packs.
Another solid brew from Paddock Wood.
416 characters

3.88
/5
rDev
+2.6%
look: 4 | smell: 3.5 | taste: 4 | feel: 4 | overall: 4
Viggo brought this one over. thanks eric!
12oz bottle. sampled may 3/09.
pours crystal clear deep orange, nearly red, with a small dense cream coloured head. the head drops fairly fast but leaves plenty of lace behind.
aroma is nice. rich caramel and toffee. bit of butterscotch. wheat bread and biscuit. light alcohol. touch of earthy and woody character. bit of dark fruit. maybe just a touch of spice, but nothing specific.
taste is good. medium bitterness level. dark chocolate. bit of coffee. lightly toasted whole wheat bread. biscuit. bit of cracker. toffee and caramel. earthy. dark fruit - date, raisin, fig.
mouthfeel is good. just over medium body. medium-low carbonation level works pretty well.
drinkability is good. it hides its alcohol very well. nice solid malt profile that holds your interest and keeps you going back for more. good stuff.
863 characters
4.05
/5
rDev
+7.1%
look: 4 | smell: 4 | taste: 4 | feel: 4.5 | overall: 4
Impressive, huge whipped pale tan head, despite a gentle pour, and what settles into a mild level of carbonation. Great retention and gobs of sticky lace. Im glad i talked my mom into picking this up for me last winter, and it only recently made its way into my possession. A very clear deep bronze coloured body. Looks good.
Smells good too. A hint of nutmeg, and rich malts with a toasted nuttiness that hints at caramel. Seems like there are some goldings present with a hint of woodiness.
Taste is much like the nose, the malts are quite rich, and almost walk the line between caramel and toffee in character, along with some nutty flavours and yummy whole grains. The spicing is just right, noticeable, makes a nice counterpoint to the rich malts, but not overpowering. Nutmeg is most obvious, there may be a touch of cinnamon as well.
A solid bodied brew, almost have to chew may way through this one, which is a good thing. Quite smooth and creamy and nicely balanced mildly carbonated brew.
Drinkable as a winter ale should be. Meaning that it delivers a satisfaction while sipping it back, and i could see this pairing quite nicely with christmas baking. Could also see myself drinking more than one on a cold Saskatchewan January night when the temperature dips towards or past minus forty...
A solid winter ale, and something i would like to see become a yearly release, especially since ill be around Saskatoon this December.
1,443 characters
4
/5
rDev
+5.8%
look: 4 | smell: 4 | taste: 4 | feel: 4 | overall: 4
12 oz bottle, big thanks to markabberant for the trade!
Pours a lightly hazy chestnut red, some brown, dark orange, thick off white head forms, slowly settles to a thin ring around the glass, drops some nice thick lacing on the glass, looks pretty good. Smell is sweet and very malty, lots of caramel, alcohol, some fruit, lightly spicy, brown sugar, sherry, strawberries and cherries, lightly earthy, smells pretty good. Taste is neat, biscuity and sweet, caramel, brown sugar, some light fruit and floral, strawberries, sugar coated cherries, alcohol, orange peel, spice is in the background, very malty finish. Mouthfeel is medium bodied with low to medium carbonation, very smooth and drinkable, ABV is well hidden. A nice winter warmer, not too spicy. Thanks Mark!
770 characters

3.51
/5
rDev
-7.1%
look: 4.5 | smell: 3.5 | taste: 3.5 | feel: 3 | overall: 3.5
341ml bottle poured into pint glass feb4 2010
A reddish brown with loads of sediment being pushed around by a large amount of tiny bubbles. the head is massive and has great retention and leaves a fair bit of lace as it slowly falls.
S a little nutty with some candied apple and booze
T again a little nutty with some woody earthiness and a little to much booze it's poorly concealed if you ask me, still a little hot
M a little thin and I'm not sure where all the carbonation went
D not bad and worth trying but I'm thinking a little age would help its cause
an interesting beer but a little to expensive for what you get.
I may stash on of these for next year and see if it mellows out a bit
701 characters
3.61
/5
rDev
-4.5%
look: 4.5 | smell: 3.5 | taste: 3.5 | feel: 4 | overall: 3.5
I wish winter was over, but the snow has whipped up again, and once more the ground is blanketed in white. A ray of sunshine pushes through the winter gloom, as the friendly fedex man hands me a package before huddling up for warmth and rushing through the snowflakes to the comfort of his van. Minutes later a wonderful selection of beers adorn my desk, all courtesy of Alex, an excellent BA from Calgary. Surveying the haul my thoughts turn to the evening's drinking, and my eyes settle on a brew which couldn't be more appropiate... winter ale, a beer that promises to warm the cockles of my heart.
Hours later I'm at home, and having dispatched a plate of spaghetti and two cups of earl grey my beer is at temperature. Poured into a wild rose glass (the closest I have to Saskatoon), I'm presented with a copper liquid and a creamy head that laces very well. On the nose at first I detect a metallic tinniness and little else, but the malts become more apparent as the brew warms, and the air is imbued with a fruity sweetness, and cinnamon spice. The first sip reveals a pleasant maltiness, with some layers of caramel, and a spicing, which as far as I can tell, is mostly comprised of cinnamon and coriander. The intensity is at first underwhelming, but improves greatly as the temperature rises, and I would heartily recommend drinking this just below room temperature. The alcohol is never detectable to the tongue, but is indeed felt by the heart (Paddock Wood delivers on its promise). A medium mouthfeel and carbonation round off a solid, but not spectacular, winter offering.
Thanks Alex (Voonder) for this winter warmer!
1,635 characters
Winter Ale (2008-2009) from Paddock Wood Brewing Co.
Beer rating:
3.78
out of
5
with
14
ratings