Brewerkz - Riverside Point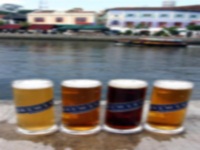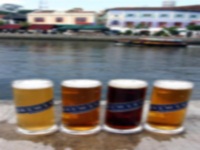 Brewery, Bar, Eatery, Beer-to-go
30 Merchant Rd
#01-05/06
Singapore
, 058282
Singapore
+65 6438 7438 |
map
brewerkz.com
Notes:
Jetlag767 from Minnesota
4.23
/5
rDev
+8.5%
vibe: 4.25 | quality: 3.75 | service: 4.5 | selection: 4.5
13 different beers brewed by Brewerkz on tap. Very good single hop Centennial and XIPA. Pretty descent oatmeal stout too. Nice location with outside seating right on the Singapore River!
Jan 24, 2018
WestCoastLibations from China
4.35
/5
rDev
+11.5%
vibe: 4.5 | quality: 4.5 | service: 4.25 | selection: 4.25 | food: 4.25
I remember traveling to Brewerkz back in 2012 during my first trip to Singapore. However, I did not know that they have been around for 20 years(!), celebrating that anniversary this year with a special beer.
As is always the case upon visiting a brewery, I went with the sampler option, tasting four beers (including the aforementioned Anniversary Ale). With Hops my preference of libation-sweetener, I tried the XIPA, IPA, and Single Hop (new entry!) to round out the bunch. To no one's surprise, it was the XIPA that bit my tongue the hardest, and which I got a full pint of to help segue my afternoon from brewery to walkway, as I toured Singapore with a pair of beautiful blue eyes.
The vibe within Brewerkz was chill, and wouldn't be out of place in a city like Portland, Oregon or Christchurch, New Zealand. The outside patio is literally riverside, although after any amount of time outdoors in Singapore, a seat at an air-conditioned barstool is a welcomed relief. TV's with ESPN reruns are a'ight by me, while sipping on what becomes when malt and hops meet water.
Lunch was ordered, paired with samplers from various taps while taking pictures and sharing conversation smoothed out the dream. One thing which comes with being an established brewery like Brewerkz is that they bottle and sell many of their beers. As a keepsake to be enjoyed on a special day, I picked up one of their Anniversary Ales (1997 - 2017), as over the past 20 years, I too have grown to recognize the importance of those dates.
Brewerkz is an institution within Singapore and a place any craft beer aficionado should visit if passing through the City/State. They have a few locations throughout the area, but the flagship one along the river is where you want to go if you want to sample the taste of this incredible country...
May 31, 2017

Walnut from Missouri
3.53
/5
rDev
-9.5%
vibe: 4 | quality: 4 | service: 3 | selection: 3.5 | food: 3
Much of my 12 years in Singapore was spent at Brewerkz. The food was pretty good, but the beer was great. It's expensive, but alcohol is just expensive in Singapore, and you have to get used to it. I would much rather spend my money on the good beer at Brewerkz than spend 12 Sing dollars on a bottle of Tiger at a restaurant. I look forward to going back the next time I return to the Lion City.
Aug 29, 2015
paulyrimz from Nevada
4.43
/5
rDev
+13.6%
vibe: 4.5 | quality: 4 | service: 5 | selection: 4.5 | food: 4
Awesome spot. In a sense, this is probably the only game in town...and the only game in all of SE Asia for that matter. This is a city where everyone adds ice to their beer. I can be a nice change of pace to enjoy a handcrafted stout or IPA when the only thing you will find in this part of the world is Tiger beer and the like.
Beyond being "good for SE Asia," this place is just "good, period." Their food, their beers, their decor and service are all spot on. Wonderful place. Also, bottled beers to go were just the thing to shove into my hotel mini fridge.
They have beer on cask to boot!
Oct 15, 2010
xmorgan from California
5
/5
rDev
+28.2%
vibe: 5 | quality: 5 | service: 5 | selection: 5 | food: 5
I have been going to Brewerkz since they opened in 1997. I travel to Singapore 2-4 times/year and even lived there for 1 year in 1998-1999.
I would say based upon the number of brew pubs in the small country (710 Km Squared) with 6 microbreweries it is respectful. With a population of 5 million and considering you can get anywhere in a taxi in 30 minutes that Singapore is a Beer Capital of Asia.
Brewerkz to me is the best the island offers. I have a regular here, every time I come to the Country. If it is 1 day or 1 month I am here more than any other place with the exception my office, hotel and the customers I am working with.
Pricing would be considered expensive, but to me, beer taste outweighs cost every time. So I never weight price/taste.
That said, you would find Brewerkz running up to $16 Sing for a 500ML 8pm to Close for the upper end beers. As of this writing May 9, 2010 that is over $11 USD for a 1/2 Liter of the more expensive XIPA or Bock Lagar. Yes it is pricy but they have an interesting if not hard to figure out scale based upon type of beer and time of day. Same beer is only $7 Sing ($7 USD) 11 to 3pm.
Still based upon US Prices I would say it is 1.5 to 2X what you would pay back in the good ole USA. But consider everything is imported here, and your alternatives are not so pleasing.
I am a super big fan of their Seasonal "Steam Beer" and here they actually call it Steam Beer. As Fritz Maytag's copy-write does not reach to Singapore. The Steam beer has a distinct malt presence and the smell is very close to a Anchor Steam.
They have a very good set of various beers with standards including a Refreshing "Golden Ale", "HopBack" (on cask) and others.
Food here is not disappointing, but don't expect cheep again.
The Hamburger here is one of the best I have had in Asia as it is fresh and tasty. Not an Ice-age old patty awoken by flame in the 21st century.
The Place is big with lots of outdoor seating, and indoor as well.
If your in Singapore, Brewerkz should be on your do list!
May 09, 2010
DarwinRay from Australia
3.28
/5
rDev
-15.9%
vibe: 3.5 | quality: 3 | service: 3.5 | selection: 3 | food: 4
Review of last visit, in December with my wife. I have visited many times before on various trips. Situated at Clarke Quay on the river. Close to MRT. in my opinion a good place to pop in for a quick beer if you are on your own or a lazy afternoon if with friends or family. My family really likes the place for food so great for me. You can watch the views of the river and the people over a beer. Service is Singapore style, attentive and quick and somewhat overbearing if you are used to the Australian version. Knowledge of beers is minimal. Apart from the on premise taps and one guest beer (Reddot's when we were there) there is a small bottled menu centred around Belgian and American brews. The in house beers are generally ok but nothing spectacular. After trying the lot, Oatmeal Stout is by far the best and holds it own against overseas versions. Avoid the fruit beers at all cost. Food is very very good - especially the burgers and ribs. Yes, it is expensive, but alcohol in Singapore is expensive full stop.
Jan 10, 2010
yaegerje from Minnesota
4.5
/5
rDev
+15.4%
vibe: 4.5 | quality: 4.5 | service: 5 | selection: 4
Once the rain cleared they were really quick to open the canopy back up so we could get another Singapore sunset off the surrounding buildings. This place is right on the river and they have great outdoor seating.
A really nice place, with quality glasses, chairs, tables and bar.
The service was truly exceptional, I kept pestering my waiter for his pen and he continually forfeited it so I could write some beer reviews on a spare napkin. They were only a quick wave down away and I never waited for another beer, I had just enough time to savor each beer before they brought another one down my way.
Really good selection of there own home brews and even some good imports (from the US and Belgium among others) but they were really expensive so I just kept it to the Brewkerz craftz.
Didn't try any food unfortunately, my neighbors looked good though.
A great stop off, the only negative was that if your not here from 3-6 PM for happy hour you'll be paying at least 12S for a beer(about 8US). Food was equally expensive. Happy hour was only 6S (4US for a micro craft brew, good stuff)
Overall though a tremendous place if your in Singapore with a friendly atmosphere and great service.
Apr 27, 2009
OStrungT from California
4.3
/5
rDev
+10.3%
vibe: 4 | quality: 4 | service: 4.5 | selection: 4.5 | food: 4.5
This place is located on the Singapore River, across from Clarke Quay. It is very big. There is a lot of outdoor seeting, and even more indoor seating. It is huge. There is a pool table inside, and some big TV's. It got pretty busy at night, but it was so big that it didnt feel crowded. There was some nice 90's rock playing softly. It was very plesant.
The service was good. My waitress came by every few minutes to check on us. She seamed to know a little about the beers being poured. That was quite a surprize.
The selection was good. It was outstandingfor Singapore, and even in the United States, i would say it was good. They had 12 beers on tap, including an old ale on cask. They also had about 10 Belgian bottled beers. It was a nice surprize to find some good beer in Singapore.
The food was good. The burgers were huge. My salmon was very tastey. The garlic fries were very garlicky. We all enjoyed the food.
This palce may have been just a little expensive, but everything in Singapore is. I will come back the next time I am in Singapore.
Apr 17, 2008
hogshead from Australia
3.26
/5
rDev
-16.4%
vibe: 4 | quality: 3 | service: 2 | selection: 4.5
Nice looking place on Clarke Quay with a large selection of beers on tap. The brewery is on show behind the bar and you could get a wiff of malt and wort now and again.
Strange pricing regime that snowballs towards the evening.
I had the tasting sampler, which had 4 of your choice from a selection of about 12, none of which really rang my bell.
Perhaps it was the time of day I was there (3pm), but the staff seemed to hover around the table, ready to snatch your freshly emptied glass from your grip, before you even had time to swallow it. Don't get me wrong, I'm a fan of efficient service, but this was a little too efficient, if you know what I mean.
They had a restaurant, and even a gift shop in the foyer where you could buy all the usual merchandise. Bottled Belgian and Canadian beers were also available.
Overall, a likable place with lacklusture beers and keen (or just bored) staff.
Nov 08, 2007
basica from California
3.73
/5
rDev
-4.4%
vibe: 4 | quality: 3.5 | service: 3.5 | selection: 4 | food: 4
Brewerkz is all too famous to miss. Sitting right in the heart of Clarke quay; it is Singapore's largest brewpub. I have been there for a few times already and I generally try their in-house brews though I tend to buy take-aways as they have an ok selection of Belgian Beers and some bottled versions of their own brews. I like the inside atmosphere of the place; the bottles were displayed in nice cabinets and everything looks pretty good and decent. There is a pool table somewhere and on the way to the bathroom you could see some of their brewing devices which was pretty nifty. Most of their beers were above average and one or 2 were pretty good. My favourite beers from Brewerkz are the Moh Gwai which is a Belgian style ale and the Stream beer which are pretty good beers on the whole. Again I like the Belgian selection which I buy take-aways from once in a while.
Aug 03, 2007
RedBeerchetta from Massachusetts
4.46
/5
rDev
+14.4%
vibe: 4 | quality: 5 | service: 4.5 | selection: 4
Perhaps, after 10 days in beer deprived places such as Malaysia, Indonesia, and Thailand, my expectations were low, but I was really happy with Brewerkz.
If you didn't know where you were you'd swear you were in a top notch brew pub Stateside. The look is a bit industrial: greys and steel. They have sevearl flat screens showing sports (soccer), and the music is right off the playlist of a US pop station.
The brew selection was good: 8 homebrews, sevral Belgians, and a few Belgian style brews from the US. I'm a big IPA fan, and they had two on tap: a double IPA and their standard. I had the double, which won a gold medal the the World Beer Cup, and couldn't have been more pleased by it, as evidenced by the three more that I ordered. If you're travelling in Southeast Asia and longing for good beer experience, I can't see how you'd be dissapointed by Brewerkz. Oh, and they own a good winebar attached to it (food there was excellent).
Apr 19, 2007

warmstorage from California
2.75
/5
rDev
-29.5%
vibe: 2.5 | quality: 2 | service: 2 | selection: 4.5
Three visits over two weeks. Overall, I had high hopes, and was disappointed.
Atmosphere: decent, and clear that they've tried to create it in the American brewpub style. Out front is expansive covered patio dining: maybe 50 tables? I skipped this due to the smoking, the tables being jammed tighter than a sidewalk hawker stall, the smoking, the heat, and the smoking. Did I mention there is a lot of smoking outside? Fortunately there is no smoking inside, though they open open huge sliding doors into the bar area sometimes, which essentially makes that bar table area smoking. As you walk in, there are tables to the left and right, and a nice, fairly spacious bar (perhaps 15 seats?) and probably 15-20 bar tables. Interior is lots of polished wood, black, and silver. The brewery is easily visible immediately behind the bar, which is entertaining. A pool table in the back.
Pricing and value is a sticky point: to be fair, beer is expensive in Singapore, even crappy beer. Their pricing scheme is heavily weighted towards those who drink during the day, with the cheapest prices from 12-3pm, then a hike from 3p-6p, and 6p-9p, finally ending in quite high prices from 9p-close.
Example: from 12-3, a 470ml pint (16 ounces) of the basic "Draft Selection" series is SGD$3.49, so about USD$2.30. From 8p-close, the same pint is SGD$8.99, so about USD$5.95. Not so bad? Well, try a 560ml pint of the cask Hopback, SGD$4.99 from 12-3 ($3.30), and SGD$14.49 ($9.60!) from 8p-close.
I also didn't eat any food, as it was quite rich for my blood. Difficult to justify a SGD$17 ($11.25) sandwich when I can get a massive feast of a meal in Little India or Chinatown for a quarter of that. Of course, if you fancy a Snack Sampler, with calamari, chicken wings, mini-sausages, and fried cheese sticks, you can lay out SGD$40.99 ($27.14) for it. There is apparently a 20% discount on food from 12-4pm, though I never got that far.
There is a pretty standard 10% service charge tacked on to all bills, yet they still seem to expect tips. This is judging from the register receipts which have a line for them, and the employment section of their website, which suggests that staff can double their monthly pay through tips.
Service... well, I sat at the bar all three times, so in fairness, this is a review of bar staff. The first day's bartender was pretty good: friendly, attentive, though a little unclear on some of the beers. The second and third day's bartenders, two of them, were pretty bad. They were difficult to track down to order more beers, and one (the older, larger guy, slightly balding, with glasses) seemed troubled to bring us water, or really, deal with us at all. Perhaps he was irritated that we didn't order food? (At the bar, this is.)
Beer quality: pretty darn bleh. Sure, it's the best in the country that Beer Fly has listed. (But I've submitted an entry for The Pump Room, immediately across the river in Clarke Quay proper, which I think had generally better tasting beer.) I had a total of six of their beers (all in proper glasses, not samplers): Oatmeal Stout, Hopback (cask), Dunkel Weizen, Moh Gwai (allegedly a Belgian-style), Hell Bock (sic), and XIPA: "Xtra IPA". I'll do separate reviews for them from my notes, but in short, only the Oatmeal Stout was good. The rest ranged from average (Hopback), below average (XIPA), on down to deeply mediocre. Definitely beer to drink during the cheap hours, or when it's not unstated holiday pricing.
Beer selection: for Singapore, where you mostly see the same bottled and canned (crap), it's pretty miraculous: twelve on tap. Unfortunately, I wish they'd focus more on quality and less on quantity.
Location: just across the Singapore River from Clarke Quay, it's a very easy, five minute walk from the Clarke Quay MRT (light rail) stop. Note that while their address is technically Riverside Point, on any of the cheapo tourist maps you get from hotels and the airport you're going to want to look for Clarke Quay.
Umm, so I'd probably go back, but I certainly wouldn't rush there before going to The Pump Room (and even, god help me, trying the Paulaner Brewhaus first...)
Feb 23, 2007
DaveFL1976 from Florida
4
/5
rDev
+2.6%
vibe: 4 | quality: 4 | service: 4 | selection: 4
My wife and I arrived in Singapore a 6am, and after a day of running around town and walking around the Zoo (which is really nice, by the way), she was ready for a nap. I was ready for a beer.
A quick check of BA led me to Brewerkz, a five-dollar taxi ride outside of the heart of town.
Judging from the reviews, I had expected an industrial warehouse-type building in a rather industrial district. Not at all. The bar is basically situated in a shopping mall. It's on the bottom floor of the building with a nice view of the river. Inside you'll find a back area filled with serving tanks, fermenters and a mash tun or two. The bar itself is filled with plasma screen TVs, and was apparantly popular with the Aussies that were there watching the AU vs. Ireland rugby match. A really nice setup they have.
The beer itself was a "wow! this is much better than I expected it to be!" experience. Beer comes in 2 classes, draught and Brewers Reserve. I definately recommend the Brewers Reserve Selection. Some of the standard beers were sort of bland. I tried the Hopback Ale, Xtra IPA, and the Oatmeal Stout. 2 of the 3 were totally impressive.
I didn't try the food so I can't really comment to it.
Pricing is interesting. There's a 3 or 4 phase pricing system depending on what day it is, and what time of day it is. Prices go up as it gets later. 3 'Brewer's Reserve' beers cost me $30.50 Singapore$ from 5:45pm - 7:15pm. So make of that whatever you want.
Anyways, if you're in Singapore, and if you like beer.... and if you're on this site, chances are that you do... GO TO THIS BREWPUB!
Jun 24, 2006
hefevice from Australia
3.28
/5
rDev
-15.9%
vibe: 3 | quality: 3.5 | service: 3 | selection: 3.5 | food: 3
Interesting place, given that Singapore is not renowned for its craft brewing. As indicated in other reviews, range of 8 inhouse brewed beers on tap year 'round and about five bottled versions. Also a few bottled Belgian imports available.
I tried the Altbier, and Oatmeal stout from tap (served in pint tumblers) and the Xtreme IPA from bottle. Tap beers were poured with very little head, which was a bit unfortunate. The Xtreme IPA (7% ABV) was poured perfectly and the hops nearly took my head off (would be a hop-head's dream).
Very clean and trendy place with pleasant surroundings; a little over priced in keeping with the surroundings. Would argue that it is not dominated by ex-pats as indicated in another review as most of the clientelle appeared to be locals.
Food is American style fare and nothing to write home about.
Apr 11, 2005
Brewerkz - Riverside Point in Singapore, Singapore
Brewery rating:
3.52
out of
5
with
107
ratings